12-04-2021, 07:18 PM
2021 Kia Sportage: reinvented SUV priced from £26,745
Next-gen Kia SUV has been tuned and reshaped specifically to suit European tastes
Kia's reinvented Sportage SUV will go on sale on 15 December priced from £26,745 and with a wide array of pure-combustion and electrified powertrains.
Six specification levels are available with eight powertrain options, following the same structure as the rest of the Kia model range. 
The entry-level 2 specification starts from £26,745 with a choice of two powertrains: a 1.6-litre T-GDi petrol producing 148bhp, and a 1.6-litre CRDi diesel producing 113bhp. Standard equipment includes 17in wheels, LED headlights, parking sensors, a reversing camera, cruise control, an 8.0in touchscreen and a selection of assist systems. 
The next step up is GT-Line, which is available from £29,745 with five engine options. These range from the 1.6-litre diesel to the range-topping plug-in hybrid, from £38,395, which produces 261bhp and is set to arrive early in 2022. 
The GT-Line gains black detailing on its radiator grille, side sills and wheel arches and has 19in wheels, a 12.3in infotainment display with sat-nav, rear privacy glass, Kia's smart entry system and chrome skid plates. 
The 3 specification is based on the equipment level of the 2 but offers the same engine line-up as the GT-Line. Prices start from £30,945 and rise to £39,595. The 3 also gains 18in wheels, the 12.3in display, a digital driver's display, heated front and rear seats, a heated steering wheel and smart cruise control.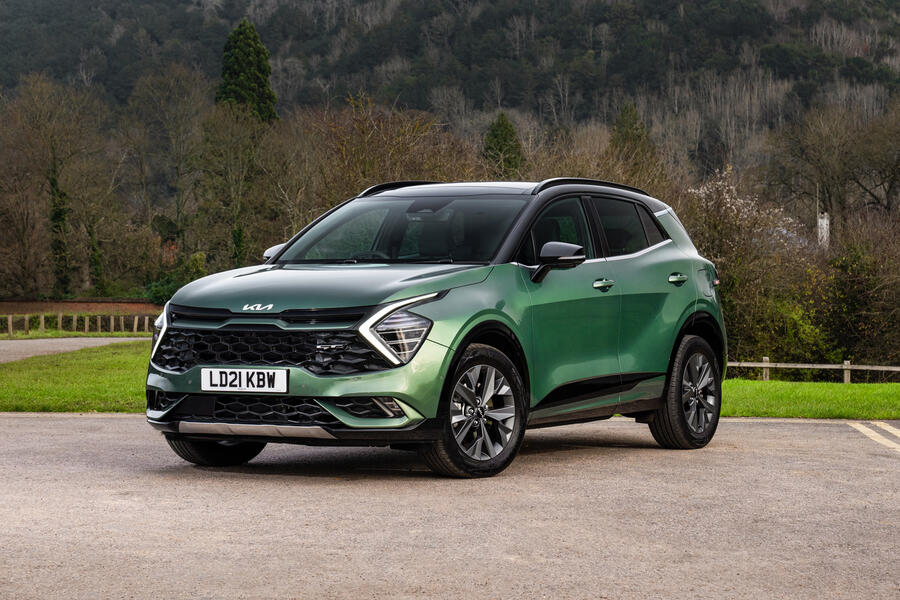 The 4 trim level underpins the range-topping GT-Line S, offering 48V mild-hybrid technology for all engine options, with four-wheel drive. Prices kick off from £36,445 and climb to £41,795 for plug-in models. 
This specification includes a panoramic sunroof, a premium Harman Kardon speaker system, adaptive LED headlights, ambient lighting, a 360deg camera and a blind-spot view monitor. 
The flagship GT-Line S receives similar equipment to the 4 and adds GT-Line styling, 19in alloy wheels, artificial leather and suede upholstery, a 10-way adjustable driver's seat and eight-way passenger seat with memory function, a smart tailgate and an optional two-tone black roof. Prices start from £38,445 and rise to £43,495. 
This new iteration of the fifth-generation Sportage, which made its public debut at the 2021 Munich motor show, represents the first time in 28 years that Kia has offered a version of the SUV specifically developed for Europe.
The Sportage is among the Korean firm's most successful models sold globally and the new version switches to the Hyundai Motor Group's N3 platform. 
That architecture has allowed Kia to develop two distinct versions: a long-wheelbase model launched in June, intended for the South Korean and US markets; and this short-wheelbase variant, developed specifically for Europe, where it will be offered with a choice of mild-hybrid, 'traditional' hybrid and plug-in hybrid powertrains. There won't be an electric version, in part because the Sportage is a similar size to the EV6, a bespoke electric crossover. 
The European version is 4515mm long, a significant 85mm shorter than the global model – although it is 30mm longer than the previous generation. The 2680mm wheelbase is 10mm longer than before but 75mm shorter than its global sibling's.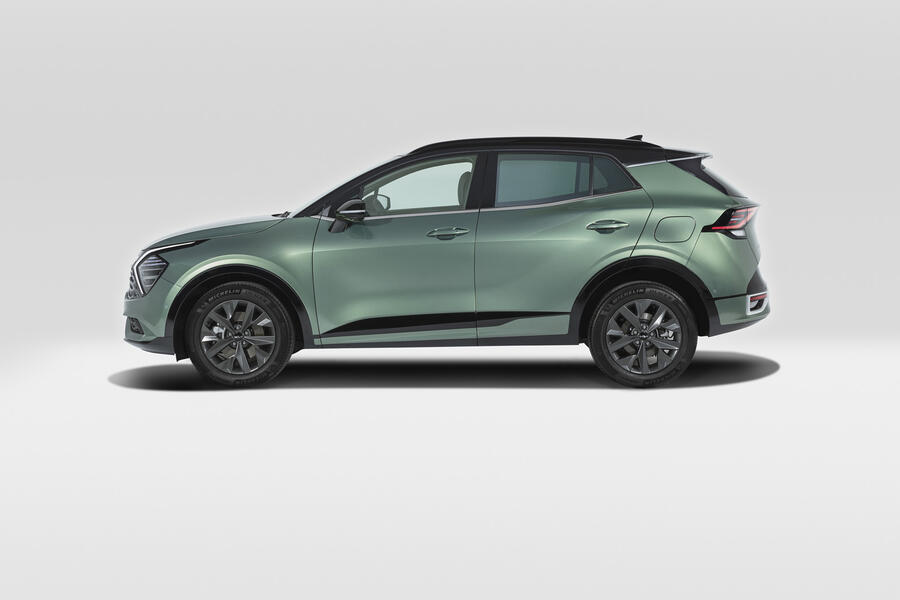 While both versions of the new Sportage share a bold new front end that features the latest version of Kia's 'tiger grille', the side bodywork of the European model has been reworked extensively to take account of its shorter overall length and wheelbase. The C-pillar in particular has been significantly revised, losing the window built into the longer car. There is also a different rear bumper design, and European models in GT-Line trim will get a black contrasting roof. 
The wing mirrors have been moved from the A-pillar to the doors, which is intended to boost visibility and refine the aerodynamics. 
"The European version isn't just a shortened body. It's different sheet metal," said Sportage product manager Xuan Goh. "We've worked really hard to make sure it works as a car in its own right." 
The alterations go beyond its length, with Kia's European arm implementing bespoke regional tuning for the chassis, steering and ride comfort. 
Inside, the new Sportage shares a dashboard with the EV6 and is dominated by a gently curved display comprising two 12.3in digital screens in higher-spec variants. Many of the key controls are operated through a row of 'multi-mode' haptic buttons, which change functions depending on the task required. For example, one dial controls the volume and heating levels, depending on which mode is selected. The Sportage also retains a number of physical controls and has several storage areas.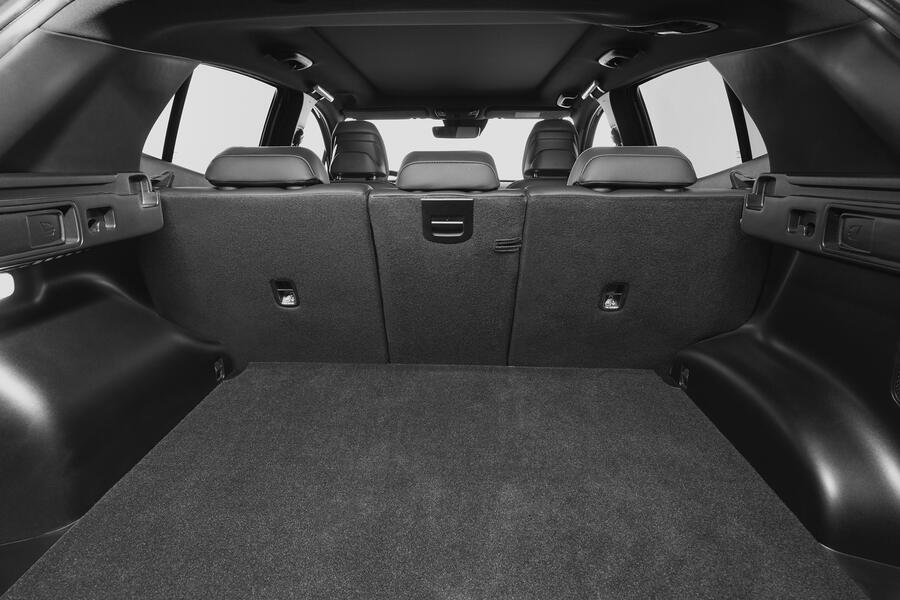 Its boot is around 10% bigger than the previous Sportage's, with Kia claiming around 500 litres of storage, depending on powertrain. Because the plug-in hybrid model places batteries under the floor of the car, Kia says there will be minimal impact on boot space for that model. 
The Sportage will be offered in the UK with a range of electrified petrol and diesel powertrains. A 1.6-litre mild-hybrid petrol engine will deliver 148bhp and 178bhp, and a diesel MHEV will be available with 113bhp and 134bhp. There will also be a 227bhp 1.6-litre hybrid option, and a 261bhp plug-in hybrid that features a 13.8kWh battery for 35 miles of electric-only running. 
UK deliveries of the new Sportage are scheduled to begin in the first quarter of 2022.
Q&A with Xuan Goh, Sportage product manager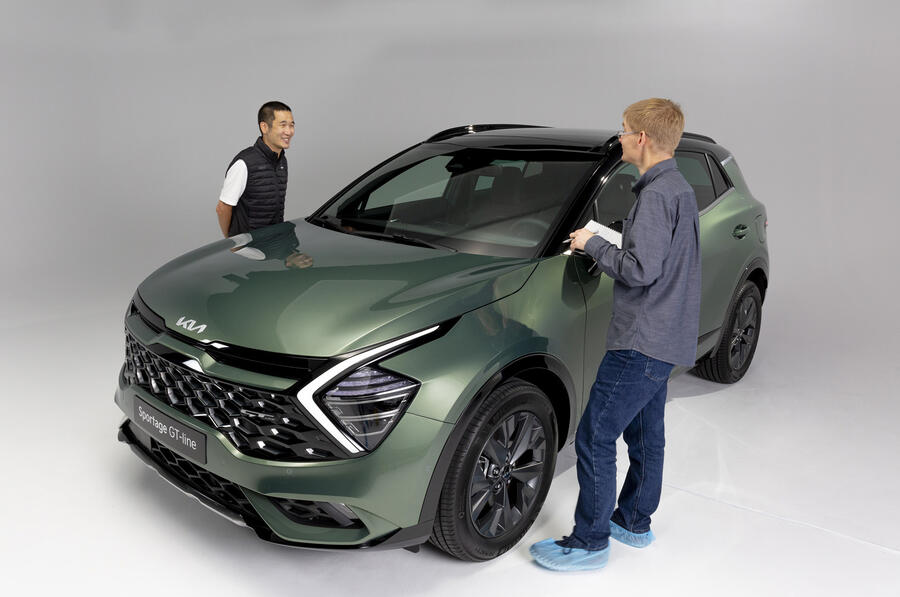 How different is the European Sportage from the global version? 
"This model really is our baby, and Kia Europe has done extensive work on it. It's less compromised than some global cars when the platform remains exactly the same. We were given latitude to change things to meet the tastes of European customers." 
Is it hard finding the balance of pushing the design forward without putting off existing customers? 
"It's a difficult process, but we've used customer research and some intuition. We're hoping the fresh philosophy will attract some new customers and ensure we keep our existing customers happy. We try to balance pushing the design language on while keeping it still a Kia. We've got a very modern, fresh design but one that still has lots of nods and winks to the previous-generation Sportage in areas such as the C-pillar." 
Why no electric version? 
"Under the wider Kia platform strategy, we're looking at dedicated EVs such as the EV6. We had this platform which is ideal for Sportage, but we're confident in our capability to bring out a better EV using a dedicated platform."
READ MORE
All-new Kia Sportage revealed with bold EV6-inspired design​
First drive: 2022 Kia EV6 prototype review​
https://www.autocar.co.uk/car-news/new-c...C2%A326745