05-26-2023, 06:46 PM
2023 BMW M3 CS: track-ready saloon is most powerful M3 yet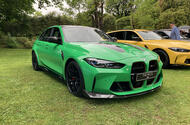 Angrier, open front grille matches BMW's GT4-spec M4 racer
Lightweight, super-honed saloon makes its public debut in Italy: home of its Alfa Romeo Giulia GTA rival
The sharply honed, lightweight BMW M3 CS is the most powerful M3 yet, packing a mighty 542bhp to take aim at the Alfa Romeo Giulia GTA.
On display for the first time at Villa d'Este in Italy ahead of a launch in the coming weeks, the M3 CS adds 39bhp over the already powerful BMW M3 Competition to pip its Italian contemporary by 10bhp.
Its twin-turbocharged 3.0-litre straight six, an uprated version of the same engine found in the standard BMW M3 and BMW M4, can propel the M3 CS to 62mph from a standstill in just 3.4sec – 0.2sec quicker than the Giulia GTA.
Accelerating from 50- 75mph takes just 2.6sec and the top speed is electronically limited to 188mph. The straight six is tuned to deliver 479lb ft, which is distributed by BMW's xDrive four-wheel drive system.
The M3 CS is set apart from the M3 Competition visually by a raft of design tweaks, such as an angrier-looking, open front grille designed to match the front end of BMW's GT4-spec M4 racer. Gaping air intakes round off the new-look nose. These are joined by a host of items that enhance aerodynamics, such as a wide front splitter and a lipped rear spoiler.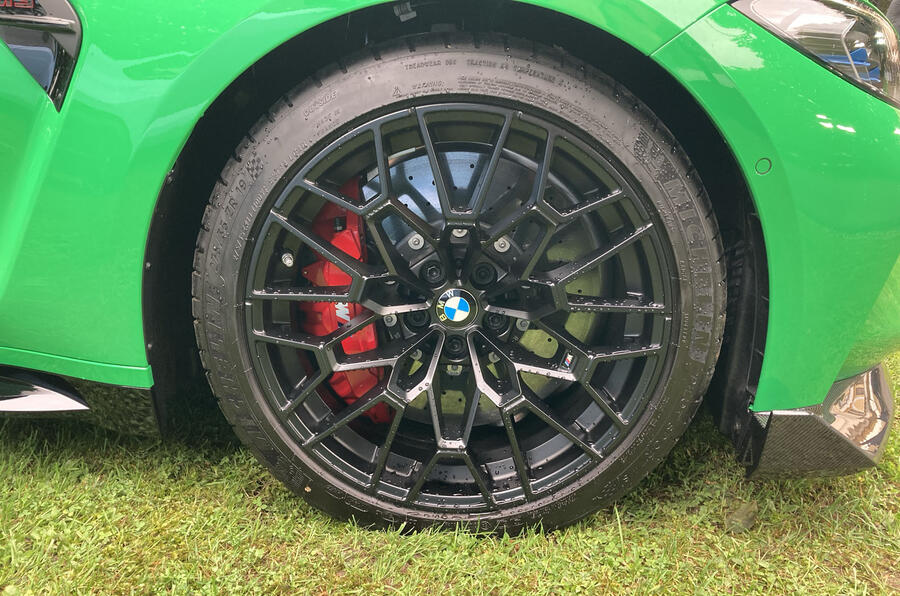 One of the keys to the M3 CS's lofty performance figures is its lighter body, made through the extensive use of lightweight materials across the car (such as carbon fibre for the roof) and switching out components for lighter alternatives (such as carbon fibre bucket seats and a titanium rear silencer). In total, the M3 CS is 20kg lighter than the 1780kg M3 Competition.
Underneath, the chassis is for the most part the same as the M3 Competition's, albeit with a bespoke set-up. The M Dynamic driving mode has been geared towards high-speed circuit driving, for example.
Other bespoke touches include individually tuned axle kinematics and bespoke wheel camber settings, dampers, auxiliary springs and anti-roll bars, the M3 CS featuring a model-specific suspension set-up.
Special V-spoke gold wheels (19in at the front and 20in at the rear) are offered, shod with track-focused tyres. M compound brakes with red calipers are also fitted and carbon-ceramic brakes are available.
The interior broadly matches that of the M3 Competition, which means it gets BMW's newest widescreen infotainment set-up, but Merino leather seats are fitted as standard and CS badging features throughout.
Prices open at £115,900, making the M3 CS £41,145 more expensive than the M3 Competition but significantly less than the £150,000 Giulia GTA. It will be produced in a limited but undisclosed number. Customer deliveries will get underway in March. 
https://www.autocar.co.uk/car-news/new-c...ful-m3-yet