04-01-2023, 01:10 AM
2023 Fisker Ocean offers longest range of any electric SUV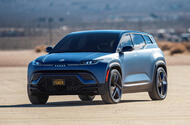 European-built BMW iX3 rival from American start-up has achieved an official WLTP-tested figure of 440 miles
The Fisker Ocean will offer the highest range of any electric SUV when it goes on sale later this year, having achieved 440 miles on the official WLTP test in its range-topping Extreme specification. 
That 440-mile figure puts the Ocean far beyond rivals such as the 351 miles offered by the Tesla Model X and the 365 miles provided by the Mercedes-Benz EQS SUV, and Fisker pointed out that it could travel from London to Glasgow on a single charge.
Fisker hasn't publicly detailed battery specifications for the Ocean yet, but entry-level models feature a smaller battery pack giving up to 275 miles of range. 
Set to be available in Europe by the end of April with deliveries planned to start shortly after, the Ocean will start at around £34,990 in the UK.
The EV retails from $37,499 to $68,999 in the US (roughly £27,900 to £51,350). Last year, Fisker told Autocar that because the car will be built in Europe (Austria), prices wouldn't be swollen by import taxes.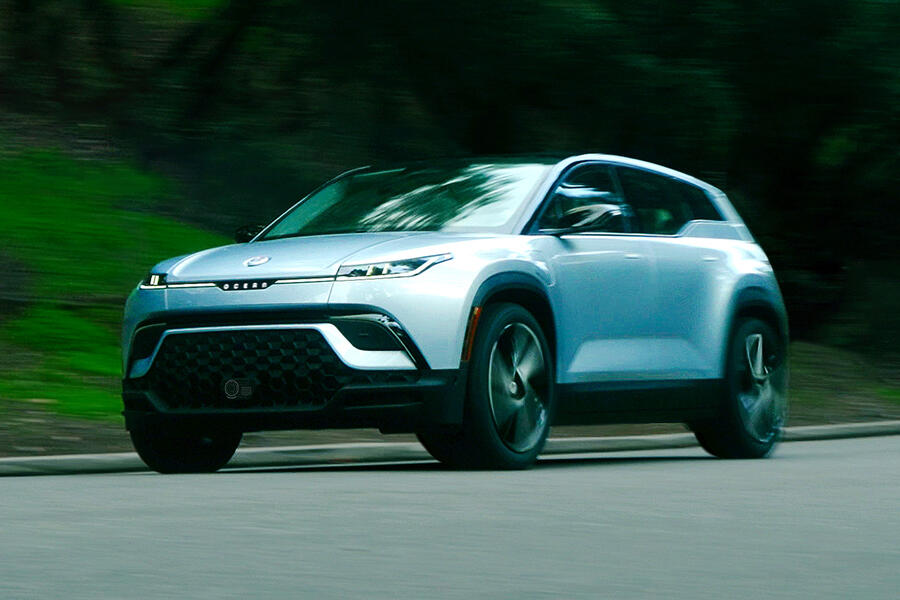 Three trim levels will be available for the Audi Q4 E-tron rival. Sport brings a 275bhp motor on the front axle for a 0-60mph time of 6.6sec, while Ultra gets a motor on each axle, boosting output to 540bhp and cutting the sprint time to 3.9sec. Extreme brings 550bhp and a 3.6sec 0-60mph time.
Fisker hasn't yet confirmed battery capacities and claimed that it's still testing the model's charging speeds. 
The Ultra and Extreme variants use batteries supplied by Chinese firm CATL with nickel-manganese-cobalt (NMC) cell chemistry, which Fisker said affords them "a combination of segment-leading range and performance". 
The Sport gets a 'touring' battery pack capable of 275 miles. Key features include a 17.1in touchscreen, a 'big sky' roof, an electric tailgate, cruise control and automatic headlights.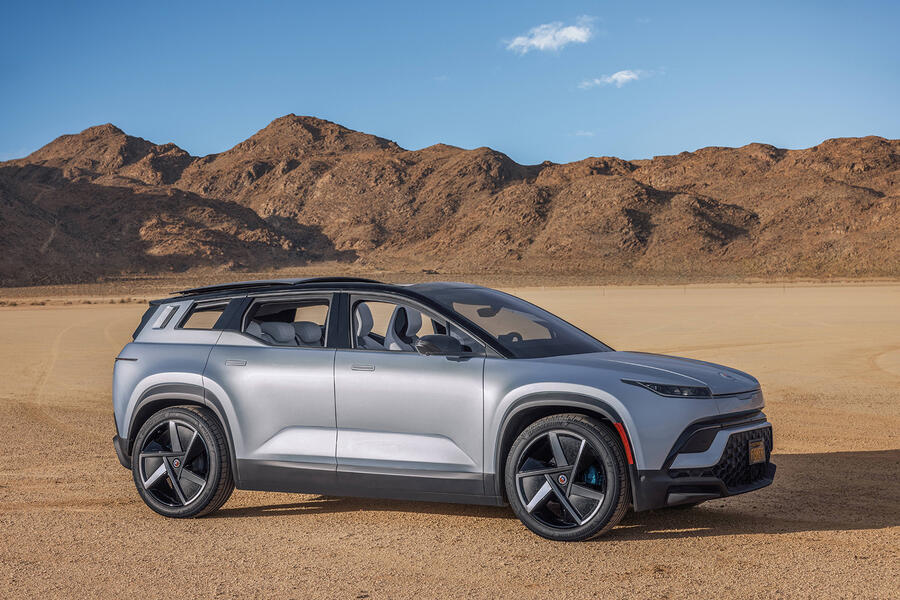 The mid-range Ultra specification is fitted with a 'hyper range' battery, which ups the range to 390 miles. An open-sky roof, automatic emergency braking, remote vehicle finder, 'doggie windows' and a California mode are touted as standard features. Prices start at £48,900.  
Extreme models start at £59,900 and include smart traction for improved stability in rough weather, a 360deg camera, wireless phone charging, lane-changing assistance and a rotating central infotainment screen.
Alternatively, drivers can choose the limited-run One spec, which also starts at £59,990. Based on the Extreme, the model will be limited to the first 5000 units produced. Standard kit includes 22in wheels and a commemorative signature. 
Top models also gain solar panels on the roof to provide more power in sunny conditions. Fisker said the roof is able to produce up to 1500 miles of range per year.
Earth and Fun driving modes are standard on all cars, while the Ultra and Extreme add Hyper mode, which boosts performance. The Extreme also gets a dedicated Off-Road mode, too.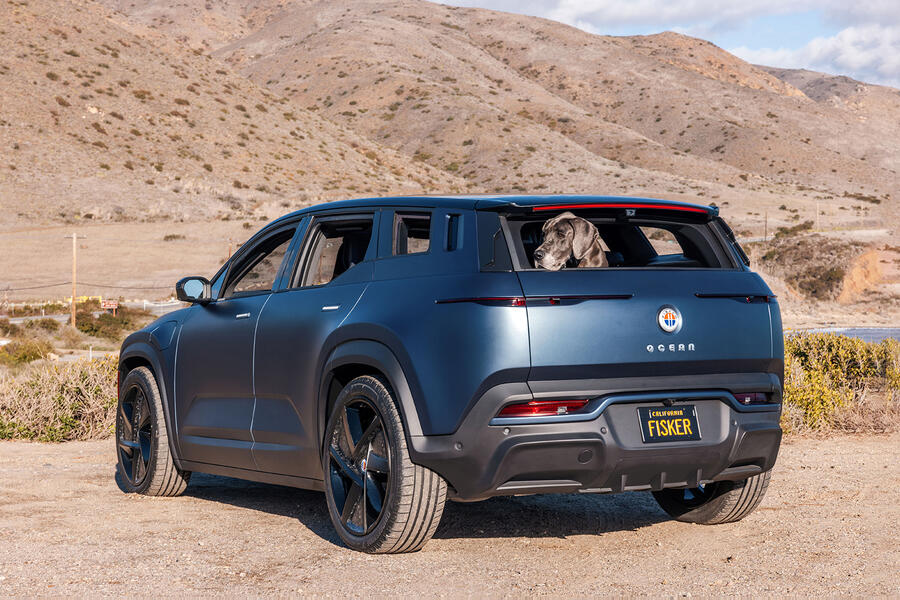 Claimed by Fisker to be the most sustainable electric SUV ever produced, the Ocean first received its official UK debut in front of crowds at the Goodwood Festival of Speed. The five-seater highlights the company's commitment to sustainability, with a "fully vegan" interior comprising reclaimed fishing nets, T-shirts and rubber. 
Other highlights include California mode that lowers all the windows and retracts the roof to provide a convertible-style driving experience; a Limo mode that allows rear-seat passengers to control various vehicle functions; and a rotating 17.1in infotainment touchscreen that can be switched from portrait mode to landscape mode when the car is stopped.
"With the Fisker Ocean's combination of performance, value and sustainability, I believe we have a unique electric vehicle with industry-first features, such as California Mode, a 17.1-inch rotating screen and the longest range in our segment," said company boss Henrik Fisker, suggesting Europe was "critical" to the model's success. 
Fisker told Autocar that the batteries and powertrains were only selected last year, shortly ahead of the Ocean's market launch. The reason, he explained, is that "the car industry has been in the common cycle of taking about four years to develop a car, so when you buy a car, the technology was chosen two-and-a-half or three years ago".
He continued: "We're trying to change that into a much shorter development time of two-and-a-half years. Part of the trick here is that we have an amazing engineering and development team, but also that we're working really closely with Magna to produce our vehicles, because we want a high-quality vehicle, so we haven't had to deal with building a factory and teaching people how to manufacture a car. So that's probably an advantage and a differentiator to our business model."
Outsourcing production significantly reduces Fisker's overheads, as does its unconventional retail network – centred on so-called experience centres in cities – and remote vehicle delivery and servicing model. A location has been selected for Fisker's London Experience Centre and will be confirmed closer to its opening date next year. 
The Ocean is the first of a planned family of Fisker EVs, one of which will be the Fisker Pear, developed with technology giant Foxconn, which is set to go on sale globally from the end of this year at an affordable price point.
It was first revealed at the Los Angeles motor show last year, and will be produced by Magna Steyr in Graz, Austria. Fisker recently opened a European office in Munich, Germany, and a brand experience centre is set to follow in the country. It has forecast annual sales of around 60,000 units in Europe.
https://www.autocar.co.uk/car-news/new-c...ectric-suv