07-02-2022, 02:44 AM
2023 Hyundai Ioniq 6 is rakish Model 3 rival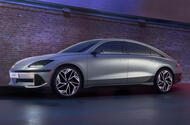 Streamlined new electric saloon will go on sale next year; £45k price likely
The latest and most striking entrant into Hyundai's expanding bespoke EV family is the new Ioniq 6: a rakish, aero-optimised saloon aimed squarely at the hugely popular Tesla Model 3.
It is the second addition to the firm's new Ioniq EV family and will join the retro-styled Hyundai Ioniq 5 crossover – which is fast becoming one of the most popular cars in its segment – in dealerships in 2023.
Previewed in 2020 by the sleek and ultra-low Prophecy concept, the Ioniq 6 is Hyundai's first foray into the electric saloon market, having established a foothold in the EV segment with the Hyundai Kona Electric, Ioniq hatch and Ioniq 5. At 4855mm long, 1880mm wide and 1495mm tall, with a wheelbase of 2950mm, it is a close match in size for the Model 3 – as well as the Polestar 2 and BMW i4.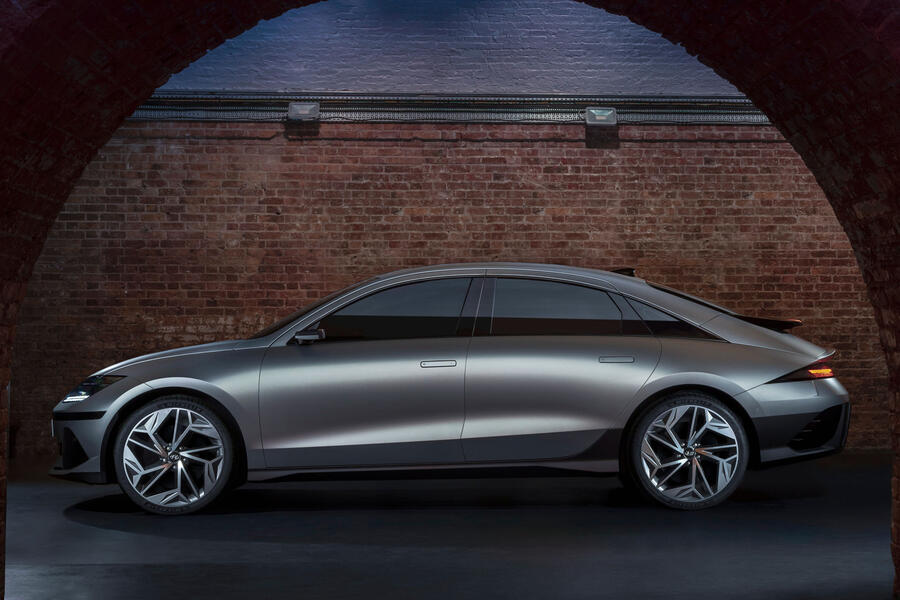 Like the Ioniq 5, it uses the Hyundai Motor Group's E-GMP skateboard architecture, which also underpins the Kia EV6 and Genesis GV60. And while Hyundai has yet to give a full technical briefing, that means 800V hardware will be standard fitment for rapid charging at speeds of up to 350kW, as will vehicle-to-load compatibility for powering external appliances.
As with other cars on this flat-floored platform, it is expected to be offered with a choice of batteries ranging from 58kWh to 77.4kWh in capacity. The largest battery is likely to provide a range of more than 300 miles, given the car has a sleeker silhouette than the trio of upright E-GMP-based cars already on sale.
The firm also offers a choice of single-motor/rear-wheel-drive and twin-motor/four-wheel-drive powertrains elsewhere, and that's expected to be the case here, too. A 226bhp RWD entry-level model, 321bhp midrung 4WD option and range-topping 577bhp Ioniq 6 'N' are on the cards – the 'N' with a sub-3.5sec 0-62mph time.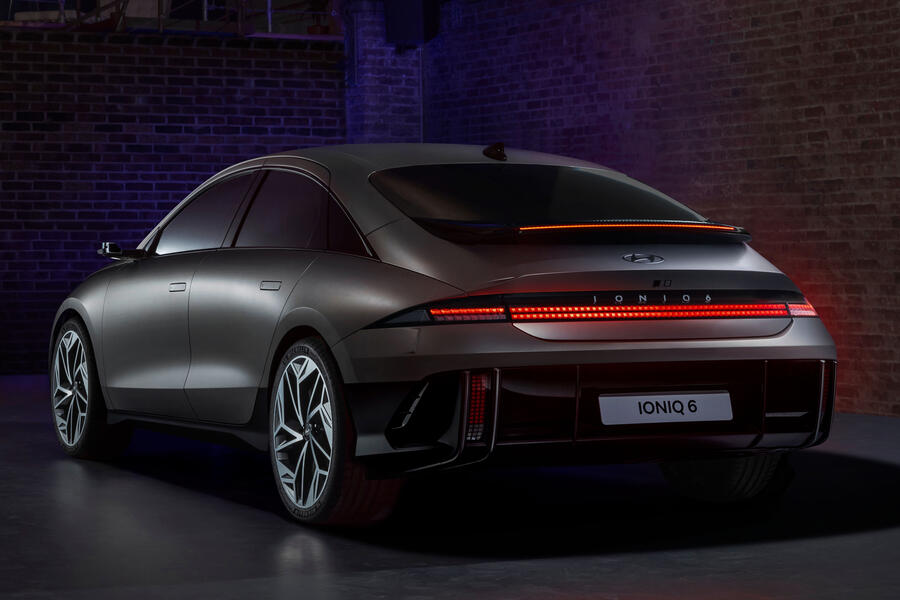 However, unlike the Ioniq 5, the 6 moves away from heritage-inspired design cues and adopts a much more aeroled 'single-curve' silhouette, which will help to optimise efficiency while, says Hyundai, embodying "the concepts of Sensuous Sportiness and optimistic futurism". Together with the low-slung front end, it gives a drag coefficient of just 0.21 – creating one of the most aerodynamically efficient production cars available and making it, according to Hyundai, a "streamliner" rather than a conventional saloon.
The influence of the Prophecy is clear in the pixel-style light clusters, subtle ducktail rear spoiler and curved shoulder line, but the Ioniq 6 is a taller and thus more practical proposition, with a roofline roughly 200mm higher off the ground than that of the show car – chiefly because of the 150mm-thick battery pack.
Combined with the flat floor and an overt focus on ergonomics in the cabin, this means, chief designer SangYup Lee told Autocar, that the Ioniq 6 can be used by owners "almost like a third room. The single curvature creates a very nice warm 'cocoon' atmosphere inside. Exterior design is the main factor in a customer's purchase decision, but for an EV the interior will be the distinguisher for the brand."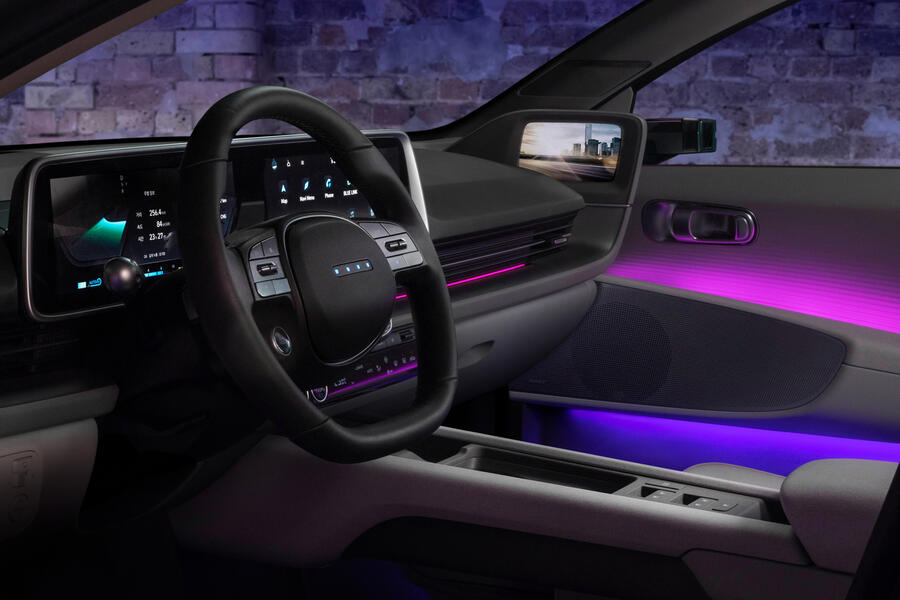 The centre console is flat so front-seat occupants can work on their laptops or tablets. There is a minimalistic 'cow-horn'- shaped dashboard housing a pair of 12.0in screens in one panel as part of a new 'user-centric' architecture and the centre console floats to free up space in the front cabin. In addition, the long wheelbase allows for competitive levels of leg room in both rows.
In keeping with Hyundai's sustainability ethos, the interior is trimmed in an array of eco-friendly materials, including flaxseed-dyed artificial leather, recycled PET plastics, vegetable oil-based paints and recycled fishing nets.
The Ioniq 6 will be available from its launch in 12 exterior colours – including one shade of green made from bamboo charcoal pigment – and with a choice of new 18in and 20in wheel designs. More information on UK-specific options and pricing will be revealed closer to its market launch in the first quarter of next year. But taking into consideration prices of the Ioniq 5 and the cars the Ioniq 6 will go up against, a starting price in the region of £45,000 is feasible.
Q&A: SangYup Lee, head of global design, Hyundai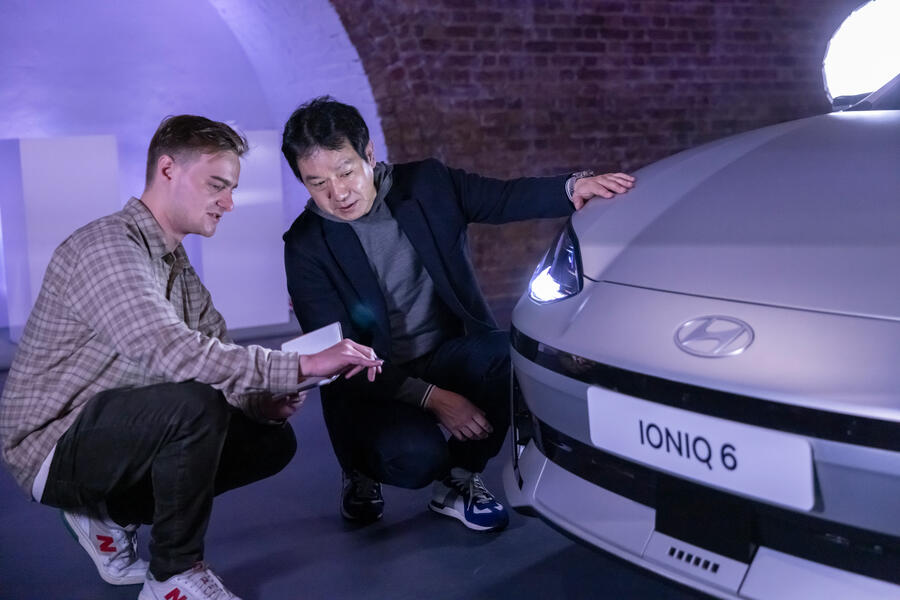 ​​What were the challenges in evolving the Prophecy concept?
"One of the biggest challenges was to get the outline of a streamliner with a single-curve design and big interior space yet without losing the dynamic character.
"Obviously, aerodynamics are a huge player. We were able to go down to 0.21 Cd, which is a fantastic number compared with other EVs. We spent a lot of time at the wind tunnel."
Did performance influence the design?
"In a way, it's a default: we must deliver the range and the functionality. But fundamentally, an EV is a battery pack with motors, so what else can we do differently? One big factor was the typological challenge we wanted to create. We don't want to create something typical. Instead, we're doing a single-curvature design. We don't want to call this a 'saloon'."
Will you continue to think in 'eras' of car design?
"Right now, we're going through a bit of a dark era, but even in a dark era, there is always hope. It's almost like Hyundai can take a time machine and go back to an era like the early '70s: wasn't that fantastic? All the race cars… it was just great."
Ioniq 7: An SUV with an Audi A2 vibe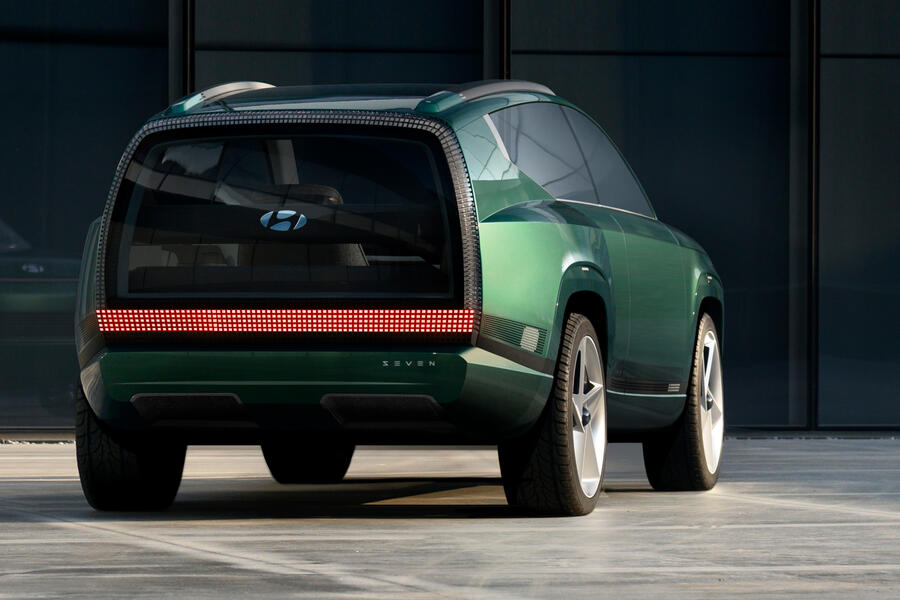 The Ioniq 5 nodded to the 1980s with its pixel light clusters and angular silhouette and the new Ioniq 6 leans heavily on 1930s-inspired cues, but the upcoming Hyundai Ioniq 7 SUV will be "something else again", according to design boss SangYup Lee.
Previewed by the Seven concept last year, the Ioniq 7 will evolve into a Santa Fe-sized range-topper that will embody Hyundai's aim to be "a time machine" to different design eras. It won't be "a traditional SUV", said Lee, who cites the Audi A2 as a design influence and said it will have a better drag coefficient than any combustion equivalent.
https://www.autocar.co.uk/car-news/new-c...el-3-rival