06-11-2023, 09:48 AM
2023 Mercedes CLE first ride: trying the C-Class coupé replacement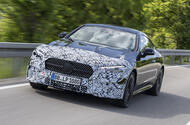 The CLE will be revealed in coupé form in July and launched in the UK by the end of the year
New CLE coupé and convertible pair are due in 2023 - and we've been given an exclusive first ride
Mercedes-Benz has officially confirmed the long-mooted CLE name for the upcoming successor to its existing C-Class and E-Class coupé and cabriolet models.
To be revealed in coupé form in July and launched in the UK by the end of the year, the new two-door model forms part of plans by the German car maker to consolidate its traditional ICE car line-up as it pushes forward with an ambitious EV roadmap. 
"We asked C-Class coupé owners what they expected from a successor model. The overwhelming answer was 'greater luxury'. E-Class coupé owners, on the other hand, said they wanted a 'more sporting driving character'. We've attempted to imbue these qualities into a single model," said Christof Kühner, Head of Overall Vehicle Testing for the CLE.
The basis for the new two-plus-two coupé – and subsequent soft-top cabriolet – is the Modular Rear Architecture (MRA) platform – a high-strength steel and aluminium structure familiar from the full-sized C- and E-Class. It has been modified to provide the CLE with its own unique wheelbase and track widths between the two current saloons - but full dimensions are yet to be revealed.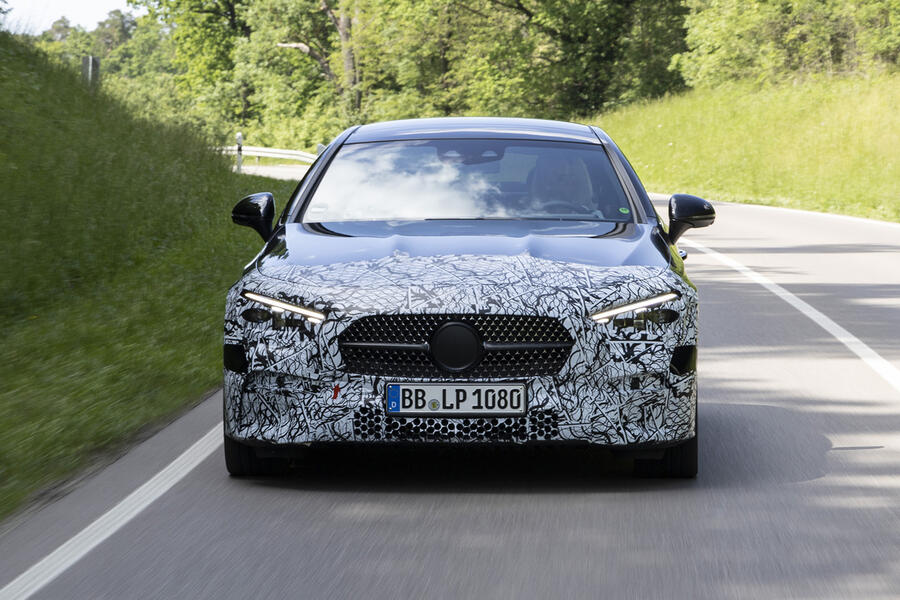 The exterior styling builds on that of the existing E-class coupe with a sporting silhouette featuring a long probing bonnet, 'shark nose' grille, heavily curved roof, curvaceous C-pillar treatment, a heavily angled rear window and sloping boot lid within a rounded rear end.
Power domes in the bonnet, prominent rear haunches over the rear wheels and a tapered glasshouse draw links to the range-topping SL. 
Inside, the dashboard and associated trim elements borrow heavily from the latest C-Class with separate digital instrument and infotainment displays.
The front seats are sporting in shape and structure, with substantial support in the backrest and integrated headrests, as well as electric adjustment as standard. As tradition dictates, there's also a belt bringer mechanism for the front belts.
The third-generation MBUX operating system for the portrait-style infotainment display receives similar updates and menus to those brought to the new E-class saloon. Mercedes-Benz will also offer the new CLE with Level 2 automated driving assistant system technology that allows the driver to go hands-off for up to 30sec under European driving laws. Among the options are a head-up display unit and a panoramic glass roof.
The engine line-up for the CLE coupe won't be announced until closer to the new model's introduction, though Autocar can confirm it will initially consist of 2.0-litre four- and 3.0-litre six-cylinder petrol units, together with a 2.0-litre four-cylinder diesel – all featuring 48-volt electrification and mild-hybrid properties.
The four-cylinder petrol engine will also form the basis of a petrol-electric plug-in hybrid-powered CLE model in combination with a gearbox-mounted electric motor delivering up to 90kW from the outset of UK sales.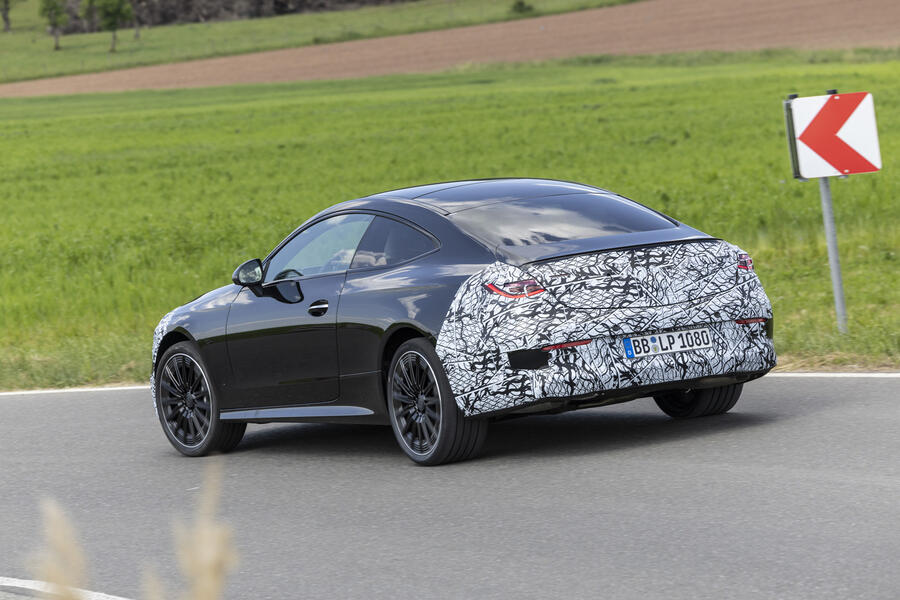 As in the existing C- and E-class line-ups, all engines are mated to a nine-speed automatic gearbox as standard. Overall, there are four driving modes: Eco, Comfort, Sport and Individual.
Buyers will be able to choose between standard rear- and optional four-wheel drive with the four-cylinder petrol and diesel engines, with the six-cylinder petrol engine set to be combined with Mercedes-Benz's 4Matic four-wheel drive system as standard. The plug-in hybrid will be sold exclusively with rear-wheel drive.
There will also be selected AMG models, though again Mercedes-Benz is holding back on details right now.
The existence of a six-cylinder petrol engine in standard CLE models hints at a possible CLE53 model. Speculation also revolves around a range-topping CLE63 with the same 2.0-litre four-cylinder-based plug-in hybrid system used by the C63.
The CLE is underpinned by a coil-sprung suspension and will offer the choice of both passive and active damping properties across three systems: standard, Sport and Avantgarde.
As part of engineering efforts to provide it with the agility to match its sporting looks, Mercedes-Benz will also offer its new two-door with optional rear steering and up to 2.5 degrees of rear steer angle. It operates in combination with front steering that is uniquely geared with a nominal ratio of 13.8:1.
Production of the CLE is set to take place exclusively at Mercedes-Benz's Bremen plant in Germany for all markets.
New Mercedes E-Class first ride
Where there were four models, there are now two. That's the upshot of Mercedes-Benz's decision to replace the C- and E-class coupe and cabriolet with the CLE coupe and cabriolet.
An initial ride in a low mileage validation prototype on ultra smooth surfaced roads around Mercedes-Benz's factory in Sindelfingen, Germany, reveals the new two-door does not stray too far from the two models it succeeds in overall on-road character.
There are a lot of C-class saloon and estate styling cues inside. But a lower set front seating position provides the CLE coupe with a more sporting in feel from the passenger seat. Perceived quality is improved over the old C- and E-class coupe and cabriolet, as is the operation of the infotainment system, which works with the latest incarnation of the Mercedes-Benz MBUX operating system, bringing faster reaction times and greater resolution from new generation displays.
In initial top-of-the-line six-cylinder petrol guise, the CLE coupe offers smooth and effortless performance. Mechanical refinement is excellent, as is the ability of the prototype to isolate wind noise at typical motorway cruising speeds.
The new Mercedes-Benz model's head of testing, Christof Kühner, says a lot of effort has gone into providing the CLE coupe with typically relaxed and subdued long-distance cruising qualities. It shows!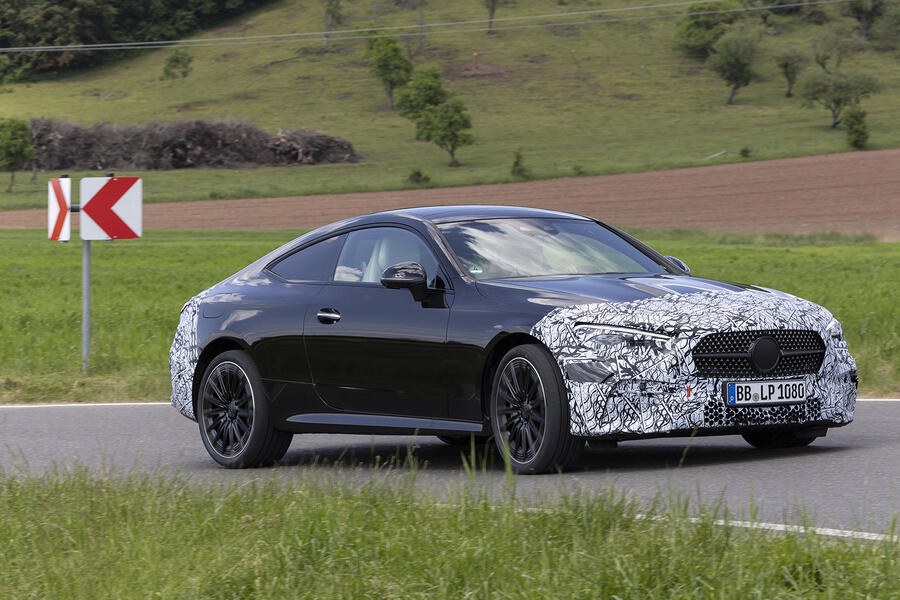 A synthetic sound generator provides added aural intent when the driver dials up the Sport mode, though it can be turned off to retain the overall feeling of refinement without losing the sporting edge.
Over more challenging roads, the CLE coupe turns in sharply and is satisfyingly agile, thanks in part to the effort of the optional rear-wheel steer system, which provides 2.5 degrees of rear steering angle.
There is a GT-like appeal to the ride, which combines inherently firm spring rates with excellent damping control to provide taut but controlled qualities on the optional suspension.
The real proof, however, will come in driving the CLE coupe – one of the last internal combustion engine models to be based on Mercedes-Benz's MRA platform – later this year.
For now, though, Mercedes-Benz appears to have succeeded in taking the best aspects of the C- and E-class coupes and rolling them into one appealing package that looks certain to make life hard for the likes of the Audi A5 coupe and BMW 4-series.  
https://www.autocar.co.uk/car-news/new-c...eplacement