01-03-2023, 11:15 AM
2024 Maserati MC20 Folgore EV to retain V6 character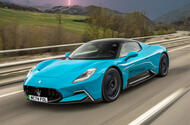 Maserati has developed a bespoke exhaust note for the electrified MC20
Firm's first electric sports car yields huge performance gains, subtle styling tweaks and possible 300-mile range
The Maserati MC20 Folgore will arrive in 2024 as the flag-bearer for a brigade of electric sports cars, pairing traditional mid-engined styling and handling with whip-crack acceleration and outstanding usability. 
In a rare exclusive interview with Autocar, Maserati CEO Davide Grasso outlined his expectations and hopes for the MC20 Folgore, which is one of six EVs Maserati will launch by 2026 as it gears up to phase out combustion engines. 
Above all, revealed Grasso, Maserati aims to substantially boost performance over the existing V6-engined MC20 without losing its character or sense of engagement. 
"The type of acceleration you get from an electric car is different from an ICE [car]," said Grasso. "But absolutely from a handling standpoint and from a speed standpoint, the electric MC20 will be, to our knowledge, the first super-sports car that's fully electric." 
Grasso refused to be drawn on more specific performance and technical details ("the programme is still going full steam; it's a bit too early for me to start sharing"). But he suggested the difference in character between the V6 and EV versions of the new Granturismo will be a good indicator of how the MC20 variants will be told apart: 
"Once we've launched the Granturismo in Folgore and ICE forms, I think you're going to have a sense – driving both those cars – of how that could be translated in the MC20 Folgore versus [MC20] ICE."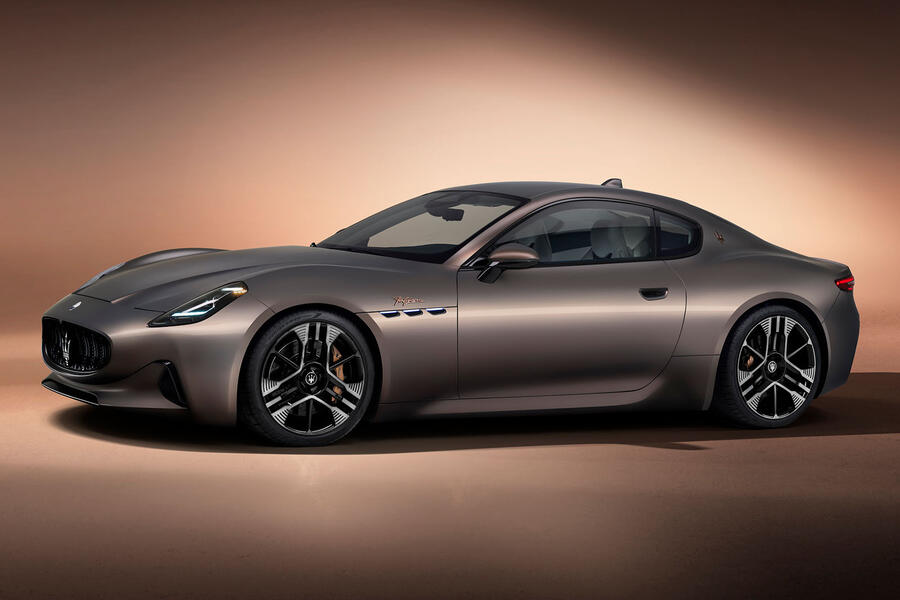 The MC20 will be the third Maserati made available as an EV, following the Granturismo and Grecale SUV in 2023. The next-generation Quattroporte saloon and Levante SUV are set to be electric-only from launch (see overleaf). 
The MC20 was conceived from the off to accommodate both ICE and EV hardware, so the Folgore will be structurally very similar to the existing car, rather than sit on an adapted version of the platform used by Maserati's larger EVs (itself derived from sibling firm Alfa Romeo's Giorgio platform). 
Grasso said: "That uniquely Maserati approach of using a platform for both versions and developing a platform that allows the maximum type of performance and handling and the characteristic and unique handling that Maserati can provide has been a characteristic of the programme strategically." 
The most potent ICE version of the Granturismo extracts 550bhp from its V6 (71bhp less than the same-engined MC20), while the EV boosts output to a substantial 745bhp. If the MC20 Folgore mirrors that output, it would represent a substantial rise that, together with a huge 997lb ft of torque, should yield a drastic improvement in off-the-mark acceleration. 
Importantly, though, the Granturismo EV carries nearly 500kg more than the V6 car, so a priority for the MC20 Folgore will be mitigating the impact of that added heft, particularly if it's to match the acclaimed dynamics of the existing car, as Grasso hopes. 
It's anticipated that the MC20 Folgore will use the same tri-motor drivetrain, with two motors on the rear axle and one at the front, to allow for rear- or four-wheel drive as required.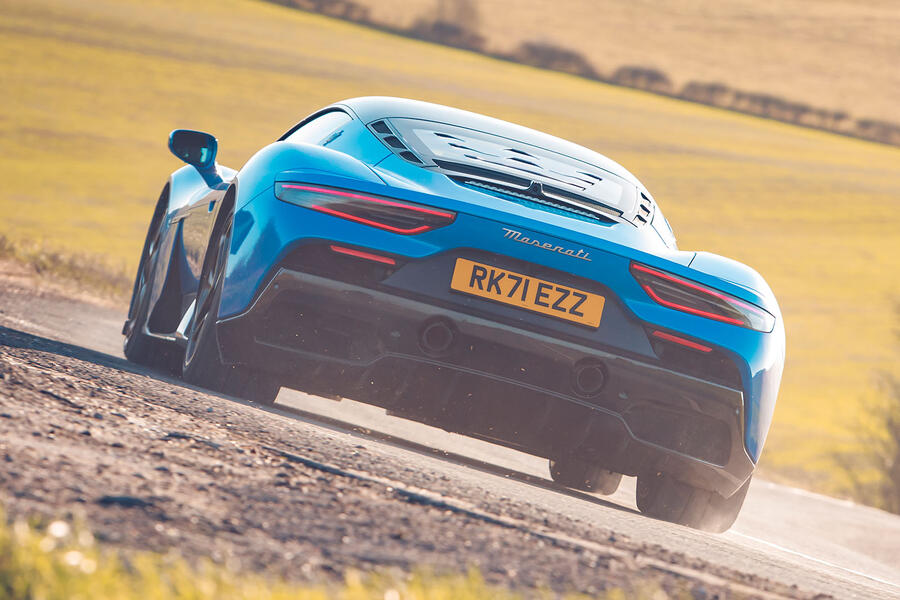 The MC20 Folgore will be visually nearly identical to the V6 MC20, albeit with subtle tweaks to aid aerodynamics. 
Earlier preview images of the MC20 Folgore's monocoque suggest that Maserati will position the batteries behind the seats in the name of optimised weight distribution and a low centre of gravity. 
Lotus and Porsche have chosen this format for their upcoming electric two-seat sports cars in order to preserve the characteristic agility of their ICE models, with the added benefit that it allows for familiar proportions and packaging. 
Meanwhile, though, the Granturismo Folgore uses a T-shape battery running between the rear wheels and down the transmission tunnel, so it remains to be seen which arrangement will make it to production. 
No doubt the MC20 Folgore will be capable of charging at speeds of 270kW, like the Granturismo, and if it uses the same 83kWh battery pack, it could offer a range of more than 300 miles per charge. 
From launch, the MC20 Folgore will essentially exist in a class of one. Today's most potent EV offerings (the likes of the Lotus Evija and Rimac Nevera) occupy the ultra-rarefied hypercar segment, while electric equivalents to today's traditional mid-engined supercars have yet to materialise. 
Ferrari plans to launch its first EV in 2025 but has yet to offer any details of its market positioning or shape, while the first EVs from Lamborghini and McLaren are likely to take the form of high-riding 2+2 grand tourers, due towards the end of the decade. Honda has confirmed plans for an electric NSX successor but not confirmed a launch date, while Alfa Romeo's upcoming limited-run supercar could still use a high-output V6. 
Grasso said that he was "extremely excited" about Maserati being the pioneer of the electric super-sports car segment, but he added: "It's not about being the first, it's also about being the best in terms of performance."
Q&A with company CEO Davide Grasso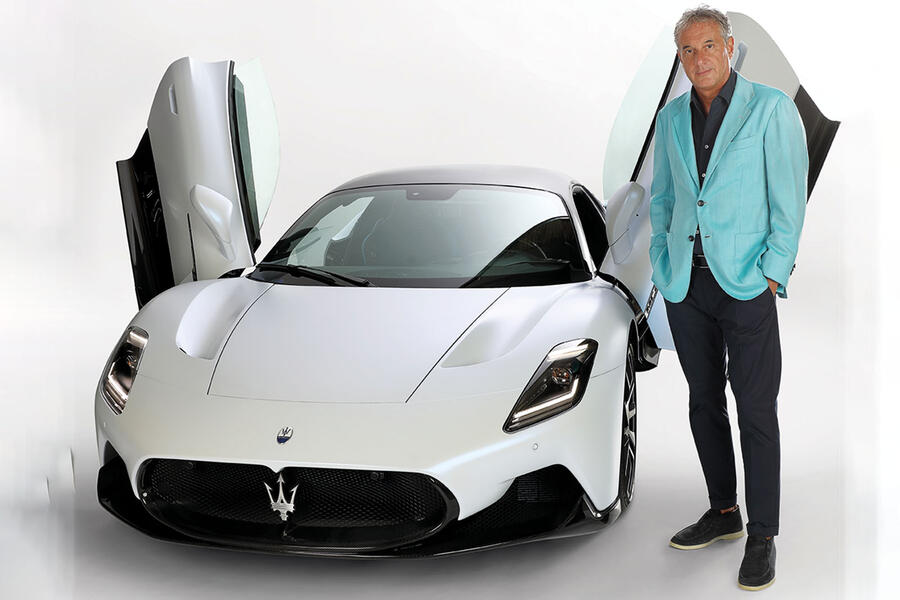 Could Maserati expand its line-up as it electrifies?
"We have a sports [saloon], we have a large SUV, we have a D-segment SUV, we have a grand tourer now – which is a sports coupé, if you will – and we have a super-sports car. So we're going to have five nameplates. And with a brand like Maserati, the goal is more about continuing to fine-tune, finesse and perfect these models and continue to make sure that the consumer experience the quality, the design appeal, the emotional appeal, the performance and the luxury experience is unparalleled."
Is the Grecale as mainstream as Maserati can go?
"One interpretation of 'mainstream' is to try to please everybody, and that's not negative. Because if you sell 'essential' apparel, being mainstream is absolutely the right thing to do. But we're not selling basic apparel, we're selling cars – and luxury cars at that. So in terms of all-around use, the Maserati Grecale is 'everyday exceptional'. I struggle to see the word 'mainstream' coupled with Maserati, but the Grecale is everyday exceptional."
You aim to ultimately achieve profit margins of 20%. Will personalisation play a crucial role here?
"You will see more and more our Fuoroserie programme taking [on a life of its own]. But we've also invested in manufacturing capabilities, so you will see that it's important for our margins, and then again: it's a result.
"Because the core of that move lies in the fact that it's all about the customer. And the modern luxury customer is willing to pay more to have personalised objects, if you will, that distinguish himself or herself from the rest. Sometimes the personalisation is a matter of comfort, sometimes it's a matter of aesthetics, sometimes it's a matter of performance, sometimes it's all of the above. So we're building the capabilities, and we will deliver those with some remarkable results."
https://www.autocar.co.uk/car-news/new-c...-character