09-06-2023, 04:16 PM
2024 Renault Scenic goes electric with 385-mile range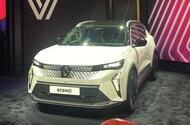 The new Scenic is due to go on sale in the UK early next year
Dramatically restyled crossover mixes SUV design elements with interior roominess and practicality
The new Renault Scenic E-Tech Electric is intended to represent a "new form of family vehicle", according to its creators, mixing SUV design elements with interior roominess comparable to its MPV predecessor.
Due to go on sale in the UK early next year, the Scenic will sit above the Megane in Renault's line-up of bespoke electric cars. While the new SUV is technically unrelated to the series of MPVs that carried the nameplate from 1996 until 2022, Renault insists that the family-centric values of that vehicle – with particular focus on maximising interior space and safety – have been carried over.
Built on the CMF-EV platform also used by the Megane and the Nissan Ariya, the Scenic was designed around two fixed points: a wheelbase of 2780mm, intended to put it squarely in the middle of the C-segment vehicle market, and a height of 1571mm, to allow it to offer similar headroom to previous versions.
The exterior styling is remarkably close to the concept version revealed last year, and showcases Renault's new 'visual language' that mixes curved bodywork with sharp character lines and elements designed to look 'high-tech'.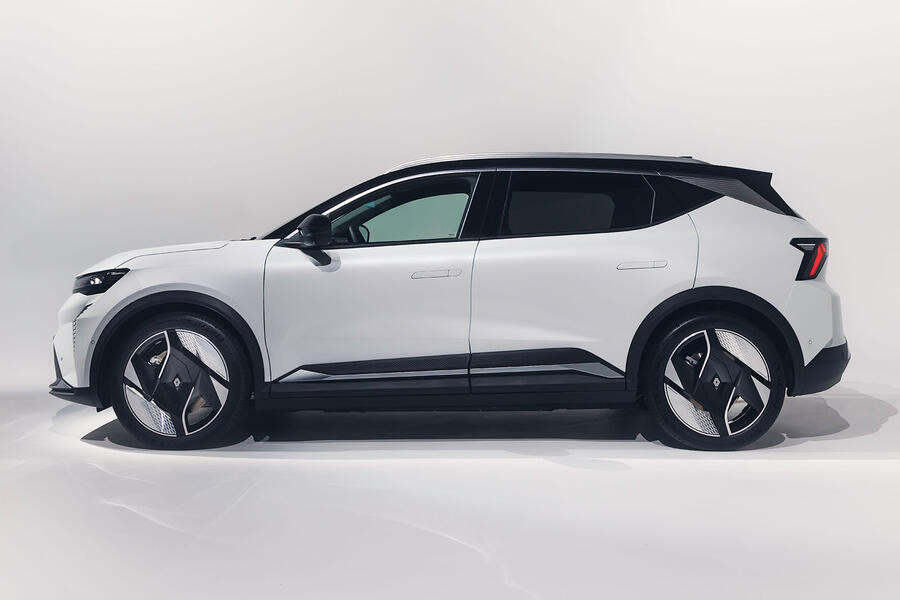 The front grille area has been reworked with a vertical Renault logo set slightly back from a panel featuring a diamond motif, while at the edges the daytime running lights build on those featured on the Mégane.
At 4470mm, the Scenic is slightly shorter than the closely related Ariya, but Renault claims that the comparatively long wheelbase gives it more interior space than traditional cars of its size, highlighting its 278mm of legroom and 884mm of headroom in the back.
There is a 12.3in digital driver display and a 12.0in portrait-oriented central touchscreen, which runs Renault's Google-based OpenR Link infotainment system.
To meet its family car brief there are numerous storage areas in the cabin, including a large open centre console in the front. In the back, the fold-down centre armrest features two cupholders, stands to hold two smartphones or one tablet and has two USB ports built in. There is also a 545-litre boot, with storage space expanding to 1670 litres with the rear seats folded.
There is also an optional 'Solarbay' panoramic roof, developed with specialist manufacturer Saint-Gobain. Using Polymer Dispersed Liquid Crystals (PDLC) and an electric field, it can opacify one segment at a time, allowing different levels of light in different parts of the car.
The Scenic will be offered with two battery sizes, each powering a single front-mounted motor. Standard Range models feature a 167bhp motor paired to a net 60kWh battery, giving a 0-62mph time of 9.3secs, a top speed of 93mph and a claimed range of more than 261 miles.
High Range models offer 215bhp, with a net 87kWh battery that increases the claimed range to more than 385 miles while raising the top speed to 105mph and cutting 0.9secs from the 0-62-mph time. 
Both batteries use LG Chem nickel-manganese-cobalt technology, and are claimed to have 6% higher energy density than those in the Megane.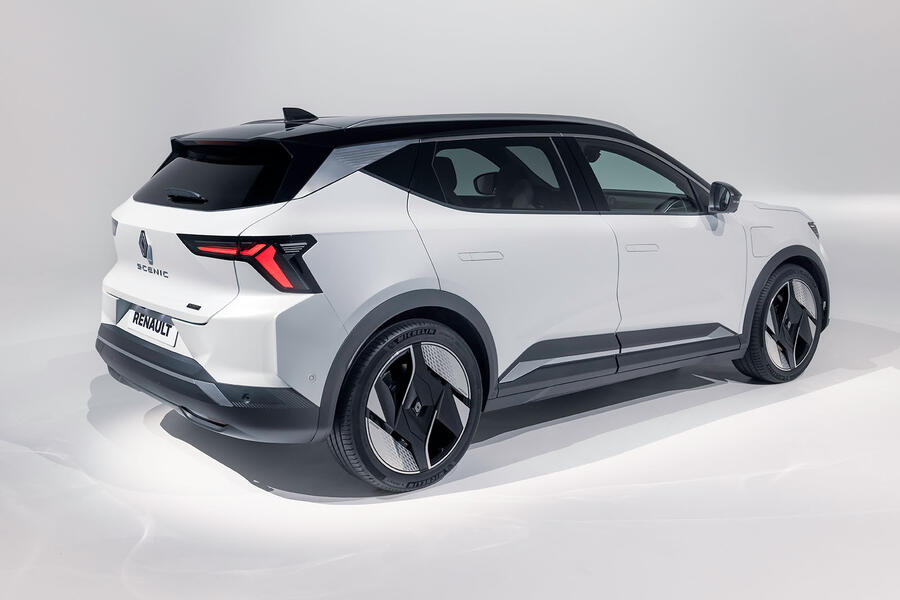 Renault has also reworked the pre-conditioning functions, and reduced the optimal operating temperature of the battery. Notably, unlike with the Megane, a heat pump will be standard on all models. Four levels of brake regeneration are offered.
Standard models can fast charge at speeds of up to 130kW, rising to 150kW for the larger battery. Buyers can choose from 7kW or 22kW on-board AC chargers.
Renault claims that up to 24% of the materials in the Scenic are recycled, including up to 80% of the aluminium in the doors and bonnet, while the firm has focused on developing 'closed loop' streams.
The cockpit is 26% recycled plastic, while around 80% of the dashboard materials are recycled. The aim is that 90% of the car, including the battery, can be recycled at the end of its life.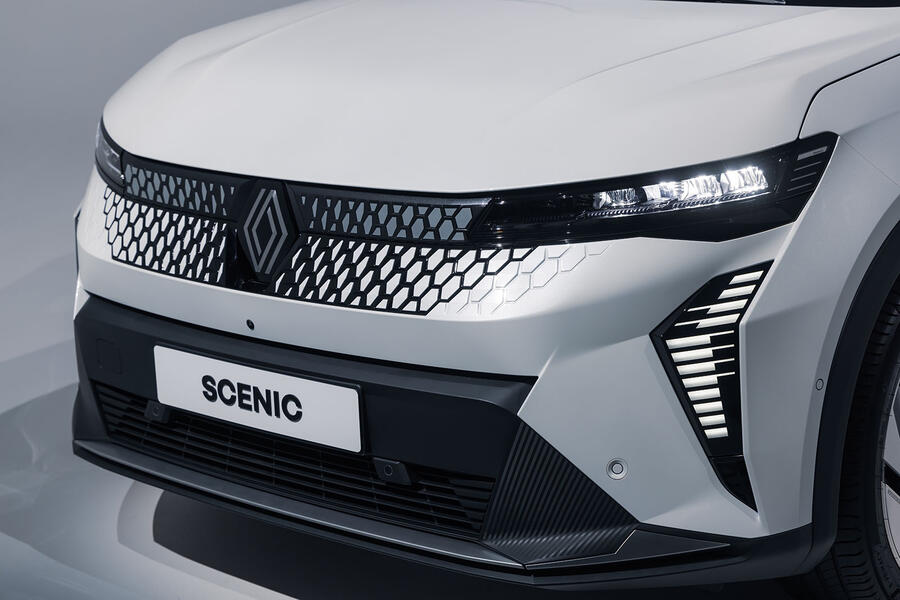 Three trim levels will be offered, including a new Esprit Alpine trim that features sporting cues inspired by Renault's performance brand. The Scenic does not use any leather, with Renault having committed to phasing out its use entirely by 2025.
In its place, the steering wheel features a grained coated fabric that uses 51% bio-sourced material, while those in the Esprit Alpine trim use fabric made from 80% reprocessed bottles and 20% old seatbelts.
The new Scenic will be manufactured in Douai, France, at the heart of Renault's 'ElectriCity' network. UK pricing has yet to be finalised, but it is expected to undercut key rivals such as the Tesla Model Y (priced from £44,990 at the time of writing).
EVs remain "in the reach of the happy few", said Renault brand boss Fabrice Cambolive at the Scenic's unveiling. It is a "challenge to create excitement with products for early adopters", as a result.
But "now is the time for phase two: EV adoption for the masses," he said. "Products must not force people into compromising, and this is what we have tried to do with the Scenic: it just makes sense."
He added that it has been designed from the ground up to be "the right package for the European consumer".
"Let's make EVs a product for all," he pledged.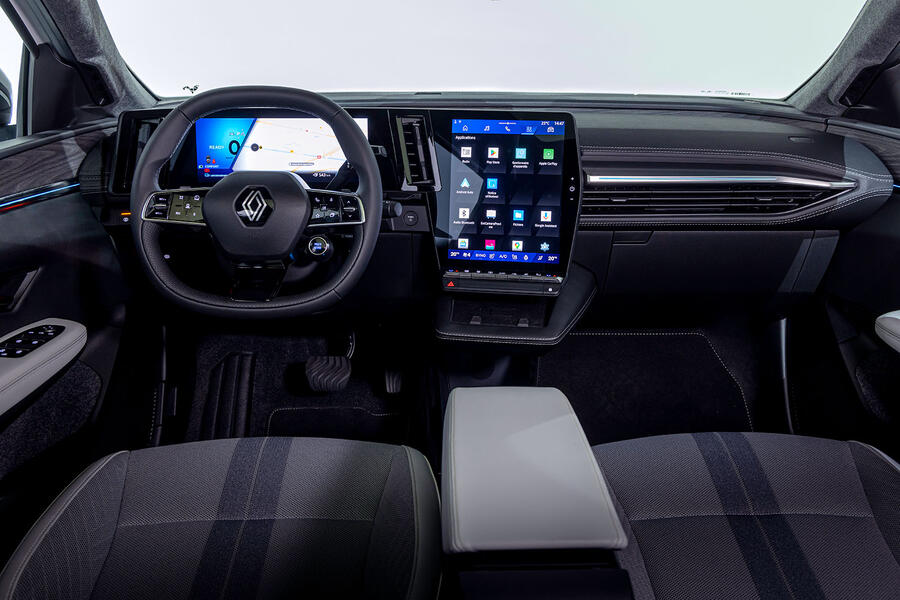 Cambolive also noted that Munich motor show – thus Germany – is an appropriate venue for the Scenic's unveiling, because it was in Frankfurt in 1991 that the brand showed the original Scenic concept.
"This concept modernised family cars," he said. "It showed family cars could be compact outside, but spacious and very comfortable inside."
The Scenic evolved into a production car in 1996, and since then Renault has sold more than 5.3 million examples. More than two million, Cambolive said, remain on the road.
Q&A with Agneta Dahlgren-Hermine, Renault Design EV project director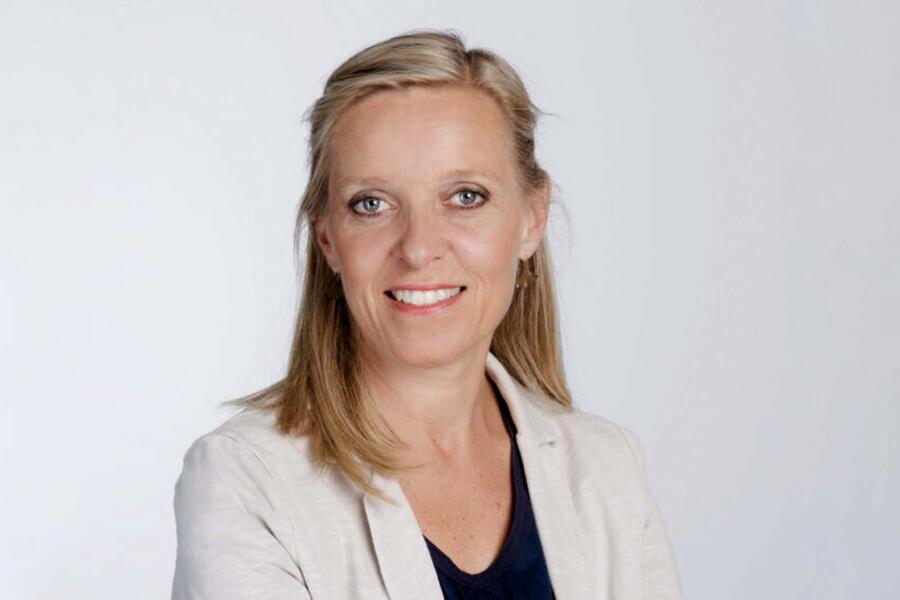 Why use the Scenic name?
"It's really our family vehicle, and it needs to be adapted to family needs. Nowadays, many people want a car that's a bit higher, and even the previous-generation Scenic was. It's really just the position of the windshield, pushed more backwards [like an SUV].
"It's not really an SUV: you have a long bonnet, and you don't have high wheel gaps. It's kind of a crossover between a hatchback, SUV and MPV. And there's even more interior space."
How hard was it to work in recycled materials?
"Not so difficult. It's something we've been working on for a long time: we had recycled material on the Zoe. We thought with Scenic being a full EV we need to be on the top with recycled materials. We've worked with suppliers to push the solutions."
Why does this car still have chrome elements, after design chief Gilles Vidal suggested it's on the way out? 
"We only have a few bits, and mostly in the interior. I think we as designers could get rid of this easily, it's more about: is the customer ready? I don't know. But we don't have leather in this car, which is a big step."
https://www.autocar.co.uk/car-news/new-c...ult-scenic