06-21-2023, 04:28 PM
2024 Vauxhall Crossland to arrive with electric variant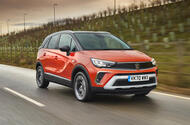 The current model was launched in 2017
Crossover will be one of the final Vauxhalls to get an EV as the firm pushes to become an electric-only brand by 2028
Vauxhall will offer an electric variant of every car in its range next year after confirming an all-electric Vauxhall Crossland will arrive with the car's next generation in 2024.
The crossover will be one of the final cars in the British brand's line-up to get a pure-electric powertrain along with the Vauxhall Grandland – already confirmed to arrive next year – ahead of the car maker going electric-only from 2028. 
It will follow the recently released Vauxhall Astra Electric and upcoming Astra Sports Tourer Electric in the EV range, which already consists of the Vauxhall Corsa Electric, Vauxhall Mokka Electric, Vauxhall Combo Life Electric and Vauxhall Vivaro Life Electric.
By 2028, they will be joined by a reborn Manta – in the form of an electric SUV tipped to rival the Toyota bZ4X – and an electric successor to the Vauxhall Insignia saloon. Whether either will retain the names of their former ICE models remains to be confirmed. 
The electric Crossland's arrival next year, as well as the Grandland EV's, will mark " a significant milestone" for the car maker, boss James Taylor said, and will make Vauxhall one of the first established brands to offer a full range of electric variants.
Arriving as a competitor to the Jeep Avenger and upcoming Ford Explorer, the Crossland Electric – which is currently sold with a 1.2-litre turbo petrol three-pot only – is expected to use a similar set-up to that of the Corsa Electric. 
The popular hatchback is fitted with a 51kWh battery pack and 154bhp motor – both shared with sibling brand Peugeot's updated e-208. Expect a slight drop on the Corsa's 255-mile range from the boxier, bigger and probably heavier Crossland. 
As Vauxhall also offers the Corsa with a 134bhp motor and 50kWh battery (good for 222 miles of range), it is likely that this will also be available on the new Crossland. 
A pure-petrol option is expected to continue, with its mild-hybrid engine likely to miror that of the smaller Corsa with two power levels: 99bhp and 134bhp.  
Styling for the new Crossland has yet to be revealed, but it is expected to follow the latest Corsa and Astra with Vauxhall's new, sleeker front end and slimmer headlights. As such, pricing for the ICE models is tipped to rise from the current £22,750, with the electric variant commanding a hefty premium - in line withthe rest of the EV line-up - at around £35,000.
https://www.autocar.co.uk/car-news/new-c...ic-variant