09-24-2023, 02:16 PM
2024 Volkswagen Tiguan brings new interior, long-range PHEV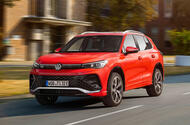 New Volkswagen Tiguan receives a 62-mile electric-only range in plug-in hybrid guise
VW's best-seller reinvented with upsized infotainment screen and overhauled hybrid powertrains
Volkswagen has revealed the third-generation Tiguan, due in the UK in early 2024, as a comprehensively restyled and re-engineered version of its best-selling car.
Development of the new Tiguan has largely been undertaken in parallel with the latest Passat, with which it shares VW's upgraded MQB-Evo platform, plus much of its upgraded digital and connectivity functions, including the latest version of VW's MIB infotainment platform and new over-the-air software update capability.
At 4539mm long, 1639mm tall (without roof rails) and 1842mm wide, the heavily restyled Tiguan is 30mm longer, 4mm taller and the same width as its popular predecessor. Its wheelbase also remains the same as before, at 2680mm.
The headline changes are inside, where the third-gen Tiguan receives a new cabin that sports a cleaner look, more upmarket materials, improved technology and more space than its predecessor.
Among the extensive list of changes is a redesigned dashboard featuring a new control matrix, illuminated trim elements and new-look air vents. It supports a 10.3in digital instrument display as well as a central touchscreen infotainment display that measures 12.9in as standard or 15.0in in upgraded guise. 
The infotainment display incorporates a backlit slider controller similar to that of the latest Passat and ID 7. It also adopts a new MIB4 digital menu structure, with touchscreen air-con controls incorporated into the lower section.
In a move that VW design boss Andreas Mindt says will be reflected on other models, the steering wheel forgoes the fiddly touch-sensitive capacitive controls of the old Tiguan for more traditional buttons and switches.
There's also a new centre console, hosting a rotary controller that is used to alter the driving modes, the audio volume and what VW calls 'Atmospheres' – essentially pre-programmed settings for the ambient lighting and other functions, such as playlists from Spotify and Apple Music. The settings include Lounge, Energetic, Joy, Minimal and Me.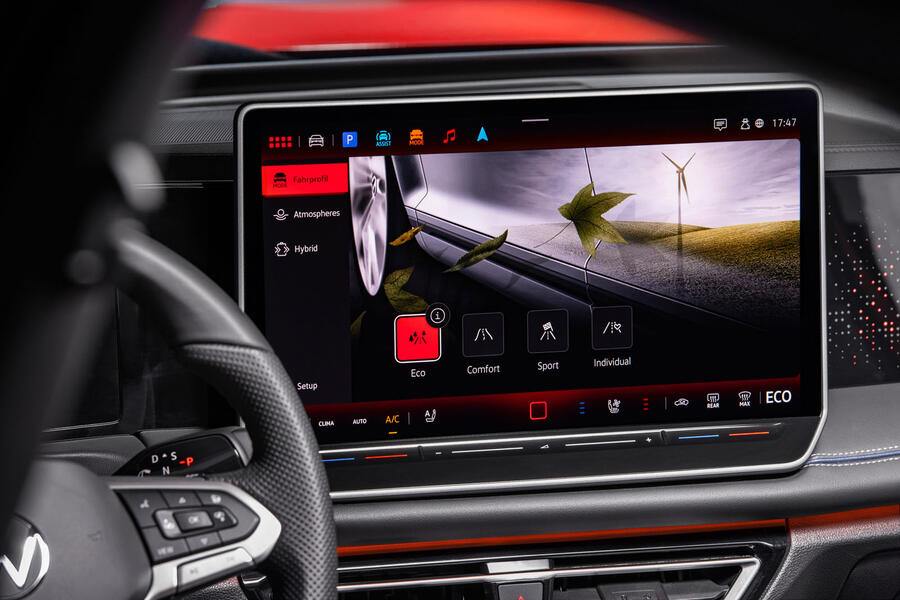 With all new Tiguan models receiving an automatic dual-clutch gearbox as standard, the gear selector is relocated to a stalk mounted on the steering column.
Volkswagen claims head room has increased by 8mm in the front and by 10mm in the rear. Boot space for non-plug-in hybrid models has also risen by 37 litres to a nominal 652 litres.
Options include a new head-up display unit, which projects information onto the windscreen instead of a plastic panel as with the old Tiguan, as well as a wireless phone charger.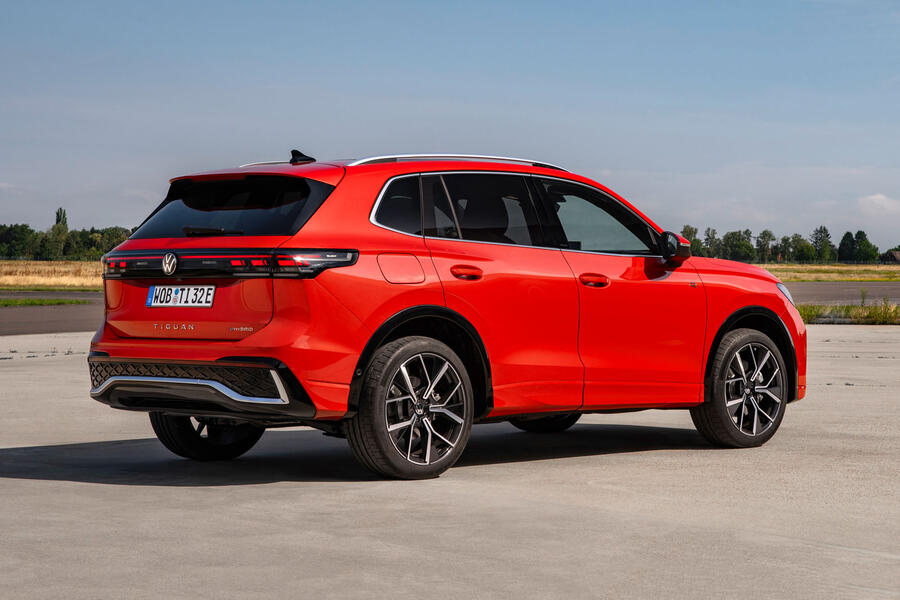 Among the turbocharged four-cylinder engines is a new mild-hybrid 1.5-litre petrol developing either 129bhp or 148bhp in a pair of front-wheel-drive eTSI models. There is also an updated version of the more conventional 2.0-litre petrol engine, which develops 201bhp and 261bhp in two new four-wheel-drive TSI 4Motion models.
The turbocharged 2.0-litre diesel remains but with detailed changes to its exhaust system. It continues to develop 148bhp in the front-wheel-drive 2.0 TDI and 190bhp in the four-wheel-drive 2.0 TDI 4Motion models.
The petrol-electric drivetrain used by plug-in hybrid Tiguans has been heavily reworked. It is now based on the 1.5-litre engine from the new eTSI models instead of the older turbo 1.4-litre unit and it is paired with a more powerful electric motor. However, the two front-wheel-drive eHybrid models retain the same power as those they replace, at 201bhp and 268bhp.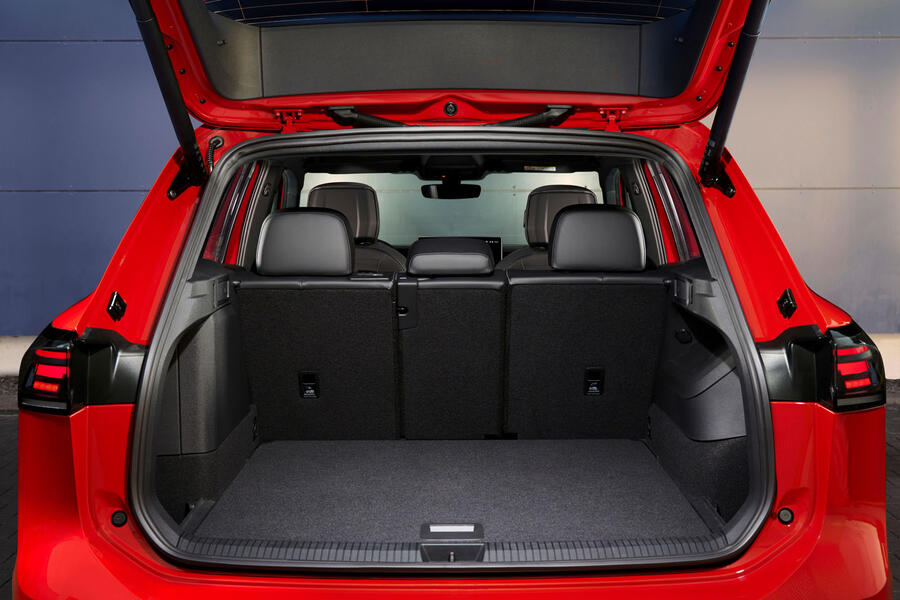 With a new 19.7kWh battery, they are also claimed to offer electric ranges of up to 62 miles. The capacity for DC charging at up to 50kW means top-ups will be far quicker. Petrol and diesel Tiguans use a seven-speed dual-clutch automatic gearbox (DSG), with the plug-in hybrids running a six-speed DSG.
VW has also reworked the Tiguan's MacPherson-strut front and four-link rear suspension with new dampers and revised anti-roll bars. In combination with the new independent rear suspension, these are said to provide increased stiffness and improved stability
Buyers can optionally specify new twin-valve constantly variable dampers as part of a revised Dynamic Chassis Control Pro system. This set-up controls the properties of the electronic differential locks and now also includes a Golf GTI-derived Vehicle Dynamics Manager that allows the driver to alter the characteristics of the suspension across a choice of 15 settings.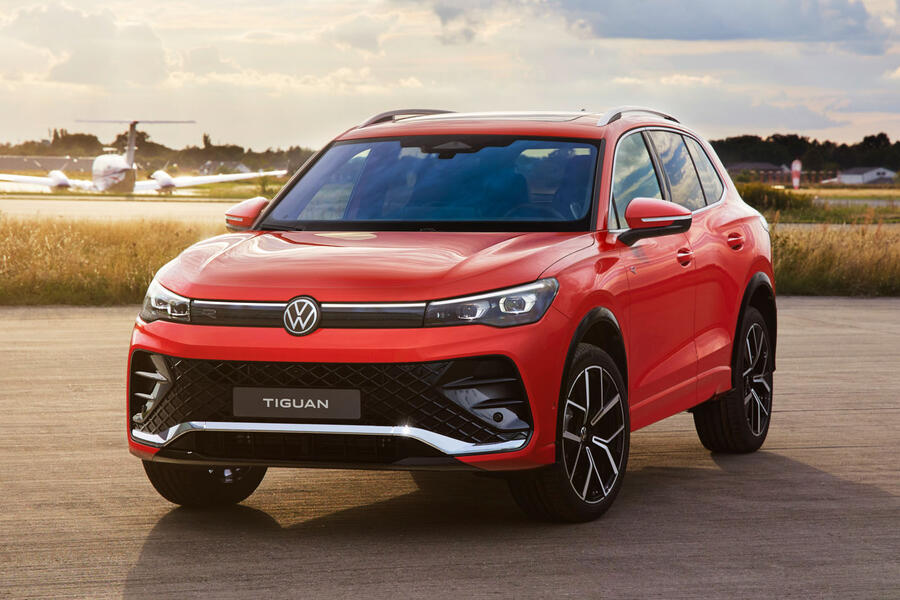 Since the Tiguan's introduction in 2007, it has regularly been Volkswagen's best-selling model on a worldwide basis. Some 7.5 million have been produced to date, including 1.2 million in the past two years alone.
This latest version is set to be available from launch in four trims, kicking off at around £30,000 in base form and rising to the mid-£40,000s for the top-rung R-Line.
A more powerful Tiguan R is also in the works, according to VW. This is due to run the latest 315bhp version of the firm's turbocharged 2.0-litre four-cylinder power plant, as featured in the Golf R.
The seven-seat Tiguan Allspace has been axed, and will be replaced in European markets in 2025 by a new SUV called the Tayron.
First drive: 2023 Volkswagen Tiguan prototype
The third time is not always the charm, because sometimes it doesn't need to be. 
Take the third-generation Volkswagen Tiguan. There's a lot riding on it, of course, but the first and second iterations of this Volkswagen Golf-based crossover were so overwhelmingly successful that it's hard to imagine their successor being anything but. More than eight million Tiguans have sold since it launched in 2007, and it has been VW's best-selling car since 2018. 
So you'd maybe have imagined there would be a sort of 'ain't-broke-don't-fix-it' ethos that pervaded the glistening halls of the Wolfsburg R&D centre as Volkswagen brought the new-look crossover to near-production spec, as we've driven it here. But even though the powertrain offering is broadly familiar and the design – while substantially renewed – hardly revolutionary, it becomes clear pretty quickly that the new Tiguan is related to its predecessor in not much more than size and general silhouette. 
Even through the heavy camouflage adorning the late-stage hack we drove, it's plain to see the fruits of VW's wide-reaching styling revamp, but it's inside where the reinvention is most tangible and impactful.
The centrepiece of the totally overhauled cockpit is a new infotainment system, running through either a 12.9in or massive 15.0in screen, the latter of which you could say is a mite intrusive on your field of vision and slightly at odds with Volkswagen's humble acknowledgement of well-publicised public feedback that it went too far with touch controls in its current cars. Less important but still irritating is the fact that it has been somewhat clumsily integrated into the top of the dashboard, its outsized form protruding in front of the edge of the digital display bezel to leave an awkward gap that would annoy me every single time I got in the car.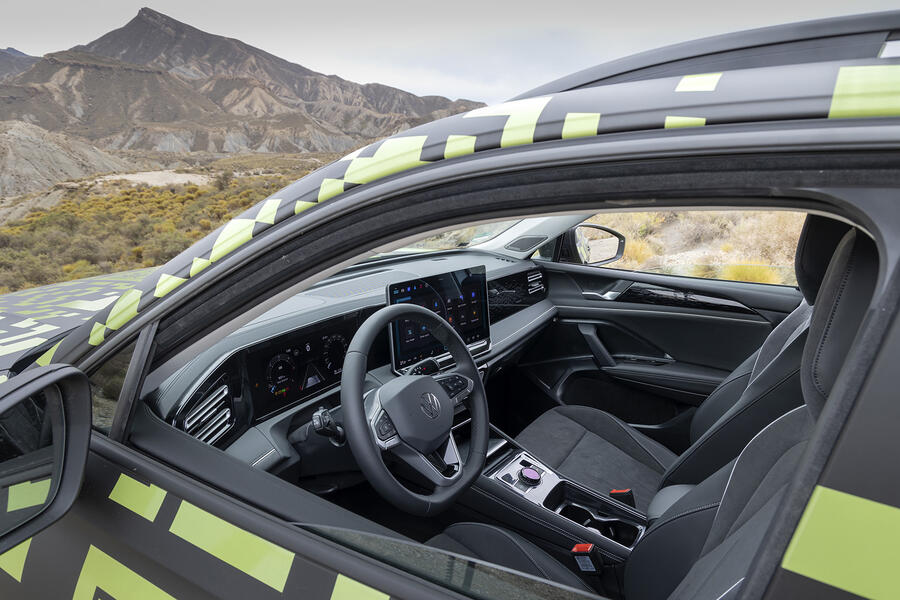 On a happier note, the climate control touch bar is now permanently hosted at the bottom of this screen, so you won't have a head-on collision every time you try to adjust the air con, and the controversial heating control sliders are now backlit so you don't have to drive home sweating or shivering in the dark. But maybe the most welcome introduction – or reintroduction – for 2024 is the array of good ol' fashioned buttons and switches on the spokes of the steering wheel. The outgoing car's frustratingly unresponsive haptic panels for cruise control adjustment and stereo volume were not, it is plain, a resounding success in customer clinics, and the Tiguan is among the early beneficiaries of a brand-wide return to analogue controls for such functions. 
When it comes to motive power, the current 1.5-litre petrol and 2.0 diesel return, alongside a brace of petrol plug-in hybrids (201bhp or 268bhp) capable of rapid DC charging and with their electric range usefully boosted to just north of 62 miles, which bosses say means the Tiguan could be used predominantly as an EV, with the dino-drinker called upon solely to facilitate those occasional cross-country jaunts. 
Our '75-80%-finished' prototype had the diesel motor, which felt as satisfyingly grunty (and – it must be said – as faintly agricultural) as it does in today's car, though expected to bring slight improvements in performance and efficiency.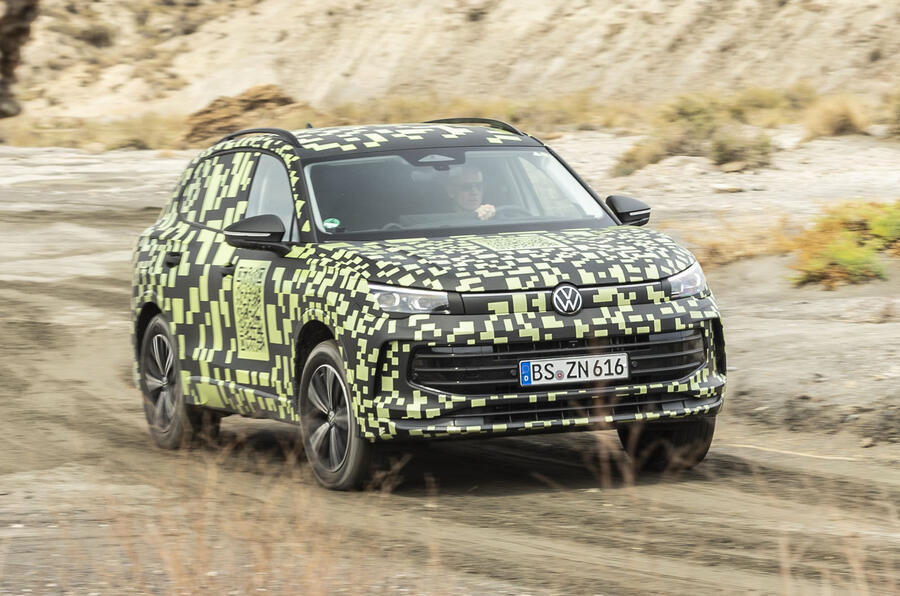 But the focus of this late-stage prototype drive is centred more around sampling the fruits of a drastic chassis overhaul, with slick new two-valve dampers promising to substantially boost both refinement and response compared to the outgoing car, controlled by a new Vehicle Dynamics Manager programme shared with none other than the Golf GTI. Spicy.  
All of which translates into impressively comprehensive variability in the suspension settings, simply illustrated and operated by a new sliding scale on the touchscreen offering some 15 degrees of variation between the extremes of Comfort and Sport. 
In the former, the Tiguan makes mincemeat of shattered tarmac and cobblestones, separating the vertical movements of wheel and chassis so cleanly as to completely transform the secondary ride and imbue this humble family hack with genuine premium panache. VW didn't want a 'magic carpet' ride, engineers tell us, referencing the cloud-like qualities of the old Citroën DS as an example. Instead the aim was to drastically enhance straight-line comfort while preserving a sense of connection with the road, the latter largely achieved through gentle but tangible feedback over imperfections through the steering column and – to a far lesser extent – the seat base. 
Configured as such, the ride is floaty and soft, but stops short of wallowing, and the roll is kept in check remarkably well for what remains at its core a near-1.7-tonne, 1640mm tall family car with scant (if any) requirement to offer any sort of dynamic reward. 
Which rather begs the obvious question: how many thrill-seeking Tiguan 2.0 TDI owners are really ever going to swipe right on the interface and set the suspension to Sport? VW reckons it's for those occasions where you've had a long day at work, the kids aren't in the car and you fancy taking the long way home, but be under no illusion that the Tiguan has been reinvented as some sort of physics-defying, apex-hunting Q car for its third outing.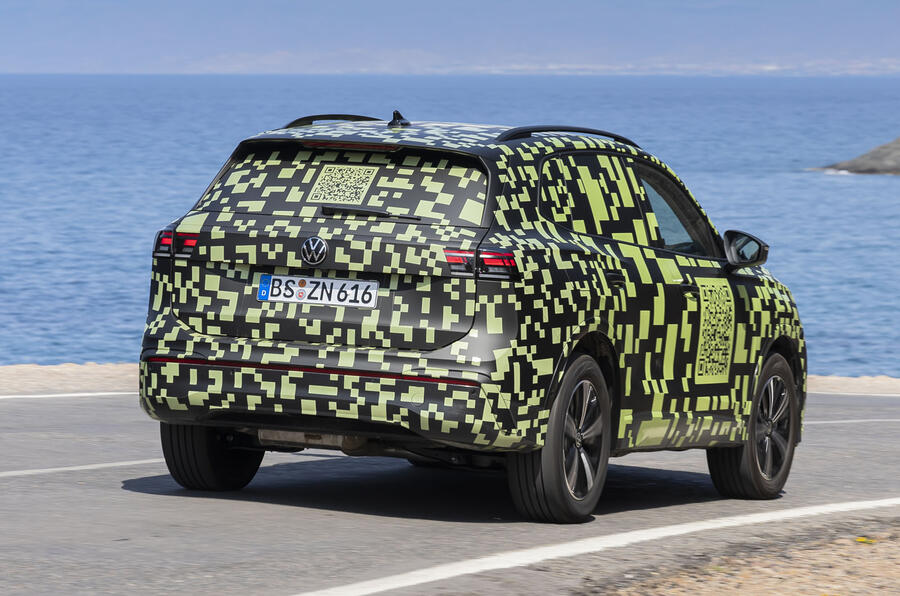 Even with the dampers in their stiffest setting and the steering tuned for more resistance and heft, there's no getting away from the dynamic limitations posed by the lofty stature and high centre of gravity of an SUV, and anything beyond a mildly enthusiastic approach to cornering will have you sliding from bolster to bolster as the body tips and dives through the turns.
That VW has gone to such effort to provide this duality of character is much appreciated in the context of such a clinical and sterile market segment, but in truth, the harsh, jittery ride that you must contend with in exchange for slightly keener cornering feels like a bit of a rum deal, so you wonder whether drivers might have been happy with just, say, the leftmost two thirds of the slider scale. 
At all times, though, the newly fettled steering rack is quick, precise and eminently predictable, helping to inspire confidence in more demanding environments. For the sake of thoroughness, we pushed hard into a couple of tight bends and failed to elicit any real sense of understeer - lending credence to VW's notion that you could, if you really wanted, let the Tiguan's hair down after dropping the kids off at school.
But being serious, that's not what the Tiguan really needs to do - and prospective buyers will be immeasurably more concerned about its propensity to provide no-fuss, carry-all daily motoring without complaint. And indeed it will: matching its predecessor's 2681mm wheelbase, but with 10mm more headroom and a 33-litre bigger boot than its predecessor, the Mk3 Tiguan continues to promise big SUV practicality in a relatively compact package - looking to uphold its billing as 'the Golf of crossovers'. 
https://www.autocar.co.uk/car-news/new-c...gen-tiguan