05-20-2022, 08:40 PM
2025 Mercedes-AMG EV sports saloon to rival Porsche Taycan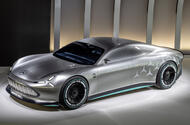 Performance saloon will be the first AMG model to sit atop the company's dedicated AMG.EA platform
Mercedes-AMG has previewed its plans for a new standalone electric performance saloon to rival the Porsche Taycan with the unveiling of the Vision AMG.
The production version, due in 2025, will be the first AMG model to sit atop the company's dedicated AMG.EA electric car platform - a structure conceived around a compact battery designed to allow a lower and more sporting shape than that permitted by Mercedes-Benz's existing EVA electric car platform, as used by the Mercedes EQS and Mercedes EQE saloons. 
"We've taken full advantage of the new platform in both the design and proportions," said Robert Lešnik, head of Mercedes-Benz exterior design. "The Vision AMG shows what we are planning: a low and sleek saloon with outstanding aerodynamics and the space to accommodate four adults in comfort."
It draws heavily on the distinctive lines established on the wind-cheating Vision EQXX - the saloon concept that recently established new levels of efficiency in a 626-mile development drive from Stuttgart to Nice, with a low-set front, heavily curved roofline and a ducktail rear spoiler. Key exterior design elements for the Vision AMG, which features a colour scheme similar to Mercedes-AMG's 2022 F1 race car, include a blanked-off version of AMG's signature Panamericana grille with an illuminated frame and 10 vertical bars. 
"Without the concerns of packaging an internal combustion engine within the front end, we've been able to make the bonnet very low and add greater volume to the fenders. The AMG.EA platform gives us lots of freedom in terms of design," he said.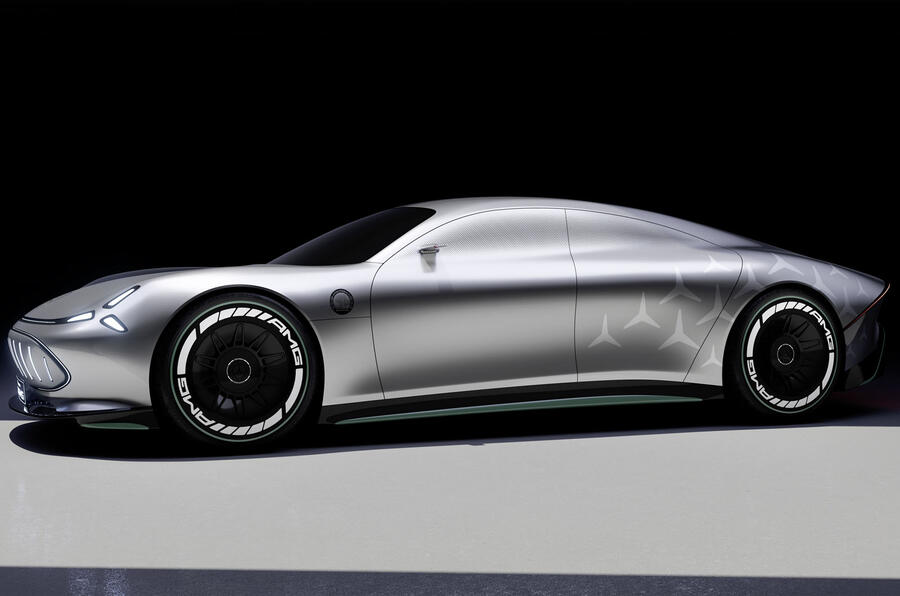 Accentuating the sporting lines is an extended dash-to-axle, comparatively low cowl, heavily raked windscreen, shallow, tapered glasshouse and a plunging roofline.
Although not seen on the design model, Mercedes-Benz said the production version of the Vision AMG will receive four frameless doors as well as a large liftback-style tailgate similar to that planned for the upcoming second-generation GT coupé (see right).  
Mercedes-Benz is yet to provide any great detail to how it will be developed for the production model, though Autocar has been told the round red tailpipe graphic of the concept will be reflected in the tail lamp design of the new AMG model.
As on the Vision EQXX, active aerodynamics are also set to play a key role with a rear spoiler that deploys to increase downforce at speed among other functions.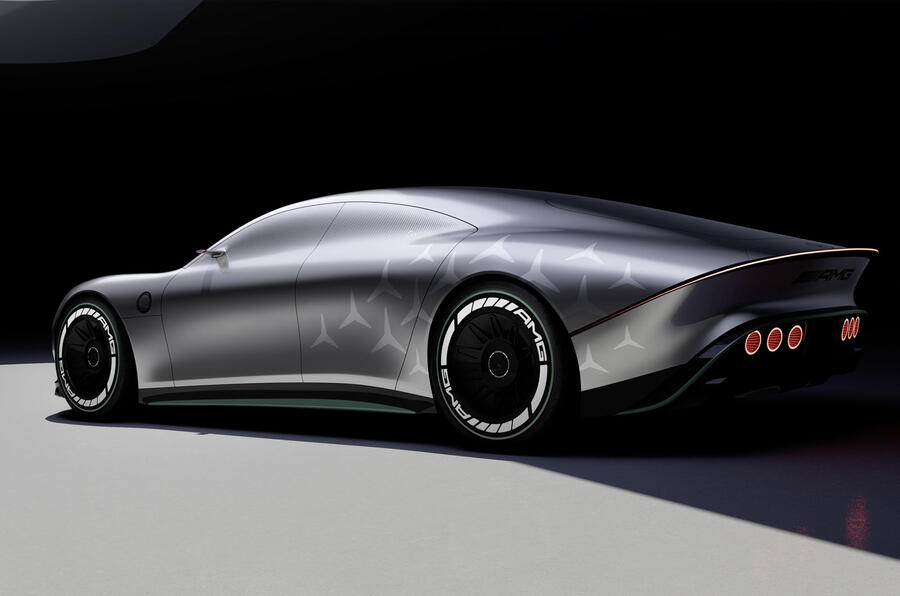 At 5100mm in length, the new EV is marginally longer than the Mercedes-AMG GT 4Matic 4-door and 147mm longer than the Porsche Taycan. The wheelbase alone stretches to over 3000mm.
The cabin of the Vision AMG sits well within the prominent fenders and tapers backwards. Unlike Mercedes-Benz's EVA platform, which boasts a completely flat floor, the AMG.EA structure has been designed to accommodate footwells in the rear, with elements of the battery housed underneath the rear seat.
"This allows for greater space and comfort in the rear," said Lešnik. "We've created a very low car but with the long wheelbase, it will also be a proper four-seater."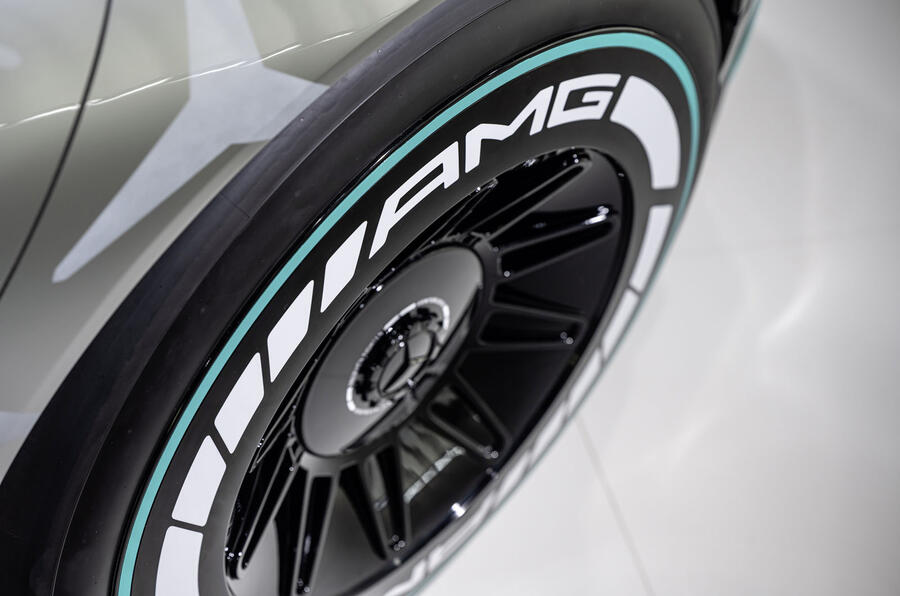 Autocar understands the AMG.EA platform will feature a cell-to-chassis design with the battery pack forming part of the structure to give the new saloon the lowest centre of gravity of any previous Mercedes-Benz model.
Mercedes-Benz is yet to provide any specific details to the drivetrain, but recently acquired Oxford-based engineering firm YASA, whose electric motors are set to be used exclusively in the AMG.EA platform.
YASA, which now operates as a wholly owned subsidiary of Mercedes-Benz, specialises in compact 'axial-flux' motors, claimed to offer greater efficiency and power at a lower weight and more compact size than the radial units used by Mercedes-Benz's current EVs.
"With higher power density and continuous torque delivery we will redefine the future of driving performance," said Philipp Schiemer, CEO of Mercedes-AMG. "We're developing everything from scratch."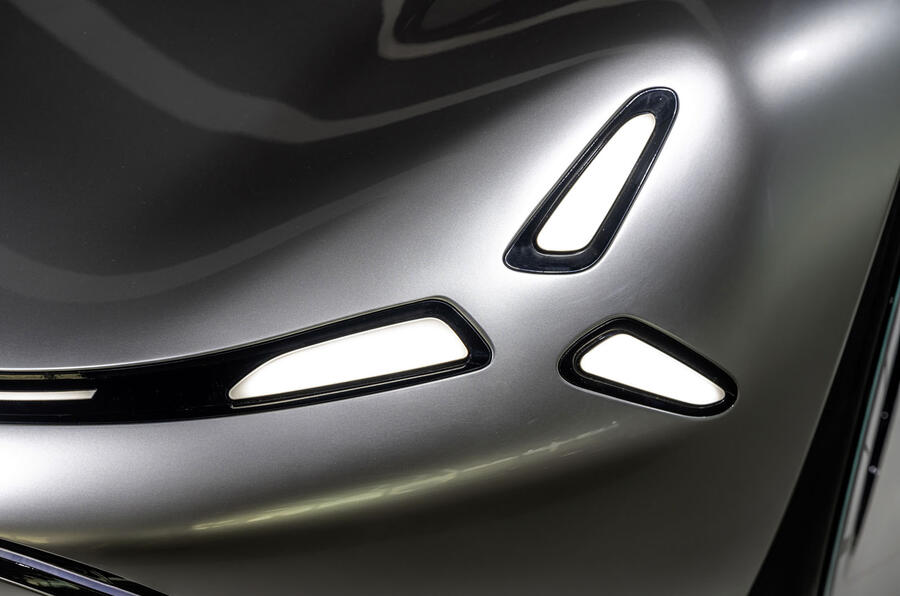 A range of different set-ups offering differing outputs are possible, including single- and dual-motor systems – the latter offering full torque vectoring functionality through a similar 4Matic four-wheel drive system as that used by the EQS53 4Matic.
The new EV is also earmarked to receive its own bespoke battery with cells reserved exclusively for AMG models - a step that has already been taken with the newly introduced GT63 E-Performance plug-in-hybrid. Mercedes-Benz has confirmed it will use a new silicon anode material from US firm Sila in production models from 2025, offering a 40% improvement in energy density over existing graphite anodes and thus substantially boosting range.
Q&A: Robert Lešnik, head of Mercedes-Benz exterior design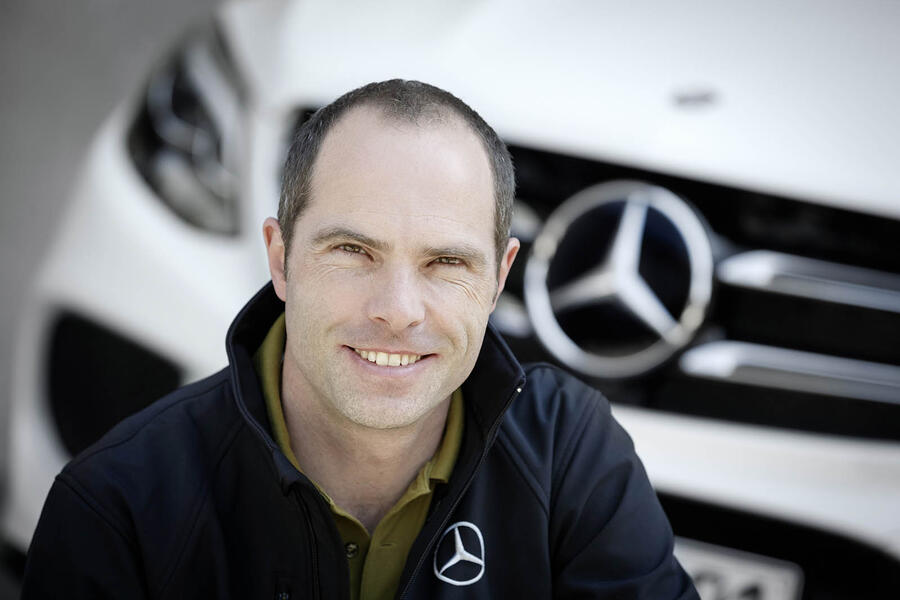 What were the design priorities for AMG's first EV?
"We wanted a low car with a great stance and good practicality with four doors. The AMG.EA platform allows this. We did a lot of proportional models to get the shape right. The surfacing is super smooth - there are no redundant feature lines at all. You'll notice elements from the Vision EQXX. Aerodynamics on a car like this is very important, both the reduction of drag and downforce. Active aerodynamics will feature on the production car. We have a lot of different ideas."
How have you re-interpreted traditional AMG design elements?
"We've illuminated the grille to give it added prominence. With an electric car you don't need a functioning grille for air management, but we wanted to give the concept a familiar face. It sits lower than on any other AMG model. We also reworked the headlamps with a new star design. We want it to be a new signature element. As on the Project One, the Mercedes-Benz logo is stencilled into the bonnet."
What's next for Mercedes-AMG's EVs?
"The AMG.EA platform provides a lot of scope design-wise. We're able to go much lower than with the EVA platform. I can't give too much away but we don't develop new platforms for just one model. The Vision AMG is a start. It is safe to say there will be other AMG-specific electric models in the future."
https://www.autocar.co.uk/car-news/new-c...che-taycan