10-01-2023, 02:18 AM
2028 Alfa Romeo 4E primed as electric 4C successor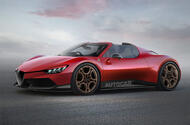 New Spider is likely to be badged '4E' in a nod to the earlier 4C, plus electric power
Successor to 4C to adopt zero-emission powertrain with huge power and more than 500 miles of range
Alfa Romeo is firming up plans for a new electric roadster as part of a wide-ranging electrification strategy to expand and revamp its line-up.
Following the launch of the 33 Stradale supercar, which offers Alfa's first-ever electric powertrain, the Italian firm will introduce an electric small SUV in 2024, then electric replacements for the Giulia saloon and Stelvio SUV, and lastly a larger saloon and SUV, aimed at the Chinese and American markets.
Even so, Alfa's performance heritage remains central to its positioning, bosses have said, and long-mooted plans for an electric Spider are taking shape. Future rivals would include the next Alpine A110, next Porsche Boxster and reborn Lotus Elise.
Speaking to Autocar at the launch of the limited-edition 33 Stradale, Alfa product boss Daniel Guzzafame gave vital clues to the new roadster, suggesting that it could inherit the Spider name because of the strength of its heritage and association with the Alfa brand.
"There are some items from Alfa Romeo that we don't kill: one is the Spider, the other is a love of cars," he said. "We do want to continue them, because that's the brand. And that's in our ideas, so let's see if we can make that a plan."
The new Spider is likely to be badged the 4E as a nod to its electric powertrain and to strengthen its billing as a replacement for the 4C, which was built from 2013 to 2019.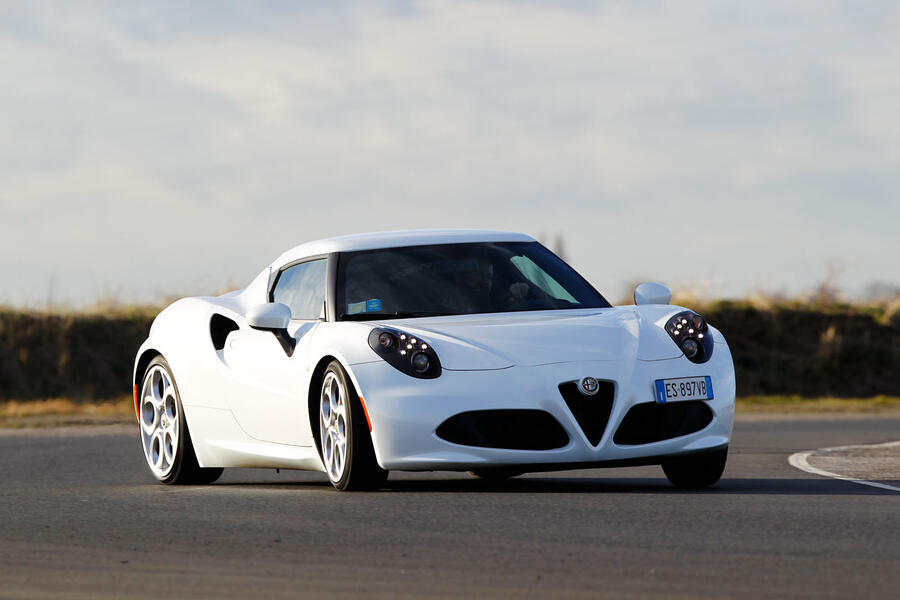 However, this has yet to be confirmed, as a model's name is typically decided "very late" in the development process to ensure that it doesn't leak, according to Guzzafame.
Asked about the viability of such a car, he said: "Alfa Romeo is Spider, and when you think about Spider, you think about Alfa Romeo. At the moment, we're stable enough and we do have the right basis. The main point is to make sure that when we do it, we are credible, are sustainable and don't just throw something on the market for the sake of it."
As for a possible arrival date, he said that once Alfa has five cars in its line-up, the Spider will be "within reach", meaning it won't arrive until after 2027.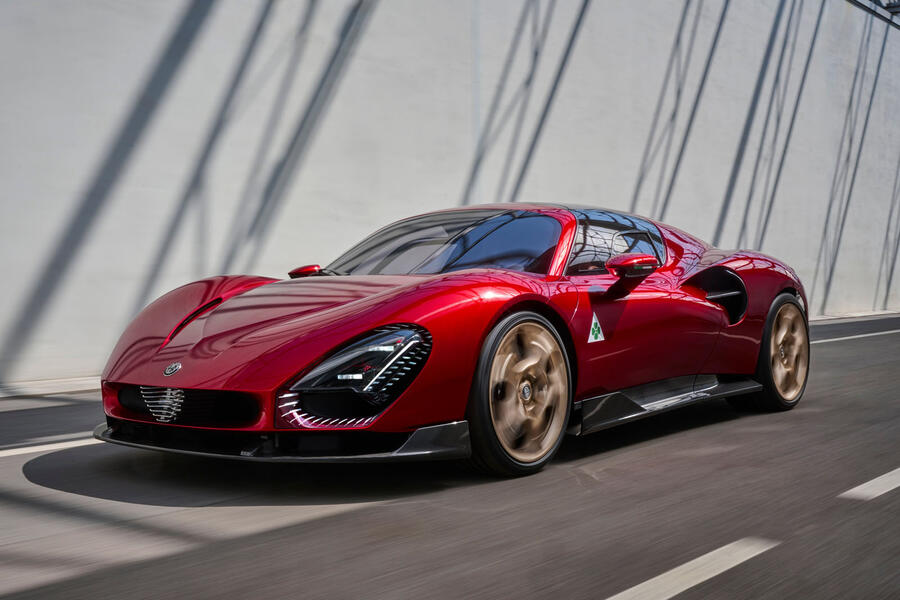 Autocar understands that the 4E will feature design cues that draw heavily on those of the 33 Stradale, namely in its new-style shield grille, elliptical bonnet and light signature and bluff 'coda tronca' rear end.
The 33 Stradale was designed in such a way as to maximise aerodynamic efficiency, which will no doubt be just as important for the 4E.
As such, it will feature a raft of wind-cheating cues, including air channels from the headlights through to the side panels, miniature spoilers atop the wing mirrors to feed air into the intakes and a grille that can change shape according to wind speeds to optimise the airflow into each cooling duct at the front.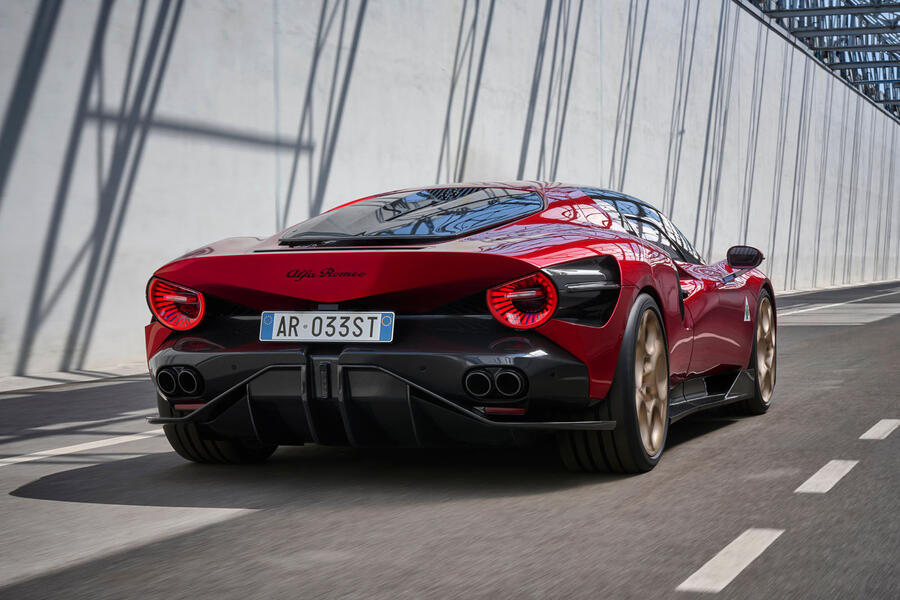 Guzzafame confirmed that it could also take some influence from the Pininfarina-styled 'Duetto' Spider of the 1960s, which featured a Kamm tail and prominent beltlines.
To be electric-only, in line with Alfa's plan to phase out internal combustion by 2027, the 4E is likely to be based on the STLA Medium platform, like the new Peugeot e-3008 and forthcoming Giulia EV.
This will accommodate a battery and drivetrain that offer impressive performance: charging at up to 20 miles per minute, a 0-62mph time as quick as 2.0sec and a range of more than 500 miles.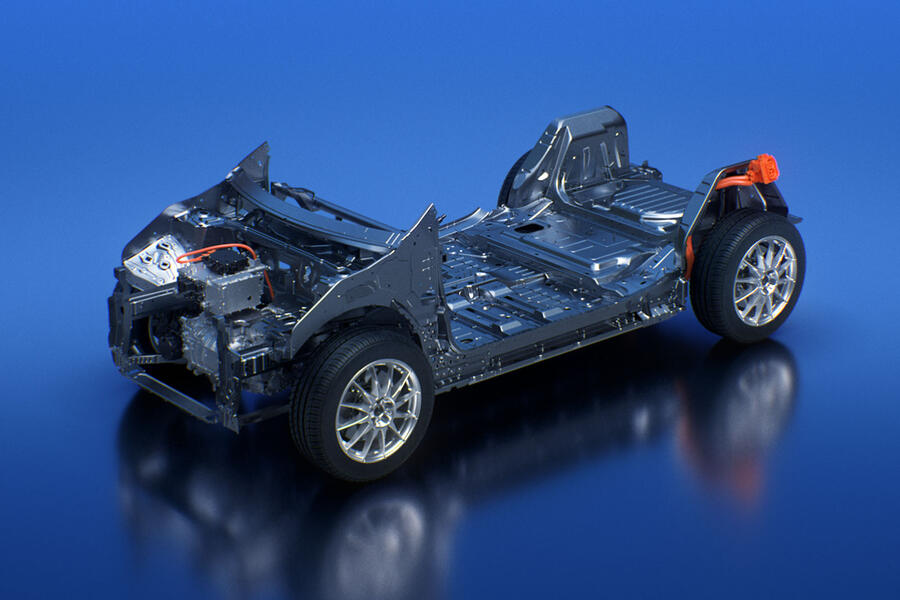 There has been no indication of what the 4E's output will be, but Alfa is using a 100kW battery pack for a 500-mile range in the next Giulia and it's promised to have up to 1000bhp in its hottest form.
The 4E will no doubt share elements with the new saloon, but it is likely to get a smaller battery in pursuit of a lower kerb weight and more compact proportions and less power, given its positioning as a sports car rather than a supercar.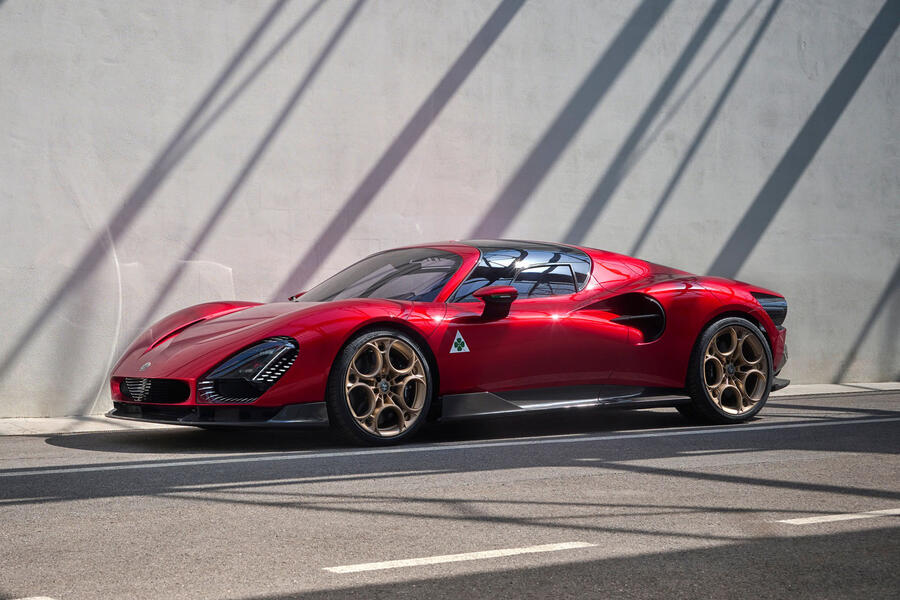 It's possible that, like Alpine, Lotus and Porsche, Alfa could look to emulate the dynamics of today's mid-engined sports cars by locating its battery in the centre of the chassis – which would also facilitate a traditional cab-forward shape. 
It has been suggested that Alfa will attempt to emulate elements of the 4E's combustion-engine forebears in a bid to emphasise the emotional appeal – and the firm is exploring ways to differentiate the driving experience of an electric sports car from that of its mainstream EV models.
Guzzafame explained: "It's not what you hear, it's what you feel. We're working on how to transfer that into a vibe, more than sound, and something that will resonate in your ear, because you need to get something from your gut. If you feel that, then that will be the future of Alfa Romeo."
Drivers will be able to switch off this function, however.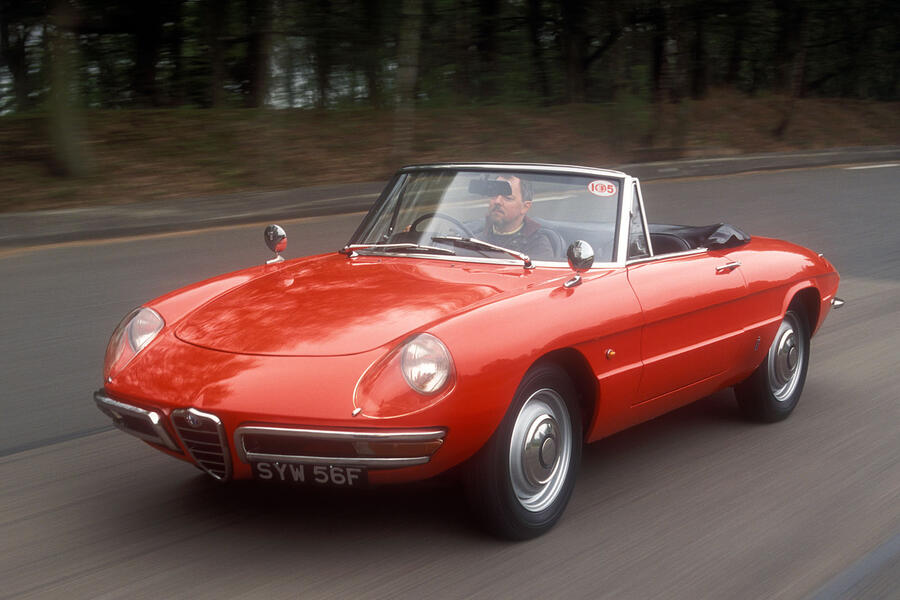 "If I think about the next-generation Spider, I would love to be in a completely noiseless environment, in nature and at the seaside," said Guzzafame.
The 4E's cockpit, meanwhile, will be designed completely in line with Alfa's push to make its interiors "driver-focused", with a traditional double-cowled instrument panel and a central infotainment screen that gives the driver important information but doesn't also deliver a host of potential distractions.
Pointing to the 33 Stradale, which features a retractable touchscreen, Guzzafame said: "This is the extreme, but we're working on concepts like that. It will not be on the next car, because we need to cater to different users; the B-segment SUV is a family car, so you need to have certain stuff always there. But there will be an interpretation of what you see in this interior, for sure." 
Alfa has committed to launching one car per year for the next five years, the first being the baby SUV that recently surfaced online. These mainstream cars should increase its profitability, making continued development of the 4E more feasible.
It's important for Alfa to wait before introducing a halo model, said Guzzafame, having learned lessons from the preceding 4C Spider.
"It's completely useless to do it now," he said. "We went to the dealers [a few years ago] and they had the 4C, Giulietta [family hatchback] and Mito [supermini], and that was all they had. First you need to have a solid line-up and then, of course, the Spider has to be the cherry on the cake. If [the Spider] is the cake, that's a problem, because then you can't be sustainable."
Read more: Why now is the right time for Alfa to revive the Spider
https://www.autocar.co.uk/car-news/new-c...a-romeo-4e