07-28-2022, 08:51 AM
A day in Paris with a Citroen Ami and CEO Vincent Cobée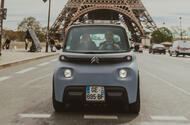 Citroën's free-spirited nature attracted Cobée and is seen in the Ami
Citroën is doubling down on its unique view of how cars should be done. We meet up with its CEO and his quirky Ami
We're driving around the bottom of the Eiffel Tower, two grown men enthusiastically describing 28mph circles for the camera in a tiny, two-seat Citroën Ami quadricycle that's road-legal for unlicensed French 14-year-olds.
Traffic swirls chaotically around the mighty monument, not least because part of the time my chauffeur, Citroën CEO Vincent Cobée, is driving into the traffic to give our camera the best images.
Nobody seems to care – apart from four gendarmes sitting nearby in a white Skoda with blue stripes, clearly charged with keeping order. They allow a few passes, then reluctantly drive to where we've stopped while our photographer changes lenses. Trouble seems likely, but Cobée knows exactly what to do.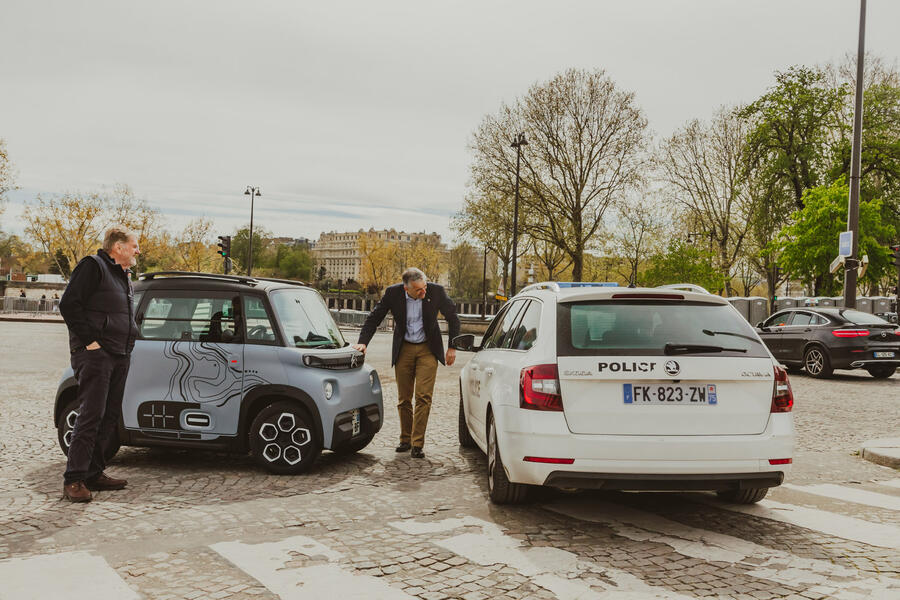 He opens the Ami's big door, jumps out and strides towards the gendarmes, arms wide and a big smile on his face. He explains that this is a short-lived camera junket and he's the man from Citroën. "I can sell you one of these, if you like," he says, gesturing at the Ami. They smile, wave and drive off. It's an interesting insight into how Cobée gets things done. Our pictures are now in the bag.
I've come to Paris to spend a large part of the day with the Frenchman, who has been running Citroën for two and a bit years now. There's no suggestion he has a carefully nurtured, lifelong connection with the Double Chevrons; he has been too busy on a varied global career path for that. But it has nevertheless become clear that he's the right man to explain the modern aspirations of Stellantis's 'different' mainstream brand.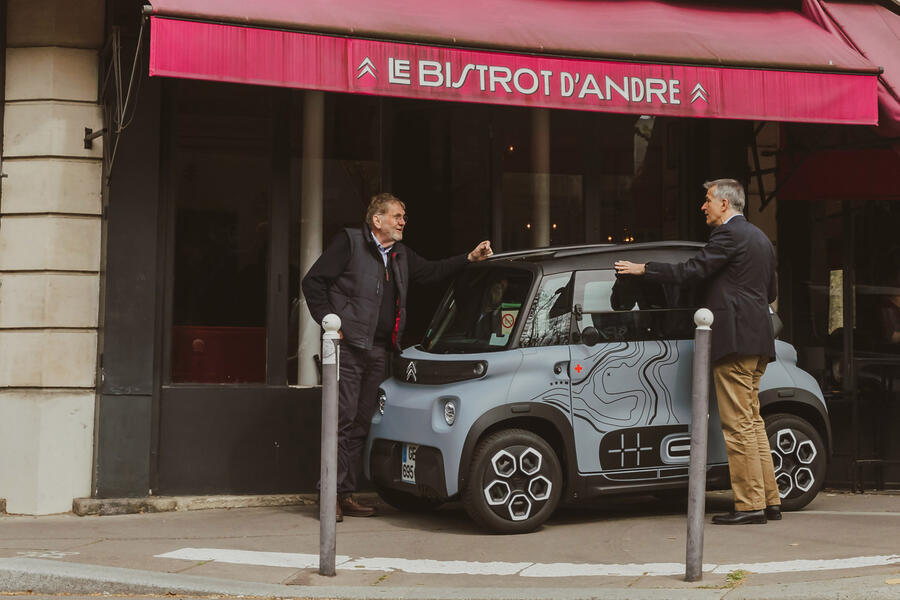 We first meet in the inner sanctum of 'future Citroën', a gigantic display room at the Stellantis technical centre in Vélizy, on the south-western outskirts of Paris. On hand are a Citroen C5 Aircross (just updated), a Citroen C5 X (the long and graceful heir to the DS, CX and XM) and the Citroen Ami Buggy, a Mini Moke-ised version of the Ami. This one-off has proved so popular that it might now make production.
Later we will have lunch at Le Bistrot d'André, a fine eatery near the site of the original Citroën factory on the Quai André Citroën beside the river Seine. Then we will view the Eiffel Tower and its environs from a moving Ami with Cobée at the wheel. What day out could be better?
We run briskly through Cobée's credentials. He was raised in north-eastern France, near Nancy ("Mum a teacher, Dad a taxman"), where he trained as a civil engineer and started helping to build motorways in Brittany. That led to work on French public-private partnerships abroad: first in Canada, then in the Philippines via Singapore. Cobée then spent a couple of years at Harvard in the US, where he encountered then Renault-Nissan boss Carlos Ghosn, and was subsequently hired to work in Nissan Japan's purchasing department.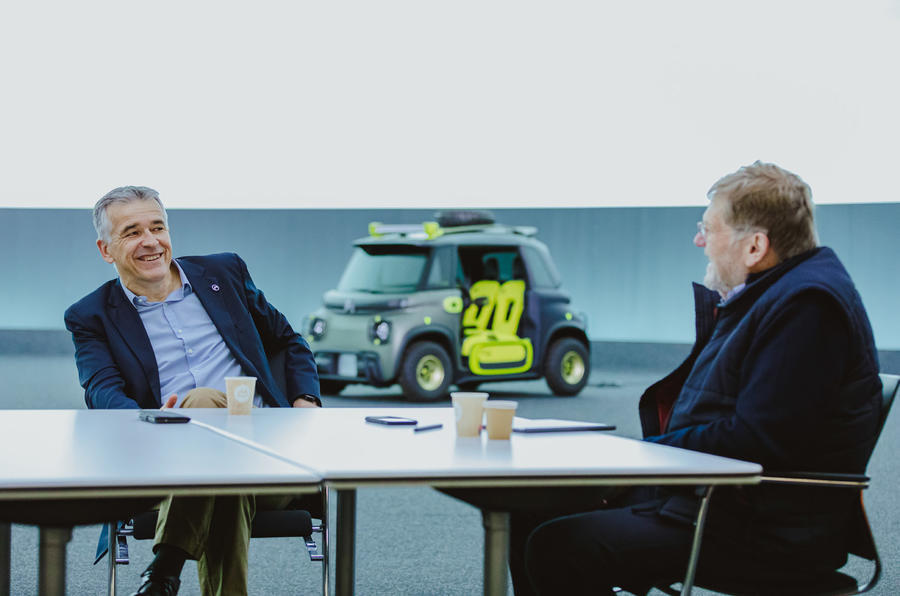 After three years, he became head of purchasing at Nissan Europe, then took on the relaunched, nofrills Datsun marque – a seven-year stint that took him to India, Indonesia, South Africa and Russia.
After this, he moved to Mitsubishi, working along the journey with future Stellantis boss Carlos Tavares and former Nissan boss Andy Palmer. Then, shockingly, at the end of 2018, all-powerful chief Ghosn was sent to jail.
"It caused several massive shake-ups," recalls Cobée. "Mitsubishi's collaboration with RenaultNissan, which had been very effective, went into a tailspin. After six months' gardening leave, I joined PSA [which formed half of Stellantis] early in 2019."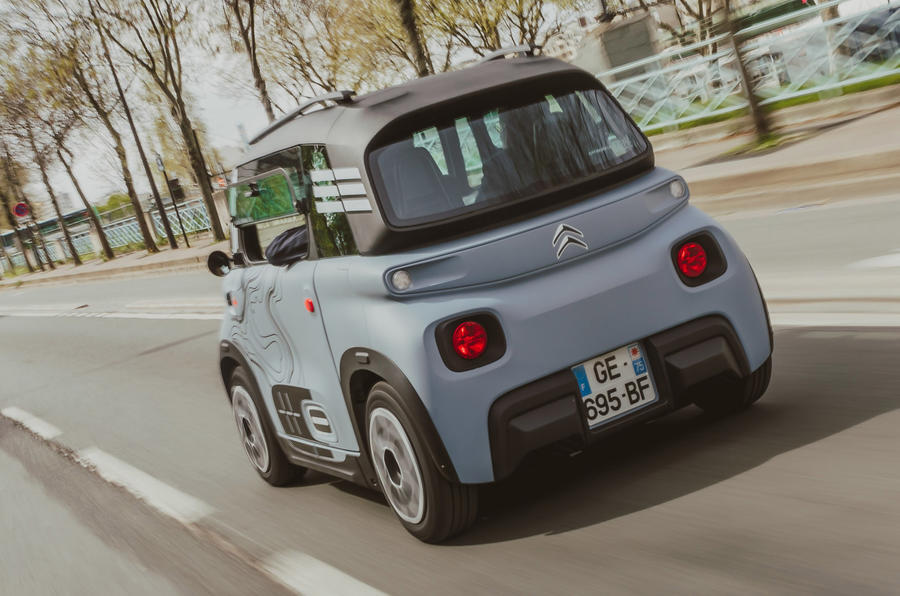 When Cobée turned up to work at PSA, there was no defined role, so he took a front-foot approach: "This was a matrix organisation, so I told them I could handle the three kinds of job they were likely to have: functions, regions and brands. Having run Datsun for seven years, I decided to aim for a brand. And if I could choose, I would take Citroën. Why? Because I like the free-spirited, socially engaged nature of Citroën. There's a wonderful combination of freedom and challenge: 'we don't need to go there, and we might take some flak for it, but we think we're right, so we're going'."
The cars in the big room speak for Citroën's differentness: the C5 Aircross is least controversial yet, unusually in the family SUV crop, its singular design style makes it unmistakably a Citroën. The C5 X has overtones of the big Citroëns of yore, what with its 4.8-metre length, sculpted flanks and radical fastback body, but it rides higher than the saloons of blessed memory and is roomier still.
Cobée uses this imposing crossover's platform relationship with the newly launched Peugeot 308 to bat away the point I make about Citroën's modern freedom being constrained by the recent necessity for affordable cars to share their best underbody bits with cars bearing different badges.
"The constraints are real enough," he agrees. "Maybe greater than in previous eras. But that's still where the fun is. These things are only blockages if you allow them to be so. I mean, this car is a common programme with the Peugeot 308, but I would challenge anyone, even an expert, to spot that. The C5 X is on a different wheelbase, built for a different segment, with a different purpose and a different market status. But its helpful mechanical relationship lets it offer exceptional comfort at a really affordable price."
With the Ami, and especially the Buggy version produced on his watch, Cobée presents the other end of Citroën capability: "This would be a hard car for another marque to build. People would think you had been drinking something. But it's okay for us. Such things are expected. We started with a completely clean sheet and had three purposes: that freedom of mobility matters; that cities are cluttered and the Ami can help; and that clean mobility shouldn't cost £70,000.
Cobée is especially vocal on that last point, as his cars move towards full electrification. "The BMW iX weighs 2.5 tonnes," he says, "and the Tesla Model X costs £100,000. Both are great cars, but for whom? Citroën is a £6000-to-£60,000 car company, and its job is to engage with its customer base to rationalise the purchase of battery EVs."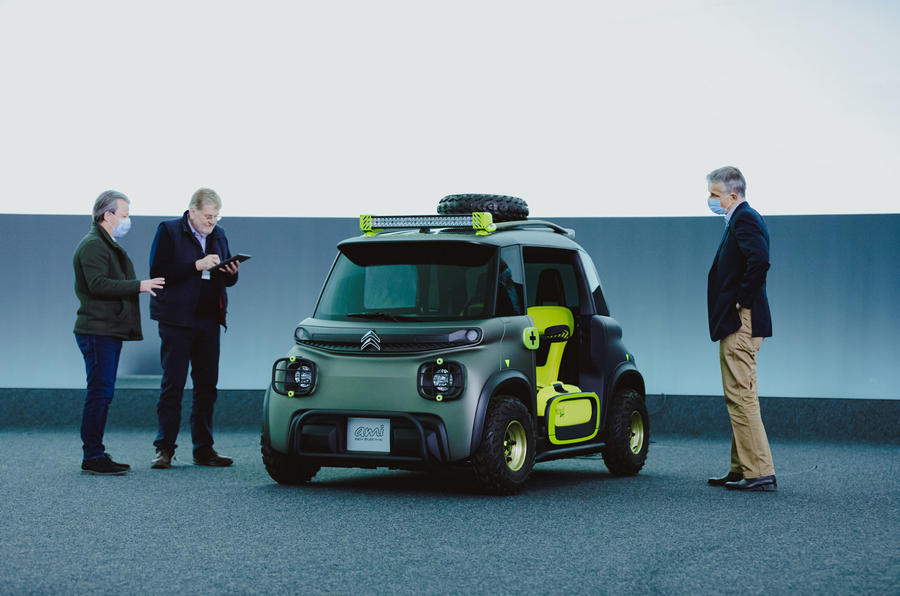 An important way forward, he believes, is to limit the size of heavy, bulky and pricey batteries and make day-to-day electric mobility affordable, finding solutions for 'three-days-a-year' issues like very long-distance travel. "My dad drove a Volkswagen Passat for 40 years," he says. "The first one had an 80-litre tank, but in the last, 43 litres was enough. He didn't even notice the difference."
The ambition for a brand like Citroën must be to get the price of a B-segment EV to the sub-£20,000 price of an ICE one, but Cobée acknowledges that it won't be easy: "We need help from scale effects; from clever design to get weight out of structures as well as batteries and motors; to make sensible choices about battery size; and compensate with better infrastructure and journey preparation."
Citroën won't shrink from unconventional thinking in future, says Cobée, if it makes sense. "I have two jobs," he says: "to be true to Citroën's character and values and to sell a million cars a year. Am I going to do quirky for the sake of it? Not a chance. But will we zig when others zag if we think it will work? You bet we will.
Is there a future for personal transport?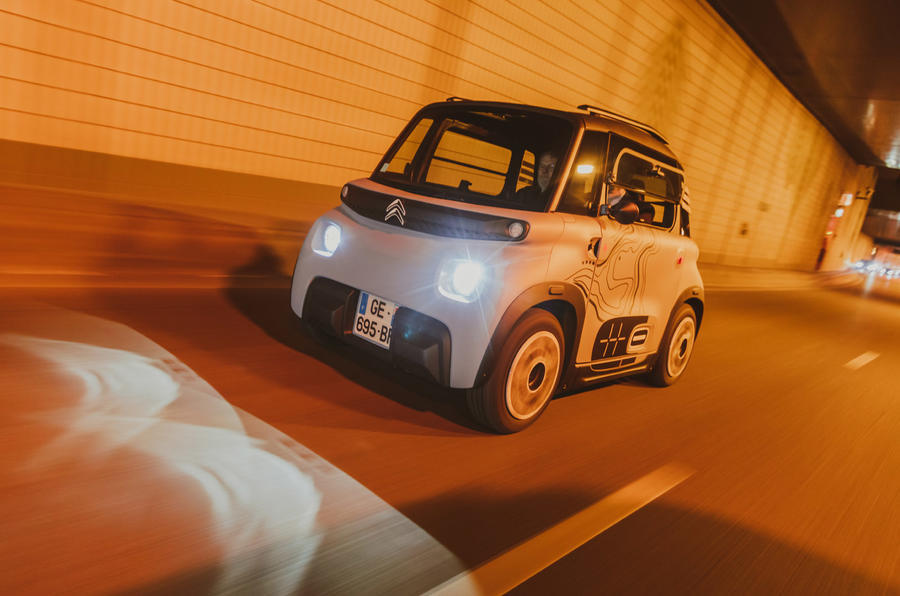 Vincent Cobée reckons private ownership of cars will endure for the foreseeable future, because no better alternative has yet been found.
"Look at Japan," he says. "In the cities, most people take their short, across-town journeys by public transport, yet the percentage of people owning cars is even higher than in Europe. They still prefer ownership for out-of-city journeys. Mind you, the Japanese have also had a working vehicle-to-grid EV [charging] system for 10 years, whereas in Europe we've barely started with that.
"We haven't yet found the ideal business model for car-sharing, although of course it works in some circumstances. At present, the cost of the car itself is less than 20% of the total cost to make it available, by the time you've provided insurance, cleaning, refuelling and advertising, moved the cars about and paid any fines.
"And how often do most people want to step randomly into a car that has just been used by others? Public transport has issues, car sharing has issues – and people still like cars."
https://www.autocar.co.uk/car-news/featu...cob%C3%A9e