03-29-2021, 12:01 PM
Advertising Feature | The BMW M3 and M4: designed to thrill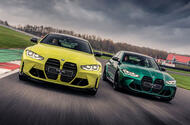 The BMW M3 and M4 boast the same performance underpinnings
The two newest models from BMW's M division are truly impressive on the road, and really come alive on-track. Here's why they should be on your shortlist
Meet the two latest high-performance models from BMW's famed M division: the new BMW M3 Competition and BMW M4 Competition. Iconic saloon yin to sleek coupé yang.
Both share the same 3.0-litre straight-six twin-turbo engine, delivering a potent 510hp and 479 lb-ft of torque. Both are underpinned by similarly tuned chassis to ensure they share the same distinctive M driving character, with handling that's truly thrilling on any road. And both boast advanced M driving tech that lets you exploit every ounce of their potential in the unfettered environment of a track day.
Ultimately, what that means is a simple choice. The same great underpinnings, with your pick of four-door saloon practicality or two-door coupé style. So, here are all the reasons why the M3 and M4 (or, if you prefer, the M4 and M3) stand out.
Learn more about the BMW M3 Competition Saloon here. Find out more about the BMW M4 Competition Coupé here.
---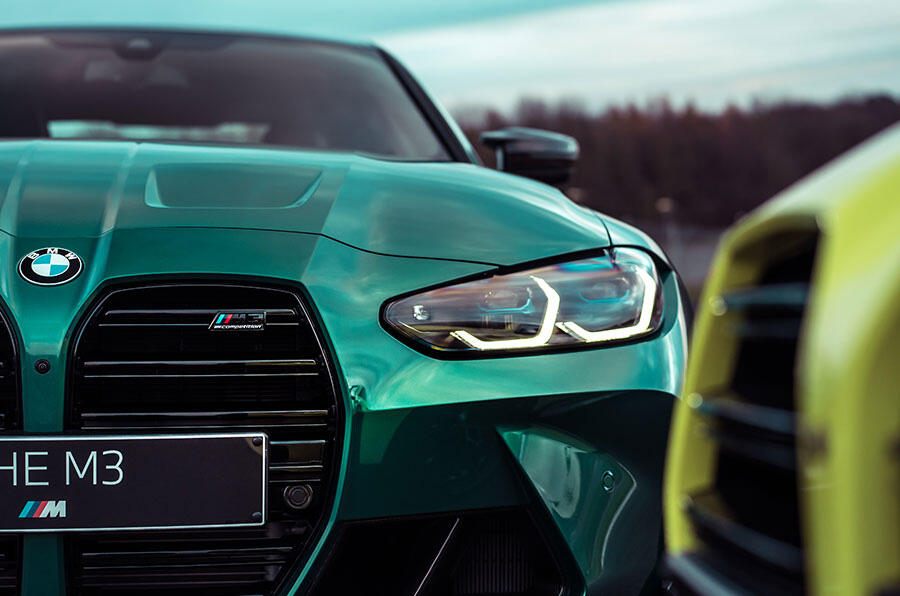 Iconic M3 looks or sleek M4 coupé style
Fettling fantastic road-going BMWs and transforming them into apex-munching monsters has been the prerogative of BMW's M division for half a century, and the latest beasts to be unshackled from the workshop of Bavaria's most formidable tuner take two of the most enjoyable, relaxing and competent road cars around – the 3 Series saloon and 4 Series coupé – and inject them with unrivalled performance. 
The new BMW M3 Competition Saloon and BMW M4 Competition Coupé perfectly epitomise bold BMW M design. From their large frameless kidney grilles and wide low-slung front air vents that highlight the potent straight-six under the bonnet, all the way to the muscular rear haunches, the swept-up M diffuser and the huge 100mm-diameter quad-pipe exhaust, there's no mistaking the M DNA at play here. 
You simply choose which look you prefer: the M3's iconic saloon profile or the M4's sleek two-door coupé style. Both models are available with a wide array of bold standout colours – including the new and exclusive Sao Paulo Yellow non-metallic, and the metallic Toronto Red and Isle of Man Green. Equally, you can add an extra dose of customised style with the M Carbon exterior pack or a wealth of BMW M Performance Parts to truly make your car your own.
Other than that, BMW has kept the M3 and M4 line-up relatively simple in the UK: focusing on the range-topping Competition spec that has always been the preferred choice for British drivers. You can also opt for your pick of traditional rear-wheel drive or – for the first time on the M3 and M4 – BMW's advanced M xDrive all-wheel drive, which will be available to order later this summer.
---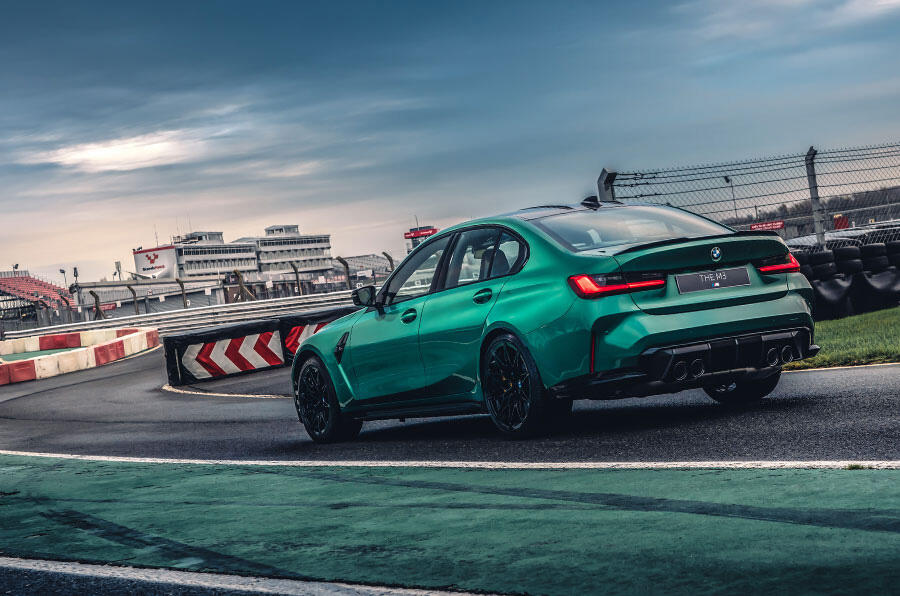 Race-bred performance at heart
The beating heart of the BMW M3 Competition Saloon and M4 Competition Coupé is the latest S58 evolution of the iconic 3.0-litre straight-six twin-turbo – an engine tested to the limit in BMW's GT3 race cars under the white-hot glare of the toughest round-the-clock endurance events.
BMW's M engineers have honed every element of the S58's design for the M3 and M4 – using advanced technologies such as wire-arc sprayed iron coatings and 3D printed cylinder heads to ensure the perfect blend of an incredibly rigid crankcase, lightweight components, ultra-low-friction surfaces and careful heat management for the best balance of efficient performance and thrilling power. 
High Precision Injection delivers fuel into the combustion chambers at up to 350 bar at peak revs for faster injection, finer atomisation and a fuel-air mix that's cleaner, more efficient and more potent, while the mono-scroll M TwinPower Turbo uses a flow-optimised design to reduce air pressure losses in the dual-flow air intake, as well as an electronically controlled wide-open wastegate for instantaneous response.
The result: 510hp of signature high-revving BMW power (more than any M3 or M4 to date), plus a monumental 479 lb-ft of torque delivered from just 2750rpm. Off-the-line sprints from 0-62mph are despatched in as little 3.9 seconds, while ferocious mid-range punch gets you from 50-75mph in just 2.6 seconds in fourth gear.
BMW's M Steptronic Sport eight-speed transmission with DriveLogic is the perfect fit for this fast-paced delivery, offering manual sequential shifts or a fully automatic mode with engine blipping assist on downshifts. 
It all comes with the perfect audio accompaniment from that high-revving straight-six orchestra. Using M Sound Control, you can pick the perfect tone and timbre from the M3 and M4's custom-designed dual-branch exhaust: whether it's a subdued rumble in town, a full-on roar for the open road, or a raucous symphony of exhaust pops and bangs on-track.
---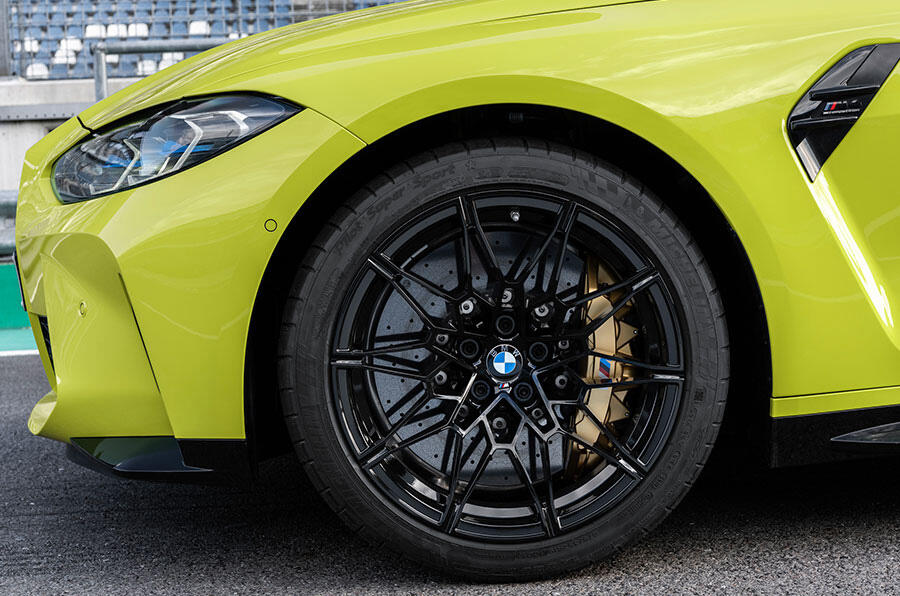 Introducing all-wheel drive
The new BMW M3 Competition Saloon and M4 Competition Coupé's Active M Differential allows precision delivery of power across the rear axle. And now, for the first time on the M3 and M4 range, you have the option of M xDrive all-wheel drive (available this summer). 
M xDrive intelligently splits power between the front and rear axles for enhanced traction and sublimely confident cornering. In 4WD mode M xDrive and the Active M Differential work together, blending traditional BMW rear-wheel-drive character with added power from the front axle when needed for a reassuring added dose of grip – especially on twisty roads or in tricky conditions.
Select 4WD Sport mode, and M xDrive directs a greater proportion of torque to the rear axle for more dynamic handling. Switch the Dynamic Stability Control off entirely and engage 2WD, and experienced drivers can sample the full uncompromised performance you expect from a BMW M model. Cue the tyre smoke.
---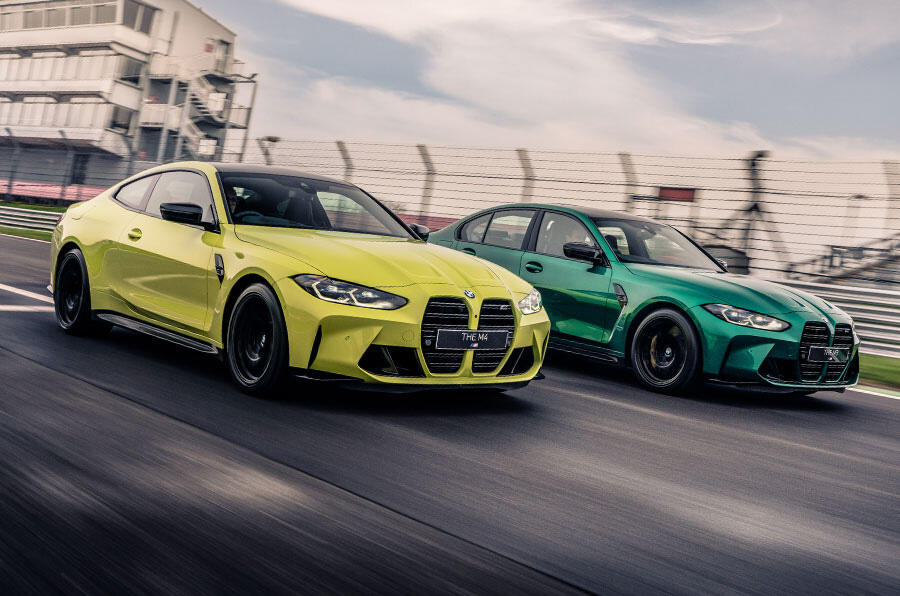 Tech that make track days more fun
In fact, every element of the BMW M3 Competition Saloon and M4 Competition Coupé can be tuned to your taste. M Mode offers a core choice of Road, Sport or Track settings. Dive deeper into M Setup, though, and power delivery, chassis response, steering and braking can all be custom-tweaked to match your mood and your drive – from laid-back and refined for long-distance cruises, all the way to raw and untamed for the ultimate on-track experience.
The all-new M Drive Professional mode – conceived specifically for track days – gives you even finer levels of tuning potential. M Traction Control offers 10-stage adjustment of grip and slip for different road conditions or all-out power delivery, while the M Lap Timer and M Drift Analyser let you record, track and share your best laps and the length and finesse of your longest sideways moments.
The race-inspired M graphics on the large digital BMW Live Cockpit Professional display also come with a range of options to keep you fully focused on the road or track, with a stripped back Sport mode or the ultra-streamlined M View that turns off all in-car distractions – including navigation and smartphone connectivity – so that you can focus purely on the driving.
---
A chassis enhanced to the nth degree
BMW's M division has gone to almost Olympian ideals of perfection to hone the M3 Competition Saloon and M4 Competition Coupé's underpinnings – building on the long wheelbase, low centre of gravity and near-50:50 weight distribution of the 3 Series and 4 Series to make them wider, lower, lighter, stiffer and (ultimately) better.
Every chassis link and strut was obsessively examined, rethought and strengthened, with an extensive package of interlinked bracing elements – including front- and rear-axle aluminium subframes – significantly increasing the torsional stiffness and enhancing the core rigidity of the M3 and M4's chassis for more responsive handling. 
The result is an even-more stable and precise platform for BMW's M Adaptive suspension, which uses precision sensors to continually monitor body movements, steering inputs and the condition of the road, before electromagnetically controlled valves on the shock absorbers and respond – in milliseconds – to deliver the required damping response on each individual wheel. 
The M Setup menu lets you pick the best balance of refined comfort for long journeys, sporty response for spirited driving, or the ultimate levels of grip on ultra-smooth race circuits. Equally, BMW's renowned M Servotronic steering blends speed-sensitive power assistance with a variable ratio that delivers finer response at extreme angles – helping the M3 and M4 feel incredibly nimble on narrow windy roads, as well as making them easier to manoeuvre at low speeds with less effort. 
---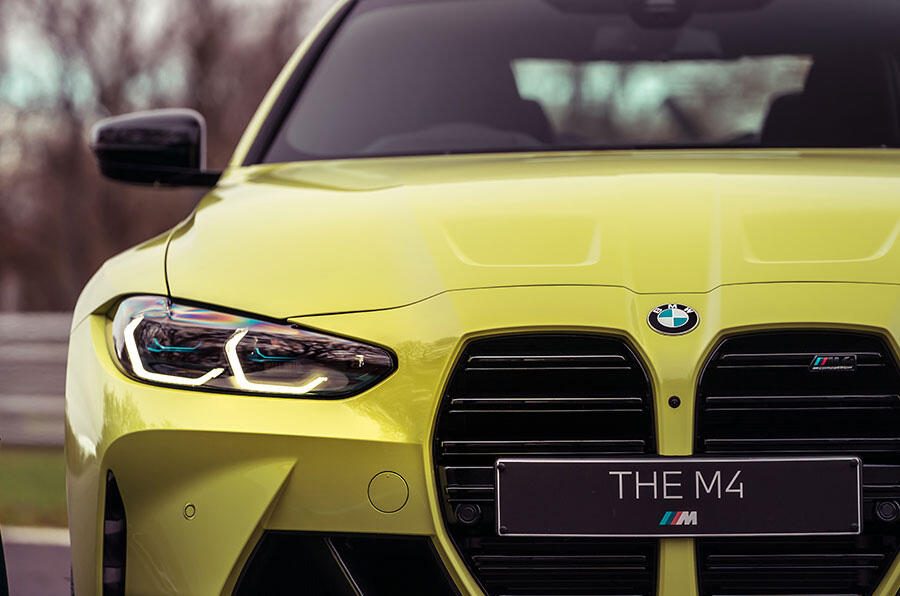 Engineered to be pushed hard on-track
Every element of the M3 Competition Saloon and M4 Competition Coupé has been engineered to deliver consistent and dependable performance – even when pushed hard on-track.
The large frameless kidney grille and wide gaping front air intakes don't just reflect BMW's bold design language and the more aggressive motorsport-inspired style of M models. They're all about performance: feeding huge lung-busting gulps of air into large advanced dual radiators and a bespoke oil cooling system to keep the engine and transmission at the optimum temperature, even during extended track sessions.
Tiny 'flics' integrated into the dramatically flared front wheel arches create an air curtain that enhances aerodynamic flow all the way along the car to the rear Gurney flap and swept-up diffuser – helping the M3 and M4 punch more cleanly and efficiently through the air. 
The standard-fit M Compound six-piston fixed-caliper brakes (380mm diameter at the front, and 370mm at the rear) deliver impressive stopping power. They use an integrated braking system with an electric actuator for more consistent feel and feedback (whatever the road conditions), while also allowing for two-stage Comfort and Sport settings for a more custom-fit braking response.
And here's one subtle difference that you may not notice at first glance: the M3 Competition Saloon and M4 Competition Coupé both boast 19-inch rims at the front and 20-inch rims at the rear – just like on the iconic BMW M4 GTS and M4 CS – for enhanced agility. Factor in the wide footprint of the 275/35 ZR19 and 285/30 ZR20 tyres on the M3 Competition and M4 Competition, and there's grip to spare.
All of this was tuned at a combination of the BMW Group's Miramas testing facility in the south of France, the winter ice lakes of Arjeplog in Sweden and the Nürburgring's famed Nordschleife circuit. The road-going M3 and M4 were also developed directly alongside BMW's M4 GT3 car, which will hit the track in 2022 – firmly reinforcing BMW's track-to-road motorsport ethos.
---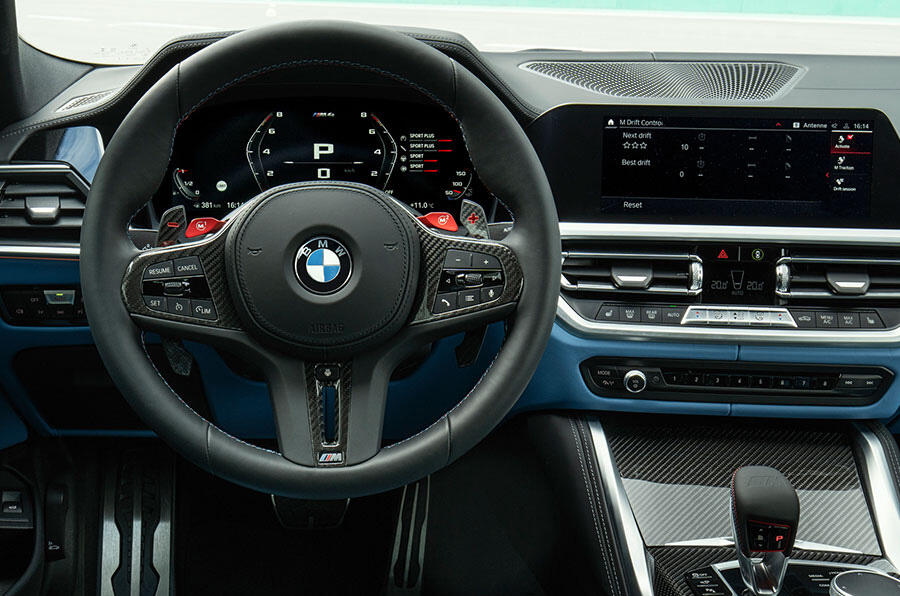 Designed to be driven
Inside, the BMW M3 Competition Saloon and M4 Competition Coupé are a delight for your senses.  Cossetting M sport seats offer a hunkered-down race-style driving position, while the large digital BMW Live Cockpit Professional dashboard (featuring BMW Personal Assistant voice control and BMW Maps navigation) sits prominently in your eyeline underneath the BMW Head-Up Display. 
Wonderfully tactile fine-grain Merino leather trim and signature M details – including distinctive red accents for key buttons and toggles – add to the premium race car-like feel, while the new leather-surfaced M Drivelogic selector falls perfectly to hand. If you want a change in tone to the exhaust note, then the 16-speaker Harman/Kardon Surround Sound Audio System provides the perfect accompaniment. 
On the open road, a wealth of standard-fit safety tech – including Front Collision Warning, Lane Departure Warning, and Speed Limit Info road-sign detection – help keep you on the safe and narrow, while Driving Assistant Professional with Steering and Lane Control Assistant, and Active Navigation that detects when a change of lane is required, are among the options you can add. 
And, once you reach your destination Park Distance Control and Parking Assistant with Reversing Assistant help you make your final manoeuvre, while the optional Parking Assistant Plus adds Surround View and Remote 3D View for the full 360.
So, whatever your journey – and whatever shape you want your BMW M3 Competition or M4 Competition to be – there's something for you to love.
Learn more about the BMW M3 Competition Saloon here. Find out more about the BMW M4 Competition Coupé here.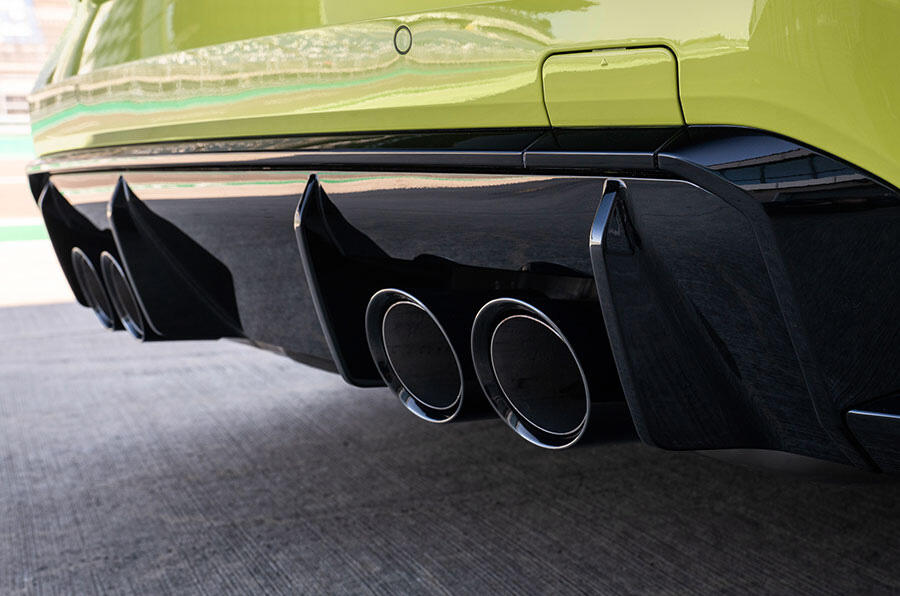 https://www.autocar.co.uk/car-news/adver...ned-thrill