11-09-2022, 03:20 AM
Alfa Romeo supercar just months away from sign off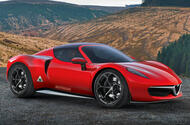 The limited-run supercar could be signed off within the next few months
New model from Italian brand, running parallel to current lineup, could be announced as soon as March
An exclusive limited-run Alfa Romeo supercar is under serious consideration for production, and could be given the green light to be built within the next few months.
Alfa boss Jean-Philippe Imparato said that the project could be announced as soon as March 2023.
"When you visit the museum of Arese, you see so many ideas from our past," said Imparato. "Yes, we are working on something 'few of' [as in the firm would only make a few of them in a limited run] for Alfa Romeo. 
It is not yet known what form the car will take, be it petrol or electric, but Imparato hinted that it would be a bespoke Alfa model rather than shared with another Stellantis brand or model, such as the Maserati MC20.
"It's 1969 [the Spider] since the last time Alfa Romeo was stamped on a chassis," he said, adding it would be "a cool thing" to do it again. He said the model would not just be a track car, but one that could still be driven everyday despite its likely price and positioning. "It could be iconic, super-sexy and recognisable as an Alfa Romeo at first sight.
"It's not done yet, but it's ongoing. The positioning is ongoing. We have so many fans asking for something special," he said, before adding that he hoped to be able to give an answer to them in March next year. 
His description suggests it could even stray into hypercar territory, with a suggestion that the price could run into the hundreds of thousands.
Imparato said this limited-run car is parallel to Alfa's core range of models. This new range of cars has been signed off until 2027 after the return of Alfa to the black in 2021 and the first half of 2022. One model per year will be launched.
Beyond 2027, it has presented a product plan to its parent Stellantis until 2030, and each year of success between now and then will allow a subsequent model to be signed off. "Each year, we will lock the next five years of the product plan with Stellantis," he said.
The new range kicks-off with the launch of the 280hp Tonale (pictured below), a plug-in hybrid version of which will be added to the range early next year. This will help cut Alfa's CO2 emissions by 40%, which "allows us to develop", said Imparato. Next year will also see the launch of revised versions of the Giulia and Stelvio.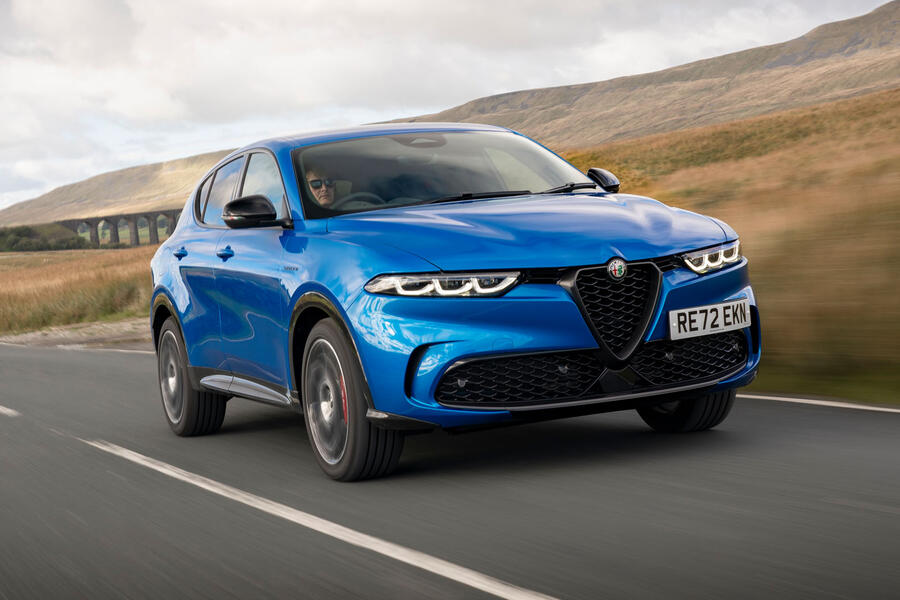 When asked if Alfa planned SUVs in the future bigger and smaller than the Tonale, Imparato said "yes and yes". It's understood the smaller SUV will come in 2024, as an all-electric Alfa sister car to the Jeep Avenger, although the Alfa would be greatly overhauled with a very different set of capabilities.
The larger SUV is understood to be a replacement for the Stelvio, also electric and due around 2026. These two will be sandwiched by a replacement for the Giulia in 2025, Autocar understands, which will be the first model in Stellantis to be based on the group's next-generation electric architecture. "It has 5G and new era technology that will bring to market something special," said Imparato on this new platform, which will also bring a highly advanced new software suite and capability to Stellantis. 
The Giulia replacement would be seen as Alfa's core sports model, said Imparato, which gives a likely flavour to its dynamic potential and positioning. To that end electrification provided "good news" for the Giulia, a further hint at its likely power and performance. 
All future Alfas would also be considered for the Quadrifoglio treatment, he added, saying that it would be a "yes/no" decision taken per model as to whether "it deserved a Quadrifoglio" version. 
Beyond those models up until the Stelvio replacement in 2026, Imparato hinted multiple options and bodystyles were on the table for the brand, including roadsters, saloons, and hatchbacks.
"With the EV switch, it opens so many opportunities for me for top hats from a design point of view," said Imparato, in reference to how wildly different bodystyles can be built on top of common skateboard chassis electric car architectures.
"The best way for EV is for a Duetto, the sound of silence," he said in a further hint at plans for a reborn Spider (original pictured below), something he also spoke of his desire of doing to Autocar earlier this year. "It opens sedans [saloons], it opens a C-segment hatchback [a Giulietta-sized car], so many interesting things we know."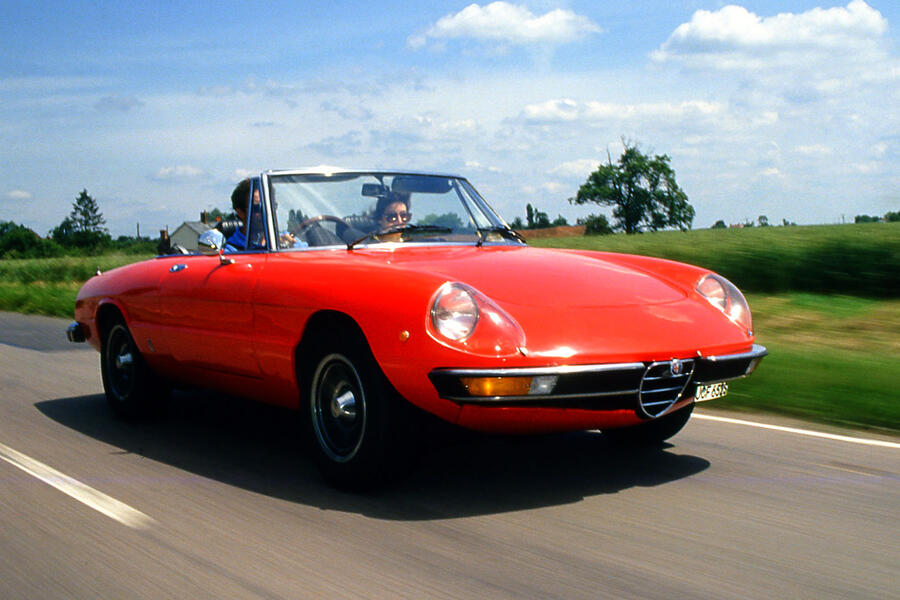 After 2025, all core Alfas will be electric and all models it sells by 2027 will be electric, an indication that the Tonale will be the last Alfa launched with conventional internal combustion engines. 
"Alfa will switch from zero [electrified cars] to zero [emissions] the fastest," said Imparato. He welcomed the switch in general to electric cars, and said that there was "no plan b" for Alfa other than what he has developed.
"On questions of legislation, on global warming and the global ecosystem, there is no alternative," said Imparato. "That's why we want to be part of the game."
Imparato said Alfa would also reveal its future motorsport plans by the end of June next year. It will end its current works Formula 1 entry with Sauber at the end of 2023, the Swiss team instead planning a future with Audi from 2026. 
"We have a very good relationship with Sauber, and they're the best ally in F1. Our focus is on 2022 and 2023. In parallel, we are studying the future, and the next steps and decisions will be in the economic context worldwide. We'll stay in motorsport, the intention is to stay."
https://www.autocar.co.uk/car-news/new-c...-away-sign