02-19-2023, 06:45 PM
All-new Citroen C3 Aircross to arrive with electric power in 2025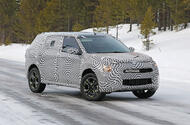 A prototype of the new C3 Aircross was caught testing on European roads
Prototype caught testing on wintry roads features larger dimensions; will get design cues from Ami and Oli
The Citroën C3 Aircross is being prepared to enter its second generation, with styling and construction heavily influenced by the Citroën Ami quadricycle and Citroën Oli concept car.
Seen by our spy photographers tackling icy conditions on European roads, the compact crossover is currently in an early stage of development.
As well as various ICE options, the C3 Aircross will also offer an electric powertrain for the first time, Citroën branding executive Laurent Barria confirmed to Autocar previously. 
He added that the car will focus on "accessibility to electric mobility", leaning on design cues and sustainability credentials exhibited by the new Oli concept car.
Barria added that it will also be the first Citroën to wear the brand's new logo, revealed at the end of 2022, which means an official unveiling is likely to take place this year.
Design director Pierre Leclercq has previously explained that the Ami and Oli "have to influence [Citroën] production cars", hinting that the next Citroën models will borrow key ideas from each to begin the brand's push for sustainability and affordability.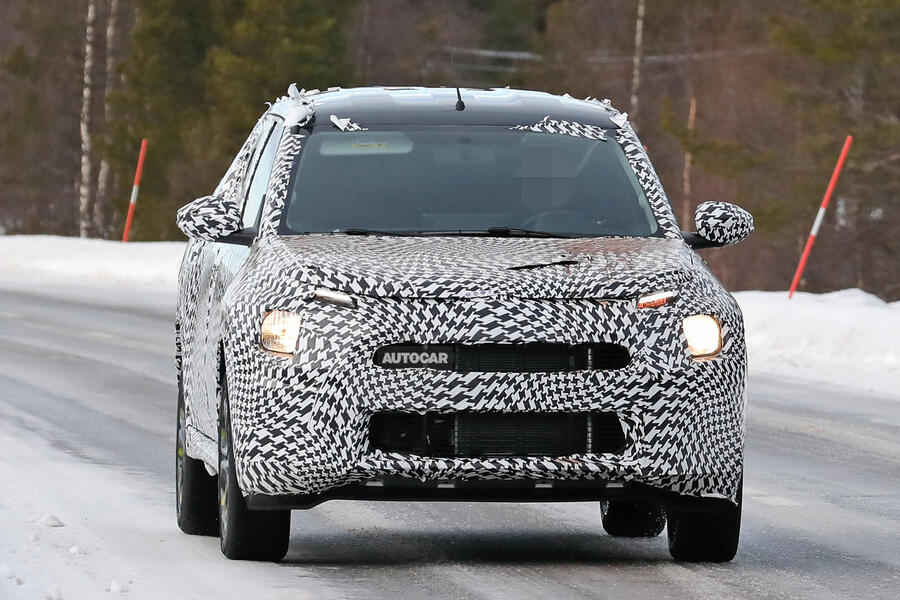 He said "not one" idea from the Oli concept was being dismissed as a potential candidate for production cars and that it was just a matter of timing. 
When it arrives, the new C3 Aircross will likely sit on the CMP platform, which already underpins Stellantis cars including the DS 3 and Vauxhall Corsa.
The electric variant will most likely share the same platform, making use of the same 132bhp motor and 50kWh battery used in the Peugeot e-2008 and Vauxhall Mokka Electric for a range of around 230 miles.
The larger Citroën e-C4 currently on sale uses a 50kWh battery (with a 45kWh usable capacity), giving an official range of 219 miles. 
Rapid-charging capabilities for the C3 Aircross EV will also be critical, because integrating the necessary hardware for that "doesn't weigh anything compared with a battery", according to chief executive Vincent Cobée.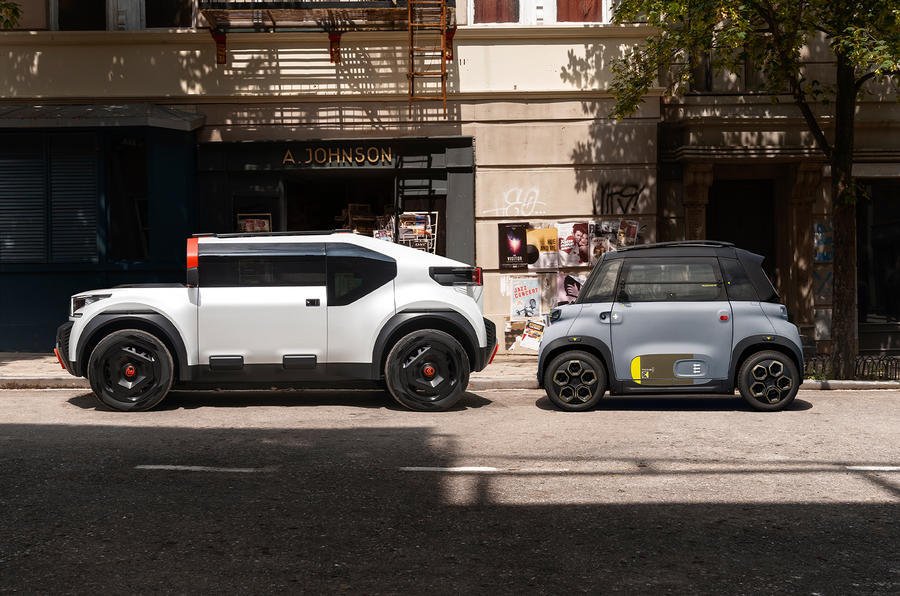 While camouflage serves to distort its design, it is expected that the C3 Aircross's design is likely to borrow cues from the Ami and Oli, such as their shared front and rear bumpers, albeit in the subtler fashion seen on the Oli. 
It's also expected to carry forward the Oli's utilitarian overall styling, with chunky tyres and an abundance of cladding to meet customer demands.
What is visible is that the new C3 Aircross is slightly larger than the current model, with flush door handles visible (likely in order to improve aerodynamic efficiency and therefore range) and a boxier profile.
Moving to the front, a large split radiator grille is present alongside production-specification headlights with an LED daytime running strip that curves upwards and toward the windscreen much more.
At the rear, a portion of the lights are exposed to show a striped design, while the boxy bodywork makes it appear less like a crossover. A design of this type could mean more space inside for occupants and their luggage.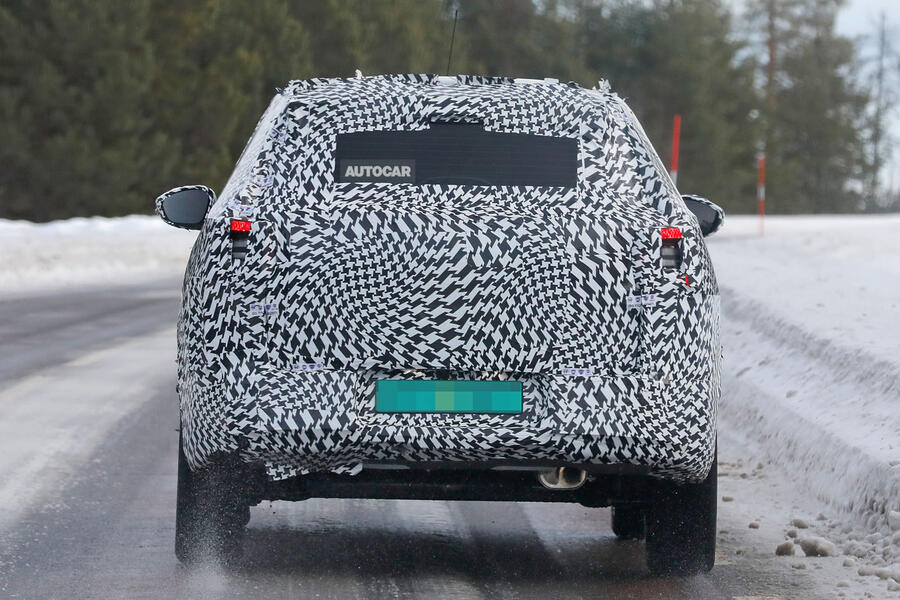 Boot space in the current C3 Aircross is average for the class, at 410 litres with the seats up, compared with 434 litres for the Peugeot 2008 and 400 litres for the Skoda Kamiq. 
No details have emerged about the new car's interior yet, but a revised touchscreen infotainment system is expected to feature with improved smartphone compatibility. 
The C3 Aircross will use more recycled materials, both inside and out, than current models to push sustainability, although the increase is likely to be limited. 
"Nobody buys a car because it is sustainable," said Cobée. 
Leclercq also confirmed that these materials are more expensive.
While an electric Citroën C3 was confirmed to be in development by branding executive Laurent Barria, the presence of an exhaust and split air intakes on this C3 Aircross development car tells us that it's powered by a combustion engine.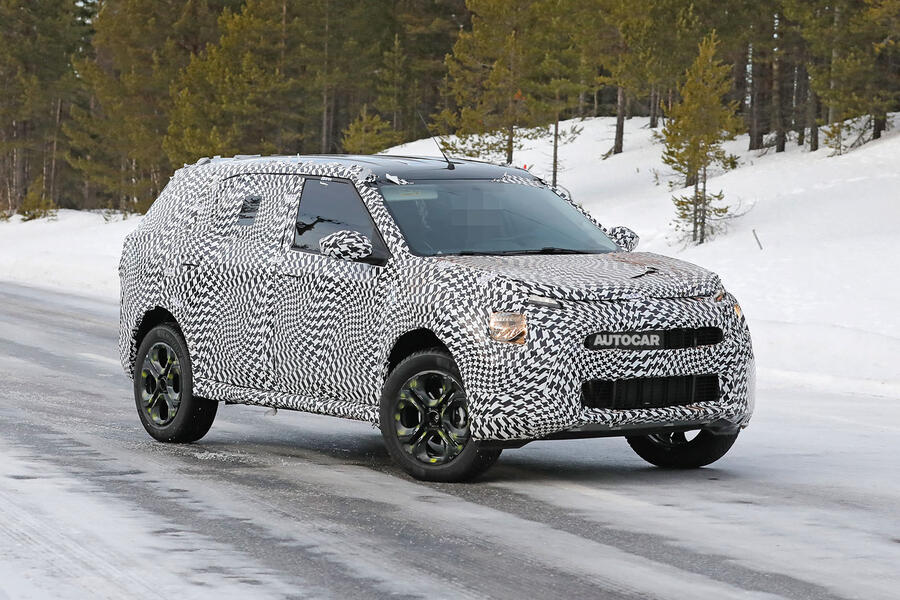 The current C3 Aircross is powered by a 1.2-litre turbo petrol engine with 109bhp or 129bhp or a 1.5-litre turbo diesel engine also producing 109bhp.
The upcoming car is expected to feature a powertrain line-up similar to other Stellantis models, focusing on its favoured turbo triple petrol engines. 
The next-generation C3 Aircross is expected to undercut existing electric crossovers such as the Kia Niro EV, which starts from £36,245. However, it's unlikely to reach the €25,000 (£22,560) target set out by Hansen for the Oli, instead sitting around the £30,000 mark.
On Citroën's approach to electrification worldwide, Cobée said: "There's no reason why Brazil would move substantially towards electric, because they have their own solutions [high-ethanol fuels]. We're not here to decide which region [does] what. So what will happen for car makers like us is basically we will have to regionalise our product offer [and] our industrial set-up."
Additional reporting by Jonathan Bryce. 
https://www.autocar.co.uk/car-news/new-c...power-2025