06-14-2023, 02:02 PM
Alpine A424_β previews 670bhp entry for Le Mans 2024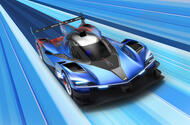 Alpine A424 will compete in the LMDh class
New LMDh racer marks French brand's return to the top tier of sports car racing
Alpine has taken the wraps off the new A424_β LMDh Le Mans racer it intends to enter in the famous race's top hypercar category next year. The official unveiling takes place today before the start of this year's 24-hour race. 
The Alpine 'A-arrow'  marque has been racing in the second-string LMP2 category for the past 10 years - and Alpine has a history of outright victories 40 years ago - but this return to the top level underscores Renault's seriousness about increasing the impact and reach of its performance/racing brand, which will eventually front a four-level road car range that started with the new-era A110 in 2017. A new full-electric A110 is planned for 2026. 
The new LMDh racer uses a 3.4-litre single-turbo V6 - the only car to use this powerplant - that delivers 670bhp. Like the rest of the field, it uses an Xtrac gearbox, a Bosch 'hybrid box' and a Williams battery. On chassis design, LMDh entrants have the chance to work with one of four homologated chassis design companies: Alpine have chosen Oreca to prolong a long-standing partnership. Body design and aerodynamics are relatively open to entrants' preference, and with the A424_β, Alpine has chosen to stress the A-arrow theme that will be carried by all Alpine road cars and racers. 
The new Alpine, which like other LMDh entrants will be eligible to race in the US, has its engine running on the dyno now. The car will turn a wheel for the first time and start serious shakedown testing in August.
https://www.autocar.co.uk/car-news/motor...-mans-2024