05-04-2022, 12:11 PM
Around the world in a Dacia Sandero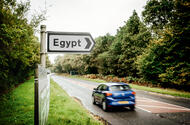 We take Britain's cheapest car from Egypt to Bermuda - without crossing a single border
Sometimes I'll drive an old car and think that, while it's charming, even if it was quite luxurious in its day, it would be tiring to cover huge distances in it now.
But new cars are different. Even basic ones are so quiet and accommodating that I think you could take the cheapest car on sale and happily cover mega miles in it. I think you could easily drive one – dramatic pause – around the world.
Only we can't, obviously, not with everything that's going on. And given the amount of time it takes, I would never get the expenses signed off.
But like a Poundland Phileas Fogg, I'm going to be joined by a sidekick, photographer Max Edleston, as we drive around the world (without leaving England) in just two days.
We're going to tick off all the right places, albeit not necessarily in quite the right order, for our lengthy global trip in Britain's cheapest new car, the Dacia Sandero. Better still, I think we can do it without refuelling.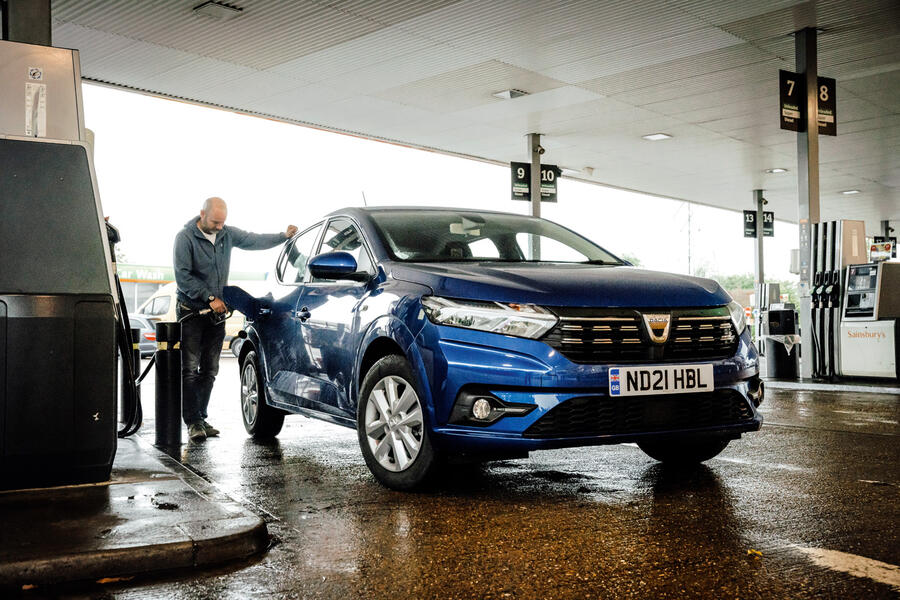 My hunch is that the cheapest car on sale – albeit not the cheapest version of it – also has the longest range of any car on sale. Remember liquefied petroleum gas, or LPG? It was once viewed as a potential mainstream alternative to petrol but cheaper, incurring a lower tax rate and emitting less CO2.
In some filling stations you can still get it, and the Sandero Bi-Fuel (chosen by about one in 10 Sandero buyers) has a 40-litre LPG tank where the spare wheel would usually be, in addition to its 50-litre petrol tank, so its 1.0-litre three-cylinder turbo engine can run on either. I reckon it should do more than 800 miles without refuelling.
You can swap between the two fuels at the push of a button. LPG tends to make a little more power and torque than petrol (99bhp and 125lb ft versus 89bhp and 118lb ft), albeit it isn't quite as efficient.
But it's cheaper and prices are less volatile. A year ago, a litre of petrol would cost about £1.20 on average and a litre of LPG 65p. Petrol is pushing £1.66 as I write, and who knows what it will be by the time you read this, while LPG is still only 71p.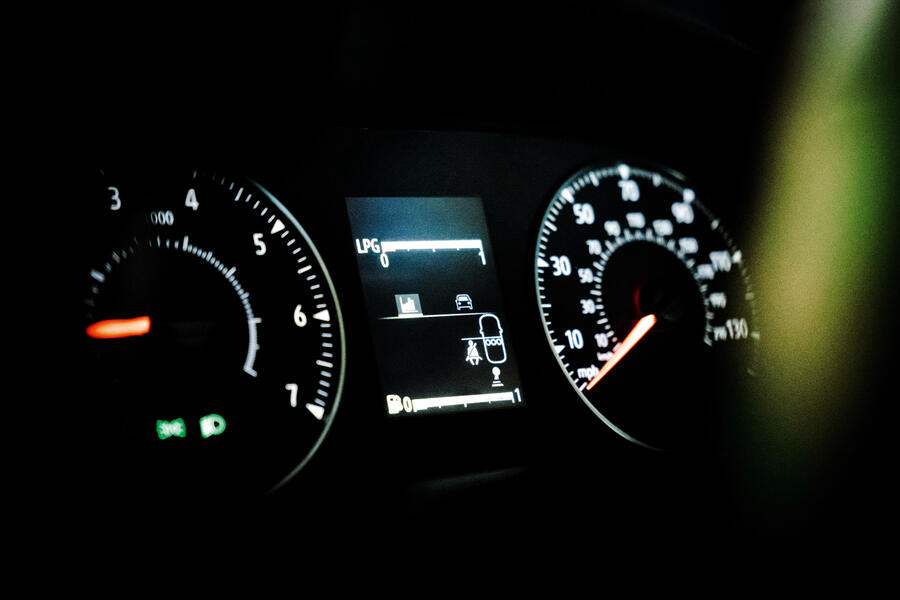 LPG isn't that easy to find and, unlike Fogg, I'm not a member of a London club to stride out from. But serendipitously, I do know the perfect place: London Colney, where I used to live, has London in its name, a village club that I used to visit a fair bit (and where Edleston can leave his car) and a big supermarket whose fuel station sells LPG. Bonzer.
Better still, the Sandero has not one but two conventional trip computers (one for each tank), which will make keeping tabs on progress particularly easy. Certainly easier than filling the LPG tank. Forgive me: it has been a while.
Nestled behind pumps one and two is the LPG pump, number three, hiding like Platform 9¾. You have to take an adaptor from the glovebox, screw it on, attach the LPG nozzle (which has to be gas-tight), push a button and wait for nothing to happen. Then do it again properly, push the button and give a big lever a squeeze until the tank is full. There's a slightly alarming gaseous psshht as you undo the nozzle – all normal, apparently – and we're off. It's 8.00am. First stop, Egypt.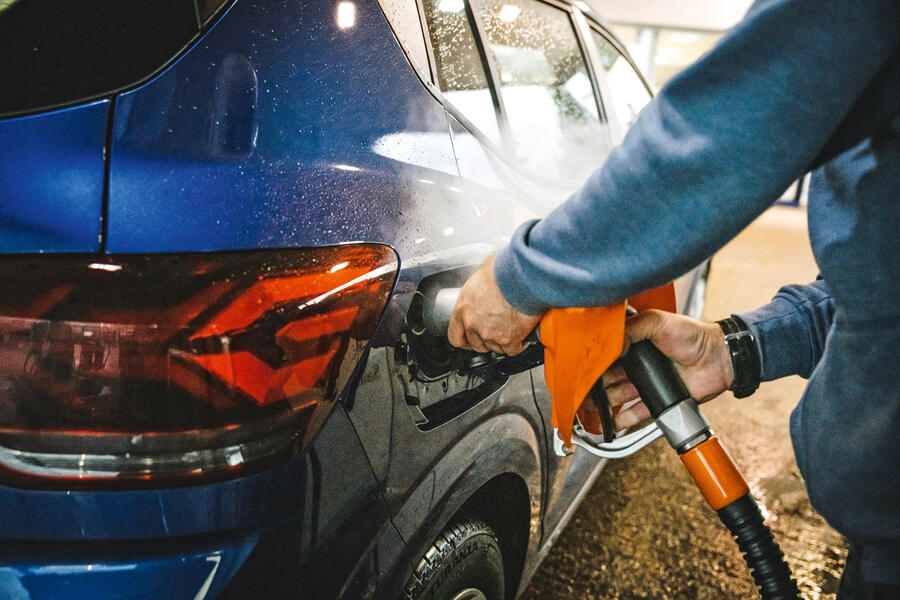 I grant you that Egypt sounds like quite a big leap from London and wasn't quite the original plan, but I was told a day ago that I would have to go to Slough to have a swab pushed up my nose, so Egypt became the de facto first calling point.
Not that on Egypt Lane, between the M40's Beaconsfield Services and a Slough trading estate, there's a lot to see. It's a pretty country lane with a restaurant at one end and Burnham Beeches at the other. But there's a sign, so our first waypoint is ticked off by 8.45am and, with tickled nostrils, I'm putting the next one into the sat-nav: Gibraltar, near Aylesbury.
It's named after the other one, but the Spanish aren't so bothered about it and, so far as I can see, there are no monkeys. There is a thatched pub; the focus of Gibraltar's Wikipedia page is that it caught fire 19 years ago, but the village noticeboard suggests they've moved on. As must we, because it's 11.53am and we've only done 71 miles.
Driving to Wellington, Somerset, in place of Wellington, New Zealand, means the first chance to settle into Sandero life properly along the M4.
It's good, this car. Impressive value, even though it costs more than the £7170 base Sandero, which almost nobody buys, because the next model up the range is so much better equipped. This TCe 100 Bi-Fuel Comfort costs £11,995.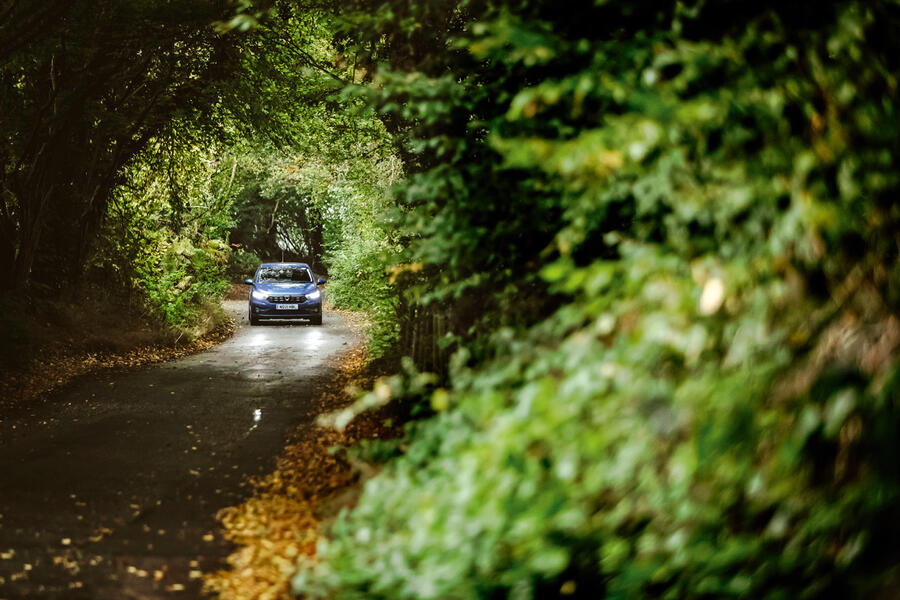 It's still a basic car, then, but Edleston and I are a comfortable temperature, one of our phones is mirrored easily on the central touchscreen and a six-speed manual gearbox eases the miles and revs away while the ride is smooth and noise reasonably well suppressed.
I don't doubt we were much more comfortable and isolated when we drove a new Land Rover Defender to the Bugatti factory in France the other day (which you will be able to read about soon), but honestly, I've been no more tired making the journey in this. It steers lightly and easily and turns half gamely. When people say they want a car "just to go from A to B", the Sandero is what they're talking about.
Our current B, Wellington (2.20pm, 228 miles), is foggy. The Kiwi version was named after the first Duke, and he was named after this place. They put up a monument to commemorate his Battle of Waterloo stuff here later. It's the tallest three-sided obelisk in the world – reopened last year after a comprehensive renovation, although not open today. Not that, given I can barely see the top, we would see a great deal from its viewing platform nearly 53 metres up. And besides, we've got to get to Palestine.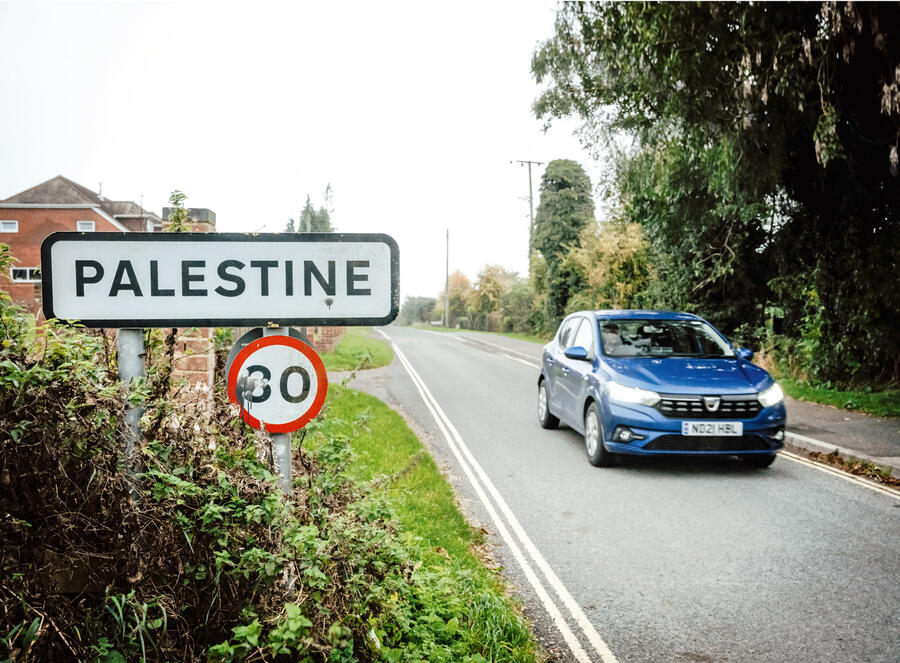 Palestine is day one's last stop: 5.30pm, 312 miles, near Andover, Hampshire. Alas, there's no monument here – and the nearby railway station is for Grately, even though by my reckoning it's rather closer to this small village.
By 7.30pm (403.5 miles), we're back in London Colney. I know, it's hardly a several-day train trip across India, but Fogg didn't have to drive home to feed the cat. On day two, we begin there again. Because I nipped home using LPG and then brimmed that on my return, there's the same 403.5 miles showing on the petrol trip computer and the fuel level is precisely where it had been the night before.
By 9.40am, we're in Melbourn, Cambridgeshire (437 miles). Yes, yes, yes, the spelling isn't quite the same as Melbourne, Victoria, Australia's second city and often voted the best place in the world to live. That was named after Melbourne Hall in Derbyshire, but I'm going with this one, because it's more practical. It pretty much takes us on the perfect route to California. Great Yarmouth's California, that is.
Apparently, this got its name because some gold coins were found there at around the same time as the American gold rush. Entirely unbiased website Norfolk Live has since compared the two Californias "and decided ours is better", and by 11.50am (530 miles, still using petrol), Edleston and I have found our way to an amusement arcade on a California holiday park and I'm drifting a topless Ferrari around what looks like (the apparently inferior) California on the old arcade game Outrun 2. It's the sort of fun that people who drive for a living have when they're not driving for a living.
We spend some money, spin some wheels and win a few prizes. And look, I'm not going to judge which California is better, because it's quite cold and I've got to get to Boston. In the US, you could pick up the historic Route 66 for most of the California to Boston route. Not us, not when there's East Anglia to navigate. Get your kicks mostly on the A47.
And then drama: the petrol runs out. The 50 litres and a bit (a refill to full is 52.21 litres) has lasted us 573.8 miles. The Sandero doesn't automatically switch over to LPG. It takes a good few cranks to restart the engine and an engine warning light seems no great fan of it being run dry, although it quickly gets over itself.
There's more power and torque on LPG, but in general driving you would be pushed to notice, especially if you've stopped and restarted. You will feel a bigger difference if you flick between the two on the move.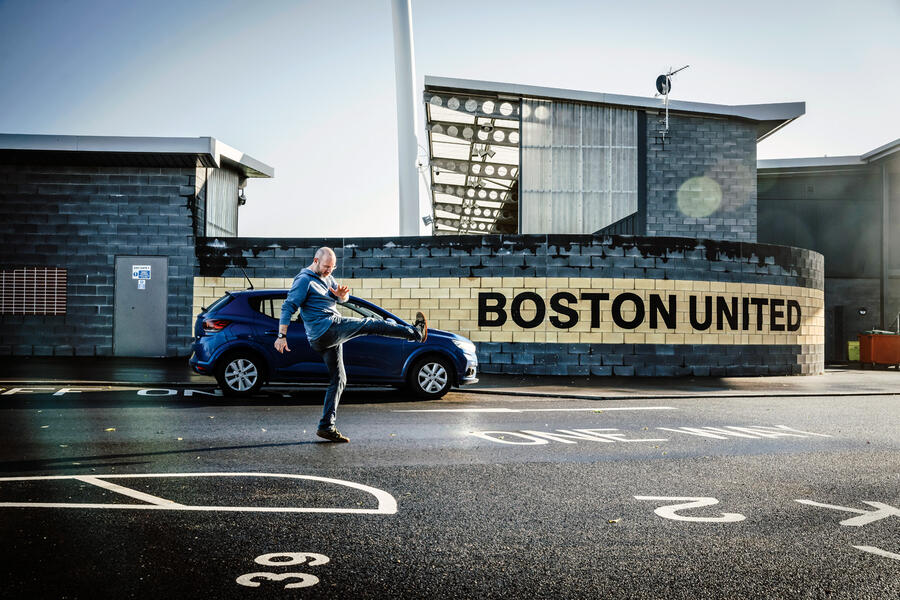 Now on LPG only, though, we hit Boston, whose rather sparkly new football stadium is on the outskirts, (2pm, 627 miles), appropriately on Pilgrim Way. At the time we pass, The Pilgrims are apparently having doubts about their manager, with whom they will later part ways. If I'd have known (as former playermanager of London Colney's Pear and Partridge FC), I would have dropped in my CV.
Instead we head for Bermuda, not far from Nuneaton (and the MIRA Proving Ground). In a maze of industrial estates and housing estates, Bermuda village – don't laugh – proves tricky to find. But it's there (5.30pm, 726 miles), Bermuda Road leading to Bermuda village and with a bus turning circle around a small green with a postbox on it that, if you were to squint a bit, you could pretend had three sides and was therefore a veritable Bermuda triangle. Or not. It has been two rather long days.
From here, it's a journey very much of not-Atlantic crossing epicness across to the M1 and back towards base, to London Colney, the centre of the universe, which we reach at 7.45pm, having driven 804.8 miles over two days. Some 573.8 of those were on petrol, at 49.96mpg, with the other 231 on LPG.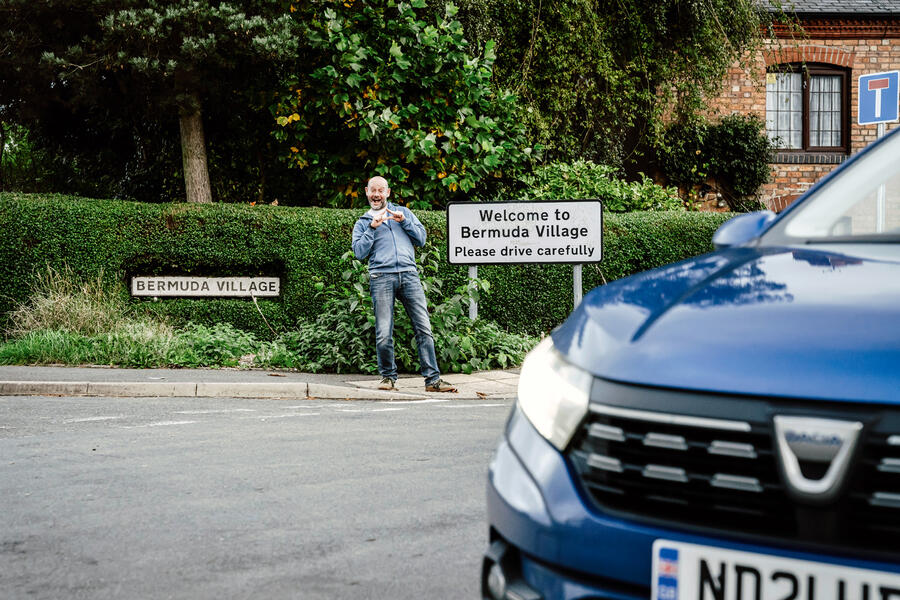 The Sandero is still estimating its remaining range at 105 miles, and let's not forget that those are typically conservative. Yet we haven't really been trying to be economical. There were stopstarts for photographs and map investigations and the odd drivethrough and getting lost, yet still the Sandero is saying that it will easily do more than 900 miles after a single visit to a filling station – and in resolute comfort.
So if we could choose an easier route with fewer stops and a steadier driving style, I wonder, as Edleston loads his kit into his photography wagon, whether that estimated 910-and-some miles could easily turn the Sandero into a car capable of 1000 miles in one go.
The longest range, the cheapest price: this car has, literally and figuratively, come a long way.
What else comes close?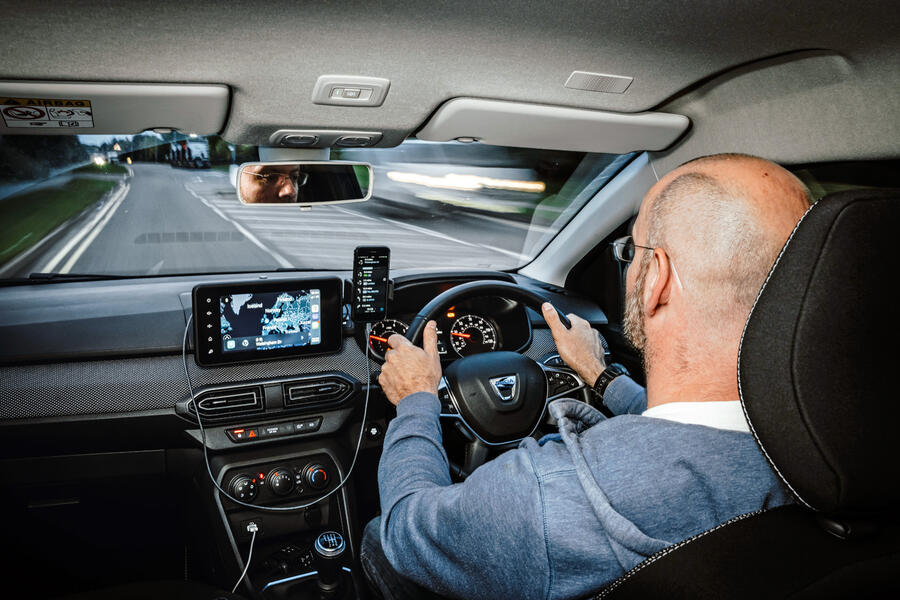 On paper, the Sandero's total range, estimated by going on its WLTP combined figure, comes out at around 925 miles. I had figured it might be less than that, because laboratory tests aren't the same as real-world driving. But after two days and 805 miles, it looks pretty accurate. And with careful driving, I think you would manage more.
The same isn't true of some of Britain's other cars with long official ranges: plug-in hybrids. Their WLTP test cycles start with a full battery, which means they might not use any fuel at all over regular commutes – but also that you will never get the many hundreds of miles to the gallon that suggests they will run and run and run on a single fuel fill.
Traditionally, that's a role filled by big cars with efficient diesel engines spinning over slowly at motorway speeds. The Mercedes-Benz S350d, with a 76-litre diesel tank and 42.8mpg combined fuel economy, has an official range of 716 miles, and I suspect you could better that on a long run; the Audi A8 50 TDI (82 litres, 40.4mpg) should get you 729 miles.
Both are impressive. But I don't think there's another car on sale that will get you the at least 900, maybe 1000, of the Sandero. It's a luxury cruiser for our times.
https://www.autocar.co.uk/car-news/featu...ia-sandero