03-15-2023, 08:53 PM
Arrival receives £250m cash injection amid cost-cutting drive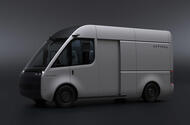 Arrival is refocusing its resources on a larger 'XL' van for the lucrative US market
$300 million financing line gives the EV start-up a lifeline as it prepares to lay off half its staff
EV start-up Arrival has been granted a $300 million (£246.8m) financing line by New York-based bank Westwood Capital.
Combined with swingeing cuts aimed at reducing Arrival's quarterly cash spend to $35m (£28.8m) and excluding investments in XL van production, this gives the start-up sufficient capital to stay afloat until late 2023.
Those cuts include slashing its headcount by half, with most of these 800 redundancies concentrated on the UK and the US (Georgia), according to a January report from the Financial Times. Arrival confirmed this will be complete by the end of March.
This is Arrival's third run of job losses since last summer, coming after it warned in November 2022 that it would run out of money by July without a cash injection – which it has now received. As of the fourth quarter of 2022, Arrival was spending $126m (£103.7m) every three months.
The firm will now focus on developing and validating its L and XL vans, with initial production planned to take place at its 'microfactory' in the US state of North Carolina in late 2024.
This will begin with a pilot production run of 10 vans at Arrival's plant in Oxfordshire, the UK, allowing it to develop manufacturing processes.
These vans will also be used to help complete 250,000km (155,000 miles) of road testing before the year's end. Some 68,000km (42,000 miles) have already been completed.
The company, which previously planned to develop an electric bus as well as an electric car for ride-hailing services, shifted its focus to US-built electric vans in response to the Inflation Reduction Act.
Introduced last August, the American legislation offers manufacturers large subsidies if they build EVs (in which the batteries meet local-content requirements) Stateside. This grant provides $7500 (£6200) for cars but rises to a much more substantial $40,000 (£33,000) for commercial vehicles.
Recently appointed Arrival CEO Igor Torgov said: "Arrival has developed innovative technologies and knowhow which position us strongly to address the considerable EV market opportunity. We have now taken important steps to help us take advantage of this opportunity, including raising additional capital as well as placing a sharper focus on the key US market and driving significant efficiency improvements."
https://www.autocar.co.uk/car-news/busin...ting-drive