01-27-2023, 03:12 PM
Aston Martin DB11 to be reinvented in wide-reaching update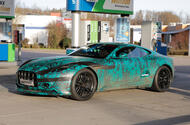 The new Aston Martin DB11 promises to bring significant upgrades inside and out
Grand tourer will receive new suspension, powertrains and infotainment for 2023; Vantage to follow suit
Aston Martin is priming the DB11 grand tourer for an extensive mechanical and technological overhaul, which will help it to compete more effectively with the newer Mercedes-AMG SL and Ferrari Roma. 
New images captured by Autocar's spy photographers show a heavily camouflaged DB11 undergoing road testing - giving itself away as the updated car with a revised front fascia, which looks to be modelled on the Aston Martin DBR22 speedster shown in August last year.
Despite being a clear continuation of the existing DB11 – which arrived seven years ago – the updated car promises to be a thoroughly modern proposition inside and out.
Company chairman Lawrence Stroll previously said the new version will be more like an "all-new" car, bringing upgraded engines, gearboxes, suspension and, most importantly, an overhauled interior.
"How can you have an Aston Martin that sells for £150,000 with three-year-old technology?" Stroll asked early last year, referring to the ageing Mercedes-Benz-derived trackpad system the DB11 has used since launch.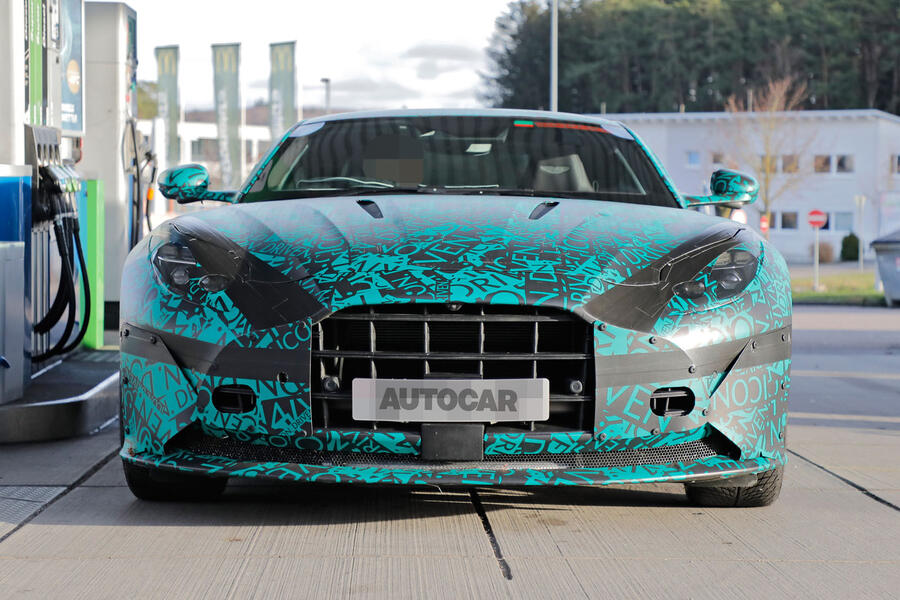 An agreement with Mercedes-Benz meant Aston Martin could only use the German firm's technology once it had been used in Mercedes models for three years – "a silly thing the previous management agreed to", according to Stroll.
He confirmed that the new car will get a touchscreen infotainment system, differentiated from Mercedes' tech by "our own faces, our own voices – a proper English accent".
The choice between V8 and V12 models is likely to remain, with both subject to substantial revamps. The latter was recently uprated to 759bhp for the swansong DBS 770 Ultimate, thanks to a 7% bump in turbo pressure and ignition tweaks.
Aston Martin product and marketing boss Alex Long told Autocar the V12 is "synonymous with the brand", adding it has "a huge emotional connection for the customers".
The eight-pot is likely to be the upgraded version of the M177 unit found in the new Mercedes-AMG SL 63, which raises the potential for outputs of 577bhp and 590lb ft. For reference, the current DB11 V8 produces 528bhp and 498lb ft.
That the test mule was captured wearing 305-width rear tyres – 10mm broader than those fitted to the existing model – hints at a power uplift substantial enough to require the additional rubber.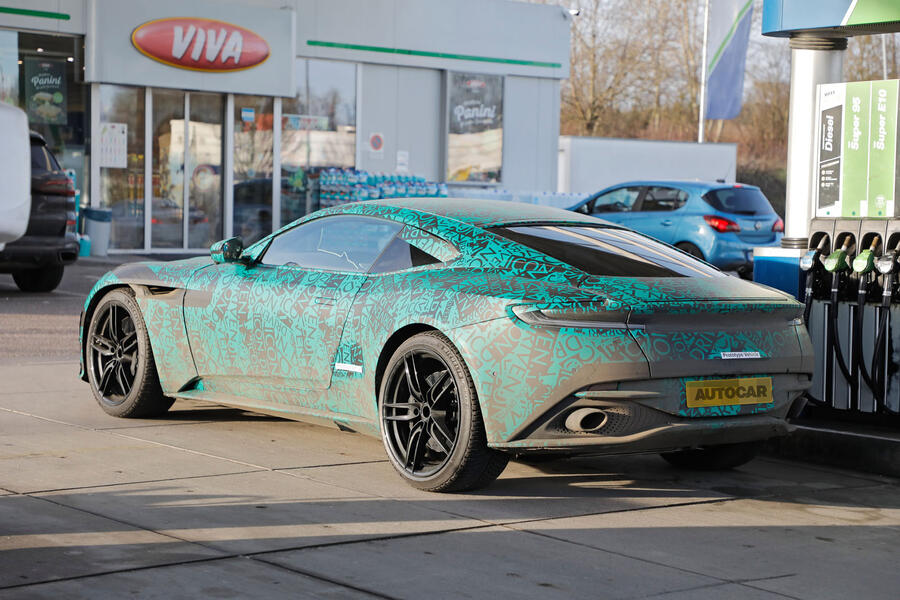 The smaller Aston Martin Vantage will receive a similar suite of upgrades, whereas the closely related DBS will go off sale once the 770 Ultimate's 499-car run – 300 coupés and 199 convertibles – is complete.
It is all part of a move to ramp up sales of its front-engined sports cars to 4000 units per year, Stroll explained. "That is the true consumer demand," he said when confirming the round of updates was inbound.
An early stage of Stroll's turnaround plan for Aston Martin centred on reducing the company's output to meet demand, rather than building for wholesale. 
Hinting at how radically evolved the new cars will be, Stroll told reporters: "You'll be very impressed with the all-new 'front engines' next year."
"There's no similarity at all to the current cars," he said, but added that there will be "some carry-over" at the rear end.
The updated models, said Stroll, will be "what those cars should have always felt like". The DB11 is expected to arrive first, and is expected to make its official debut later this year. 
https://www.autocar.co.uk/car-news/new-c...ing-update