01-05-2023, 09:43 PM
Aston Martin DBS 770 Ultimate is uprated, range-topping swansong
The DBS 770 Ultimate will be the final iteration of the famed DBS grand tourer
British car maker's limited-run, 759bhp "flagship to surpass them all" will be fully revealed imminently
Aston Martin will imminently reveal the final ever iteration of its famed DBS grand tourer, ending production of one of its most historic monikers with an uprated, ultra-limited special edition. 
Named the Aston Martin DBS 770 Ultimate, the powerful two-door coupé has been previewed as the "flagship to surpass them all" with improved driving dynamics and exclusive design features. 
It will likely be positioned to rival the similarly conceived Ferrari 812 Competizione, an uprated version of the 812 Superfast and the quickest and most powerful road-going Ferrari yet built, producing 819bhp and 513lb ft. 
Just 499 examples of the DBS 770 Ultimate will be built after Aston Martin reveals the model "in early 2023". The British brand also teased the model in a video posted to YouTube. 
Based on the existing DBS, the special edition is likely to feature an adapted version of the model's existing 5.2-litre twin-turbocharged V12 engine, boosting power from 715bhp to 759bhp. 
It will become the second most powerful production car the firm has yet built, until the arrival of the 937bhp Aston Martin Valhalla supercar, which will also go into production in 2023.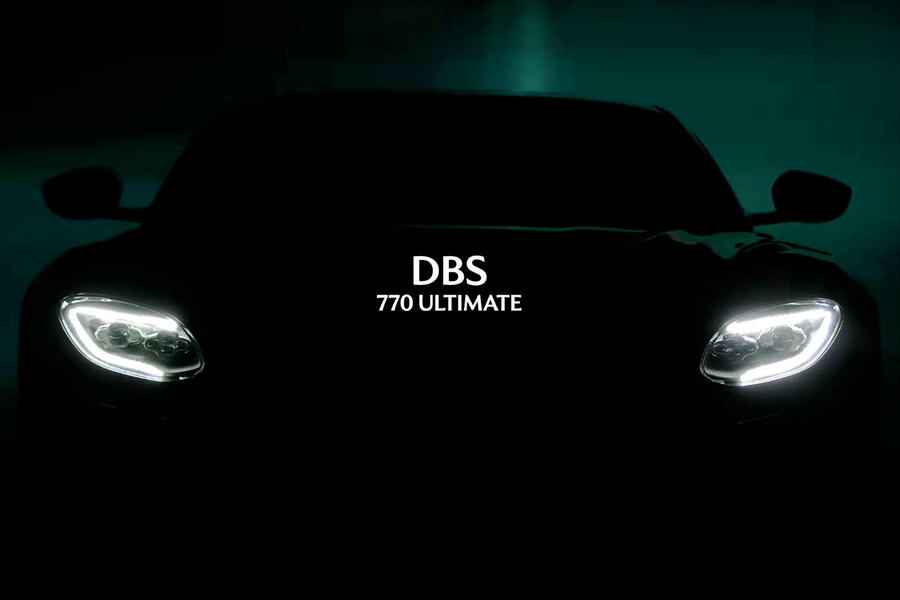 It will sit just above the 750bhp Aston Martin One-77, the 715bhp DBS Superleggera and the 679bhp Aston Martin DBX 707 in the power stakes. The Aston Martin Valkyrie will still top the firm's line-up with 1160bhp. 
There's no indication of pricing yet, but the DBS Superleggera was launched with a £247,000 price back in 2019, and the DBS 770 Ultimate will command a larger fee, due to its exclusivity and increased performance. 
https://www.autocar.co.uk/car-news/new-c...g-swansong