01-22-2023, 12:10 PM
Aston Martin DBS 770 is £314k, 759bhp swansong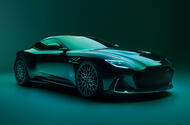 The DBS 770 Ultimate is launched as Aston Martin celebrates its 110th birthday in 2023
Fiery special edition showcases Aston's plan to focus on driver engagement
The new Aston Martin DBS 770 Ultimate has arrived as a radically enhanced swansong for the firm's brutish V12 grand tourer – as well as an enticing statement of intent for the marque's future sports cars. 
Launching as Aston Martin celebrates its 110th birthday in 2023 – and the 75th anniversary of the DB nameplate – the 770 Ultimate is "the most powerful production Aston Martin ever". Its 759bhp puts it some way clear of the standard DBS, which has 715bhp. 
There have been more potent road cars to leave Gaydon in recent years – not least the 1160bhp Valkyrie hypercar and 836bhp Aston Martin Victor coupé – but they have been highly limited and ultra-expensive propositions. 
The 770 will receive an extended build run made up of 300 coupé and 199 convertible variants, priced from £314,000 and £337,000 respectively. Each has already sold out ahead of deliveries starting in late summer. 
The 5.2-litre, quad-cam engine's extra grunt comes primarily from a 7% increase in turbo pressure and tweaks to the air and ignition pathways, as well as careful fettling of the power and torque delivery curves. 
Armed with a 0-62mph time of 3.2sec (in coupé form) and a top speed of 211mph, the 770 comes close to Ferrari's ferocious final-edition 812 and the commemorative Ultimae version of the Lamborghini Aventador for outright speed, but it has not been conceived simply to offer dazzling straight-line pace. As with the similarly outrageous Aston Martin Vantage V12 launched last year, its added firepower arrives alongside an extensive chassis and drivetrain overhaul aimed at bolstering engagement and tightening up the handling. 
The adaptive dampers have been recalibrated at all four corners, for example, to give improved control without denting rolling refinement (Aston has sought to preserve the DBS's long-distance appeal) and a new solid-mounted steering column has been fitted, "allowing the driver to enjoy a more precise connection with the road". 
Aston also claims frontend stiffness is up by 25%, courtesy of a tougher new crossmember, while a thicker undertray at the back is said to increase rear-end rigidity by 3%. Even the eight-speed ZF gearbox has been retuned to give quicker shifts and to better convey a whopping 664lb ft (available from just 1800rpm) to the rear axle.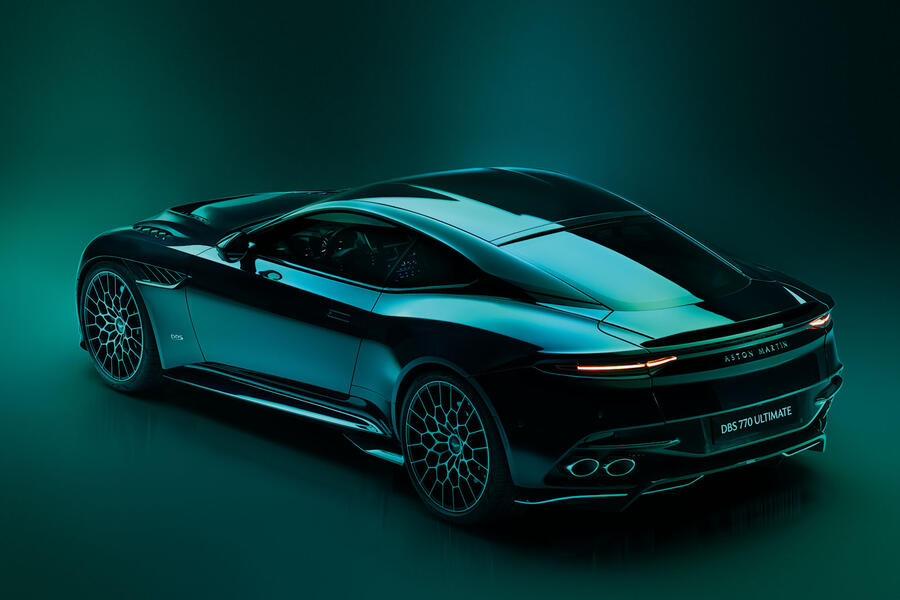 The company's product and marketing boss, Alex Long, told Autocar that "from a dynamics point of view, the DBS is our most prodigious performance car in the front-engined range" and that this hardcore new version aims to cement its legacy while offering a taste of Aston's strengthened commitment to engaging handling in future models. 
"The focus on performance as a pillar of the brand is critical," said Long. "Historically, we've been a performance brand as well as a luxury marque, and we're moving back to that. So rather than having products with two levels of power output and performance – and that includes dynamics and braking and all the other aspects of what makes a proper performance car – we now have to bring these power levels that give our cars the edge." 
But the 770 has not been conceived explicitly with a focus on shaving lap times. Long said "a lot of our customers say the DBS is the supercar for touring" and so the outright aim was to enhance "the emotional connection engagement" between car and driver. "In a world where there's so much driver assistance, increasing electrification and so on, there's a place for that. I think what people are looking for from us is that thrill," he added. 
As with the similarly uprated Aston Martin DBX 707 – a fire-breathing performance version of Aston's V8 SUV – the run-out DBS is told apart from its standard sibling by an aggressive design makeover with "an authentic level of function". A substantial horseshoe-shaped bonnet vent enhances engine cooling, while a newly designed splitter, increasing downforce at the front, is flanked by a pair of larger new air vents that boost airflow and nod to the previous-generation DBS. 
Other core differences over the standard DBS include a raft of carbonfibre body components, a bespoke rear diffuser and a new 21in wheel design modelled on those worn by the Valkyrie and Victor. 
The interior is less radically reworked but comes furnished as standard with top-rung leather and Alcantara sports seats, a unique colour split for the cabin trim and stitching, and laser-etched DBS 770 Ultimate badging. 
Aston would not be drawn on specifics of a successor to today's DBS. Long went only so far as to confirm that "this is the end of the DBS – the last DBS produced", but stopped short of confirming whether or not the nameplate could be redeployed in the future.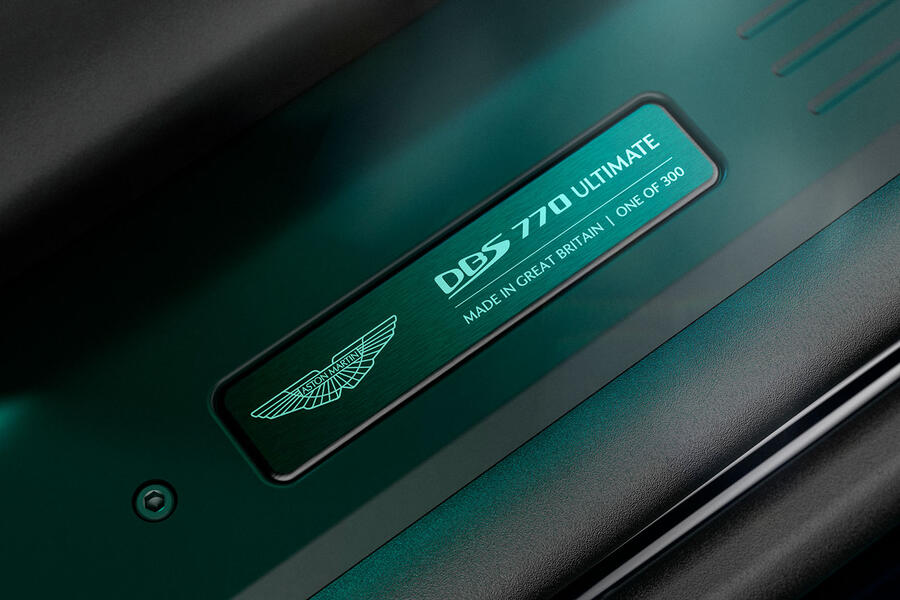 He did confirm that Aston "will always have a flagship", and ex-CEO Tobias Moers' affirmation last year that "there's still room for a V12 in our sports car generation" suggests that Aston is not yet ready to retire its largest engine, opening the door for a new generation of 12-cylinder, front-engined grand tourers. 
The V12 is "synonymous with the brand", according to Long."It's an incredible engine, and in this particular iteration it's the most sporting, with the most dynamic character. 
"People still love the 'twelves'. As much as the electrification revolution continues, it's a different use case. And it's still very much a huge emotional connection for our customers."
https://www.autocar.co.uk/car-news/new-c...p-swansong