05-14-2022, 06:28 PM
Aston Martin V12 Vantage | 690bhp beast hits Silverstone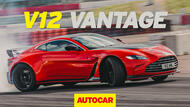 Join Matt Saunders as he reviews the final V12 Vantage
The smallest Aston Martin, the Vantage sports car, has just been treated to a serious powertrain makeover, and we've already tested the results on track. This, the fourth-generation Aston Martin V12 Vantage, has a 690bhp turbocharged V12 sourced from the Aston Martin DB11 and Aston Martin DBS Superleggera. It's now rated for a top speed of 200mph; it's faster-accelerating than any other Vantage; and it has a whacking 20 per more power to weight than any of its Vantage siblings.
This is also the last time that Aston Martin will ever squeeze a V12 engine under the low bonnet of a Vantage super sports car, it says, as electrification rises amongst its commercial priorities, and it adopts more engines from Mercedes-AMG rather than those built at its old owner Ford's engine plant in Cologne, Germany.
It's very rare for any car maker to announce the imminent end of life of any of its models; so, in this case, does ultimate also mean best? Matt Saunders took to Aston Martin's Stowe Circuit, at Silverstone, to find out.
https://www.autocar.co.uk/car-video/asto...ilverstone