01-14-2023, 01:50 PM
Aston Martin to launch limited-run car to celebrate 110th anniversary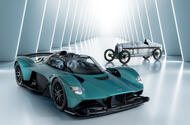 New, highly exclusive car will be officially unveiled later this year to mark 110 years since the firm's inception
Aston Martin will launch a new, ultra-exclusive model this year as part of the British car maker's 110th-anniversary celebrations, which will run throughout 2023. 
Described by the Gaydon-based firm as "a new, strictly limited, exclusive Aston Martin model", the car will be officially unveiled later this year. 
Aston Martin has remained tight-lipped about the model, withholding its name, performance statistics and what shape it will take. It could come from its bespoke Q division, following the launch of the Aston Martin DBR22 last year.  
It's likely the model will appear at one of the year's most significant motoring events, though. Aston Martin has confirmed its anniversary celebrations will "take centre stage" at the Formula 1 British Grand Prix, Goodwood Festival of Speed and abroad at Pebble Beach. 
The firm will begin the launch of its next generation of sports cars this year while also saying farewell to the Aston Martin DBS with a high-powered, range-topping swansong. 
The Aston Martin Vantage and Aston Martin DB11 are expected to receive major overhauls this year, with engine, gearbox, suspension and interior revisions in the pipeline. 
Aston Martin's 110th anniversary marks a number of milestones. It's the 75th year of the DB nameplate, 60 years since the Aston Martin DB5, and 20 years since the firm relocated to its Gaydon headquarters.
"In 1913, Lionel Martin and Robert Bamford came together with a shared vision of racing cars and using learnings from the racetrack to push the boundaries of automotive innovation," said Amedeo Felisa, who was appointed Aston Martin CEO in May last year following the departure of Tobias Moers. 
"One hundred and ten years and little over 110,000 cars later, that spirit continues. Our 110th year promises to be just as exciting as our first, as we turn a new chapter in Aston Martin history with the launch of our next generation of sports cars and the reveal of an extraordinary special model later this year that will celebrate this unique milestone."
https://www.autocar.co.uk/car-news/new-c...nniversary