05-03-2023, 02:21 PM
Audi E-tron GT 2023 long-term test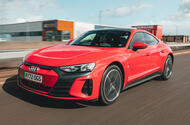 This super-EV broke ground for Audi - will life with it now break our deputy road tester?
Why we're running it: Audi's inceptive performance EV is a class act, but what's it like to live with?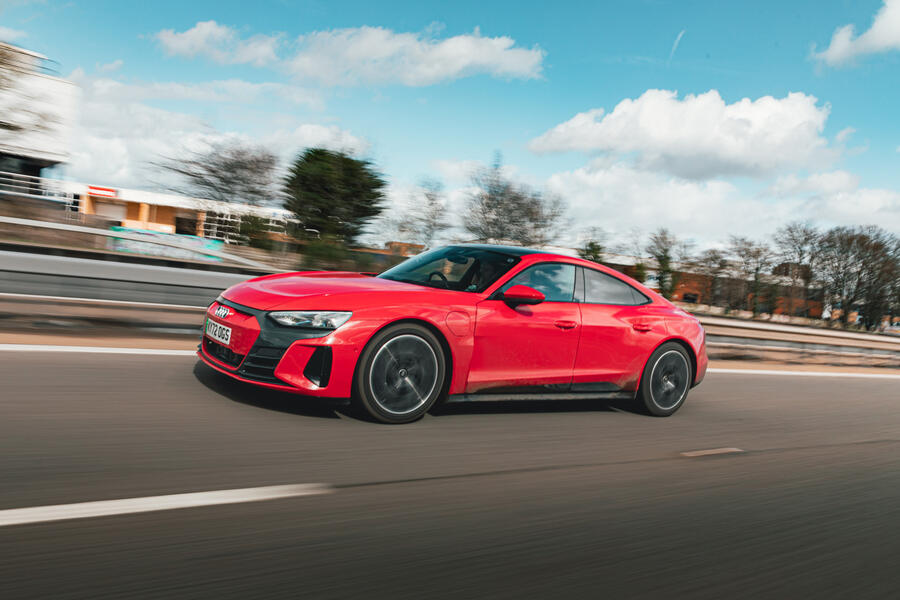 Life with an Audi E-tron GT: Month 1
Welcoming the E-tron to the fleet - 12 April 2023
Apologies for the state of this filthy Audi. As regular readers will know, when a car is inducted into these pages it is customary for it to be gleaming, having been washed then nursed to the photoshoot location with not a morsel of grit acquired en route.
Things went differently for our new E-tron GT – a Tango Red example of the Porsche-engineered jewel in the crown of Audi's rapidly expanding range of electric cars.
The very first day of our time together was christened not with an easy crawl across London to Autocar HQ in TW1, or handover at some fashionably lit dealership. Instead, we had a little foray to Antwerp and back. Bang: 459 miles. The chaser was two rapid-fire visits to Heathrow Long Stay before an even heftier excursion to Edinburgh, totalling 809 miles. (I know the exact mileage because the myAudi app not only tells me charge status but also breaks down daily trips, which is absurdly useful for report writing.)
The car has been so busy that when staff writer Jack Warrick, string-puller for the Autocar fleet, issued me with a surprise copy deadline, we had to head out and photograph our grime-smeared GT on the A3 during a Friday lunch hour. Looks epic, though, doesn't it?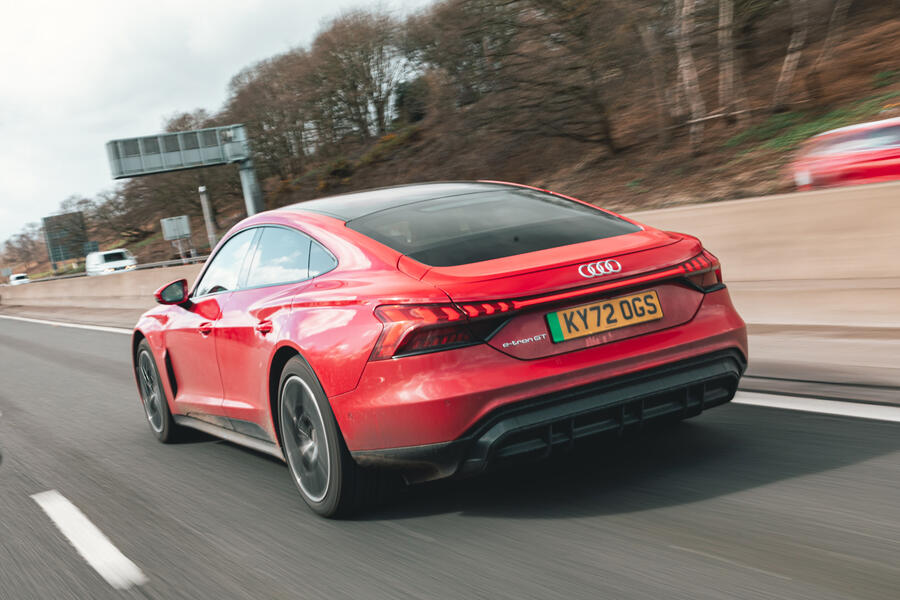 Now obviously I could have taken an ICE car on those trips to Belgium and Scotland. The TDI Skoda Superb I drove to France last summer – the one that broke my mind a bit when it did, I kid you not, 1112 miles on a tank – would have made mincemeat of the entire itinerary. But this would have been a cop-out. It also would have undermined what I'm hoping to learn during my stint with this very novel, medium-hot Audi.
That's because this is going to be an inadvertent stress test for the very concept of an all-electric GT. My situation isn't exactly ideal for running any kind of EV. My flat occupies the upper floors of a building on a busy-ish road without even a solitary, anaemic lamp-post charger.
Something like a 7kW wallbox, which my colleagues Matt Prior and Mark Tisshaw have installed at their homes, requires a driveway and so for me is but a distant dream. I could petition the council to install a cable gulley in the pavement outside but what if the right space isn't waiting for me?
So charging up – that barest of essentials – will be less convenient for me than it is for, let's say, 99% of all EV owners. I'll have to treat this E-tron GT as though it is a conventional ICE car. It will be refuelled via public facility. Added chaos will be derived from the fact that my job requires lots of driving, often to far-flung locations, and without any semblance of routine; 300-mile days are not unusual.
I'm describing a nightmare scenario for any EV, except for one of Elon Musk's cars, whose range and Supercharger access remain game-changing. So far, the Audi an I have managed only 229 indicated miles on a single charge, versus 301 miles claimed. Reality bites. I hope the onset of summer and warmer temperatures ameliorate this. As for public charging, I already have apps for five providers. Undoubtedly, there will be many more.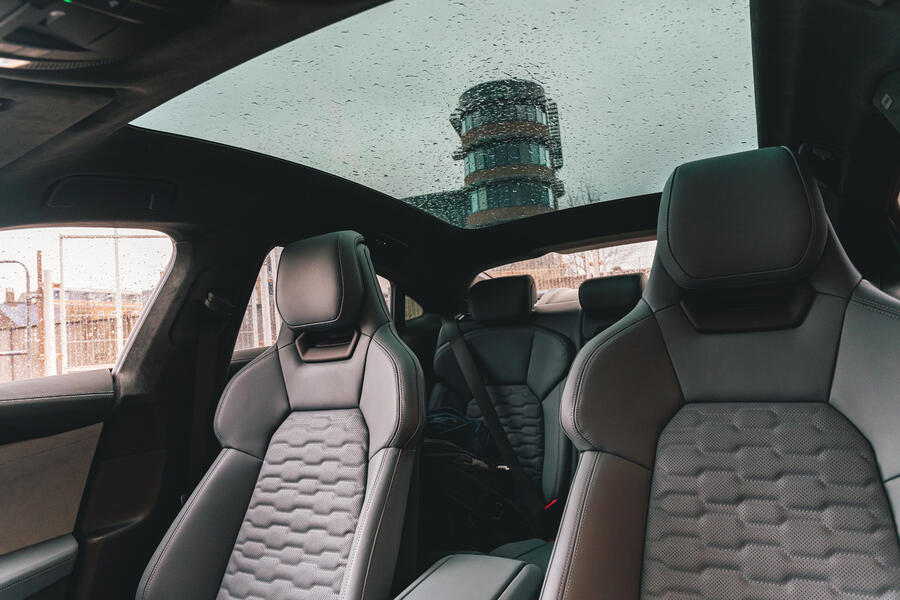 In our favour is the fact that I'm genuinely interested in this loping electric GT car, and how exactly the time in its company will pan out. Any cynicism or even ambivalence now would be terminal for our relationship, but that isn't how we're going to be starting out. I'm keen.
There's also the fact that this Audi, as I've already discovered, is good company. It's not perfect – it's damned wide, yet the parking sensors are so sensitive that we're already deep into wolf-crying territory – but it moves through the world like a mechanical panther. Quiet, sleek, smooth and, with 472lb ft of hair-trigger torque, superbly rapid if ever you need it.
Disparate elements – cockpit, steering, general aesthetic – are also more convincing than Audi's current efforts elsewhere. The GT seems less desperate to impress you than, say, an RS7, and this insouciance makes it easy to warm to. Even in searing Tango Red. It really isn't my colour and I think the car looks more elegant in Ascari Blue, Floret Silver or Kermora Grey (more of a pastel blue). However, the rakish silhouette does at least ensure red isn't outright jarring.
So what is this thing? We'll dive more deeply into the Taycan-shared platform later, but the car presents as a 152mph four-door fastback, and a deliciously low-slung one. It has air springs (standard on Vorsprung trim) and a motor on each axle, the rear of which drives through a two-speed 'box. A 93.4kWh battery is under the floor. The whole show weighs 2347kg, which is a hell of a lot, but clearly deftly managed.
At £113k, the asking price is also a hell of a lot. But it seems a bit more palatable when you consider BMW now wants £85k for an M3 Comp and a 911 Carrera S is £110k. It gets easier still to digest when you learn that £113k is for our all-singing Vorsprung model, with its B&O hi-fi, head-up display, rear-steer, matrix headlights, Pro sports seats and acoustic glazing, plus other bits we will get to in due course. A bare-bones E-tron GT costs £85k, which looks fair value for something so obviously bleeding-edge and, for want of a better word, slick.
So I like the cut of the E-tron GT. Would I like it more with 450bhp of inline-five stuffed longitudinally into its sloping nose? Head says yes. As does heart, though not with quite the same conviction as the head. It may be heavy and need copious recharging but you cannot say this car isn't authentic. In what it represents and its execution, this is the most exciting Audi since the rear-drive R8. Petrol-ising it would, for better or worse (mostly better, it must be said) diminish that.
But back to reality. We have on our hands an Audi super-saloon and a custodian who is, for now, up for the challenge presented by its operational requirements. Let's see what it's made of.
Second Opinion
Perhaps the E-tron GT's most worthy attribute is just how effortlessly and casually it tackles the daily grind – unexpectedly so for a car this generous of proportion and price. Accurate driving controls, cosseting damping and sensibly conceived interior packaging make it, to me, as much a family hack as a brawling 'bahnstormer. The spirit of the RS6 lives on
Felix Page
#Back">Back to the top
Audi E-tron GT specification
Specs: Price New £112,850 Price as tested £116,315 Options Tango Red metallic paint £950, E-tron Sport Sound £500, full-leather package £1665, single-frame grille in body colour
Test Data: Engine Two permanent magnet synchronous motors, 83.7kWh battery Power 469bhp Torque 464lb ft Kerb weight 2276kg Top speed 155mph (limited) 0-62mph 4.1sec Range 305 miles Economy 3.1mpkWh Faults None Expenses None
#Back">Back to the top
https://www.autocar.co.uk/car-review/aud...-term-test