06-12-2023, 07:28 PM
Audi E-tron GT 2023 long-term test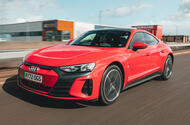 This super-EV broke ground for Audi - will life with it now break our deputy road tester?
Why we're running it: Audi's inceptive performance EV is a class act, but what's it like to live with?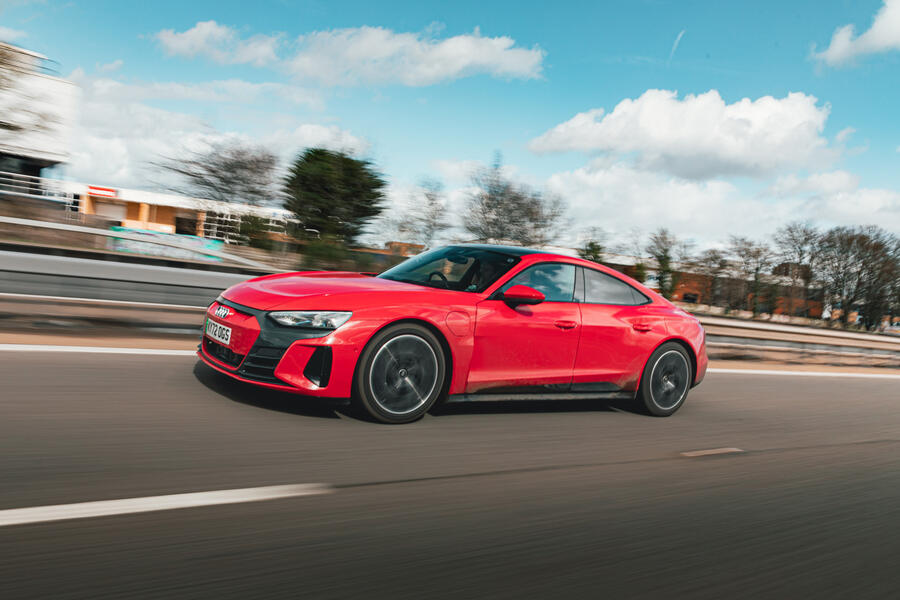 Life with an Audi E-tron GT: Month 2
Even during an inconvenience like this, our Audi delivers a surprising reward - 31 May
Three months into my stint with this electric Audi and preconceptions about how chaotic the relationship would be have mostly left the building. I am surprised by this; people who know me and my driveway-less, routine-less existence are surprised by this; even people who know me and my situation and own an electric car themselves are surprised by this. I'm simply not suffering as much as I feared – and they cheekily hoped – I would be. Or, indeed, at all.
The lack of torment is partly because, in the Audi, what you see on the range display is generally what you get. This gives you blessed certainty, and is especially true in the Efficiency drive mode, which essentially lengthens the throttle, slots the rear transaxle into the longer of its two ratios and drops the air-sprung body into its lowest, least draggy ride-height setting. That last bit also gives the car an extra dose of crowd-pleasing stance, although it does render the underside of its Dolph Lundgren chin vulnerable to speed bumps.
Indicated range has improved noticeably in this warmer weather, and if I charge the 93.4kWh battery up to 100%, the car now shows about 265 miles. This is still some way short of what you would get in the bigger-battery BMW iX, but I can live with it. And I can live with it because public charging has mostly been okay, if also now quite busy.
Sure, almost no stations pump out electrons quite at the advertised rate, and at around 65p per kWh for 'ultra-rapid' apparatus, it isn't cheap. But inconveniences have been minimal. Most of the time I arrive, wait five minutes, plug in, and 20 minutes later I'm off again.
Could you have an E-tron GT as your only car? Probably. Though it still wouldn't be risk-free. I think the best approach would be to use the Audi as much as you like, but also have a petrol supermini lying about, for when life throws a curve ball and your otherwise slick slice of electric Vorsprung durch Technik has only nine miles on the readout after a big trip. A decent 2008-model-year Ford Fiesta is the same price as an option or two on the Audi.
In other news, I've had some of the Audi's clothes off. Or, at least, the rear offside wheel. A slow puncture meant a trip to Kwik Fit, where the mechanics discovered a nasty-looking screw in one of the tyres – fortunately dead centre of the tread, so repairable.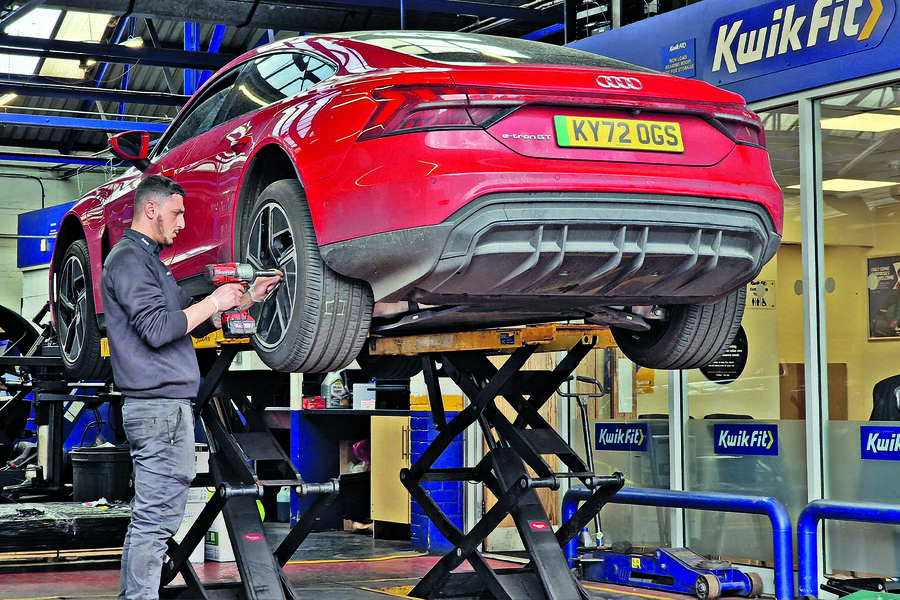 With the E-tron up on the jacks, certain things I expected to see. Like the perfectly flat underbody that's permitted by the presence of an enormous battery pack and the absence of exhaust plumbing. And a legitimately big rear diffuser; aero cladding for the underside of the control arms. All helpful stuff when you're straining for every last WLTP-accredited mile.
What I didn't expect to see was a work of art, yet the E-tron's rear suspension is precisely that. Honestly, you don't know where to look, such is the warren of metalwork that lurks behind those 20in rear wheels. One upper control arm bends like a sickle (I'm not exaggerating) around the bellows of the car's air springs, while the other has a pronounced U-bend in it for clearance beneath the body.
There's also an arm that links the hub to an electric actuator for the rear-wheel steering, and the casting for the lower wishbone is colossal. Of course, they have also had to find space to feed the damper up through the middle of it all, and the driveshaft, and connect the anti-roll bar (not active, as you can have in the Taycan). It's tough to get your head around this level of engineering when it's all stationary, let alone imagine how the kinematics operate at forcible chat on the B-whatever. There's no spare space going, yet the car never crashes onto its bump stops or surrenders composure.
On seeing these photos, an old friend exclaimed that "Porsche's recent rear suspensions are a packaging wonder". High praise, coming from a senior suspension engineer at McLaren.
Love it
Railgun performance
I don't talk much about this car's 523bhp and 472lb ft as I rarely use it all. But when you do need to overtake, it's done in an instant.
Loathe it
Piano black trim
The GT comes with a little cloth in the glovebox. No wonder. The centre console and touchscreen are fingerprint magnets.
Mileage: 4710
#Back">Back to the top
Our Audi catches the eye - 17 May
A dirty car, especially a fast one, feels like it's being used properly. Guano is another matter, though, so off our Audi went to one of north London's choicer hand-washes. What shocked me was the deluge of attention the GT drew once gleaming. En route, it blended in like an A7 (this quality I like). Going home, it may as well have been a straight-piped R8
Mileage: 4331
#Back">Back to the top
Hot electric Audi continues to impress in isolation – and against some top ICE talent - 3 May
Absence is supposed to make the heart grow fonder, but in the case of long-term test cars, such nauseating tweeness should never be presumed. As such, a couple of weeks apart from the E-tron GT was always going to be revealing.
I've had various distractions during that time, ranging from an old-shape Toyota Yaris to a £250,000 Bentley, to not one but two Lancia Integrales and to the new RWD Tesla Model Y, with a BMW M8 Competition and Ora's dubiously named Funky Cat also making appearances. In short, plenty to help me forget (or perhaps, in some ways, resent) the big Audi.
But no, I've missed it. Truly. For one thing, by the standards of your typical family hatchback, the thing is a boat, but after driving the aircraft carrier that is the Bentley Continental GT, I longed for the Audi's relative manoeuvrability and precision. At the same time, the E-tron GT is just as serene as the W12 car at lower speeds and seems only a smidge less stately on the motorway.
This isn't at all a poor state of affairs for something with palpable sporting genes. I like the way the Audi pairs its cosseting, techno-fortress-on-wheels persona with relatively easy manoeuvrability. It's imperious but undemanding.
As for the M8, which is by far the closest thing to an E-tron GT alternative out of the cars that I've driven in the past fortnight, were it my money, I would have the Audi, no question. I'm quite surprised by my own certainty on this matter. I mean, the M car has the sensational 617bhp driveline from the M5 and pairs it with the kind of predatory silhouette that we seem to see less and less of these days.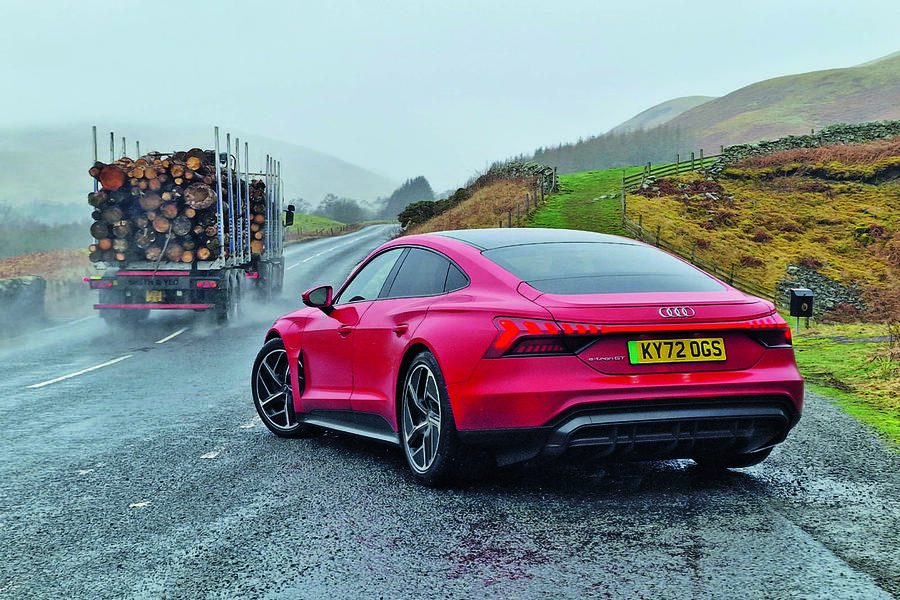 As a basic recipe, it's not hard to love. M's four-wheel-drive super-GT is also – to state the obvious – not beholden to charging stations as the Audi is, and on a light throttle you would get 400 miles out of it at a fast cruise. So why is it so comprehensively outclassed by the E-tron GT?
It's because the E-tron GT rides so much more sweetly, steers with more clarity, has all the body control you realistically need, and what it lacks in on-throttle adjustability (of which the BMW has plenty), it makes up for in balance and neutrality. It is by miles the more coherent device, while the M8 seems a confused mash-up of hardcore performance coupé and loping grand tourer.
It was on the recent trip to the Scottish Borders that I took a detour up around the A701 (the wending Edinburgh-to-Moffat route – seek it out) and the Audi was fine company. On those tight hillside roads, I really could feel its weight, and the M8 would ultimately be more agile and by some margin quicker. But you would be fighting the BMW's choppiness, while the Audi's low centre of gravity and an ability to stay calm make this 2.3-tonne EV the more enjoyable back-country device. Strange times indeed.
In truth, this chassis deserves better tyres than the econo-compound Pirelli Cinturato P7s our car is fitted with. Porsche shods the Taycan with Pirelli P Zeros, and I know Audi offers an asymmetric Goodyear Eagle F1. I've made a mental note to try them, even though they will shave some miles off the car's ultimate range.
Ah, yes: range. I'm still waiting for the maximum indicated range to creep up as the weather improves and am currently seeing only 230 miles maximum – and that's with a 100% charge, which owners probably would avoid to protect battery longevity.
The Audi and I also have a trip to Verona in the diary, which really will put it to the test. This will take planning, although there's a useful website and app I've discovered: A Better Route Planner. It plots your journey and the necessary charging stops. It says the 845 miles from London to Verona will take six stops and just under two hours overall for charging time. Sounds reasonable.
Love it
Simple honesty
This isn't the longest-legged EV, but drive sensibly and the remaining miles shown is mostly what you will get. The problem is you also have 469bhp to play with.
Loathe it
Getting deflated
The rear passenger-side Pirelli has a slow puncture. Annoying, but at least getting it repaired will give me a chance to see the suspension and underbody aero.
Mileage: 3768
#Back">Back to the top
Life with an Audi E-tron GT: Month 1
Rapid chargers aren't cheap... - 26 April
Nearly 3000 miles gone and so far the experience has been... pretty silky. Expensive, though. I've totted up the bills and an 800-mile round trip to Edinburgh cost £202.03 in electrons. Granted, that's using Ionity charging stations – among the fastest but, at 74p per kWh, also the most pricey (although not by much). Bottom line: an M5 Comp drinking super would have cost the same. 
Mileage: 2849
#Back">Back to the top
Welcoming the E-tron to the fleet - 12 April 2023
Apologies for the state of this filthy Audi. As regular readers will know, when a car is inducted into these pages it is customary for it to be gleaming, having been washed then nursed to the photoshoot location with not a morsel of grit acquired en route.
Things went differently for our new E-tron GT – a Tango Red example of the Porsche-engineered jewel in the crown of Audi's rapidly expanding range of electric cars.
The very first day of our time together was christened not with an easy crawl across London to Autocar HQ in TW1, or handover at some fashionably lit dealership. Instead, we had a little foray to Antwerp and back. Bang: 459 miles. The chaser was two rapid-fire visits to Heathrow Long Stay before an even heftier excursion to Edinburgh, totalling 809 miles. (I know the exact mileage because the myAudi app not only tells me charge status but also breaks down daily trips, which is absurdly useful for report writing.)
The car has been so busy that when staff writer Jack Warrick, string-puller for the Autocar fleet, issued me with a surprise copy deadline, we had to head out and photograph our grime-smeared GT on the A3 during a Friday lunch hour. Looks epic, though, doesn't it?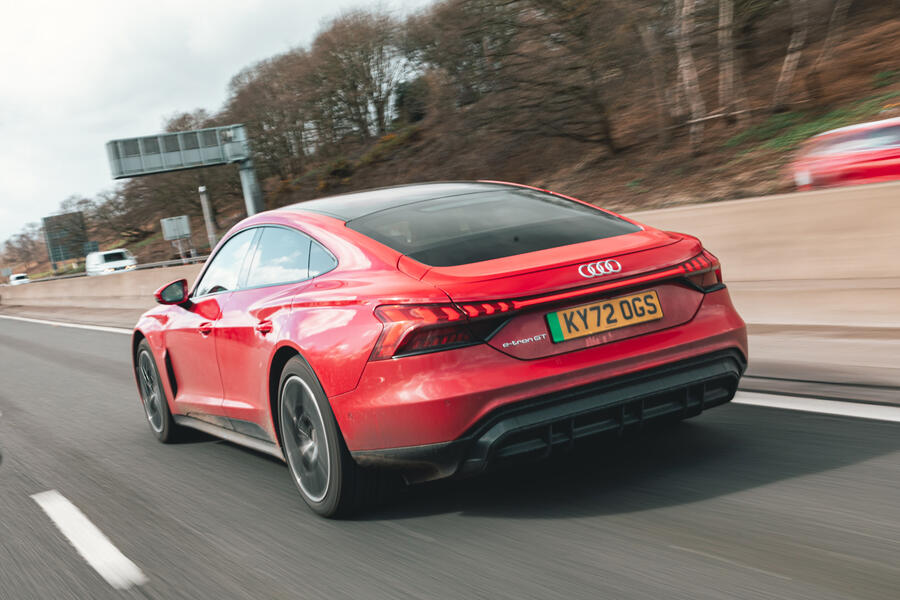 Now obviously I could have taken an ICE car on those trips to Belgium and Scotland. The TDI Skoda Superb I drove to France last summer – the one that broke my mind a bit when it did, I kid you not, 1112 miles on a tank – would have made mincemeat of the entire itinerary. But this would have been a cop-out. It also would have undermined what I'm hoping to learn during my stint with this very novel, medium-hot Audi.
That's because this is going to be an inadvertent stress test for the very concept of an all-electric GT. My situation isn't exactly ideal for running any kind of EV. My flat occupies the upper floors of a building on a busy-ish road without even a solitary, anaemic lamp-post charger.
Something like a 7kW wallbox, which my colleagues Matt Prior and Mark Tisshaw have installed at their homes, requires a driveway and so for me is but a distant dream. I could petition the council to install a cable gulley in the pavement outside but what if the right space isn't waiting for me?
So charging up – that barest of essentials – will be less convenient for me than it is for, let's say, 99% of all EV owners. I'll have to treat this E-tron GT as though it is a conventional ICE car. It will be refuelled via public facility. Added chaos will be derived from the fact that my job requires lots of driving, often to far-flung locations, and without any semblance of routine; 300-mile days are not unusual.
I'm describing a nightmare scenario for any EV, except for one of Elon Musk's cars, whose range and Supercharger access remain game-changing. So far, the Audi an I have managed only 229 indicated miles on a single charge, versus 301 miles claimed. Reality bites. I hope the onset of summer and warmer temperatures ameliorate this. As for public charging, I already have apps for five providers. Undoubtedly, there will be many more.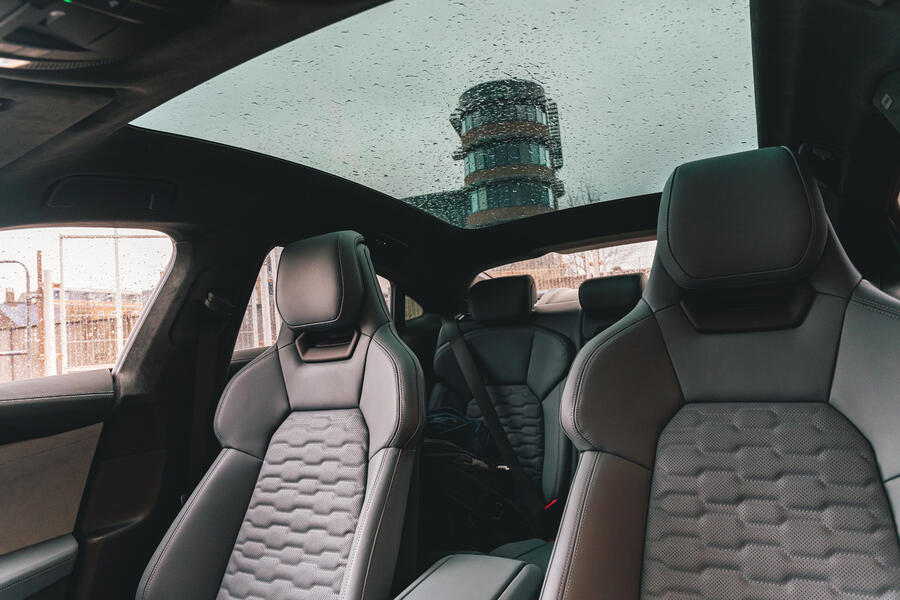 In our favour is the fact that I'm genuinely interested in this loping electric GT car, and how exactly the time in its company will pan out. Any cynicism or even ambivalence now would be terminal for our relationship, but that isn't how we're going to be starting out. I'm keen.
There's also the fact that this Audi, as I've already discovered, is good company. It's not perfect – it's damned wide, yet the parking sensors are so sensitive that we're already deep into wolf-crying territory – but it moves through the world like a mechanical panther. Quiet, sleek, smooth and, with 472lb ft of hair-trigger torque, superbly rapid if ever you need it.
Disparate elements – cockpit, steering, general aesthetic – are also more convincing than Audi's current efforts elsewhere. The GT seems less desperate to impress you than, say, an RS7, and this insouciance makes it easy to warm to. Even in searing Tango Red. It really isn't my colour and I think the car looks more elegant in Ascari Blue, Floret Silver or Kermora Grey (more of a pastel blue). However, the rakish silhouette does at least ensure red isn't outright jarring.
So what is this thing? We'll dive more deeply into the Taycan-shared platform later, but the car presents as a 152mph four-door fastback, and a deliciously low-slung one. It has air springs (standard on Vorsprung trim) and a motor on each axle, the rear of which drives through a two-speed 'box. A 93.4kWh battery is under the floor. The whole show weighs 2347kg, which is a hell of a lot, but clearly deftly managed.
At £113k, the asking price is also a hell of a lot. But it seems a bit more palatable when you consider BMW now wants £85k for an M3 Comp and a 911 Carrera S is £110k. It gets easier still to digest when you learn that £113k is for our all-singing Vorsprung model, with its B&O hi-fi, head-up display, rear-steer, matrix headlights, Pro sports seats and acoustic glazing, plus other bits we will get to in due course. A bare-bones E-tron GT costs £85k, which looks fair value for something so obviously bleeding-edge and, for want of a better word, slick.
So I like the cut of the E-tron GT. Would I like it more with 450bhp of inline-five stuffed longitudinally into its sloping nose? Head says yes. As does heart, though not with quite the same conviction as the head. It may be heavy and need copious recharging but you cannot say this car isn't authentic. In what it represents and its execution, this is the most exciting Audi since the rear-drive R8. Petrol-ising it would, for better or worse (mostly better, it must be said) diminish that.
But back to reality. We have on our hands an Audi super-saloon and a custodian who is, for now, up for the challenge presented by its operational requirements. Let's see what it's made of.
Second Opinion
Perhaps the E-tron GT's most worthy attribute is just how effortlessly and casually it tackles the daily grind – unexpectedly so for a car this generous of proportion and price. Accurate driving controls, cosseting damping and sensibly conceived interior packaging make it, to me, as much a family hack as a brawling 'bahnstormer. The spirit of the RS6 lives on
Felix Page
#Back">Back to the top
Audi E-tron GT specification
Specs: Price New £112,850 Price as tested £116,315 Options Tango Red metallic paint £950, E-tron Sport Sound £500, full-leather package £1665, single-frame grille in body colour
Test Data: Engine Two permanent magnet synchronous motors, 83.7kWh battery Power 469bhp Torque 464lb ft Kerb weight 2276kg Top speed 155mph (limited) 0-62mph 4.1sec Range 305 miles Economy 3.1mpkWh Faults None Expenses None
#Back">Back to the top
https://www.autocar.co.uk/car-review/aud...-term-test