10-12-2021, 05:40 PM
Audi Grandsphere concept: in the design team's own words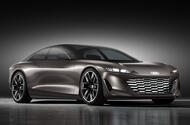 The Audi Grandsphere concept re-imagines the role of the car in an all-electric future
We delve beneath the skin of Audi's latest next-generation electric concept car to find out how it's transforming the idea of interior space and luxury
There's a saying that the most luxurious travelling experiences mean you arrive at your destination feeling more relaxed than when you left. If that sounds like your idea of heaven, then the Audi Grandsphere concept is the concept car for you.
It's the latest in a trio of 'sphere' concepts from Audi that re-imagine the role of the car in an all-electric future – exploring the wealth of opportunities offered by electric powertrains, digital connectivity and advanced level four autonomous driving technology to deliver an in-car experience that is one step beyond A to B.
Following the reveal of the sporty Audi Skysphere concept, and with the Audi Urbansphere concept still to come, the Audi Grandsphere concept's larger saloon-like dimensions deliver a spacious high-tech limousine-like interior unlike any other. In Audi's words: "it's a private jet for the road". 
We gathered the thoughts of some of the Audi Grandsphere concept's pioneering designers to explore the high-tech secrets beneath its skin.
Learn more about how Audi e-tron is reimagining electric driving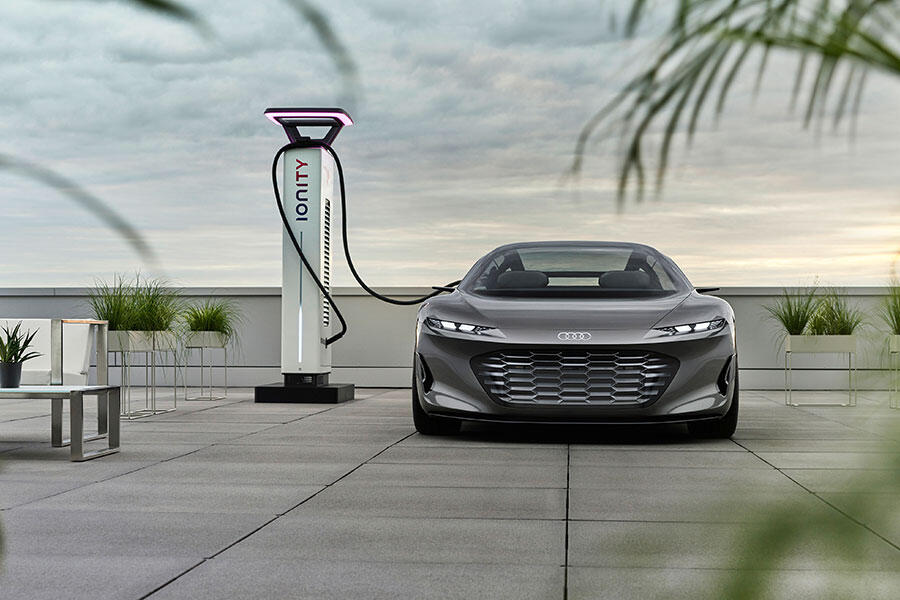 Time and space to connect and recharge
The Audi Grandsphere concept uses the benefits of an electric powertrain's compact motors and low-mounted batteries to dramatically re-think a car's packaging. In this case, a long-wheelbase design that delivers more interior space. Working with an advanced digital eco-system and level four autonomous driving technology it gives the Audi Grandsphere concept's occupants new levels of freedom and a truly unique gift: time.
Marc Lichte (Audi Head of Design): "At Audi, we're always thinking about what lies ahead – developing new technologies that open up unseen ways of mobility. We're constantly asking ourselves: 'What is the experience of travelling in an Audi like?'"
Hildegard Wortmann (Audi Board Member for Sales & Marketing): "We're at the dawn of a new era of mobility. Automated driving will give us the biggest luxury there is, and that's time. Thanks to the digital ecosystem that's embedded in the car, we can choose to spend that time however we like. It's a world full of possibilities."
Henrik Wenders (Audi Head of Brand): "Technology – in particular, digitalisation – lets us create unique experiences. What makes these cars special is that they're no longer just cars. It's no longer just about driving. Yes, the car will take you from A to B in a beautiful way. But it's no longer about getting to your destination. It's about the journey, the experience on the way. This is our vision of premium mobility."
Marc Lichte (Audi Head of Design): "With electrification and automated driving, the design of cars is changing radically. Cars can become offices, cinemas or even lounges – a smart mobility device – all while driving from A to B. We're using these possibilities to create new interiors which will be the space for unique immersive experiences. That's why all of our current concept cars carry 'sphere' in their name.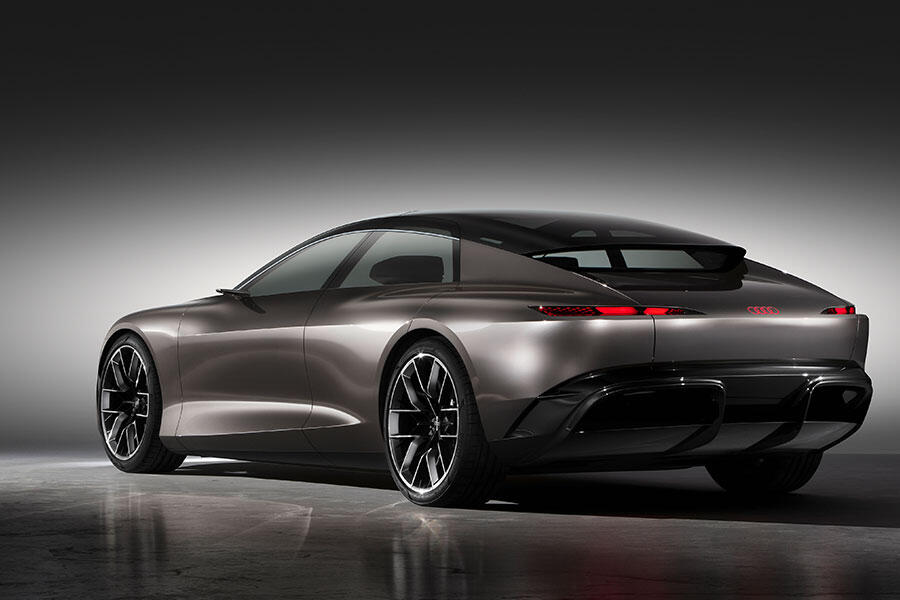 Designed from the inside out
Audi's design teams have always worked holistically – blending desirable and sporty exterior lines with interiors that re-imagine and re-engineer space and luxury in bold new ways. But this has never been more true than with the Audi Grandsphere concept. 
Philipp Romers (Audi Head of Exterior Design): "There's a new link between the exterior and interior design of cars. We're now designing cars much more inside-out. We're not breaking with visual traditions, but we are opening new perspectives."
Jason Battersby (Audi Exterior Design): "The Audi Grandsphere concept's design starts from the interior. This idea of first-class travel gave us a base to wrap our exterior around. Proportions were key. It's a D-segment car. But a totally different cabin architecture meant we could also have a different body architecture. Something fluid, generous and sporty. We had a clear vision. The Audi Grandsphere concept should be elegant, clean and beautiful. It should have Audi DNA, but it should be very progressive. It's a showcase for the next step of luxury. So, we wanted to see this world where a classic limousine can be sporty – almost gran turismo-like."
Amar Vaya (Audi Exterior Design): "Our philosophy was to be true to both the Audi brand, and what this car represents. With the first-class row of seats in the front and the rear lounge seats, we could do a coupe-like body on a muscular architecture. But it's not over-bodied. The wheels look tight. The body and the muscles: everything is compact. It has a long wheelbase. Short overhang in the front, long overhang at the back, and a very long cabin."
Marc Lichte (Audi Head of Design): "We still have these breath-taking proportions that are typically Audi – the elongated front, the short front overhang, the super-fast roofline and the four muscles on top of all four wheels as a nod to quattro."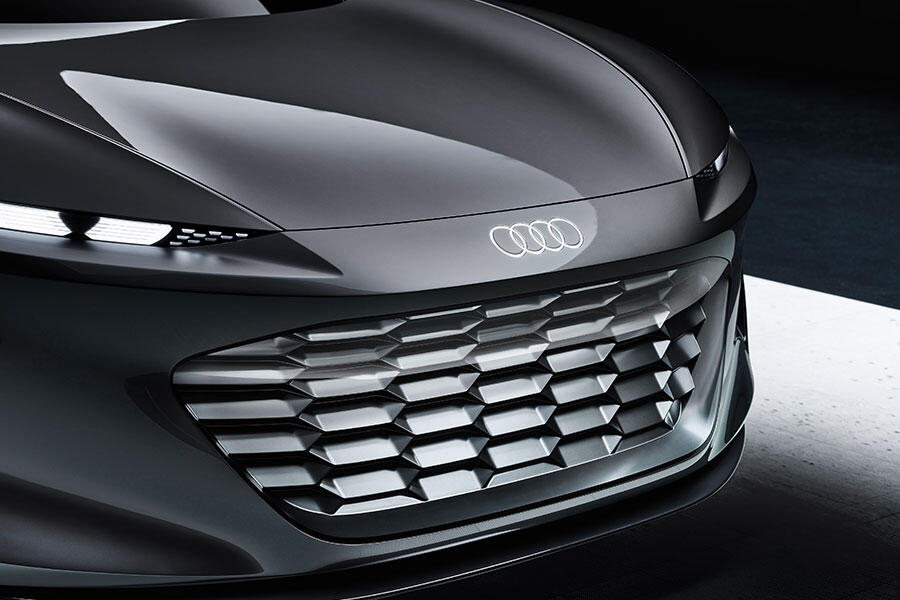 Unidentified flying objet d'art
The Audi Grandsphere concept's LED headlights – sitting above Audi's illuminated electric interpretation of the iconic single-frame grille – have a new signature graphic inspired by the Audi logo's four rings. The clean bold lines of the long dynamic saloon profile sweeps to a sportback rear with a large diffuser, with powerful quattro muscles over the wheels. What you don't see at first glance is that the glasshouse extends beyond the roofline – creating more interior space, while keeping a low-slung sporty profile.
Jason Battersby (Audi Exterior Design): "The UFO line let us separate elements to create a new architecture and hierarchy. At the front, it gives the LED headlights more importance above the UFO line, with the Audi single-frame grille below. It then defines the car: lengthening it, and splitting the upper volume of the cabin, and the lower volume that keeps everything grounded and sporty. We still wanted classic stretched GT proportions with a longer bonnet, so it wraps around and dives into the A-pillar – which is a lot further back than the cabin's front volume. It combines a GT aesthetic with a new proportion."
Amar Vaya (Audi Exterior Design): "All of the lines and surface energy flow towards the rear of the car, creating a very strong dynamic GT character."
Jason Battersby (Audi Exterior Design): "It has to be balanced. With e-mobility, airflow is always a challenge, but a strong diffuser represents one of the ways we can command, dominate and overcome that challenge."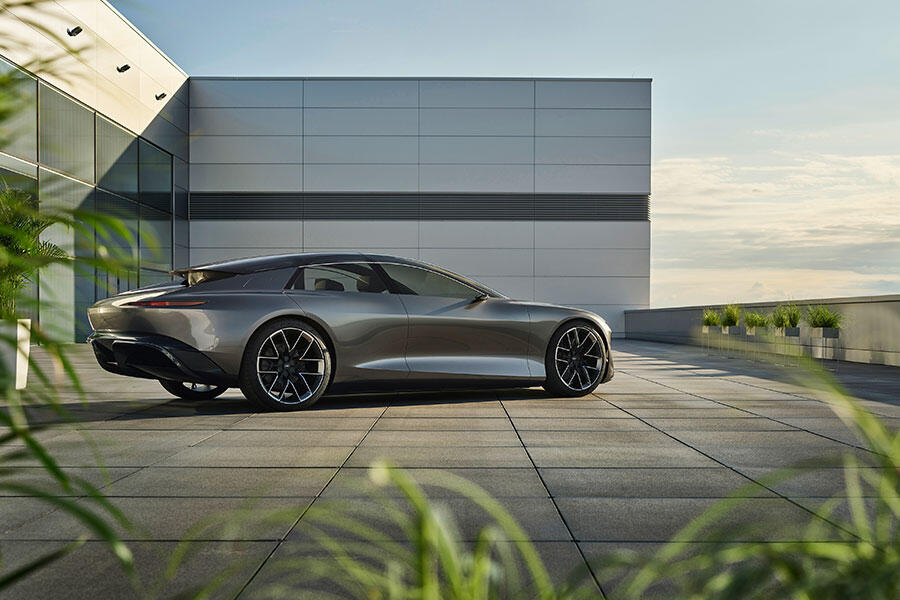 A seamlessly first-class experience
The Audi Grandsphere concept is designed to make every journey feel first-class – starting with wide pillarless 'portal' doors that magically unfurl to each side, granting you access to the truly spacious lounge-like interior. Innovative 'pathway identification' recognises and welcomes users with personalised settings (preferred seating position, in-car temperature and wireless transfer of news, music or movies from compatible smart devices) to help them get on their way smoothly.
Maksymilian Nawka (Audi Interior Design): "For Audi, first-class means adding some kind of magic moments. In the Audi Grandsphere concept, we have a lot of them." 
Henrik Wenders (Audi Head of Brand): "This feature is called 'priority boarding'. The car recognises the gait of its owner and provides a seamless experience when getting in, with a personalised welcome on the dashboard. The personal settings and applications are also loaded for each of the passengers."
Andreas Reich (CARIAD SE Head of Infotainment): "The digital assistant knows the passengers and their habits. It combines this with the latest information from the internet. The digital ecosystems are seamlessly integrated, so the customer gets an optimised experience every time they get into their Audi Grandsphere concept."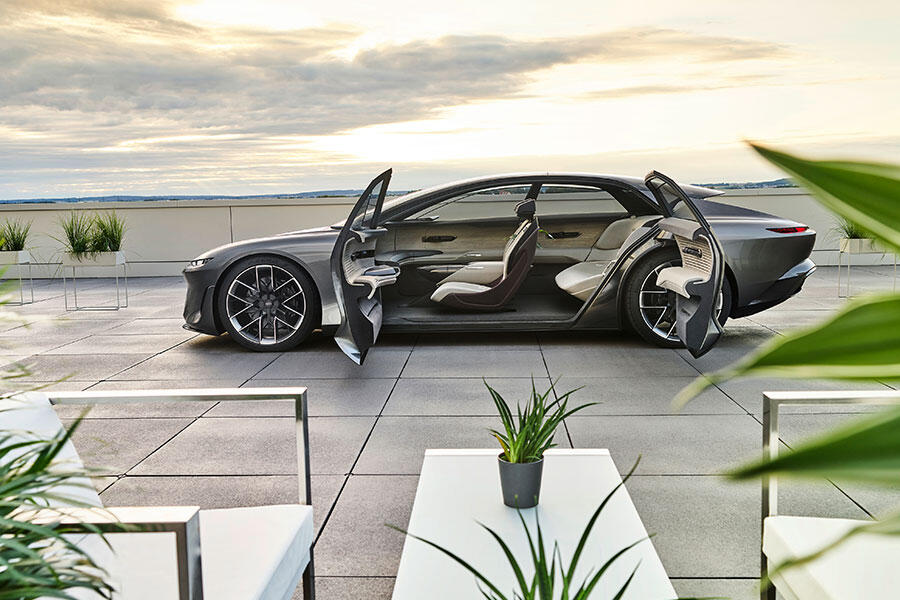 A spacious, lounge-like interior
Inside the Audi Grandsphere concept, the first thing you notice is the lack of a dashboard. Instead, stylish high-resolution display graphics are projected onto the sustainable wood surround that wraps the full breadth of the cabin – creating an ultra-widescreen CinemaScope-style display. The huge windscreen and transparent ceiling reinforce the sense of open space, while luxurious sustainable and recycled materials supply a cossetting guilt-free environment in which to enjoy the view.
Alexander Bart (Audi Interior Design): "When you think of luxury, one important feature is space. Space is pure luxury – especially when you drive long distances. For this purpose, we designed the Audi Grandsphere concept from the inside out. The result is a cabin that offers totally new ways to spend time during a journey."
Maksymilian Nawka (Audi Interior Design): "Our first goal was to create a calming ambient space, in which every surface comes to life with lights." 
Alexander Bart (Audi Interior Design): "We had the opportunity to create a totally new operation concept – a frameless design, with no permanent steering wheel and no screens to limit you. Instead of a traditional dashboard, we've created a huge projection stage, made of wood, that surrounds you to create space and the feeling of a cosy living room – a private sphere. When you enter the Audi Grandsphere concept, the car welcomes you with your handwriting and a travel route."
Marc Lichte (Audi Head of Design): "The possibilities of automated driving give us a new freedom when designing interior spaces. The interior of the Audi Grandsphere concept is nothing short of a revolution. By projecting the interface onto the dashboard, and using virtual animations, we've achieved an incredibly clean and elegant look."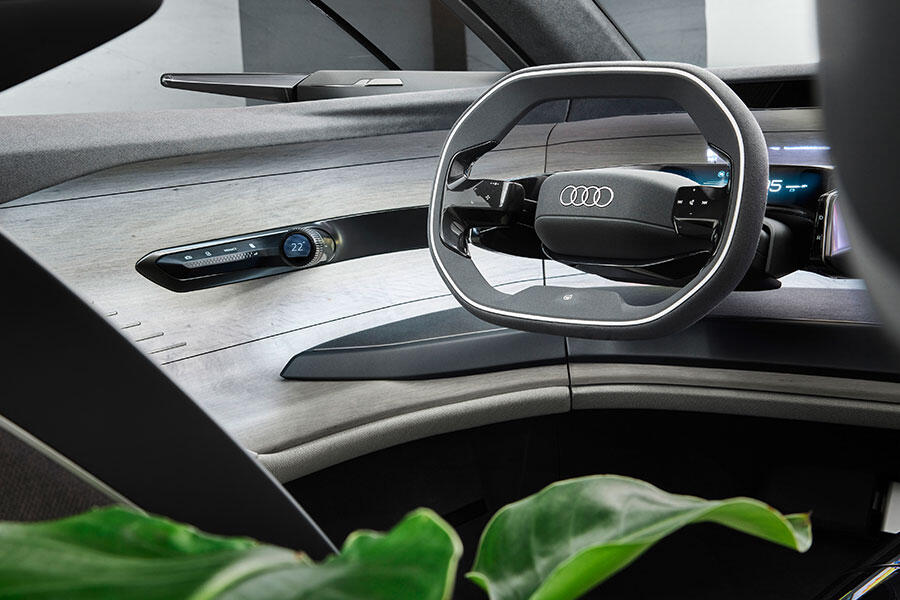 Front-row seating that's truly first-class
With no need for permanent controls, thanks to advanced level 4 driving technology, the front seats boast epic legroom and are designed to recline by up to 60 degrees for a truly relaxed ride. Between them, a glass-bodied bar-style cooler folds open to reveal a water dispenser and an ice-cube tray. When it comes to a limousine-style or premium airline experience, first-class is now truly front-row.
Alexander Bart (Audi Interior Design): "The driver's seat is no longer a working space, and the most comfortable seats are now those in the front row. They have privacy sound in the headrest and an air purifier in the upper back rest. The passengers in the front row can easily move into permanent 'relax' mode." 
Norbert Weber (Audi Head of Interior Design): "We designed individual zones, This way, each passenger can have their own experience space. If you want to work, the projection displays, your sound zone, the lighting and the interior camera are used to bring in-car video conferencing to a whole new level."
Alexander Bart (Audi Interior Design): "The Audi Grandsphere concept lets you choose between the freedom of driving, or just letting the car bring you to your destination. You can relax, communicate, stay entertained with a movie, or simply watch the landscape. It offers you so many opportunities to relax and enjoy the ride."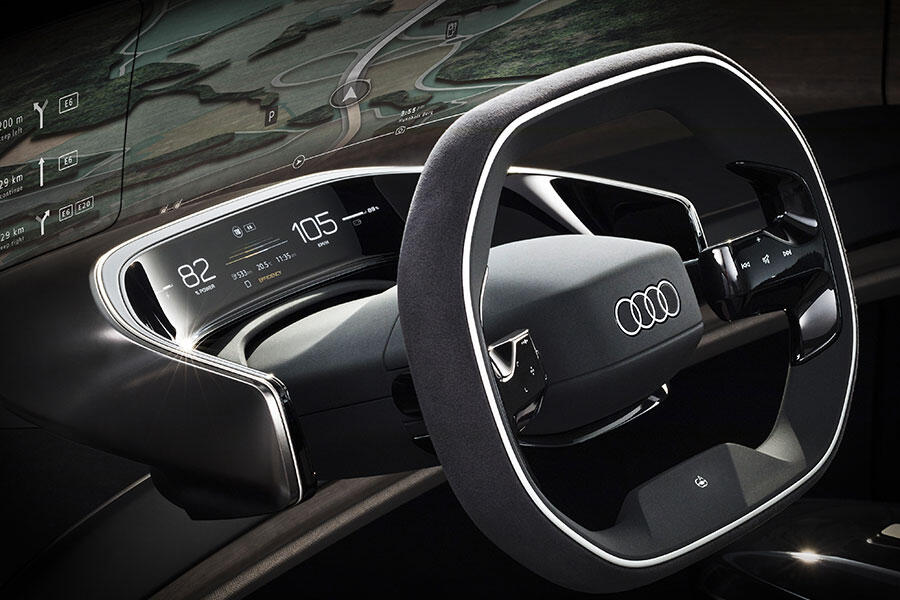 Tech that puts you in control
In addition to touch and voice control, the Audi Grandsphere concept adds eye-tracking and gesture control to put you in command – even when the front seats are reclined to their full 60 degrees. Dashboard icons are selected with a glance, while beautifully knurled temperature dials beg to be touched, but can be controlled remotely with a 'twist of the wrist' gesture.
Alexander Bart (Audi Interior Design): "When you're reclined, you can't reach the controls. This is where revolutionary control elements such as eye tracking and gesture control can shine. You can set up every element of your personal comfort zone – adjusting your seat, temperature and ambient lighting. You simply look and select the function with a gesture. It happens in a simple and intuitive way."
Maksymilian Nawka (Audi Interior Design): "You still need some highlights in the car, some jewels that you really like to look at, and you really like to use. You move your hands, and the dial in the door physically moves in response."
Marc Lichte (Audi Head of Design): "To adjust it, you don't even have to touch the control knob. You just look at it and control it with a simple gesture."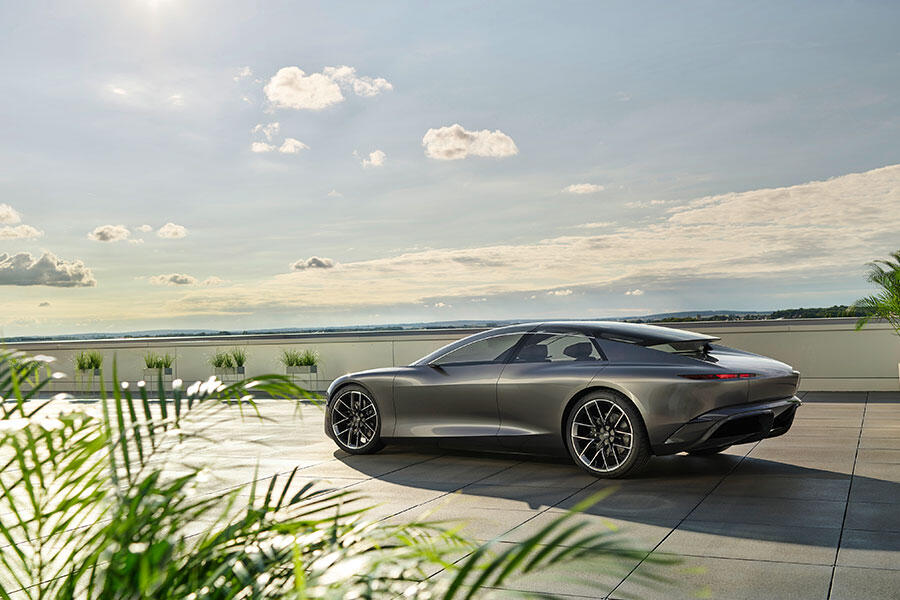 Power at your command
Want to take the wheel? Simply gesture with a 'summoning' action, and the retractable controls – combining the steering wheel and an Audi Virtual Cockpit in one integrated unit – magically appear. Open sesame, indeed. The Audi Grandsphere concept offers compelling electric performance – 711bhp and 708lb-ft of quattro all-wheel-drive torque delivering 0-62mph in 4.0sec, while 270kWh ultra-rapid charging can quickly top up the 120kWh battery's predicted 466-mile range. And while the Audi Grandsphere concept is undoubtedly a concept car, many of its advanced technologies and design features will be making their way into future Audi models.
Dr Christiane Zorn (Audi Head Of Product Marketing): "As with all of our concept cars, the Audi Grandsphere concept gives an idea of technologies we could introduce over the next few years. We're already planning to introduce seamless integration of the customer's digital ecosystems. Starting with the next electric Audi e-tron, customers will be able to bring their existing apps into the car – no smartphone needed. The concierge control knob will also eventually make it into production."
Hildegard Wortmann (Audi Board Member for Sales & Marketing): "The Audi Grandsphere concept concept doesn't just play a role regarding the future of Audi. It is the future of Audi."
Learn more about how Audi e-tron is reimagining electric driving
https://www.autocar.co.uk/car-news/adver...-own-words