08-30-2022, 07:52 AM
Audi RS e-tron GT: the ultimate all-electric hot lap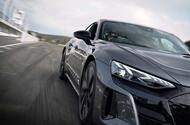 We set out in the Audi RS e-tron GT to set a new all-electric benchmark
We head on-track at Goodwood in Audi's game-changing all-electric grand tourer – its most powerful production car to date – to set a new electric benchmark
Britain's race tracks have a wealth of stats when it comes to lap records: ranging from Formula Ford to Formula 1. But, thanks to the fact that all-electric race series are still in their relative infancy, there aren't that many benchmarks for an electric hot lap. Well, not yet. We wanted to change that.
That's why we took the game-changing Audi RS e-tron GT to the Goodwood race circuit to see if we could set the new all-electric standard for its iconic 2.37-mile layout, while also letting us experience how amazing this halo Audi e-tron model is to drive. What all-electric lap time did we ultimately post? Watch the video to find out, and then read on to get a taste of what it felt like in-car.
Learn more about the game-changing all-electric Audi RS e-tron GT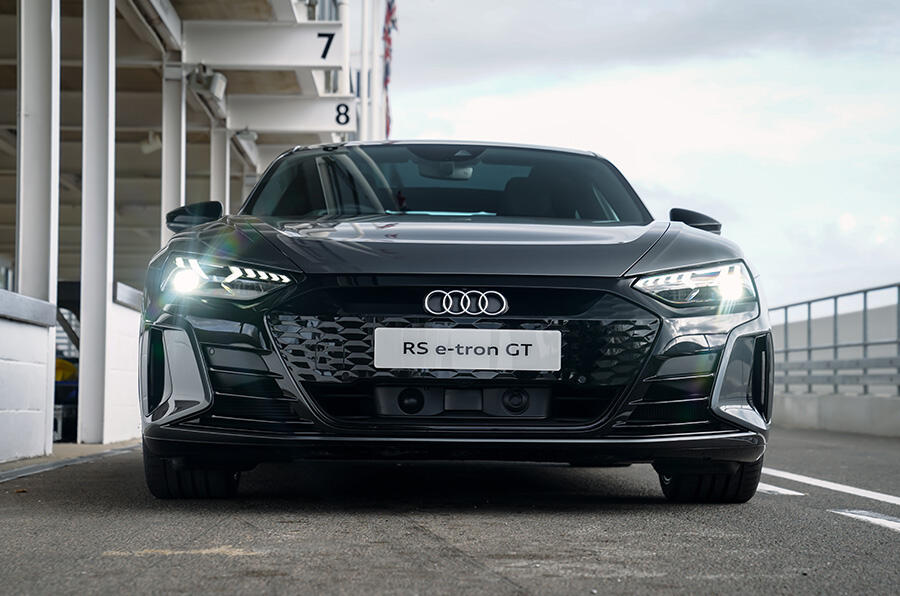 A shared reputation for making history
So, why Goodwood? It's simple, really. The pinnacle of modern all-electric automotive technology in Audi's RS e-tron GT, perfectly juxtaposed against the backdrop of one of the UK's most celebrated circuits. Who wouldn't want to see that?
With a storied history dating back to 1948, and an uncompromising old-school layout that uses the fast sweeping perimeter roads of the airfield, Goodwood has helped a wealth of driving icons cement their status in the annals of racing legend. 
Its sparsity of tyre walls is equalled only by minimal run-offs that offer little room for recovery if things go wrong. As a result, it presents a fine line between a heroic lap-time and a catastrophic off. Be in no question: this quirky historic track is a true test of driver skill and a car's outright performance.
Equally, Audi has its own legacy for redefining automotive benchmarks – especially when it comes to the quattro all-wheel-drive technology that has powered its Vorsprung Durch Technik philosophy of 'progress through technology' since 1980.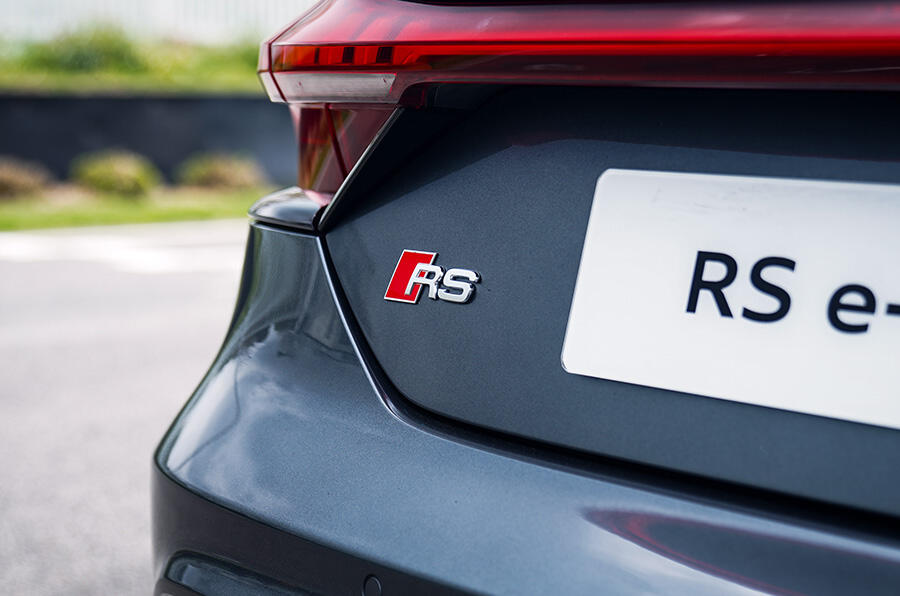 Whether redefining loose-surface grip in the World Rally Championship, scaling new heights at Pikes Peak, conquering the British Touring Car Championship or beating its Le Mans 24 Hours rivals into submission 13 times from 18 races, Audi's quattro all-wheel drive has changed the face of racing, and delivered improved confidence and safety to millions of road drivers thereafter.
Today, the Audi RS e-tron GT is helping Audi push the boundaries of electric car performance. Its astonishing 598PS and 830Nm of instantly available electric torque make this the most potent Audi RS model available today, and the most powerful road car Audi have ever produced – petrol, diesel or electric.
But for all that the Audi RS e-tron GT is potent and highly advanced, it's also deceptively driver-friendly. As our budding benchmark-setting driver Barry 'Baz' Ward pulls onto Goodwood's pit straight to start his ultimate all-electric hot lap, all he has to do to prepare for launch is put the Audi RS e-tron GT into Dynamic Mode, place his left foot on the brake and press the throttle. Get set for the ride of your life.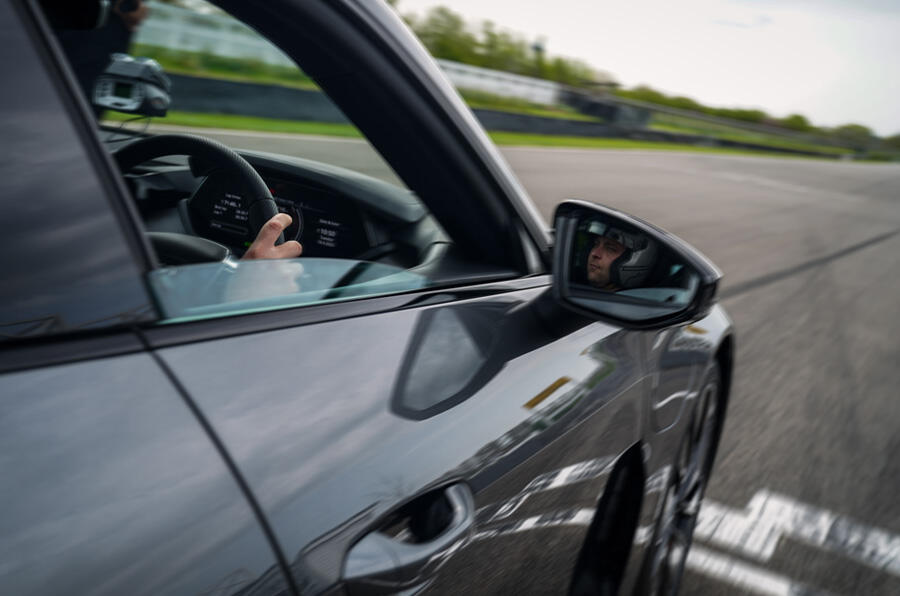 Rapid off the line
As the lights go out, the Audi RS e-tron GT's power is boosted to 646PS for 2.5 seconds through the launch control option. Using Audi's amped up all-electric quattro drive, every ounce of instantly-on-demand all-electric torque is transmitted instantly to the road. The shiny 10-spoke multi-spoke and low-profile 21-inch tyres grip the circuit and propel the Audi RS e-tron GT towards Goodwood's first corner with more electric acceleration than you can comprehend, covering 0-62mph in 3.3 seconds.
"This car is seriously quick," says Baz. "Some electric cars I've driven feel fast, but this is something else. As I put my foot down, I was compressed so far into the back of the seat that my leg was straight to the pedals. For the next lap, I actually had to move the seat forward just to make sure I could keep my foot planted to the floor!"
Sharp on the brakes
Within seconds, the Audi RS e-tron GT reaches the challenging right-hander of Madgwick, arcing sharply out of view beyond the end of Goodwood's historic pitlane. As Baz stamps on the big pedal, the e-tron GT's powerful six-piston calipers bite hard into the tungsten-carbide-coated brake discs.
"The brakes on the Audi RS e-tron GT are awesome," Baz admits. "They work best when there's temperature in them, so they really come to life when you're on-track. The braking is really stable and predictable which gives you the confidence to attack the corners and brake later and later with every passing lap."
One of the Audi RS e-tron GT's unique all-electric abilities isregenerative braking. Honed by Audi in the white-hot heat of twice-round-the-clock endurance racing at Le Mans, it recaptures unused energy while the car is braking and directs it back to the e-tron GT's large-capacity advanced 93.4kWh lithium-ion battery. On the road, this gives the Audi RS e-tron GT up to 283 miles of range. But here, on the track, it's all about efficiently redirecting power to be better used later in the lap.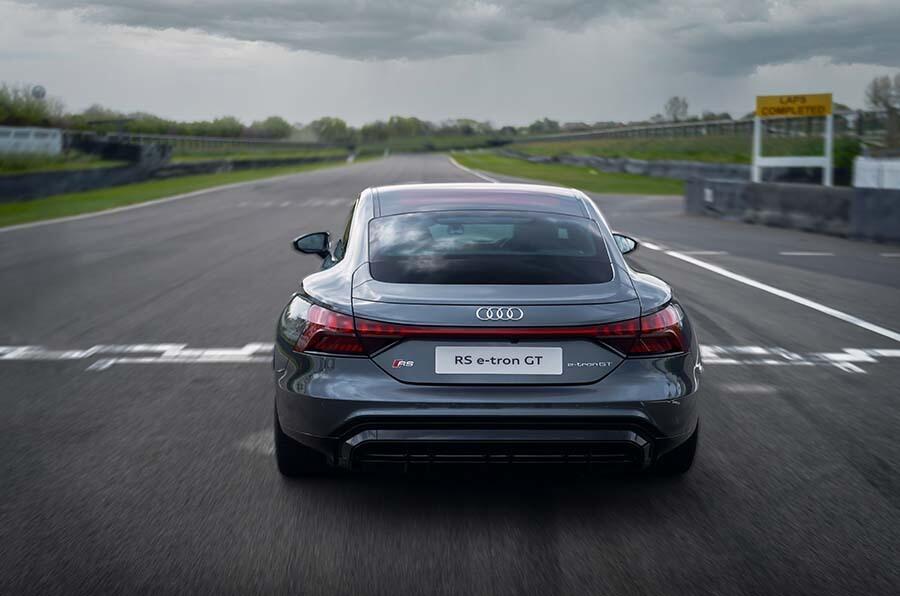 Confident in the corners
Sweeping through Madgwick, the Audi RS e-tron GT's adaptive air suspension controls the mid-corner squat and thrust of the car, keeping the car low, level and planted as Baz's feet dance between accelerator and brake. All-wheel steering also helps to pull the Audi RS e-tron GT into the apex of Madgwick, making it feel like a much shorter nimbler car.
Paired with Audi's sophisticated e-tron quattro electrified all-wheel drive, it makes the Audi RS e-tron GT feel as if it's on rails, carrying the right amount of speed into the apex and powering out with equal poise. That sort of confidence-inspiring grip is particularly pleasing for Baz, given Goodwood's challenging nature.
"Compared to a lot of modern-day venues, the safety features at Goodwood are very different," he admits. "There are a lot of camber changes, and more than a few of the corners are unconventional double-apex turns. And there really aren't a lot of tyre walls or a lot of run off. If you've never driven Goodwood before, it can catch you out – and there aren't a lot of gravel traps to catch you if you make a mistake.
"Luckily, this car just grips and grips and grips. Turning into a corner in the Audi RS e-tron GT is a completely unique experience. The front starts to bite as the quattro system works to pull you into the corner, then it pushes you out of it. You adapt the way you drive and let the car work with you."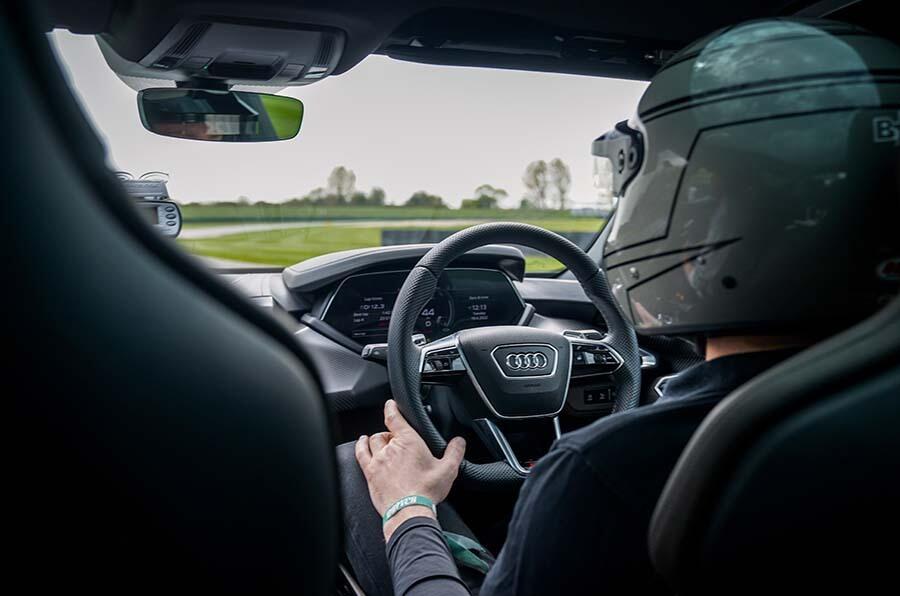 Carving through thin air
Before you've had a chance to take in the view, Madgwick is but a glint in your rear-view mirror. With only the slightest lift, the Audi RS e-tron GT storms through the Fordwater kink, clipping the apex on a dime and carrying the kind of speed and composure you would expect of cars half as heavy and twice as powerful.
It's here on Goodwood's multi-faceted layout that aerodynamics come into play. Explicitly designed for range efficiency, the Audi RS e-tron GT's sleek design and carefully considered profile adopt a new responsibility on track – the ultra-low drag coefficient of 0.24 helping the car cut through the air more cleanly.
As the Audi RS e-tron GT passes 60mph, the air suspension lowers the body by 10 millimetres. As the car passes 112mph, it lowers by 12 millimetres more. All the while, Baz sits perfectly positioned in the e-tron GT's cosseting sports seats, eyes laser-focused on the challenging apexes ahead at St Mary's and Lavant.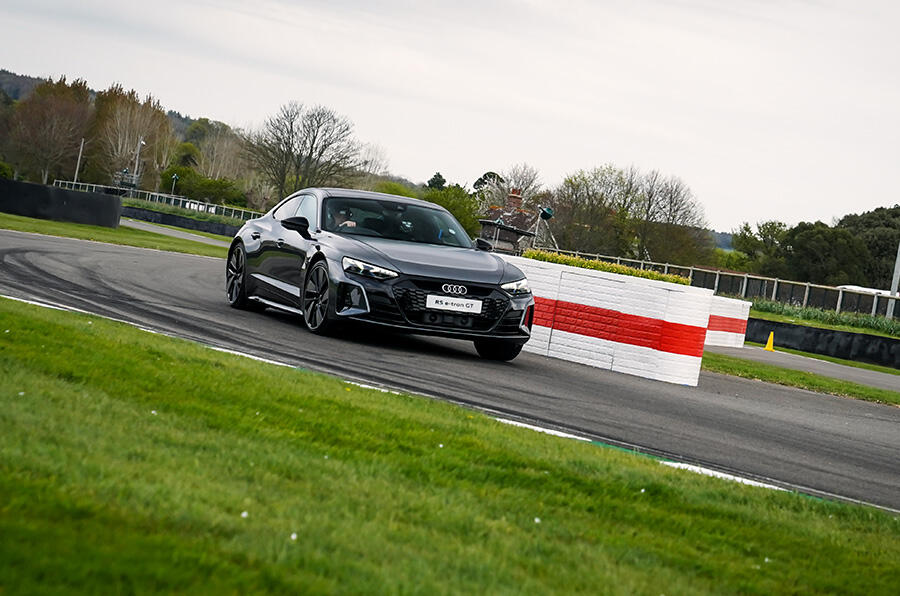 Simply set up for success
The fast left and right of St. Mary's and Lavant pass by in a seeming blur, and the Audi RS e-tron GT eats up the length of the Lavant Straight in just a few seconds as its speed builds and builds to the crescendo of its 155mph limiter
"That back straight is fast and long," says Baz. "In some cars you could be looking at 160mph+ down there. But, because it's an old-school circuit, there's not a lot of run-off at the end. So, your braking point really is your braking point. Get it wrong, and there's a hefty earth bank waiting to catch you out."
With a final wiggle of the Audi RS e-tron GT's perfectly sculpted rear, Audi's most potent and electrifying RS model thrusts its way out of Woodcote, through The Chicane and across the line. As Baz eases off the throttle, he has time to put this ultimate all-electric hot lap in context.
It's one thing having a quick car, and the Audi RS e-tron GT is unquestionably rapid, but – lest we forget – this is not a track-focused super-saloon. For all intents and purposes, the Audi RS e-tron GT has been designed to be a luxurious, ultra-civilised gran tourer – just as capable of a trip to the shops as much as travelling to Scotland and back for a weekend escape.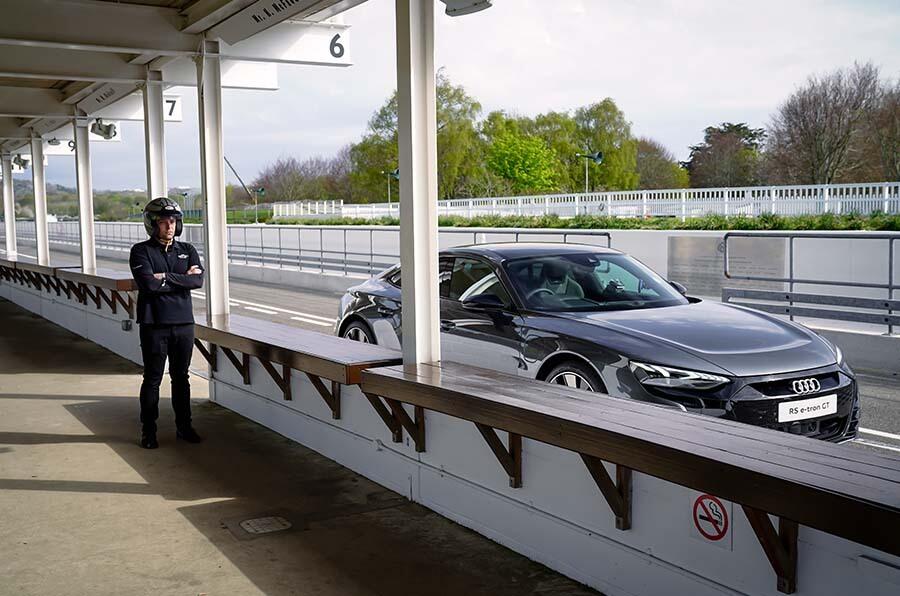 So, what did Baz do to hone the Audi RS e-tron GT for the track? Simply put it in Dynamic Mode for the raciest power delivery and suspension settings, disengaged traction control to unleash its full performance potential, and tweaked the tyre psi.
"Tyre pressures are the key thing when it comes to track driving," says Baz. "While you'd normally drive with 41psi on the road, on-track you need room to raise the temperatures, as you put much more heat into the tyres in the corners. All we did was bleed the tyres down to roughly 27psi before heading out of the pits."
So, just how fast did Baz and the Audi RS e-tron GT go? With a quick check of the telemetry, our benchmark-setting ultimate all-electric hot lap of Goodwood is 1m27.7s. That compares impressively well to a 1:17.3s set by a race-spec Audi R8 LMS driven by Gordon Shedden at the 2020 Goodwood Speedweek. And, it's now the all-electric Goodwood standard for rivals to beat.
The Audi RS e-tron GT certainly deserves a victory lap, but let's give the final word to our amazing driver. "I'm really proud to have been involved with making a bit of history here," says Baz. "This is one awesome machine."
Learn more about the game-changing all-electric Audi RS e-tron GT
https://www.autocar.co.uk/car-news/adver...ic-hot-lap