01-27-2023, 03:02 PM
Audi RS3 off sale in UK as demand outstrips supply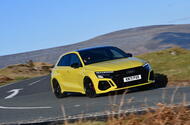 Audi has not confirmed when the RS3 (Sportback pictured) will return to UK sale
Audi says there is no time frame on when the performance hatch and saloon duo will return
The Audi RS3 has been taken off sale in the UK due to high demand, with demand outstripping supply. 
The RS3 has been on sale in its current, fourth-generation guise since late 2021. Audi has confirmed to Autocar that it is focused on fulfilling its existing bank of orders.
Audi also said the model will return to the line-up but did not say when it might be available again to order. 
Available initially in Sportback and saloon bodystyles, the RS3 commanded a price of £50,900 when it first went on sale. 
Often sold in limited quantities, the model makes up a small percentage of Audi sales in the UK.
In 2022, Audi sold 628 RS3 Sportback and 513 RS3 saloon cars, out of a total of 20,797 A3-based sales. That makes it the most-popular Audi Sport model, ahead of the likes of the second-placed Audi RS Q3 (745), the Audi RS 6 Avant (541) and the Audi RS e-Tron GT (416).
The standard Audi A3 continues to perform well, with sales increasing by 12.2% worldwide last year. Sales of performance RS models hit 45,515 last year - a record figure for the German car maker, representing a year-on-year increase of 15.6%.
The hot hatch is renowned for its performance, producing 395bhp and 369lb ft from a 2.5-litre turbocharged five-cylinder engine. In both bodystyles, the model is capable of 0-62mph in 3.8sec and a top speed of 174mph. 
It's also the current Nürburgring lap record holder for the 'compact' class, setting a time of 7min 40.75sec. Driven by Audi development driver Frank Stippler, the RS3 outpaced the previous record holder, the Renault Mégane RS Trophy R, by 0.25sec.
It was fitted with ceramic brakes, adaptive suspension and semi-slick tyres, which are optional on models sold outside of the UK. 
https://www.autocar.co.uk/car-news/new-c...ips-supply