09-22-2021, 03:56 AM
Audi Skysphere concept: in the design team's own words
Marc Lichte: "The Audi Skysphere concept showcases the potential of automated driving"
We learn more about Audi's shape-shifting new design, which blends a luxurious interior, grand touring style and sportscar handling – all in one car
Every personality has multiple facets. No-one is defined in binary terms. Some days, we want to step back and revel in our surroundings. On others, we want to take command and enjoy the thrill of controlling our destiny. Meet the Audi Skysphere concept: the shape-shifting concept car that gives you the best of both worlds.
The Audi Skysphere concept is the first in a new family of concept cars (alongside the Grandsphere concept, and the Urbansphere concept arriving in early 2022) that are reimagining the role of a car's cockpit – the 'sphere' – and how it works for the driver and passengers, offering a driving experience that goes well beyond simply getting from A to B.
Under its spectacularly sleek and low-slung all-electric convertible two-door roadster skin, the Audi Skysphere concept is a showcase for how Audi is rethinking the future of progressive luxury – blending revolutionary interior design, a seamless digital ecosystem and advanced level 4 autonomous driving technology to reimagine the idea of a car's interior as a more interactive and connected space.
The Audi Skysphere concept also has a unique dual-personality party trick. With the push of a button, it can contract its variable wheelbase by 250mm – morphing from a long-wheelbase grand tourer with a refined driving style, to a more compact and dynamic sportscar boasting more engaging handling.
"The Audi Skysphere concept is a look into the future, showcasing the potential of technology – especially automated driving," says Head of Audi Design Marc Lichte. "It shows the opportunities around this technology, because the Audi Skysphere concept is on one hand a real sportscar, and it can transform in a few seconds into an autonomous lounge."
So, who better to tell the story of this pace-setting car than the people who crafted it? And it all starts with the innovative way in which the car was designed digitally and virtually – from a place called Malibu…
Learn more about how Audi e-tron is reimagining electric driving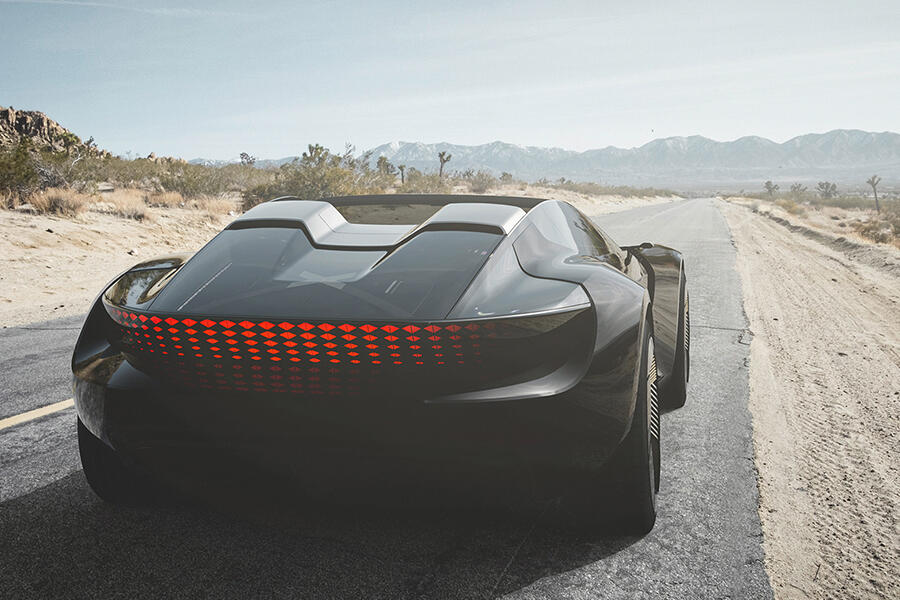 Designed with California spirit
The Audi Skysphere concept comes from the US-based Audi Design Loft in Malibu, southern California. Sitting in the capital of car culture, a stone's throw from the iconic Pacific Coast Highway, this advanced studio takes an all-digital approach. It lets the team, led by Senior Director Gael Buzyn, collaborate seamlessly with colleagues in Audi's global HQ in Germany – doubly crucial in a year in which travel for face-to-face conversations was limited.
Marc Lichte (Head of Audi Design): "Audi's HQ is in Ingolstadt, Germany, but we need to come up with and capture ideas from all around the world. That's why we have a digital design studio in Beijing and one in Malibu."
Henrik Wenders (Head of Brand, Audi): "The Audi Design Loft is located just north of Los Angeles – a city built around the automobile. That southern California lifestyle celebrates its passion for cars day in and day out, and with its cultural diversity and creative community it felt like the perfect fit for this innovative new take on design."
Gael Buzyn (Senior Director of Audi Design Loft): "Malibu is a fantastic place for car design – extremely inspirational. We're a small advanced all-digital studio. Early on, we sketch a lot by hand, but we also use 3D virtual models. After a few days, we can put on VR goggles to see and discuss what we've created."
Marc Lichte: "The Audi Skysphere concept has been developed and designed 100% digitally. We have a digital call a few times a month, meeting in a virtual studio to talk about the status of the design. It's amazing. After a few seconds, it feels like we are together, working in one studio in Malibu."
Gael Buzyn: "It's an exciting part of the process to meet virtually with the design team from Germany through the VR Holodeck. We can talk with people that are 10,000km away, and walk around the car."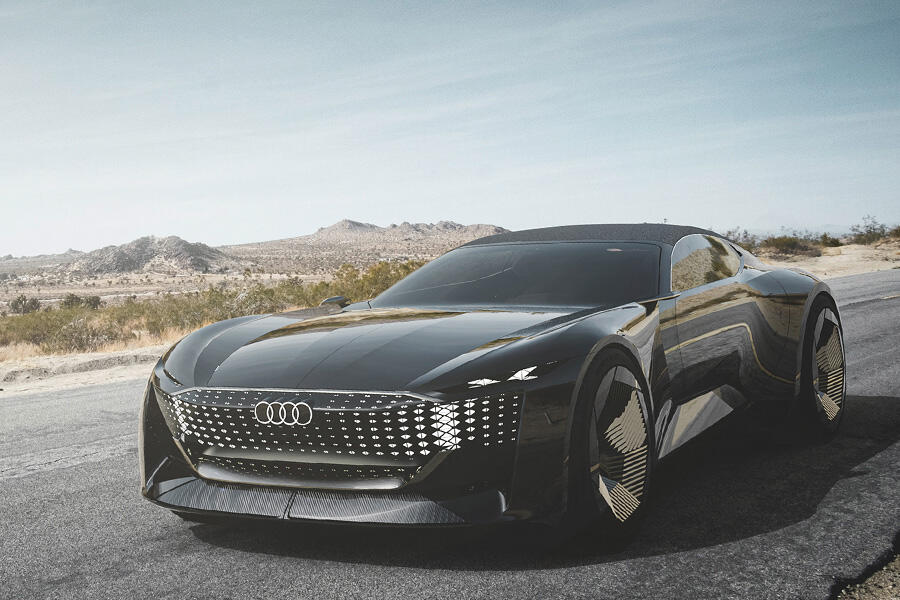 Inspired by Audi's past; redefining Audi's future
The Audi Skysphere concept may boast the most advanced all-electric, in-car and driving technology, but its distinctive interpretation of progressive luxury harks back to the 1930s Horch 853 roadster – a cornerstone car that helped to form the original Auto Union, which eventually became modern Audi.
The Horch 853's long front-end and pushed-back cabin have been re-imagined for the electric age. Thanks to the flexibility of electric motors and low-slung battery backs, a spacious front trunk replacing what – in the 1930s – would have been a huge five-litre straight-eight engine. The rear end blends speedster style with shooting brake practicality. A 465kW motor delivers 750Nm of torque for punchy 0-100km/h acceleration in 4.0s, while the anticipated 80kWh battery could potentially deliver up to 500km of range.
Inside, the Audi Skysphere concept boasts a stylish interior that blends luxurious sustainable materials with the latest advanced connected touchscreens for a more interactive in-car digital experience. Level four autonomous technology can even take control in appropriate situations, dramatically changing the role of the driver, and giving them more freedom to enjoy the journey.
Hildegard Wortmann (Audi Board Member): "For Audi, progress is a commitment. Concept cars are an essential part of our strategy, and the Audi Skysphere concept represents our take on the future of progressive luxury. It's all about the challenger spirit; those who don't accept the status quo. The ones who push us forward and who make a difference in the world. The most important thing is to create a better tomorrow for everyone. To shape that future, we had to think outside the box."
Marc Lichte: "I asked Gael: 'Please think about a vehicle which has level four autonomous technology at its centre', and he came up with this roadster. I instantly fell in love with it when I saw the first proposal."
Henrik Wenders: "You could call Gael a designer, but to me he's a future shaper."
Gael Buzyn: "It sounds like a cliché, but it started out, as it so often does, with a simple sketch. The first idea was to create a sculpture in motion. We knew the car had to be extremely beautiful, and we were really inspired by the Horch 853 – its long hood, and its dramatic proportions. Grand touring is about the romance of the journey, and I thought this was the perfect opportunity to recreate this romance, but with the aim of redefining grand touring. A thrilling sports car or a glamorous tourer, with all the comfort you would expect."
Marc Lichte: "In the 1930s, the Horch 853 roadster was the benchmark in driving dynamics and comfort. The Audi Skysphere concept is a modern progressive interpretation of these characteristics and of roadster design. Its proportions are breath-taking – dream proportions, to be honest. Big wheels. A long wheelbase. A long, low bonnet, in combination with short overhang and a speedster roofline. We combine a very muscular body with very elegant lines. The Audi Skysphere concept is, on the one hand, very sporty and muscular, but also super elegant and sleek."
Gael Buzyn: "Its sophisticated blend of muscular fluidity and architectural lines gives the car structure and elegance, but it also gives it a streamlined dynamic look – especially in the rear where we've combined the sport silhouette of a speedster with the practicality of a shooting brake. The body panels seam draped over the glass core of the cabin – almost like a scarf in the wind."
Henrik Wenders: "Audi has always been at the forefront of progressive luxury, shaping and creating experiences. When development of the Horch 853 started back in the Golden Age, this is what our predecessors considered the future. Grand tourers, like the Horch 853, provided the best of the best. Lavish interiors, powerful engines and hand-built bodywork. It was the most exclusive motoring experience. The Audi Skypshere is our reinterpretation of that experience. It marks the beginning of a new Golden Age of mobility. An age of progressive luxury, of fascinating experiences. An age in which technology redefines what premium mobility can be."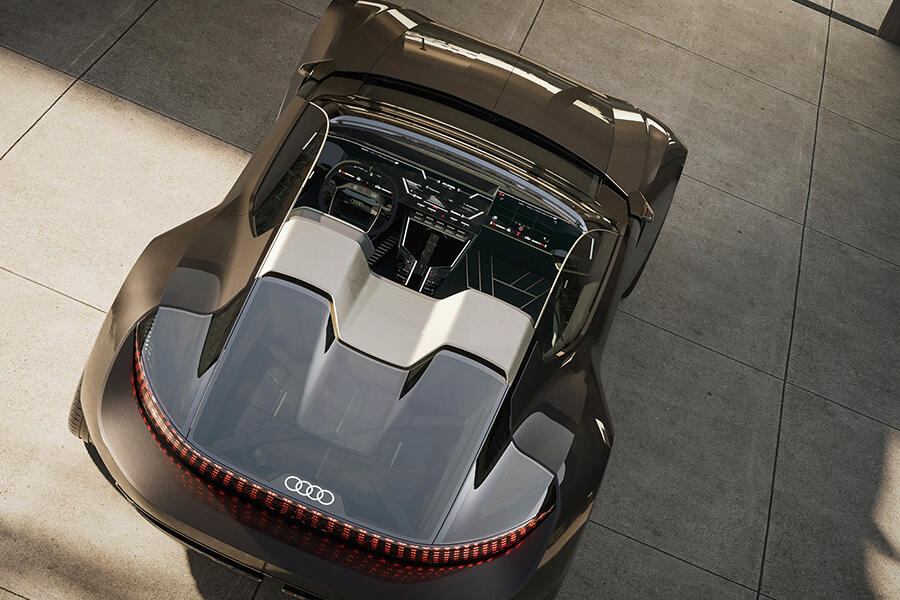 Dual dimensions; dual driving personality
The Audi Skysphere concept offers two unique driving experiences: first, a grand touring mode with a spacious lounge-style interior, seamless digital integration and level four autonomous driving; second, compact sportscar dimensions that lend themselves to more dynamic and engaging handling.
Thanks to the relative simplicity of an advanced electric powertrain – with no driveshafts, fuel lines or hydraulics to consider, and the ability to use fly-by-wire steering, throttle and brakes – the Audi Skysphere concept can shapeshift by having its body and frame slide over each other. Contracting its wheelbase by 250mm at the A-pillar, it transforms from a luxurious Audi A8L-sized grand tourer to compact Audi RS5-style sportscar dimensions.
The interior of the car also transforms to put the driving controls back in the hands of the driver, while giving them a more commanding and engaging cockpit-style feel. It's all about choice.
Henrik Wenders: "For Audi, progress isn't either/or. Progress is both. The future of the automobile is about choice. Technology lets us create unique experiences."
Gael Buzyn: "The most exciting thing about the Audi Skysphere concept is that it was always designed to have two distinct personalities – to be two cars in one. How do you merge a grand touring car with a long wheelbase and an autonomous mode, and a true sports car with a short wheelbase that is all about the thrill of driving into one vehicle, without compromising either experience? I mean, what a challenge."
Hildegard Wortmann: "The digital world opens up so many possibilities, such as automated driving, which lets us give passengers the ultimate luxury – the freedom to choose. To relax or drive; to work or play; or stay in touch with friends."
Gael Buzyn: "We had to find a way to make that extremely elegant comfortable car become this driving machine, and this involved a change of geometry. We soon arrived at the conclusion that we needed a variable wheelbase – offering ultimate comfort, as well as elegance and beauty. Then the car transforms, and you get a short wheelbase with all the agility and control you would expect from a sportscar. It lets us offer the best of both worlds.
Henrik Wenders: "In the past, a conventional engine, with all the propeller shafts and fuel lines, would have made a variable wheelbase almost impossible. But, thanks to the electric powertrain, it's now reality."
Gael Buzyn: "Just push the switch, and the transformation starts. The exterior changes geometry and the wheelbase decreases by 250mm. The front fender overlaps a decorative side element for a seamless invisible transformation. Inside, the layout changes into a driver-centric environment. The steering wheel appears from under the dashboard, the pedal box comes out from the footrest while the passenger seat moves back 250mm to give the driver a commanding position."
Henrik Wenders: "It morphs into a true performance machine that offers a thrilling and uncompromising driving experience."
Gael Buzyn: "Creating a design theme that works and looks stunning with a 250mm variation of the wheelbase was the biggest challenge. In grand touring mode, the Audi Skysphere concept concept has a majestic presence. The long wheelbase gives it dramatic proportion and offers exceptional ride comfort, while the interior in this configuration feels more like a stylish lounge. It's informed by the Art Deco style and wrapped in eco-friendly microfibre, vegan leather and sustainably harvested eucalyptus wood. It is the perfect place to enjoy a glamorous motoring experience."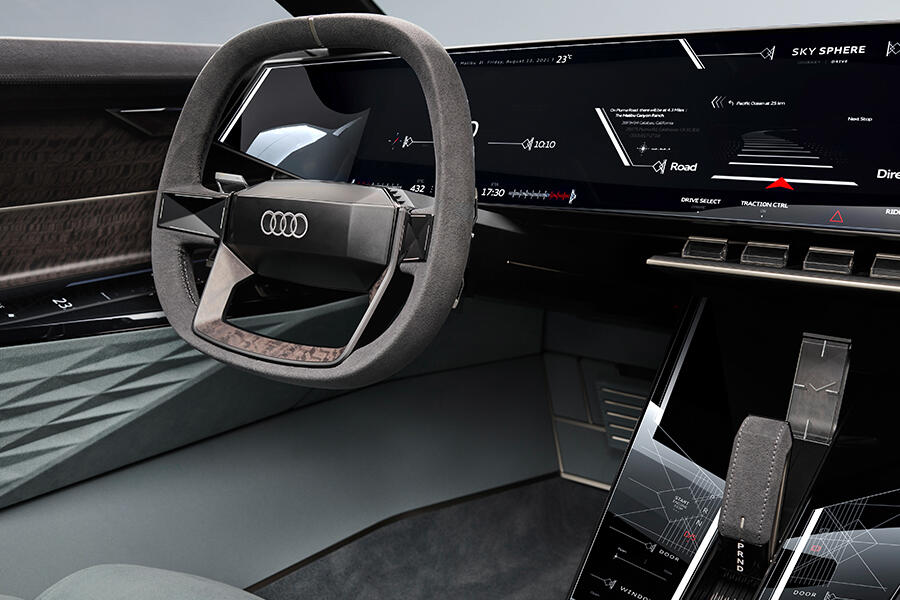 Redefining and reshaping the future
The Audi Skysphere concept truly is the definition of a dual-personality car. Depending on which mode you're in, the car's illuminated graphics change to match its character – with LED headlights around the imposing Audi single-frame grille taking on a unique signature, and the rear LED lights featuring a specially composed dynamic sequence. You can tell that the Audi design teams – both in Malibu and Germany – are incredibly – proud of what they have achieved.
Marc Lichte: "I'll never forget when I saw the Audi Skysphere concept for the first time – it was a very emotional moment. I've been working as a professional designer for almost 25 years. I've done many cars in my career, and this is definitely one of the most exciting projects or show cars that I've ever worked on with my team."
Hildegard Wortmann: "The Audi Skysphere concept is an incredible start to what we know will be an amazing hub of creativity. From just a little sketch, we've come to this bold moment. The Audi Skysphere concept defines how we reinvent the future of progressive luxury. We've created something much more than a concept car; we're creating an experience and a glimpse into the future of what luxury mobility can feel like."
Henrik Wenders: "The Audi Skysphere concept is a celebration of progress and impactful design – because it's in our hands to shape the world to come. When was the last time you saw something entirely new? With the Audi Skysphere concept, we've done exactly that – redefining what 'grand touring' can look like and feel like in the 21st century. The Audi Skysphere concept is a beautiful reinvention of our heritage; an experience unlike any other. It's amazing to create and design the future. To create something that truly moves you. At Audi, we aim to create exactly these moments."
Learn more about how Audi e-tron is reimagining electric driving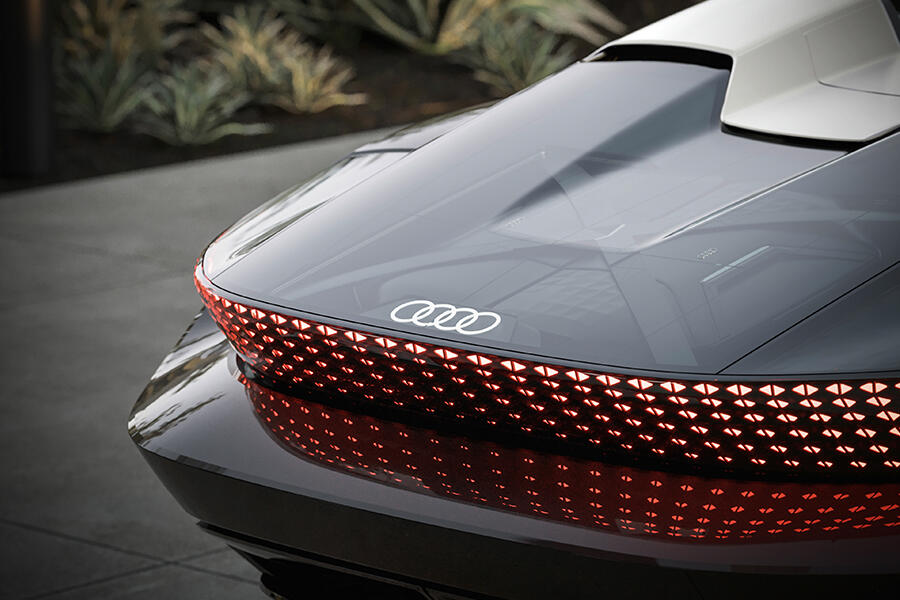 https://www.autocar.co.uk/car-news/adver...-own-words