08-09-2022, 04:53 AM
Audi e-tron in the age of enlightenment
Over the last 20 years, Audi has introduced a series of game-changing headlight innovations
Audi has long led the way as a pioneer of headlight technology and design. We take a look at how its latest innovations are sparking new creative thinking and increased safety for an all-electric e-tron era
In Genesis, when God said: "Let there be light", there was light. And it was certainly good. But, if God is in the details, then the headlights and rear lights on Audi's fast-growing range of all-electric e-tron models are truly divine.
Audi's defining motto of 'Vorsprung durch Technik' (or 'progress through technology') has underpinned every element of the brand's DNA and its game-changing approach to design and engineering over the last 50 years: from the turbocharged confidence-inspiring quattro performance of the 1980s, to today's no-compromise all-electric e-tron powertrains that deliver more range, ultra-rapid charging and all the engaging handling, cosseting comfort and versatile dependability you expect from an Audi.
Through all that, an ever-present shining beacon has been Audi's pace-setting light technology. First and always defined by safety, but now offering ever more complex ways to define the character of the car (and its owner), we thought it was time to shed light on how Audi's light technology has evolved.
Find out more about Audi's e-tron line-up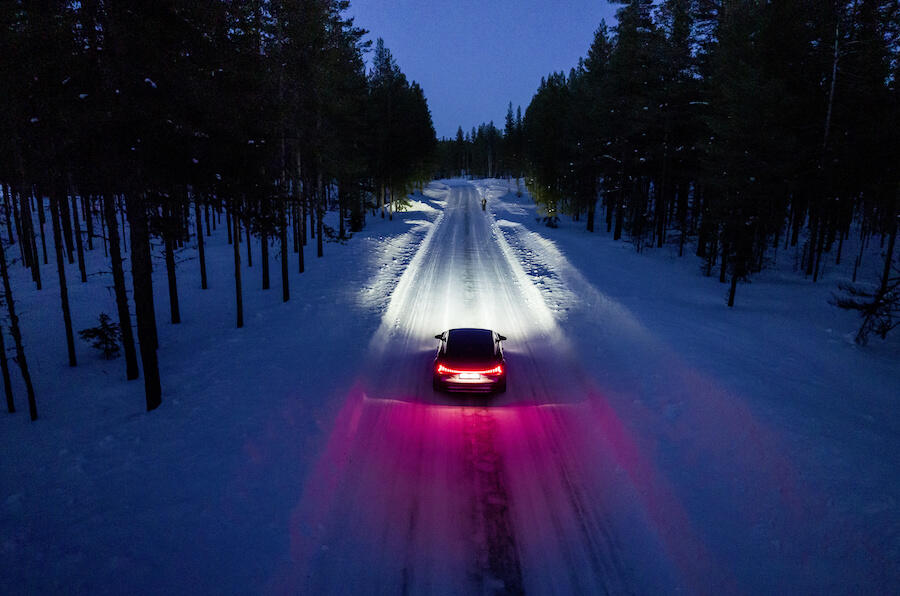 A light history of Audi
Since the dawn of the car, Audi has always had a clear vision of what really matters when it comes to illuminating the way ahead. "At Audi, light – above all else – means safety," says Stephan Berlitz, Audi's Head of Lighting Development. "It means seeing more – and being seen – more clearly."
The early 1900s sparked some of the biggest shifts in light technology, from paraffin and carbide lamps to the first electric bulbs in 1920. The introduction of Xenon bulbs in 1994 provided more illumination, with 20 percent less power consumption and a longer life. But it was Audi's introduction of LED technology on the Audi A8 W12 in 2003 that really changed the game, with LED daytime running lights that helped the car stand out more clearly to other road users in low-light conditions. 
In 2008, the Audi R8 V10 Plus introduced full LED headlights. With a light tone that more closely resembles daylight, longer range and less glare, they offered a clearer view of the road ahead, while significantly reducing eye fatigue. They were so ahead of the curve that Audi actually had to get special legislative dispensation to introduce them. Now, LED lights are almost a standard offering from every car manufacturer.
Lightweight compact LED technology has also empowered the creation of dynamic turning lights, which can swivel to match the car's steering to illuminate key areas of the road ahead. LEDs are also more sustainable, using less energy, creating less heat, and boasting a longer lifespan. "In the past, a bulb was a wear-and-tear part," Stephan explains. "Now, LED headlights can last the lifetime of the car."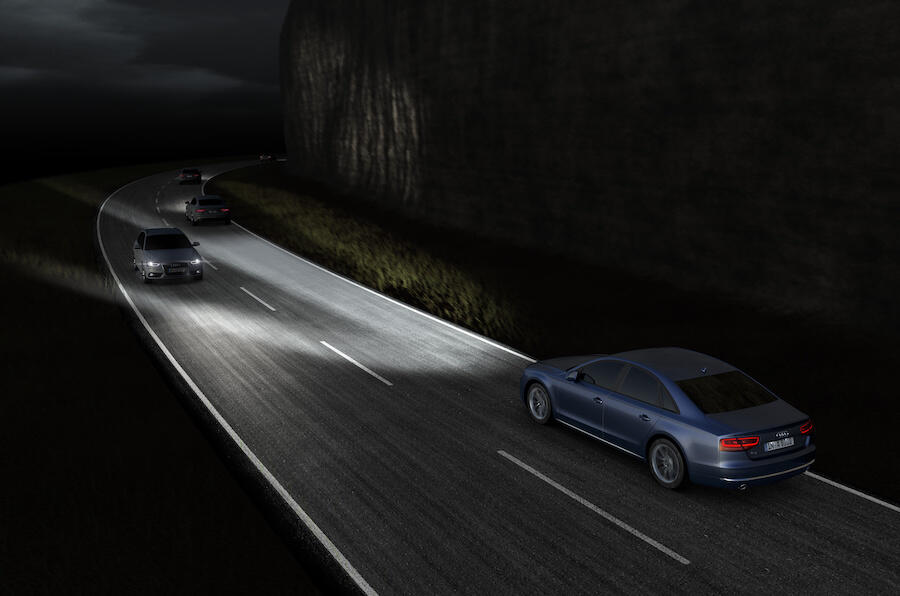 In 2013, Audi pushed light technology beyond the gaze of its rivals once again with Matrix LED headlights – which detect cars, cyclists and pedestrians, then switch off individual LEDs or LED segments to create a 'mask' to reduce glare, while still fully illuminating all other areas of the road for the driver. "Using Matrix LEDs, you can keep the high beam activated, without having to tweak it all the time, and without dazzling cars ahead of you or oncoming traffic," says Stephan.
The following year, Audi used the 2014 Le Mans 24 Hours and the launch of the new Audi A8 to introduce Laser Light technology. A small laser module created a cone of monochromatic coherent blue laser light that could extend several hundred metres down the road, offering an even clearer view of the path ahead. "It's an absolute joy going on a long cross-country road with such a long beam," says Stephan.
Finally, in 2019, the Audi e-tron line-up introduced Digital Matrix LED headlights. Boasting 1.3 million micromirrors per headlight, which can oscillate up to 5,000 times per second, they essentially operate like high-definition movie projectors – painting an ultra-clear 50-metre-long carpet of light on the road to help drivers stay in their current lane or illuminate the direction of travel when changing lanes.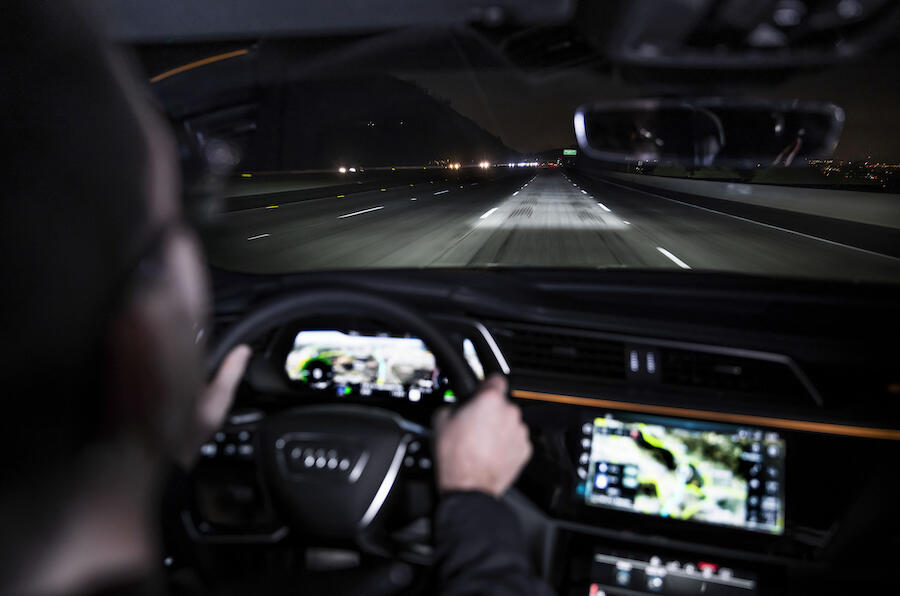 Painting with light
Audi's ever-more advanced headlight technology hasn't only been a beacon for improving safety. It has also generated a wealth of creative opportunities for Audi to enhance the distinctive character of both its overall brand and individual models.
"Light technology and design are inseparable at Audi," says Cesar Muntada, Audi's Head of Light Design. "Light is a visible expression of Vorsprung Durch Technik. We can showcase our engineering skills, we can make them visible. But we can also shape and sharpen the character of the Audi brand, and each individual model.
"It's all based on the possibilities that our new technology offers us. Without it, this sort of light design would be very difficult. We used to design lights with just a bulb. It was pretty simple. But, when LED technology came along, we saw the potential.
Lightweight compact Matrix LED lights – along with OLED rear lights (first introduced in 2016 on the Audi TT RS) – have let Audi's design and engineering teams craft ever-more intricate, streamlined and jewel-like three-dimensional light designs and rear light strips that give each model in Audi's range even more individual definition.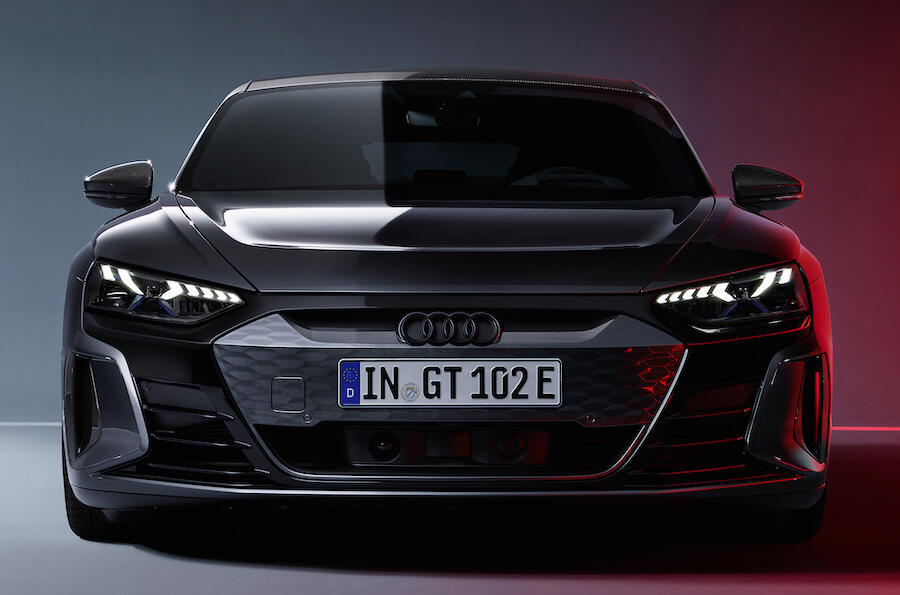 "We have a clear design principle, using the full width of the car to create long lines that accentuate its character," says Cesar. "At night, or from far off, it must be clearly recognisable at first glance as an Audi. But, as you get closer, you can distinguish shapes, underlining the individual character of each and every model. We can give our cars an unmistakeable face. You can see a signature that is very focused, or a bigger opening eye with a bigger pupil. It gives a very different look to each car."
LED technology also offers more dynamic creative opportunities – such as a wealth of individually selectable daylight running light signatures, or playful dynamic leaving home and coming home light displays when you lock or unlock your car that mark out each model's character and leave a real lasting impression.
Looking ahead, Audi's engineers are developing flexible OLED technology, which could potentially extend a light signature right around a vehicle. Equally, the Audi A6 e-tron concept presented the idea of using the Digital Matrix LED's powerful high-definition beam to project games onto a wall, helping drivers to stay entertained while charging. "Light is now more of an event and an experience," says Cesar.
Turning day into night (and vice versa)
Key to developing Audi's pioneering light technology is an advanced dedicated R&D facility, nicknamed the 'light tunnel'. "The light tunnel has become our second office," says Cesar. "We can design something that is, on paper, very nice. But it needs physical confirmation. We still have to test our cars in the real world, but using the light tunnel we can test our ideas in complete darkness, even during the daytime."
Located underneath an assembly plant at Audi's HQ in Ingolstadt, Germany, the 120-metre-long, 15-metre-wide light tunnel has matt black walls to create the darkest possible environment when the overhead lights are turned off, but also boasts a road-style floor so that Audi's engineers can assess visibility, reflections, and glare.
"It lets us develop technology much more quickly," says Stephan. "We can get together with designers and engineers to see how the lights look, and to test new functionality – all preparing them for real-world night testing. Then, when we go out for a night drive, it doesn't take as much time. All of us want to see our family, so we are really happy that we can do nearly all of the work during daytime."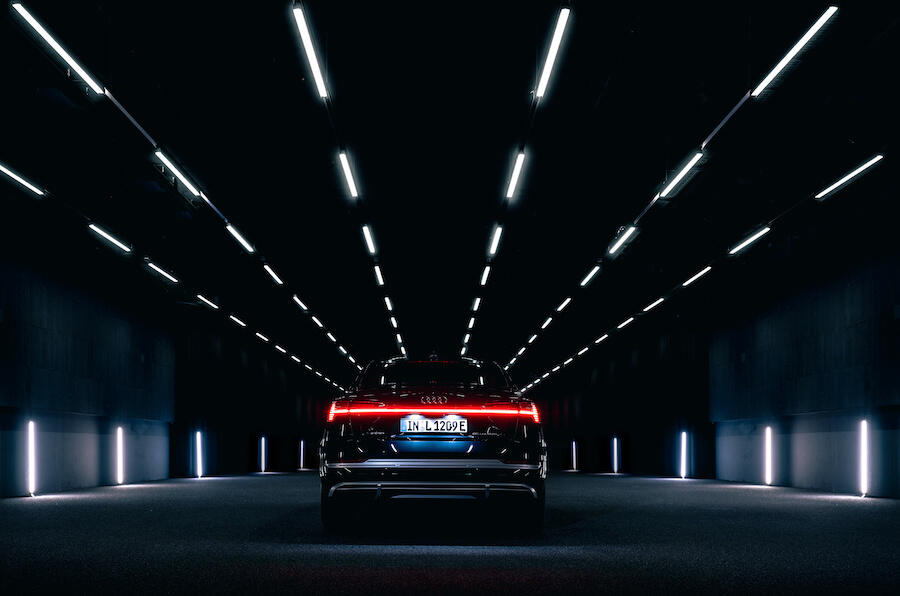 Illuminating a safer future for everyone
As we approach an all-electric and potentially autonomous future, the focus of Audi's light technology development is turning back to safety. It started with the introduction of Audi's dynamic turning lights in 2013, which clearly indicate direction changes to other road users. But advanced technology means that ever-more complex ways of communicating with the world around the car are becoming possible.
"Digitisation is opening up a whole new world of possibilities, because the car can now use its lights to communicate with its environment in a nuanced way," says Stephan. "Dynamic turning lights were the first example of this – not just nice to look at, but also a clear indication of which way the car is heading for other road users. You instantly understand what is meant by the swoosh.
"This is something we want to take forward. It's a shift in perspective because light used to be all about safety for the driver. Now, a car can now use its lighting as a tool to visually communicate with the environment around it in a nuanced way we have a lot more opportunities to make our cars even safer."Using OLED rear light technology, cars could soon be able to warn other drivers or road users about hazards around them. A car that hits a patch of ice, for example, could warn drivers behind it. Or, in stop-start traffic, a car could use its rear lights as a visual warning to an approaching car that they're getting too close.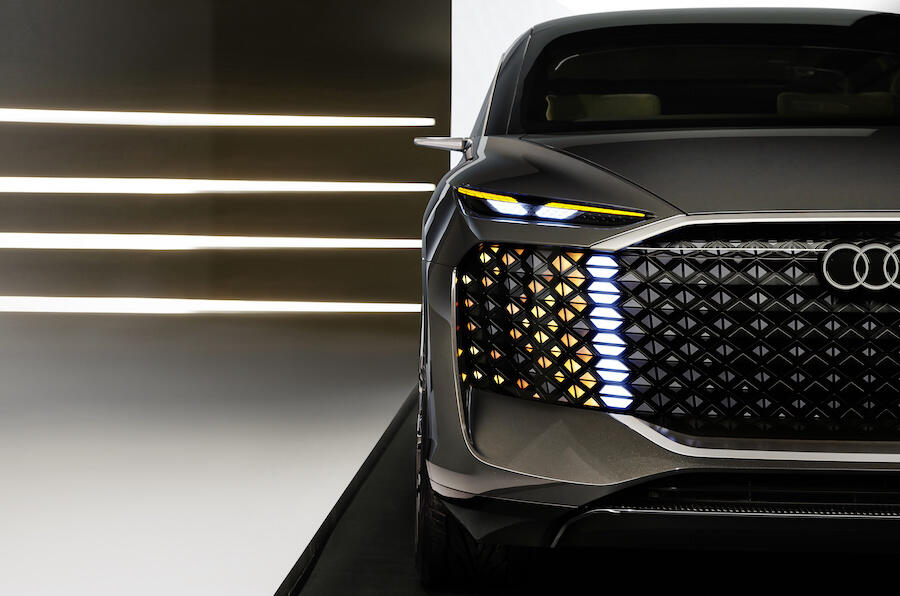 Advanced Digital Matrix LED headlights, which essentially act a high-definition video projector, open up even more possibilities. When changing lane, a car could use its headlights to paint directional arrows onto the road that could warn other cars and cyclists around it of a change in direction. Or, when a car stops to let a pedestrian cross in-front, it could use its headlights to paint a crosswalk.
"We're bringing the physical world and the digital world together," says Cesar. "The lights on a car are going to start to talk. The eye can take in information that the car is trying to communicate very quickly. So, we can convey a message – not just for car drivers, but for bicycles, motorcycles, and pedestrians.
"We're trying to develop what we call a light 'language'. What shapes should these symbols be, how can we make it clear what we're trying to communicate, and how it can be intuitively understood by everyone around the world? This is a complex world. We need to talk to each other and understand each other. But I think that light is our future language."
Find out more about Audi's e-tron line-up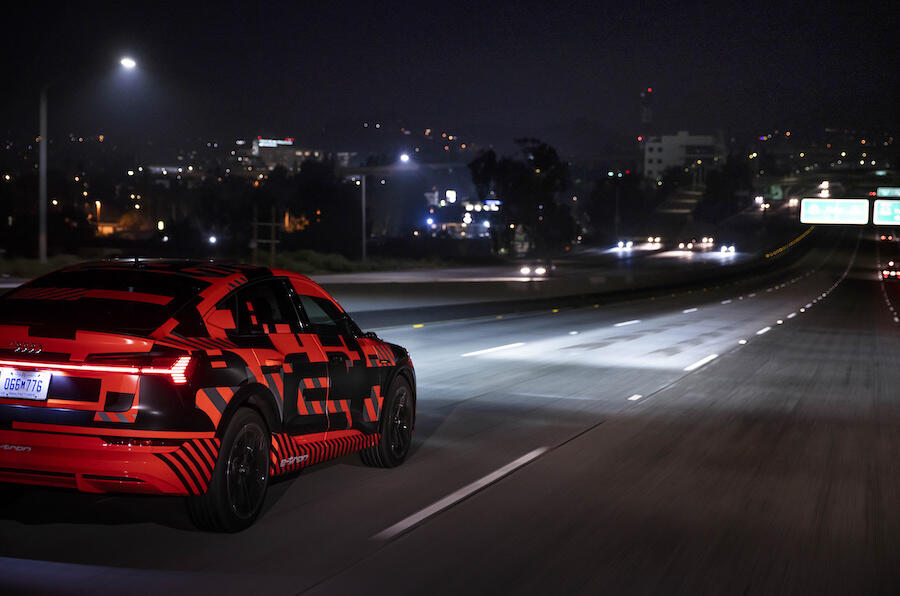 https://www.autocar.co.uk/car-news/adver...ightenment