03-21-2022, 06:38 AM
Audi plotting pick-up truck to rival Ford Ranger
2019 AI:Trail concept hinted at Audi's plans for a rugged EV off-roader...
Audi CEO Markus Duesmann confirms the brand is considering its own truck
Audi could soon bring to market a premium-oriented pick-up truck to rival higher-spec versions of the Toyota Hilux and Ford Ranger, as it emerges such a model is being considered at a high level. 
The shock confirmation came courtesy of the German brand's CEO Markus Duesmann, who, when asked if an Audi pick-up was a possibility, said: "I can't promise that we will do one, but we are looking into it." 
He was speaking to reporters alongside the CEOs of each of the other three Audi Group brands – Bentley, Lamborghini and Ducati – ahead of the group's annual earnings report. 
After Duesmann's response, Bentley CEO Adrian Hallmark jokingly added: "I would not love to have one in the Bentley portfolio."
Audi would not be drawn into giving any further details about any potential pick-up model, but Duesmann did say: "Actually, we will present – not too far from now – maybe something", hinting at the possibility for an imminent concept unveiling or an official confirmation of the model.
As part of its annual conference, the firm showed off the new Audi A6 Avant E-tron concept, and will soon unwrap the third and final entry into its Sphere concept family, the city-oriented UrbanSphere SUV, but neither of these would seem to be obvious candidates for an open-backed body variant. In 2019, however, the firm showed off the outlandish AI:Trail concept, a high-powered electric off-roader with Level 4 autonomous functionality, which could provide the basis for a future production model. 
One possibility at this stage is that Audi could leverage its relationship with parent company Volkswagen to launch its own version of the upcoming second-generation Volkswagen Amarok, which is itself based on the Ford Ranger as part of a strategic partnership between the two companies.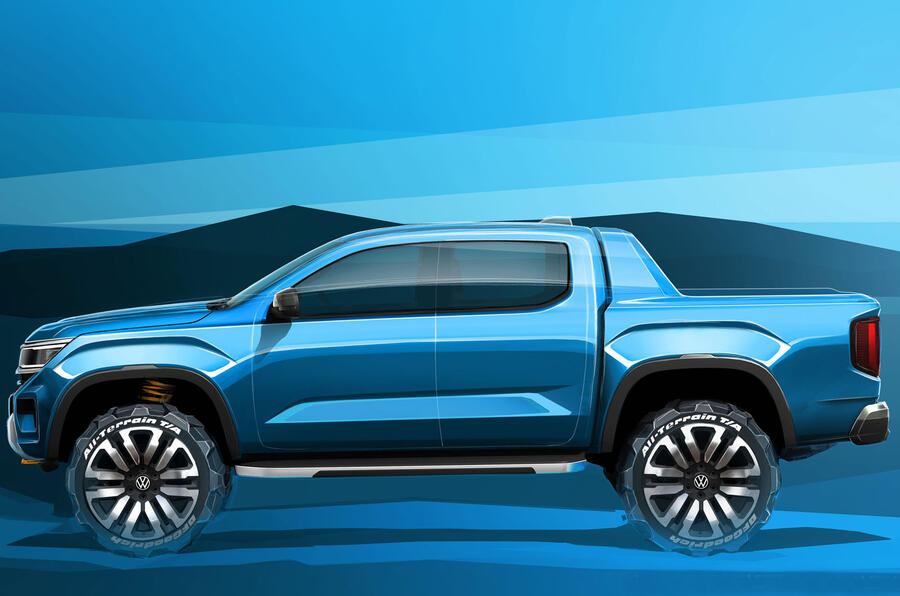 Previewed in a series of design sketches and set to be revealed in a matter of months, the Amarok will be built by Ford in Silvertown, South Africa, and will be offered with either a 2.0-litre diesel four-cylinder or a new 3.0-litre diesel V6. 
However, it is also important to note that the modular electric vehicle platforms being deployed across the VW Group make the development of low-selling models a much more viable proposition, as they require less resource to be diverted away from consistent revenue-generators and can share the bulk of their technical make-up.
Audi could, then, call upon the MEB architecture or the PPE platform it is developing with Porsche – both offered with four-wheel drive – to form the basis for an all-electric pick-up.
If it follows through with plans to enter the commercial vehicle space, Audi will be the first premium German manufacturer to do so since Mercedes-Benz launched the short-lived X-Class - a plush pick-up based on the Nissan Navara. 
The X-Class was on sale for just two years, and was pulled from production in light of slow sales and a wider cost-cutting drive initiative. 
While Lamborghini CEO Stephan Winkelmann didn't participate in the pick-up discussion, his was actually the only company present to have such a car in its back catalogue - the company built 328 examples of the V12-engined LM002 off-roader between 1986 and 1993.
https://www.autocar.co.uk/car-news/new-c...ord-ranger