06-09-2021, 03:42 PM
Autocar Awards 2021: Hyundai Chairman Euisun Chung wins Issigonis Trophy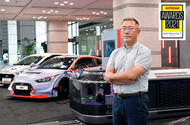 "Our focus has always been to become an innovative mobility company that's beloved and trusted by our customers"
A key force behind the rise of Hyundai and Kia even before he became the group's chairman, Chung is a visionary leader with a talent for being ahead of the curve
When Euisun Chung, 50-year-old chairman of the mighty Hyundai Motor Group, takes aim at an important target, you know he will hit it. That's because, as well as being one of the world's highest-achieving car executives, Chung (or ES, as he's better known) has led the governing body of South Korea's national sport of archery since 2005, during which time his countrymen have netted nine Olympic gold medals plus nationwide adulation.
It makes a handy metaphor for Chung's own consistently stellar performance as the visionary leader of his high-achieving company, the reason we're proud to award him this year's Autocar Issigonis Trophy for exceptional achievement and leadership in the motor industry.
At Hyundai, remarkable progress has always been a fact of life. Founded in 1947 as an engineering and construction company by Chung's grandfather, Hyundai started making cars – Ford Cortinas under licence – in 1967. Early in 1974, it hired former British Leyland boss George Turnbull to make cars of its own design, and its first model, the Giorgetto Giugiaro-designed Pony, was on the market 18 months later.
By 1978, Hyundai was selling cars in the Netherlands. By 1982, it was established in Britain. In 1986, it broke into the US market, shifting nearly 200,000 units in its first year. In 1990, total production passed four million cars a year. Even the Japanese, in their 1990s world-beating pomp, suddenly realised they would have to take Hyundai much more seriously.
At that stage, 30-year-old Chung had joined the family firm, having previously acquired a business degree from a Korean university, then completed an MBA at the University of San Francisco. He also worked for a period in New York.
After a variety of increasingly responsible jobs, he took charge of Kia as president in 2005, in time to play a key part in the roll-out two years later of the group's first all-European products, the Kia Cee'd and Hyundai i30, designed in Frankfurt by European engineers, built in Europe and aimed at European buyers. They were very good cars.
During his five years at Kia, 2005 to 2009, Chung nailed his progressive colours to the mast. He hired distinguished European design boss Peter Schreyer to create an image of Kia as a world design-leader, initially by building a series of influential concept cars. The launch of the 2010 Sportage, universally admired for its style, caused a global stir. Kia became the group's upstart, increasing sales by 70%, doubling its operating profit and growing more quickly than its parent. That raised inconvenient questions, at least on this side of the world, about when Hyundai would do something about its dowdier versions of similar cars.
Eventually, Schreyer took charge of design for both marques, perhaps because at that stage (2009) Chung had become vice chairman of the whole Hyundai group. He succeeded his elderly father Mong-Koo ('MK') as chairman in October 2020, although it had long been acknowledged that ES was the thought leader, especially on green issues and on pointing his firm's products toward their practical use. He was simply allowed to get on with the job – at Hyundai's usual breakneck speed.
As he explained in a recent interview for this award: "I want Hyundai Motor Group to be a first mover and a game-changer, both in ideas and actions within the mobility industry. We're striving for sustainable growth and to fulfil what we see as our economic and social responsibilities as a global corporate citizen."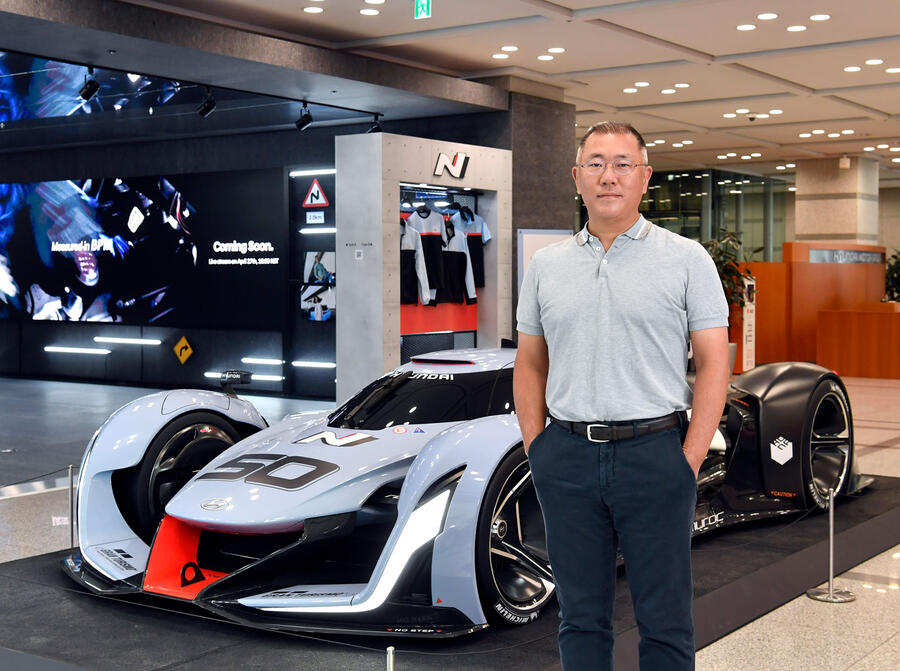 Chung rejects any kind of visionary tag, though. "The seed of an idea can come from just one person," he says, "but it's usually made better by collaboration and teamwork. Early on [in my career] I learned the importance of teamwork – understanding one's role and buying into a team-first mentality."
The Hyundai Motor Group marques are unique in being at the forefront of BEV and FCEV production. On BEVs, Chung says that Hyundai's strong foothold "didn't happen overnight" but is the culmination of years of research and development after they'd spotted the opportunity relatively early. "We've moved fairly quickly compared to some," he says, "because we've developed the ability to work at speed without compromising quality. That mindset has given us the lead in hydrogen fuel cell development, too, and is driving our transformation as a leader in smart mobility."
Hyundai is going to be a major player in this field – and soon. "We've vowed to bring 23 new Hyundai, Kia and Genesis EVs to market by 2025," Chung says, "and we will do that with quality, customer satisfaction and safety as our highest priorities. By then, we plan to be selling a million BEVs per year worldwide and to take 10% of the global market."
Although some see battery and hydrogen fuel cell technologies as competitors, Chung isn't among them. "We believe fuel cell and battery-electric technologies are complementary, not competitive," he says. "One can't replace the other. Hydrogen can be a useful carrier of renewable energies, which is crucial to help spread EV infrastructure and demand across the electricity grid.
"We now have 20 years' experience in this field and are stepping up our efforts for the development of a next-generation hydrogen fuel cell system applied not just to cars but to other forms of transport, such as urban air mobility, [maritime] vessels and trains. As part of this, we've introduced HTWO, a new brand to represent our world-beating hydrogen fuel cell system."
Talking market conditions, I'm intrigued to hear Chung's confidence that new-car sales can increase even in a saturated market like ours. He acknowledges that the market is "not without challenges" but reckons further expansion is possible if you build the right cars. "Environmental regulations are influencing the way the European market develops," he says, "but we are well prepared with many EVs in the pipeline and we're the leading fuel cell technology provider. We're also working hard to enhance brand awareness."
I've always been keen to understand why Korean companies, and especially the Hyundai Group, function so effectively when they have Japanese firms (very good and earlier into the market) on one side and the Chinese (huge, well financed and ambitious) on the other. How does that leave room for the Koreans? Chung's powerful answer offers very little solace to his rivals…
"Competitiveness is deeply ingrained in the Korean culture," he says, "as is an appetite for success. Nowadays, using K as a prefix for a Korean product is becoming a global trend, such as K-pop or K-food. I also want to use the term K-mobility. The mobility market is growing fast in Korea, and Korean customers are expecting more from us. Our growth came through satisfying such customers, and I highly appreciate how our employees have kept us ahead of tech trends and customer expectations.
"I also believe that the geographical influence of strong countries near us has been a key motivator for our group. Korea as a country, society and economic powerhouse has come a long way in a relatively short period. We thrive in the face of adversity and see every challenge as an opportunity to reinvent ourselves and change perceptions of what we are."
Does this mean Hyundai won't be happy until it's the world's biggest car firm? A few years ago, it rose to third after the Volkswagen Group and Toyota, but currently it's more like fifth (Covid makes precise figuring difficult) because of the emergence of Renault-Nissan-Mitsubishi and Stellantis. Various Chinese runners are moving up on the rails, too.
"Becoming the biggest in scale has never been my top priority," Chung says. "Rather, our focus has always been to become an innovative mobility company that is beloved and trusted by our customers. We're proud to have made tremendous strides against the competition, and we will continue to prioritise being the best in disciplines like quality, safety and customer satisfaction."
All of which leads us to the final burning question: does Chung, car magnate supreme and leader of a progressive group through complicated times, really love cars? He doesn't have a car collection, he says, but cars have always been "a deep interest". He drove a lot while studying in the US, he says, and before the pandemic made it a rule to drive as many rival models as possible. But in the end, it seems, the biggest driver for Chung is business…
"My love of cars has fuelled my passion for the business," he says, "managing the transformation from car maker to smart mobility solution provider and seeing what innovations we can deliver to our customers. Our focus is on the future. That's what fuels my passion now."
READ MORE
Autocar Awards 2021: all the winners
Autocar Awards 2021: Polestar's Thomas Ingenlath wins Sturmey Award
Promoted | How Britishvolt is electrifying the UK car industry
https://www.autocar.co.uk/car-news/featu...nis-trophy