04-30-2023, 10:18 AM
Autocar Awards 2023: Kia wins Best Manufacturer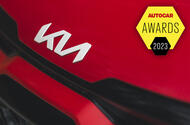 It seems a very long time since any of us can have thought of Kia as 'that funny budget car brand from Korea'...
It seems a very long time since any of us can have thought of Kia as 'that funny budget car brand from Korea.' What a transformation it has been through.
If you're gauging the extent of its rise in Europe, consider these handy facts. It is already among the top three-selling brands in markets as different as Spain, Sweden and Slovakia. There are already other markets (The Netherlands, for one) where it sells more cars than any other firm.
In 2022 it had an overall EU market share of just under five per cent - narrowly beating sister brand Hyundai, but also the likes of Ford, Opel/Vauxhall, Fiat and Skoda. And in the UK, it has more than 6.5 per cent of the new-car pie: only Audi, BMW, Ford and Volkswagen are bigger. So long, Mercedes. See you later, Peugeot. Toyota - thanks for coming.
That UK-market result was after a massive gain worth fully one per cent of the market all on its own in 2022, fuelled by a wave of new products. Amid that wave, we've seen the brand-new Kia Niro crossover and Kia Sportage compact SUV arrive.
But the Kia Sorento family SUV, launched in 2021, still feels box-fresh, as does the totemic Kia EV6; and the likes of the Ceed and XCeed, Rio and Stonic have all had significant facelifts. Very few brands of Kia's size can have product lines half as up-to-date.
The sheer confidence exuded by the design of the Niro and Sportage was what really impressed Autocar's judges, and made it so obvious that this year's Best Manufacturer award could go nowhere else.
There is a pre-possession about the look of these cars that makes them more distinctive on the road than ever Kia's cars have been previously; the kind that only comes with the assurance that commercial success brings.
The Stinger was the herald of that growing confidence, back in 2017; the Proceed another sign in 2019, and the EV6 more of a shining beacon in 2021. In 2023, Kia design has finally hit maximum reheat.
But there is also a thoroughness and completeness to the Niro and Sportage as products that tells you almost as much about the firm that has made them; a substance about how they feel, in addition to the impact of how they look.
The tactile quality of the Sportage's switchgear is apparent, there to be felt every time you flick the headlights on. Its engine range is singularly broad; its on-paper ownership credentials very competitive indeed. And in the Niro EV, Kia has a family-appropriate electric car that takes it right back to the head of its particular field.
All the firm really needs to kick on again is to find ways to put that crucial extra dose of dynamism into its volume-sellers; that magic dusting to make them as distinctive to drive as they already are to look at, and to travel in. That's the final piece of Kia's puzzle; and if they find it, might market-leading status even beacon?
https://www.autocar.co.uk/car-news/autoc...nufacturer