05-01-2023, 04:33 AM
Autocar Awards 2023: all-electric Jeep Avenger wins best small car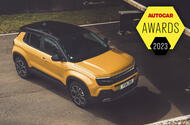 Jeep's promises have been backed with the Avenger, which feels like a defining moment for the firm
We'd heard similar from Jeep in the past about having designed its latest small model with Europe in mind. Yet there's a big distinction between creating a car to that more general brief and creating a car designed, engineered and manufactured in Europe and for European buyers, as it has done with the Jeep Avenger.
The former had always yielded forgettable results, yet the latter approach has made for something more spectacular. To that end, the Jeep Avenger is our Best Small Car for 2023.
These are words we'll admit we didn't think we'd be writing when news of this Jeep first emerged. With the Avenger, however, the promises have been backed up by actions and feels like a defining moment for Jeep in how it really can see its success in America translate across the pond. 
The Avenger is the first Jeep to be created outside America and is also the firm's first electric car. It was designed in Italy and is based on a version of Stellantis's eCMP platform (as used on the likes of the Vauxhall Corsa-e and Peugeot e2008). Manufacturing takes place in Tychy, Poland.
Spend time with the team involved in making the Avenger and you'll be aware just how 'all-in' these passionate individuals have been in the project, and how they have worked hard to create a car that brings something truly different to the small SUV class, a part of the market hardly flush with must-own products given how inherently compromised such models are. 
Not so with the Avenger, which finds a truly unique place in the market. It is small in the truest sense: just 4.08-metres long. No B-segment electric SUV is smaller, and it's a refreshing change for a brand's first electric car not to launch as a 4.6-metre-long crossover that could be anything with the badges covered.
The Avenger's design is every bit a 'true' Jeep and it has a real rugged character. The proportions are spot on and like the very best small cars it has real charm and character. 
That charm and character transfers to the way it drives. There's a real maturity to the way it rides, handles and steers, and the electric power is a boon around town. It feels far more sophisticated than a car this small has any right to.
While the Avengers might be small on the outside, it never really feels it inside. There is so much storage in the cabin front and rear, and a series of clever cubby holes. There is a cheeriness to the interior design, too, and some really useful touches, including a tray that runs across much of the dashboard that's handy for storage.
More rational boxes are also ticked. The range is around 250 miles and the charging speed of 100kW is also respectable. While the price isn't quite the £32,000 we had hoped when it was first revealed last autumn, the £36,500 price still provides decent value, and the strong tipped residuals will help keep monthly payments in check.  
All this makes for another award for Jeep to add to the Avenger's fast-growing trophy cabinet after it scooped Europe's 2023 Car of the Year award. High praise for the most endearing of small cars, and an unlikely success to really be savoured. 
https://www.autocar.co.uk/car-news/autoc...-small-car