04-13-2023, 07:30 PM
Autocar continues partnership with British Touring Car Championship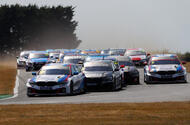 Autocar's collaboration with British race series moves into its second decade
Autocar has extended its partnership with the British Touring Car Championship (BTCC) for an additional three years, pushing a highly successful collaboration into its second decade. 
The extension means Autocar's hugely successful relationship with the BTCC has been extended until 2025, reaching a minimum of 12 years at its conclusion. 
As part of the agreement, Autocar readers can expect expanded, extensive and in-depth media coverage of the BTCC, both in print and online - stay tuned for regular features, news, race reports, competitions and blogs.
You'll also see the Autocar logo emblazoned across every BTCC car, on the podium and on interview backdrops across the 2023, 2024 and 2025 BTCC seasons.
Mark Tisshaw, Autocar Editor, said: "We are delighted to once again renew this successful partnership and take it into its second decade. The BTCC has long been the UK's premier racing series and we're honoured to be able to share in some of its success.
"The new generation of drivers and the hybrid cars they're racing has made the on-track action closer than ever and we can't wait to bring the stories of those on the grid, and the teams and individuals behind them, to our ever-growing Autocar audience."
The 2023 BTCC season commences on Saturday 22 April, with the first race taking place at Donington Park's National Circuit. 
On the continued partnership, BBTC chief executive Alan Gow said: "It's brilliant news that our longstanding partnership with Haymarket Consumer Media has been extended and enhanced with this latest agreement, bringing us into a second decade of working together.
"The expanded coverage of the Championship in Autocar has proved to be hugely popular for both new and current fans, so we're delighted to continue this agreement until at least 2025."
https://www.autocar.co.uk/car-news/motor...ampionship