09-15-2023, 02:47 AM
Autocar magazine 13 September: on sale now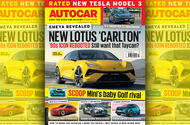 This week in Autocar...
The Lotus Carlton's spiritual successor, new Tesla Model 3 driven, and how to become a motoring journalist
This week in Autocar, we uncover the spiritual successor to the Lotus Carlton, drive the brand new Tesla Model 3, and tell you how you can become a motoring journalist.
News
The reinvention of Lotus continues as the brand takes a bold leap into another new segment with the Emeya – a 905bhp electric sports saloon conceived to rival the Porsche Taycan and Lucid Air.
Peugeot has unveiled the new e-3008 as a crucial torch-bearer for the radical new Stellantis architecture that will underpin up to two million cars per year - we've got the lowdown on what you can expect.
Mini will launch a next-generation version of its five-door Cooper hatch as one member of a "simple" line-up and arriving as The British marque begins a major overhaul of its offering.
We've also got news on Toyota's 360-mile hydrogen-powered Hilux, and Mercedes' brand new Tesla Model 3 rival.
Reviews
The Toyota CH-R has been a huge success in Europe, so the Japanese brand is now doubling down on everything we love with the brand new model - we head to Belgium to see what's what.
Mercedes has launched the CLE Coupe as a sleek, stylish replacement for the C-Class and E-Class coupes. Does this all-new model represent the best of both cars it replaces, or is it a consolidation too far?
A thorough update aims to make Tesla's big-selling Model 3 more efficient and refined, so it's got some big boots to fill. We find out if it really can pick up where the old one left off.
For road test 5641, we're also testing the new Mercedes GLC after its nip-and-tuck to keep it fighting fit as one of the German brand's most popular models.
Features
After challenges in 2021, the Munich motor show returned this year with a revised format and some star debuts. James Attwood says it was a success – mostly. We uncover our favourite cars and ear-pricking interviews.
Want to drive and write about fast cars for a living? We asked one of our most seasoned writers Andrew Frankel to give you the lowdown on how to become a motoring journalist.
Stellantis' Ellesmere Port looked set for closure amid Brexit, but the people there never gave up, earning the factory a new lease of life. John Evans gets a tour as electric van making begins.
Opinion
Matt Prior revisits his pet hate and reckons he's cracked why it's so irritating, finds the origin of the word 'supercar', and wonders if parking and car hire providers have become more consumer friendly.
Meanwhile, Steve Cropley heads eagerly to the Concours of Elegance and finds his favourite Ferrari, is saddened by the departure of his beloved Bentley long-termer, and finds a strange pattern evolving with cars in Stockholm.
Used
The Mini Paceman is a talented but divisive SUV - John Evans is your compass for navigating the classifieds.
https://www.autocar.co.uk/car-news/this-...r-sale-now