05-23-2023, 01:36 PM
Autocar magazine 17 May: on sale now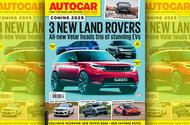 This week in Autocar...
JLR's trio of new EVs, Lamborghini Huracan Sterrato driven, Scotland's first SUV goes off-road
This week in Autocar, we've got the latest news on JLR's trio of stunning new EVs, go off-road in Scotland's equivalent of the Land Rover Defender and drive the totally absurd Lamborghini Huracan Sterrato. 
News
JLR is reinventing its Land Rover lineup, beginning with the Range Rover Velar which will arrive with a radical all-electric reboot by 2025. Meanwhile, the Range Rover Evoque and Land Rover Discovery Sport EV will follow hot on the heels of the pricier Velar. 
MG has reconnected with its roots by launching the Cyberster - the firm's first new sports car in 30 years and available with up to 536bhp. Steve Cropley offers his thoughts and we've got an exclusive Q&A with Carl Gotham, MG's director of advanced design. 
Meet the next kei car for Europe - Renault is launching a sub-£20,000 entry-level electric car inspired by Japanese microcars. 
Reviews
We're in Malaga testing the new Jeep Grand Cherokee PHEV - the originator of the SUV aims to claim a notable share of its own market in the UK as another Land Rover rival. Is it any good? 
Matt Prior tests the rough-road-ready Lamborghini Huracan Sterrato - is it a fitting swansong for Lamborghini's staple supercar? 
We're also driving the significantly revised Porsche Cayenne and drop-top Maserati MC20 Cielo. 
Features 
Piers Ward gets his hands on a Skoda Slavia saloon and travels from the streets of Mumbai to Skoda's Pune factory 80 miles away. Along the way, he'll attempt to find out what the lucrative Indian market has in store for the Czech firm. 
Next, we meet Akio Toyoda's successor - the former Gazoo Racing and Lexus boss Koji Sato - to find out more about this 53 year-old charged with running the world's largest car maker at the most pivotal point in its history. 
A Glasgow-based start-up is generating demand for its new Defender-style EV - the Munro. Charlie Martin meets the team behind this rugged, utilitarian sheepdog.
Opinion
Matt Prior looks into the nuances of memory and why he believes making and fixing things is more satisfying, memorable and useful than simply reading about them.
Steve Cropley has a go in the latest Jeep Wrangler Rubicon, joins the Green Lane Association and explains why some motor bosses are better at expressing words than even the best journalists. 
Used
Jack Trethewey takes a look at the iconic Jensen Interceptor to find out how this thundering V8 coupé performs as a used purchase. 
Where to Buy
Never miss an issue – subscribe to Autocar magazine today.
Autocar magazine is available through all good newsagents. You can also buy one-off copies of Autocar magazine from Newsstand, delivered to your door the morning after.
Digital copies can be downloaded from Zinio and the Apple iTunes store.
https://www.autocar.co.uk/car-news/this-...y-sale-now