08-06-2023, 12:38 PM
Autocar magazine 2 August: on sale now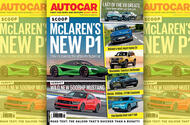 McLaren plots electric hypercar, we drive the Fisker Ocean and Toyota reveals new retro Land Cruiser
This week in Autocar, we detail McLaren's electric hypercar plans, drive the new Fisker Ocean and much more. 
News         
McLaren is creating an electric hypercar as a mightily powerful successor to the P1. The firm will advance its battery technology to clear the path for Woking to develop a pure-electric halo model. Find out all the details in this week's Autocar.
The ageing Toyota Land Cruiser has been reborn as a more upmarket Jeep and Land Rover rival! We've got pics and specification details in this week's issue.
Meanwhile, Pininfarina has revealed a new luxury SUV concept which it hopes will form a three-strong line-up of electric cars in the coming years.
Reviews
Fisker's first production model has finally hit the road. We find out if the Fisker Ocean can shake up the established order with a Europe-friendly blend of style, sustainability and innovation.
Honda's first electric SUV has arrived. The new e:Ny1 looks to take on the mighty Tesla Model Y and the Toyota bZ4X - Jack Warrick finds out if it can cut the mustard. 
But it's not all about electric SUVs - the Ford Mustang is back, this time sporting a new Dark Horse name with a powerful V8. It's as mighty as you'd expect… 
Features
There are three front-engined, rear-driven, V8 sports cars left on sale in the UK for less than £100,000. Matt Saunders finds out which we will miss the most and why. 
Plus, Felix Page heads to Lake Como to see whether the Hyundai Ioniq 6 is proof that aerodynamically honed electric cars can be interesting to look at. But can this new executive EV rub shoulders with priceless collector classics?
Opinion
Matt Prior finally gets a turn in an Ineos Grenadier and the rugged SUV's esteemed qualities, and chats the Rolls-Royce Spectre.
Steve Cropley has noticed some rattles in his Dacia Duster, and he's also got a car involved in a Cornish hillclimb. And, good news! He's finally sold his Volkswagen California. 
Used
John Evans explores the fourth-generation Honda CR-V and why this hard-working SUV might suddenly become a very strong performer in the used car market.
https://www.autocar.co.uk/car-news/this-...t-sale-now