03-05-2022, 01:41 PM
Autocar magazine 2 March 2022: on sale now
This week: Aston's new baby Valkyrie, BMW iX road test, Model Y in the UK and more
Aston Martin is preparing to reveal an entry-level supercar with a mid-mounted V8 to take on Ferrari's new 296 GTB.
The third addition to the marque's mid-engined supercar line-up will follow the Valkyrie hypercar and V8-powered Valhalla due in 2024, and is set to rely on Mercedes-AMG power rather than the Aston-built V6 originally conceived before Lawrence Stroll took over as Chairman.
Pick up this week's issue of Autocar for exclusive details on what to expect from the upcoming model.
News
We got our first look at the all-new Morgan Super 3 this week. The reimagined three-wheeler uses a monocoque chassis and is powered by a naturally-aspirated Ford 3-cylinder engine, with design cues taken from the jet age rather than Morgan's traditional pre-war aesthetic.
We also bring news of Genesis' plan to launch seven new EVs before 2030, including performance variants of upcoming models, and get an early look at the next-generation Porsche Panamera courtesy of new images from our spy photographers.
Then in the business section, we speak to Mazda UK boss Jeremy Thomson about the firm's new model blitz, find out how an EV-focused start-up is hoping to disrupt the tyre industry, and ask whether the UK must mine for raw materials as car manufacturers look closer to home for supplies in the EV era.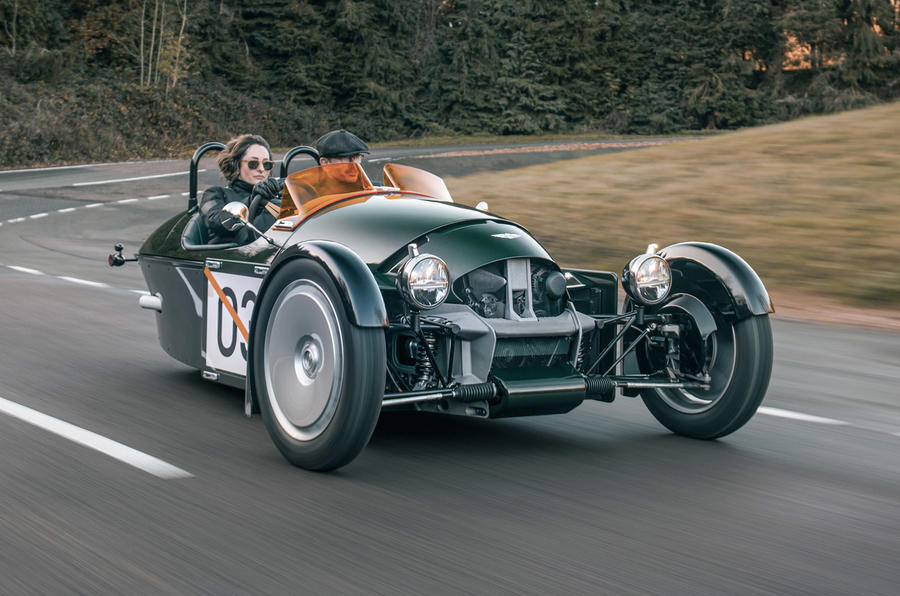 Reviews
This week saw us get behind the wheel of Toyota's first production EV (not counting the limited-series RAV4s built for California in the early 2000s). The BZ4x is a RAV4-sized crossover that promises off-road capability and competitive performance - but with a homologated range figure yet to be revealed, could a stint in a prototype impress our test team?
We also finally got the long-awaited Tesla Model Y in right-hand drive form. The electric SUV has been on sale in the US for several years, but deliveries are only just beginning for us Brits. Was it worth the wait?
The DS 9 E-Tense 360 shows what the French firm can do when stepping away from a luxury brief and leans more towards a performance focus, with help from a dual-motor PHEV powertrain influenced by Formula E. We also drive the Ford Maverick for the first time to see whether North America should take notice of Dearborn's smallest pick-up truck, and try the facelifted Volkswagen T-Roc for the first time.
Then it's the turn of the BMW iX to enter the Autocar road test. With a luxury brief and undeniably potent performance, it takes the fight to the Mercedes EQS, Tesla Model S and Porsche Taycan, albeit in SUV form. 
Features
According to its maker, the McLaren GT is a true everyday supercar, one you can use for all tasks and for taking on long road trips. What better way to test that claim than to literally spend 24 hours in one?
We also pay a visit to Nissan's Sunderland factory, which is marking 25 years of production with an electrified 'Newbird' restomod. We learn what life was like for Nissan's workers while the Bluebird was first rolling off the line. Then it's over to Hethel for a sit-down with Matt Windle, Lotus managing director, to discuss his life in twelve cars.
Finally, we find out what Cupra has to gain from a second season in the Extreme E electric off-road racing series. While the entrants may be bespoke creations, there's still lineage to the firm's road cars.
Opinions
Electric hypermiling, or the concept of taking an EV far further than its battery should typically allow in everyday driving, is nothing new - but this week's record-breaking attempt to cross the USA with as little time spent charging has got Matt Prior thinking.
Elsewhere, Steve Cropley pays a visit to the British motor museum to get up close and personal with a BRM P15 in all its 16-cylinder glory, and considers how our driving styles have rapidly changed with the arrival of EVs. 
Deals
Having been developed in secret before given the green light, the BMW Z3 M ended up being one of the lowest-volume production cars the German firm ever made - and in coupé form, is something of a unicorn. We cast our net wide for this week's cult hero, showing what potential buyers should look out for whether they're after a roadster or the clownshoe hard-top.
Our used car expert also turns his attention to the Honda Accord, always a bangernomics favourite, and the Seat Leon is the subject of our nearly-new buying guide. The fourth-generation family hatchback can be has in numerous forms, and all for less than retail if you shop around.
Where to buy
Never miss an issue – subscribe to Autocar magazine today.
Autocar magazine is available through all good newsagents. You can also buy one-off copies of Autocar magazine from Newsstand, delivered to your door the morning after.
Digital copies can be downloaded from Zinio and the Apple iTunes store.
https://www.autocar.co.uk/magazine