06-22-2022, 07:00 PM
Autocar magazine 22 June 2022: on sale now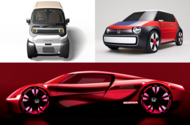 This week: BMW M3 Touring finally revealed, your complete Goodwood preview and more
Need to get the kids, the dog and the kitchen sink somewhere really, really fast? You're in luck: the BMW M3 Touring has finally been revealed.
Could this be the hot hauler we've been calling on for years? It heads up our special issue to celebrate 50 years of BMW's M performance division. 
News
The BMW M3 Touring is making its long-awaited world debut at the Goodwood Festival of Speed this week.
And speaking of Goodwood, if you're heading to West Sussex this weekend (23-26 June), be sure to take us with you, as in this week's mag you can see all the cars to look out for as part of a handy guide, from the Mercedes-AMG One to the Renault 5 electric concept.
Elsewhere, the new Peugeot 408 SUV has been revealed, Ferrari maps out its electric future, and we take a look at the current fuel crisis amid calls for the government to lower duty tax.
Reviews
The sun's out, so we've jumped into a convertible, and not just any. This week we test Maranello's newest addition: the Ferrari SF90 Spider. No spoilers, but it's quick. Very quick.
We've also driven the Electrogenic Mini Cooper, the Citroën ë-C4, and the Nissan Juke Hybrid.
Our road test this week is the Chevrolet Corvette. We put the American beast – the first-ever mid-engined version – through its paces, and see if it can truly be a great on UK roads. 
Features
2022 marks 50 years of BMW M, so to celebrate the occassion we've been on a road trip taking in legends of M's past and future, speaking to its founder, watching the division race at the 'Ring and nosing around its HQ.
As part of a 20-page special, we also round up our dream M cars, our favourite M memories and M's motorsport successes.
Opinions
Matt Prior has a look at the new details surrounding a comeback for the dune buggy, and ponders whether some cars really are more suited to being EVs.
Speaking about electric cars, Steve Cropley has been in a lot of them this week, and reports back about his good – and not so good – experiences.
Used cars
The Ford S-Max heads up our used section this week, starring alongside the Mazda MX-5 and the Fiat Punto
Meanwhile, the Bristol 411 is this week's cult hero, while the Renault Kadjar is our pick of the nearly new bunch.
Where to buy
Never miss an issue – subscribe to Autocar magazine today.
Autocar magazine is available through all good newsagents. You can also buy one-off copies of Autocar magazine from Newsstand, delivered to your door the morning after.
Digital copies can be downloaded from Zinio and the Apple iTunes store.
https://www.autocar.co.uk/magazine