08-27-2023, 07:18 AM
Autocar magazine 23 August: on sale now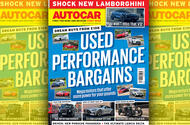 In Autocar this week...
Lamborghini's shock new EV, discovering what the best-handing EV is, and road testing a black cab
This week in Autocar, we have all you need to know about Lamborghini's shock new EV, find out what the best-handing EV is and road test a black cab.
News
Lamborghini's long-awaited EV is here, and it's a dramatic four-seat GT called the Lanzador. From technical details to exclusive comment from the brand's CEO, we cover it all.
Mercedes-AMG, meanwhile, has launched the second-generation GT, taking aim at the Aston Martin Vantage and Porsche 911 with a car that the company's CEO said "responds to the wishes of customers".
Bentley has partnered with miniature vehicle specialist The Little Car Company to create an 85%-scale electric replica of the fabled Bentley Blower from 1929 - we find out more about the £108,000 replica.
Reviews
Porsche's era-defining Panamera has been given a smarter look, the promise of sharper dynamics and yet better powertrains - we head to Barcelona to test a prototype.
The Lamborghini Huracan Sterrato marks the end of the breed for Lambo's V10 baby, but is an orange-liveried dune-destroyer a cynical way to sell an end-of-line supercar or the best version yet? You may be surpirsed...
Jaguar may have beaten its German rivals to develop a credible EV with the I-Pace, but an facelift has been long in the tooth - Illya Verpraet drives the new car to find out if it can still cut the mustard.
We're also testing the (very pink) Porsche 718 Cayman Style Edition and, for road test 5638, we've got a black cab to find out what it's like for the non-veteran cabbie.
Features
How do you bag 500bhp for less? Richard Bremner finds out which cars give you the most bang for your buck, from the V10-powered Audi RS6 Avant to the Nissan GT-R.
The Bentley Continental GT turns 20 this year, and the British firm threw a bit of a garden party. James Attwood attends to reminisce and drive three of the best-known Conti's.
Restomodding firm Maturo's take on the Lancia Delta Integrale is a Group A rally car designed for the road and made better - Matt Prior takes it for a spin.
Opinion
Matt Prior looks into the demise of the Ford Fiesta, his unrequited love for his Africa Twin bike, and offers a word of caution if you're considering buying into a model you think is rising in value.
Steve Cropley pays a visit to the Ariel Motor Co HQ and has a go in its new Hipercar, has an optimistic software glitch in his Bentley, and finds out about a novel new trick from our photographer Max Edleston.
Used
John Evans takes a closer look at the Nissan Micra 160SR and why this 108bhp supermini might just be worth your investment.
https://www.autocar.co.uk/car-news/this-...t-sale-now