06-01-2023, 09:44 PM
Autocar magazine 31 May: on sale now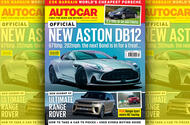 This week in Autocar magazine...
Aston Martin DB12 revealed, Pembleton T24 road tested and BMW's M3 Touring vs the Range Rover Sport
This week in Autocar, we reveal the successor to the Aston Martin DB11, test the Pembleton T24 and find out what the BMW M3 Touring has in common with the Range Rover Sport. 
News 
Aston Martin's new era is kicking off with the new DB12 - a front-engined 671bhp sports car touted as "the world's first super tourer". We find out more about its radical tech changes, inside and out.
The Range Rover Sport, meanwhile, is getting a hot SV edition with 626bhp, making it the fastest and most powerful production Range Rover yet. 
Kia will also launch a pair of smaller electric cars as it ramps up production of its bespoke EV-branded model range.
Vauxhall's new electric Astra represents "almost the last piece in the jigsaw" in the firm's electrification push, with the family hatch setting the tone for the brand's reinvention. 
Reviews
We take the Pembleton T24 for a drive, a hand-built vintage tourer weighing just 361kg. We find out why it manages to be both a pre-war restomod and a Morgan Super 3 with an extra wheel.
The Honda Jazz has just gained a Crosstar specification, adding an upgraded motor and engine to the hybrid powertrain -  Kris Culmer finds out if it adds anything to an already competent hatchback.
Matt Saunders also takes a drive in the Volkswagen Amarok, Will Rimell goes out in the Vauxhall Astra GSE and for road test 5626, we're in the BYD Atto 3. 
Features
What does a Range Rover have in common with the BMW M3 Touring? 40 years ago, such a question would have been inconceivable. Now, however, we find out what real-world parallels and differences we can draw between these two high-powered, nimble performance cars.
John Evans visits the salvage yard of Charles Trent Ltd to find out more about 'deproduction' - a surgical nine-step process of dismantling cars at the end of their lives. 
Have you always wanted an exotic performance car but never had the funds? Well, from a £5500 Porsche Boxster to a £38,000 Ferrari Mondial - the two cheapest of each type on sale - Richard Bremner goes through their perks and pitfalls as a used buy.
Kia's design strategy, named Opposites United, has won the Korean brand a crop of awards and high-praise from customers and critics - Felix Page talks to its creative chief, Karim Habib, to dissect its nuances and what it actually means. 
Opinion
Matt Prior gets to meet his hero thanks to a loyal reader - the Alfa Romeo SZ - and gives us some insight into his love for the V6 Italian performance coupé. 
Steve Cropley takes great delight in meeting people who are even crazier about cars than he is, surveys the used car bargains of southern England and bids a sad farewell to his trusty Vauxhall Astra long-term car. 
Used
The Lotus Evora is a sublime sports car that you can use every day, but does that mean you should buy one second hand? Mark Pearson takes a look. 
Where to Buy
Never miss an issue – subscribe to Autocar magazine today.
Autocar magazine is available through all good newsagents. You can also buy one-off copies of Autocar magazine from Newsstand, delivered to your door the morning after.
Digital copies can be downloaded from Zinio and the Apple iTunes store.
https://www.autocar.co.uk/car-news/this-...y-sale-now