08-14-2023, 12:11 PM
Autocar magazine 9 August: on sale now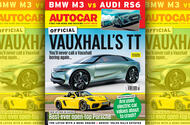 This week in Autocar...
Vauxhall's radical Experimental concept, driving the best-ever open-top Porsche, and M3 Touring vs RS6
This week in Autocar, we reveal Vauxhall's Audi TT, find out why the Porsche 718 Spyder RS is the best-ever open-top Porsche, and pit the BMW M3 Touring against Audi's bahnstorming RS6.
News
Vauxhall has revealed the bold new face of its all-electric future with the sleek Experimental concept. Previewing how the brand's design signatures will evolve as it gears up for electrification by 2028, we offer all you need to know.
Abarth is preparing the warmed-up 600 EV in the lightest expansion from Italy's best-known tuner. The crossover will follow the 500e hatchback as Abarth's second electriccar.
Meanwhile, Renault will differentiate itself from "anonymous" and "cold" stablemates by turning to retro design for its upcoming EVs, with lines sketched from Luca De Meo's "irresistible" desire to reinvent the classics.
It's the end of the line for Volvo's estates - despite the Swedish firm's illustrious history of charming bricks, it's going SUV-only from now on.
Reviews
The sports car maestros at Lotus have given the Emir a state-of-the-art I4 engine from Mercedes. As the last ICE car from the British marque, is it a fitting send off?
Speaking of send-offs, Porsche has launched the 718 Spyder RS as the last petrol model on its mid-engined platform and its first open-air purist's car since the Carrera GT. We find out why it's unforgettable.
We're also driving the hybrid-powered Ford Puma ST Powershift, facelifted Volkswagen ID 3 and the Abarth 500e.
Features
The Audi RS6 is the performance estate godfather, but now the BMW M3 has muscled in on its turf - Matt Saunders pits the two heavyweights together to find out who comes out on top.
Damien Smith heads to Oulton Park to meet Will Powell - an ex-Autocar road tester-turned-BTCC racing driver. We find out just how tough life as a racing driver can be. 
Richard Lane explores the madness of Pininfarina's 1876bhp fighter jet on wheels and visits the workshop behind the world's first electric supercar to market.
Opinion
Matt Prior becomes the envy of his colleagues and takes brief ownership of a Series 1 Lotus Elise - a car which he is devout to in every sense of the word.
Steve Cropley goes to the Festival of the Unexceptional as one of the judges before looking into his next 'unexceptional' motor. He also predicts who will be the next greatest car designer who ever lived and takes a spin in the Ford Puma ST Powershift.
Used
How does a V12 Aston Martin DB9 for the price of an average-mileage, four-year-old, Mk7.5 Volkswagen Golf GTI Performance sound? John Evans explores.
https://www.autocar.co.uk/car-news/this-...t-sale-now