02-02-2023, 12:32 AM
Autocar product test: What car cover is best?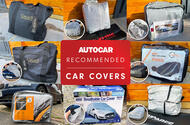 Car covers protect your vehicle from the elements, but with so much choice out there, we find out which is best
All-weather car covers are a great solution for protecting your car from bird muck, sunlight and more, but there's such a bewildering array out that there we had to put them to the test. 
For a start, choosing a car cover is a tricky business. A huge number of them claim to be breathable, waterproof or water-resistant all-weather covers, yet they vary drastically in price and material finish. So can they really all be equal? Well, no. In fact, we will say right now that when it comes to car covers, you really do get what you pay for. There are some very recommendable cheaper options but, ultimately, this is a test of two halves, with the pricier covers proving that it's well worth paying more up front if you want a cover that will last well and keep your car protected for years. 
We tested our covers over a number of weeks through autumn winds and showers, judging them for how dry and damp-free our old 2001 BMW 3 Series and 1992 Mercedes SL test cars were, how well air could circulate, and how secure the cover remained despite poor weather.
Best buy - Concours Auto Galactic
Price from: £235
Buy from: Concours
Fitted? Semi-fitted 
This heavy-duty car cover from Concours Auto looks pricey, but it's worth the cash. It feels extremely high quality. The heavy polyester material is dense and the heat-sealed seams promise great waterproofing and resistance to tearing. It fitted our E46-generation BMW 3 Series very well, draping the car nicely while still leaving enough room for air to circulate easily. Water beads and rolls off the material very easily, leaving the car's bodywork feeling dry to the touch and free of mould-inducing clamminess even when water did sit on the cover for long periods. Securing straps are provided that clip onto the cover and secure it beneath the car's bodywork, but they can be removed so that they don't get blown around and potentially damage the car if you don't want them on. An extra middle eyelet is ideal for fitting a locking underbody kit (£9.95 from Concours Auto or you can buy separately). It's also a welcome relief that the cover fits back into the provided storage bag easily, saving the need for the two-person endurance team that was called for when trying to return other covers to their carryalls. 
Autocar says: 5 stars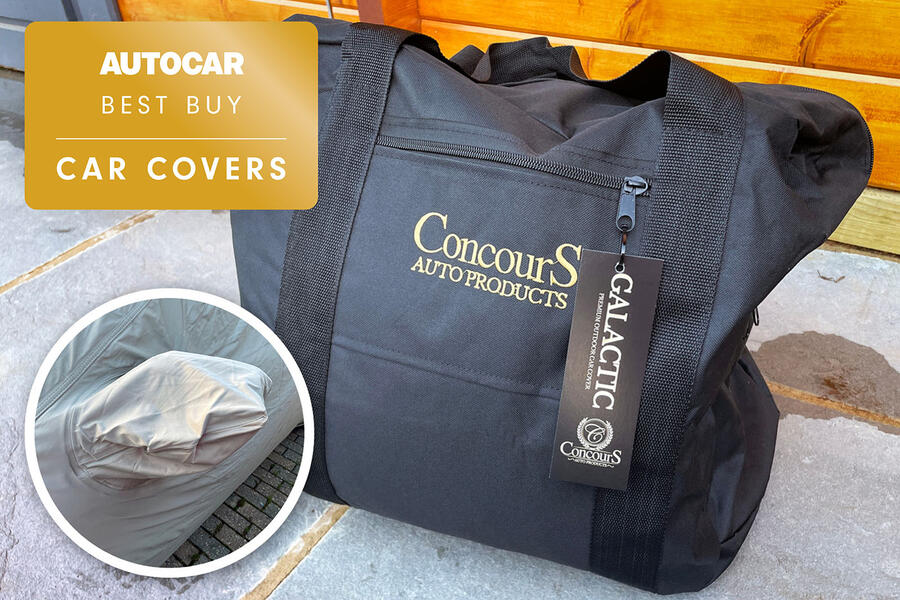 Recommended - Halfords 
Price: £53.99 - £66.99
Buy from: Halfords
Fitted? No
The Halfords cover is our pick of the budget car covers by a huge margin. Despite being reasonably low price, the material feels durable enough to stand up to poor weather and stronger winds, and it provided good protection from heavy rain and cold, dewy mornings throughout our test. It fitted our car fairly well, has three straps to keep it secure, and the soft, fleecy lining promises to be kind to your paintwork. It's not as good as the pricier covers from Moltex and Concours Auto that we'd recommend if you want a long-lived cover, but for the money this is a great option - even if it is a pain to get back in the case.
Autocar says: 4 stars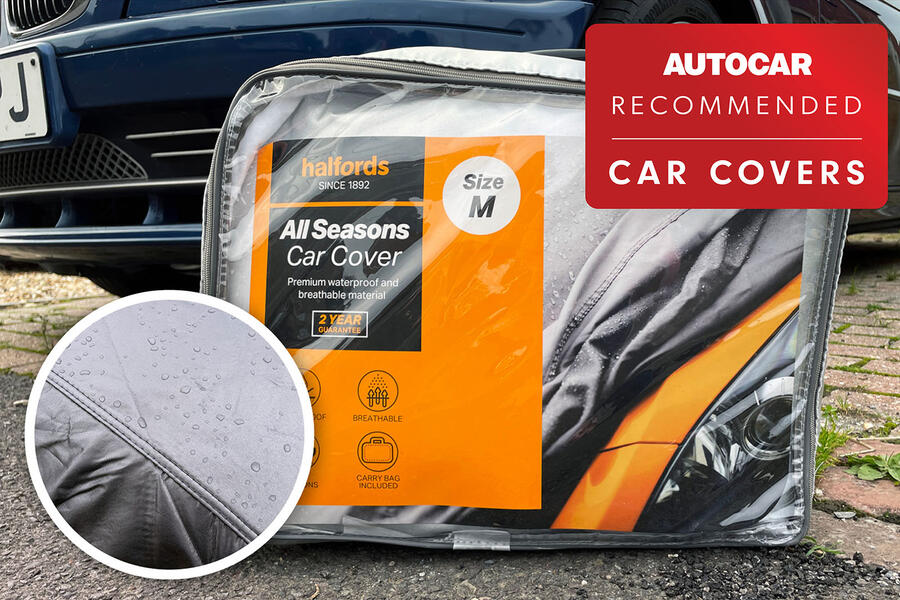 Concours Auto Eclipse
Price: £136.50 - £183.95
Buy from: Concours
Fitted? Semi-fitted
This is a more affordable option from the Concours Auto range, but this cheaper, four-layer polypropylene cover still feels dense and durable. It has double-stitched seams, a couple of removable straps and an additional set of heavy-duty eyelets that's ideal for a locking kit. It fit our test car fairly well. As with most good-quality cover providers, you put your car details into the site to get the correct cover for your vehicle. It's baggy compared with the Galactic but still fits well enough to look tidy yet offer lots of air circulation.
Autocar says: 4 stars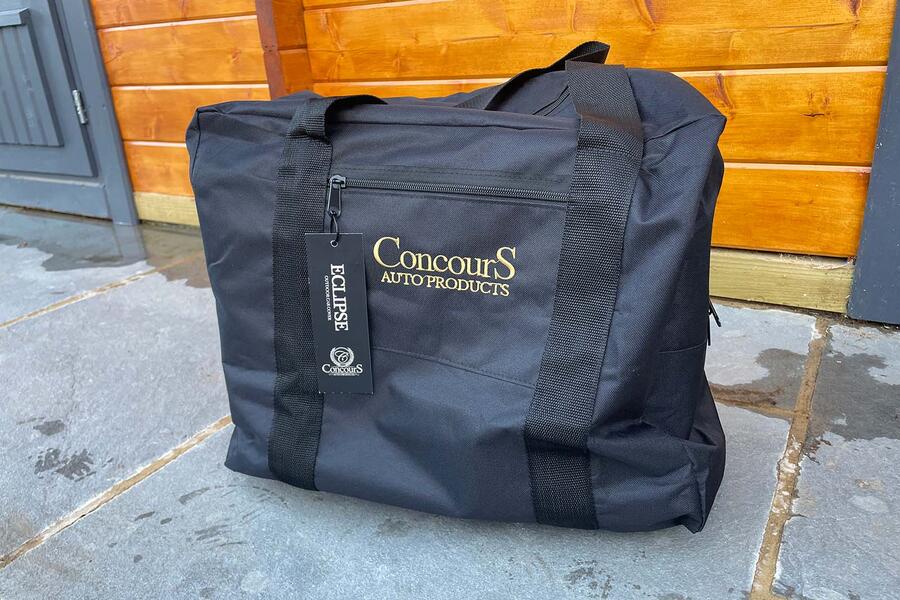 Moltex car cover
Price: £185 - £235
Buy from: Hamilton Classic
Fitted? No
This five-layer cover has a soft, fleecy inner lining that promises to cosset your car's paintwork. Double-stitched seams, heavily elasticated corners, removable straps and a reinforced eyelet for an additional strap or locking kit are also useful features. The Concours Auto Eclipse has an extremely similar perceived level of quality and protection, but the Moltex wasn't as easy to fit back into its storage bag and is pricier, which are the only reasons that the Eclipse beat the Moltex here - and it only did so by a whisker. Overall, the Moltex is a very effective and recommendable cover that kept our car dry and free of condensation or moisture. 
Autocar says: 4 stars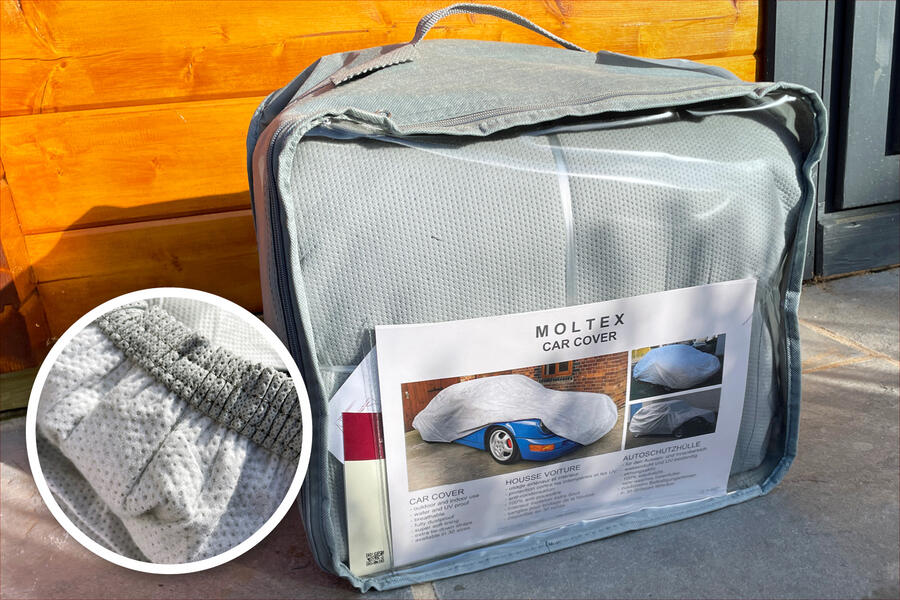 Kayme 6 Layers car cover
Price: £57.96 - £59.96 
Buy from: Amazon
Fitted? No
All of the cheap, Amazon-based car covers that we tested had the sense that they wouldn't last long, but the Kayme is the best of a mediocre bunch. The seams and material feel of a reasonable quality, and it has a couple of sewn-in straps, reflective highlights and a zip that allows access to the car without taking the cover off, which is a convenient feature yet not ideal if you're precious about the paintwork because the zip could potentially scratch the car. We're not sure about the six-layer material claims, as the Kayme certainly doesn't feel that hefty at all. The Halfords cover feels denser, and also proved more waterproof. The Kayme is adequate as a temporary cover or for a less precious car, though, and it's also offered in a wide variety of sizes.
Autocar says: 3 stars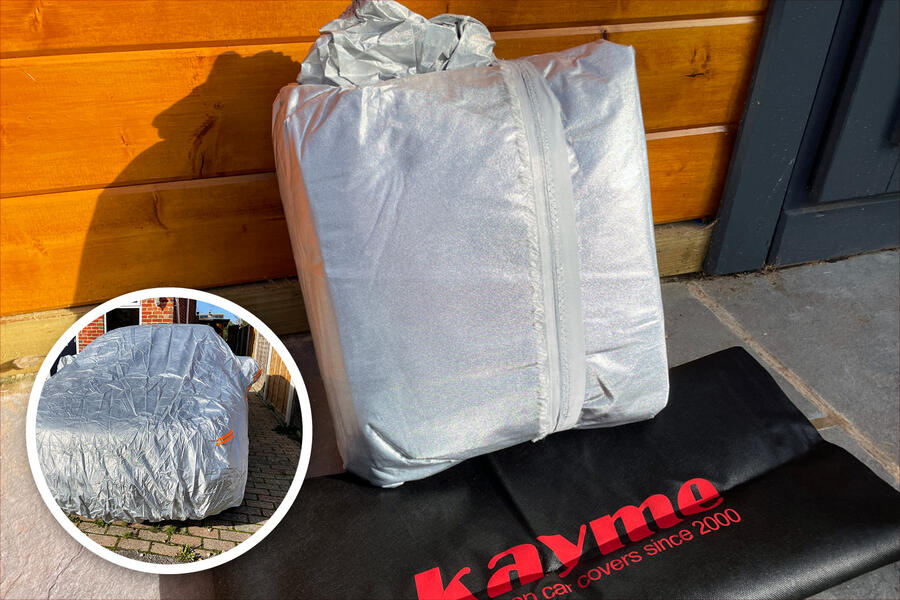 Maypole 9861 car cover
Price: £19.31 - £24.99
Buy from: Amazon
Fitted? No
The Maypole car cover is similar to the MP Essential in that it is water resistant rather than waterproof, but it is advertised as an all-season outdoor car cover. Predictably, that's a misleading claim and, actually, the material is barely even water resistant so will let your car get damp, and then the material can cling to the clammy paintwork. The fit of the cover was reasonable on our old BMW, but none of that matters much given that it doesn't really protect your paintwork from the damp. This could be an indoor dust cover, but it's not suitable for any extended outdoor usage. 
Autocar says: 2 stars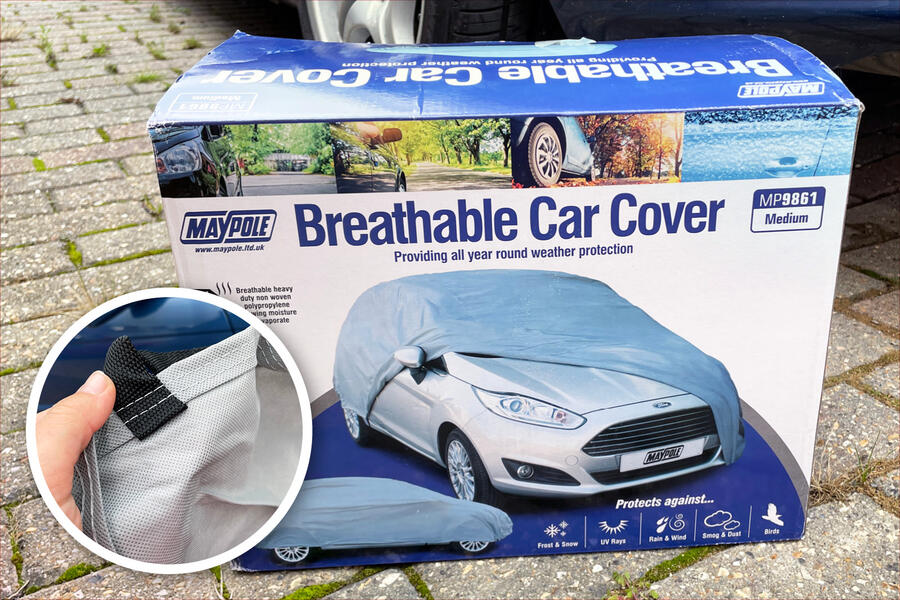 MP Essential
Price: £24.99 - £29.99
Buy from: Amazon
Fitted? No
The MP Essential is very basic, and the seams don't feel bad quality but the shape is very hatchback-oriented and didn't fit our car well at all despite being the right size to fit it, according to the company's advertised measurements. It's described as water resistant rather than waterproof, but it shouldn't be labelled as an all-season cover, given that its own instructions recommend that you "put a blanket or sheet under the cover to absorb condensation." We wouldn't recommend you do that, because it'll do more harm than good and will encourage mould and damp rather than preventing it. Ultimately, this will do as a light dust cover for a car that's kept in a damp-free garage, but nothing more taxing than that.
Autocar says: 1 star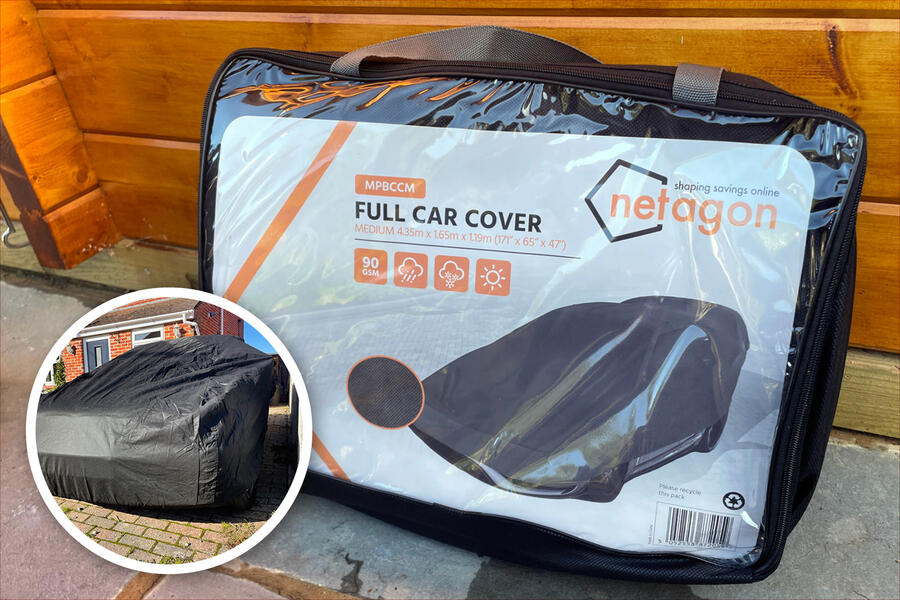 Suparee
Price: £48.99 - £54.99
Buy from: Amazon
Fitted? No
The Suparee would be unforgivably poor quality even if it were the cheapest option here. The seams started to come undone on ours before it had been unpacked, and the thin security straps were barely attached by very loose stitching. The material is thin and feels like it'll tear easily, and it sticks to the car's paintwork when it does get wet. It's similar to the Kayme in that it has reflecting strips, a carry bag and a zip for access to the car, but there isn't the same breadth of sizes available, and the quality is much poorer. You and your car will be better off not using a cover at all. 
Autocar says: 1 star
https://www.autocar.co.uk/car-news/new-p...cover-best