02-23-2023, 08:16 PM
Autocar product test: What is the best alloy wheel cleaner?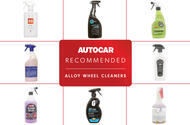 Clean alloy wheels are critical for staving off corrosion, so we tested to find out which one you should buy
Clean alloy wheels are critical if you want your car to look its best and if you want to stave off corrosion and patina over the years. So we've tested nine alloy wheel cleaners to find out which one is best.
A good alloy wheel cleaner should dissolve tough dirt so that you don't have to spend your afternoon grubbing about in the recesses of your wheels with an old nail brush (much as those of us who really enjoy cleaning a car might consider this a meditative and satisfying job). The best cleaners should get into the awkward areas and require minimal effort to get rid of baked-on brake dust and grime, for a brilliant finish without the elbow grease.  
We tested nine off-the-shelf products, including more traditional acidic cleaners as well as some that offer more caustic cleaning of alkaline chemicals. Here we review and rate them...
Best buy - Bilt Hamber Auto-Wheel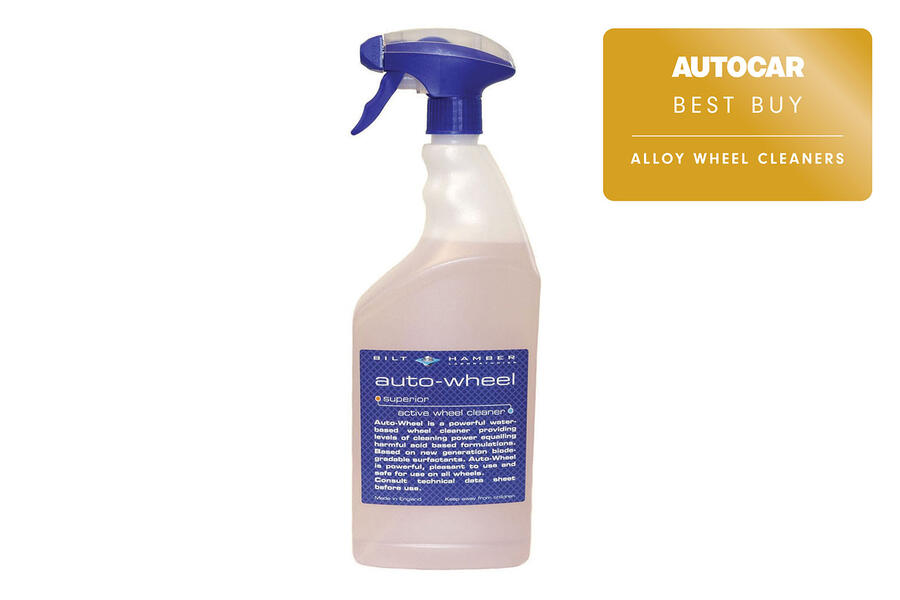 Price: £17.49
Buy from: Amazon 
Autocar says: 5 stars
Volume: 1 litre
UK-based Bilt Hamber has quietly established itself as a car care powerhouse over the past few years, frequently providing class-leading products. Auto-Wheel is one of those, being the best all-round cleaner of the lot here, albeit with some close competition from others in our top three. The safe, pH-neutral brew is peachy to use: just spray it on, wait until it turns red, then rinse it off and dry. We didn't have to scrub or agitate anything; it really does all the hard work for you. And for the volume you get in this bottle, it's not bad value either.
Recommended - Farecla G3 Pro Wheel Cleaner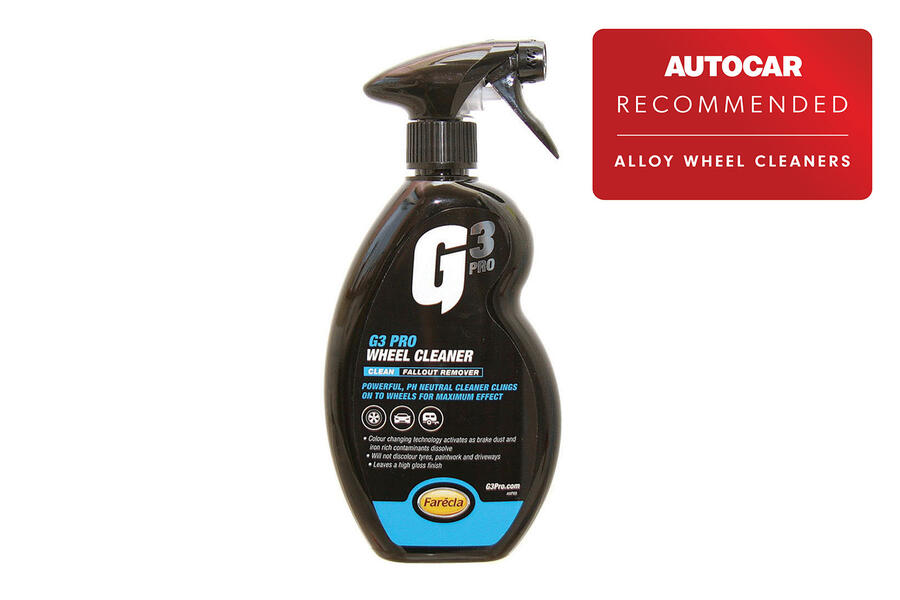 Price: £11.50
Buy from: Amazon
Autocar says: 4 stars
Volume: 500ml 
A bottle of G3 is one of the most expensive cleaners here by volume, but it's still worth it if you really want the best results. Its pH-neutral formula is as safe as a wheel cleaner can possibly be, so even if you get some on adjacent paintwork, it's no bother. As with the other pH-neutral cleaners, the Farecia product turns red when it's ready to be rinsed for a 'touch-free' clean. The results are great, too, with serious cleaning power to leave a satisfying, streak-free and dirt-free finish after a simple spray-and-rinse process.
Best budget buy - Halfords Alloy Wheel Cleaner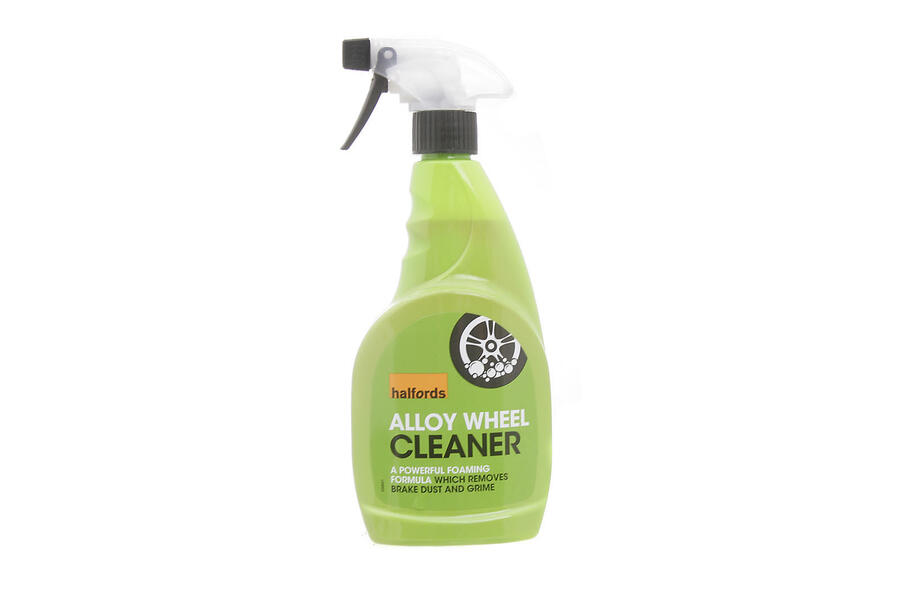 Price: £5.00
Buy from: Halfords
Autocar says: 3 stars
Volume: 500ml
The Halfords cleaner doesn't have the ultimate cleaning power of our favourites, but it's not far off. We had to get in there and agitate the cleaner in a few awkward recesses to get the best results, and you might even need to repeat the clean on very grubby tyres, but the alkaline formula is safe on hands and all wheel types and is kinder to a wheel's underlying metal if it's exposed at all.
Chipex Seeing Red Wheel Cleaner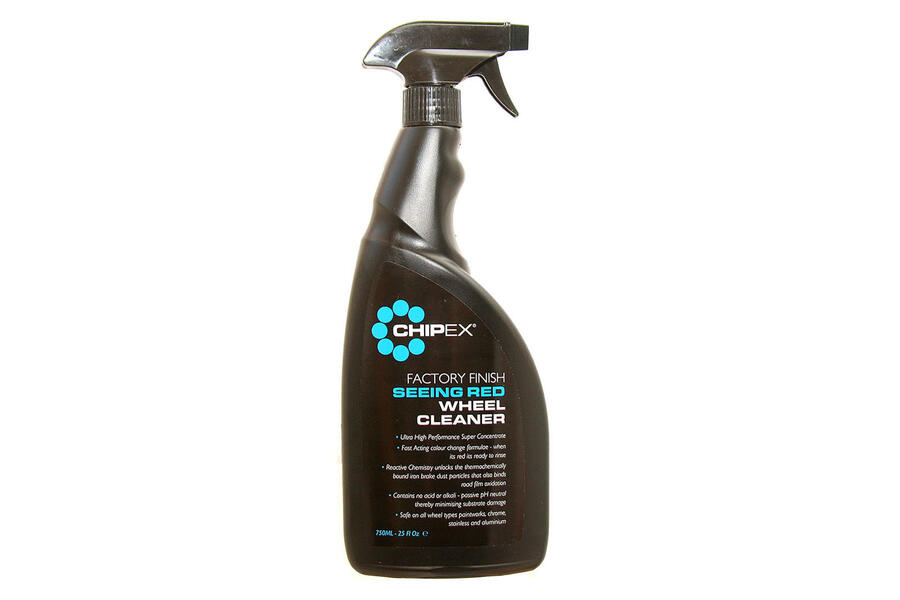 Price: £14.95
Buy from: Amazon 
Autocar says: 4 stars
Volume: 750ml
As the name suggests, the Chipex Seeing Red cleaner turns red when it's ready to be rinsed. The manufacturer states that this pH-neutral cleaner is specifically designed to melt away the iron-dust deposit, and it really does seem to work. It really doesn't need any scrubbing to have even baked-on dust and grime rinsing easily of the wheel's surface and nooks. It's not cheap, but if you don't like to get your hands dirty, this is a great option that's safe for any type of wheel.
Autoglym Clean Wheels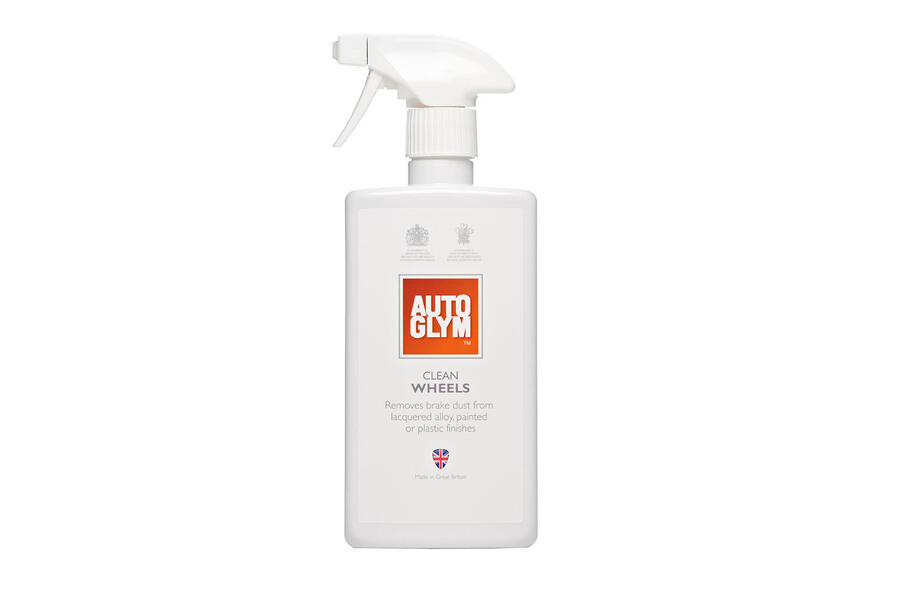 Price: £11.50
Buy from: Amazon 
Autocar says: 3 stars
Volume: 1 litre
These days, acid wheel cleaners are typically from budget brands, but this is an acid-based cleaner from one of the leading names in car cleaning. Clean Wheels is a great cleaner, though, so it's easy to see why Autoglym has chosen to keep it on sale. The mix needs more careful handling than alkaline or pH-neutral cleaners, though, and its use is restricted to lacquered or painted alloys.  
CarPlan Demon Wheel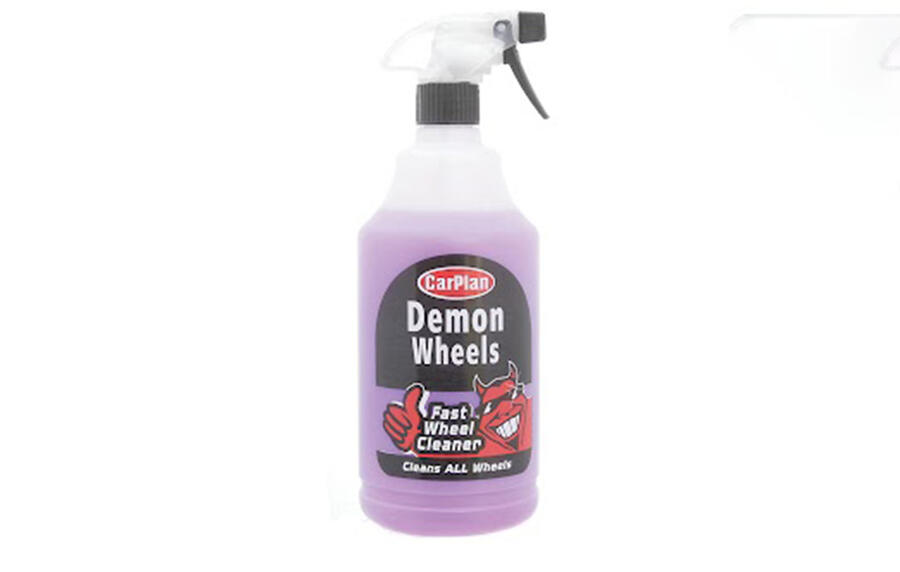 Price: £5.00
Buy from: Amazon 
Autocar says: 3 stars
Volume: 1 litre
Much like the Halfords cleaner, the CarPlan product uses alkaline action to get your wheels shining, but you need to get a bit more hands-on, because it doesn't melt away the dirt quite as easily. Perhaps the bigger issue with this cleaner is that it feels a bit too dry. So we added some water (even though the instructions don't specify to do so), which made the process easier and more effective. It's not the best cleaner here, but it's still effective enough and good value.
Mirror Bright Wheel Cleaner
Price: £12.49
Buy from: Amazon 
Autocar says: 3 stars
Volume: 650ml
This one is hard to classify. It doesn't claim to be pH-neutral but behaves just like it is. It even turns red after a couple of minutes so that you know when it's ready to be rinsed, for the full litmus-test experience. Cleaning wise, you're unlikely to be disappointed, unless you've previously used the Bilt Hamber, Chipex or G3 cleaners, which all have the edge for the overall clean. It's a bit pricey, though, and while the product is safe for all wheels, there's no mention of use on paintwork.
Simoniz Alloy Wheel Cleaner
Price: £6.72
Buy from: Amazon
Autocar says: 3 stars
Volume: 500ml
Acidic cleaners like the Simoniz product are fairly rare now, primarily as they are a harsher chemical cleaner that can only be used on lacquered or painted wheels, unlike more modern alternatives. However, there are benefits, because there's an immediacy to the cleaner's action that newer technologies have no answer for yet, so it's understandable why anyone who is used to this instant cleaning ability might want to stick with it.
Normfest Rimol Gold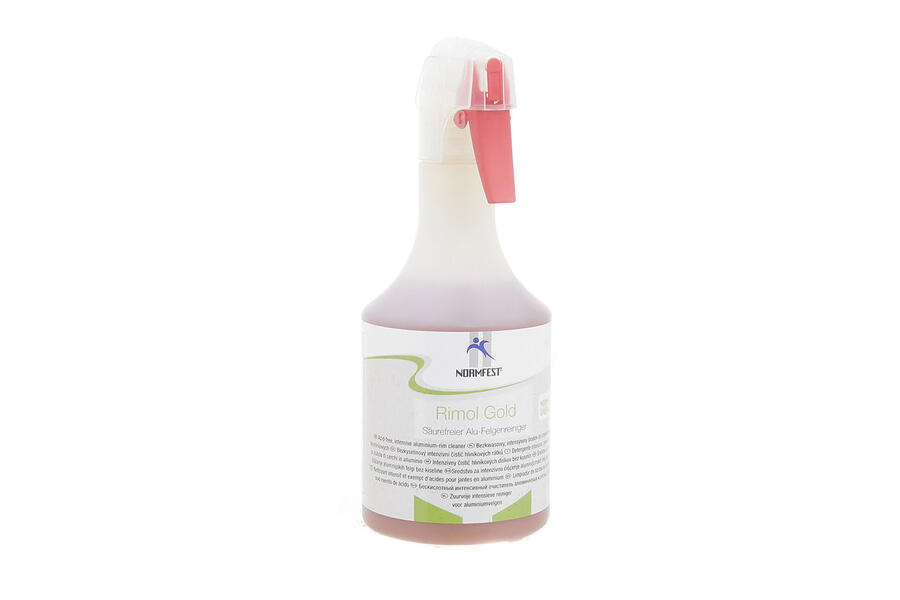 Price: £17.99
Buy from: Amazon 
Autocar says: 2 stars
Volume: 500ml
Rimol Gold is from premium German brand Normfest, and it has a reassuringly premium price. Yet in use, the product it most resembles is Car Plan's Demon Wheels – the cheapest cleaner we've tried – in that it really starts to bite when wetted. As with Demon Wheels, if you use water as part of the clean as well as for a rinse, you will see a better clean. Overall, though, Rimol Gold really doesn't offer any benefit over the others here, so it's very hard to recommend at this price.
https://www.autocar.co.uk/car-news/new-p...el-cleaner