09-04-2023, 03:49 PM
Autocar product test: which tyre inflator is best?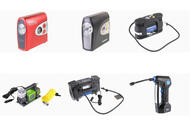 Powered tyre inflators are a useful tool to have on hand, and they've improved a lot in recent years. Here are the top 10…
Powered tyre inflators are no longer the loud, and sometimes outright ineffective devices that they used to be, but there are still a lot out there offering different features across a broad price range. To find out which ones are worth spending your money on, we kicked off by finding out how long each machine took to inflate a 205/55/R16 tyre from flat to 30 PSI.
We factored in how easy each unit was to use and, particularly, whether the wire was long enough to be convenient, and how the air hose was suitable for our needs. Auto-stop, where you select the pressure you want and the inflator stops when it gets there, is the ultimate in ease of use, and deflate buttons are also worthwhile. Finally, we looked at other features including lights and other useful emergency- or domestic-use functions that can make these inflators useful for more than just sorting out your tyres.  
---
1. Ring RTC6000 BEST BUY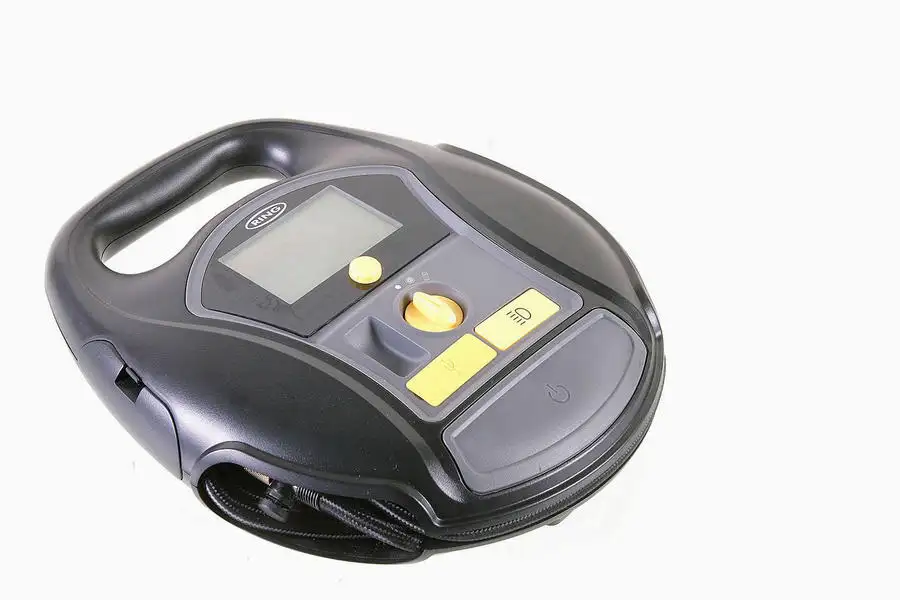 Price: £59.99
Buy from: www.ringautomotive.com
Contact: 0113 213 2000
Web: www.ringautomotive.com

Inflation test time: 2min 15sec
The RTC6000 isn't the fastest here at our flat-to-full tyre inflation test, but it's only 20 seconds behind the two more rapid options here, and we'd argue that you save more time than that thanks to the cordless aspect, so you don't have to faff about plugging it in. In many ways, this is the Halfords Rechargeable model perfected. It's smaller, faster, comes with a smart storage bag, offers a leisure inflator/deflator for air beds and the like, and has a deflate button. Best of all, it has the same foolproof simple control system and display set-up that we liked so much on the Ring RAC830. Overall, it's super easy to use, quick and effective at pumping up a tyre, and small enough to be easy to store.
Autocar says 5 stars
---
2. Wolf Glovebox Genie - BEST BUDGET BUY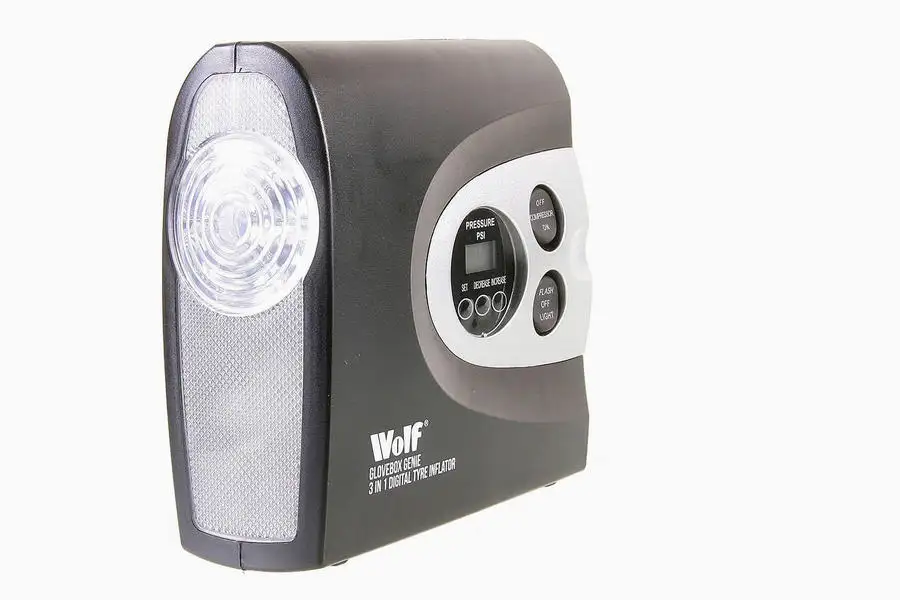 Price: £32.98
Buy from: www.amazon.co.uk
Contact: 0330 123 0001
Web: www.ukhs.tv
Inflation test time: 3min 20sec
The Glovebox Genie is the third device that's clearly related to the Sakura SS5332/Sealey MAC01, and this is definitely the best of them. Price wise, it's not much more expensive than the Sakura and is usefully cheaper than the Sealey yet, performance wise, it's only 25 seconds behind the Sealey's brisk test result. Although there isn't a deflate button, the Glovebox Genie has a digital gauge, auto-stop and a screwed valve coupling. The power lead is a touch shorter than many, but that's the only compromise to worry about.
Autocar says 4 stars
---
3. Sealey MAC01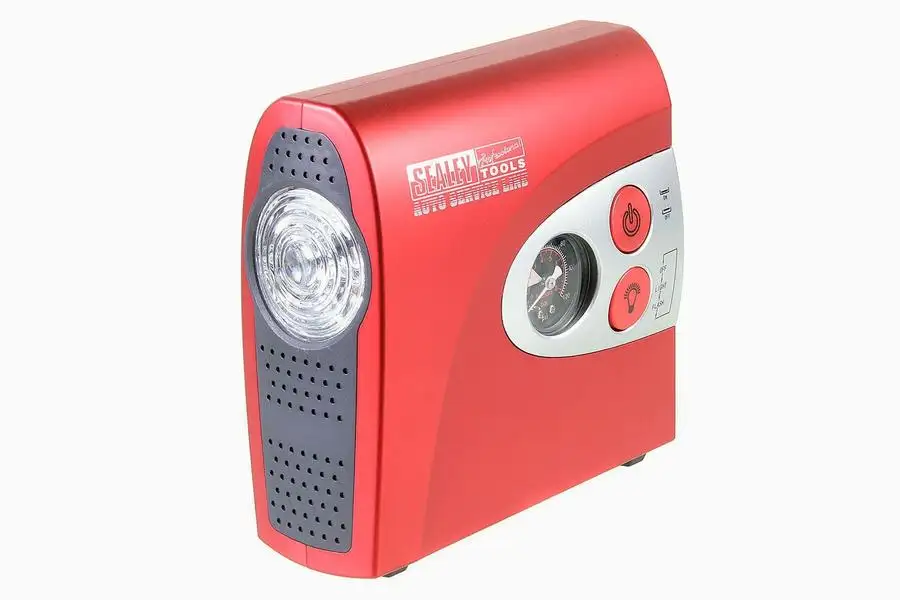 Price: £40.08
Buy from: www.amazon.co.uk
Contact: 01284 757500
Web: www.sealey.co.uk
Inflation test time: 2min 55sec
It's not difficult to spot that this unit and the Sakura share the same casing, but the similarities end there. The MAC01 has a smoother note that suggests that different parts lurk inside, and it's no shock that it took two minutes less than the Sakura to inflate our test tyre. Speed is the only advantage the MAC01 has over the two, though, as we favour the Sakura's digital gauge and auto-stop to the Sealey's analogue dial. The MAC01's lever-type valve coupling is primitive compared to the Sakura's screw coupling and deflate button.
Autocar says 4 stars
---
4. Sakura SS5332

Price: £29.80
Buy from: www.amazon.co.uk
Contact: 01488 689400
Web: www.saxon-brands.com
Inflation test time: 5min 10sec
The Sakura is barely any bigger than the dinky Michelin Top-Up yet, impressively, it has enough power to inflate most tyres from totally flat. The 5min 10sec taken to blow up our test tyre, though not terribly rapid by the standards of some others here, was rapid enough and well within the 15-minute duty cycle of the Sakura. They haven't skimped on the extras either; there's a digital display, auto-stop, a deflate button and both the power lead and air hose are decent lengths.
Autocar says 4 stars
---
5. Michelin Programmable Superfast 4x4/SUV Digital Tyre Inflator - RECOMMENDED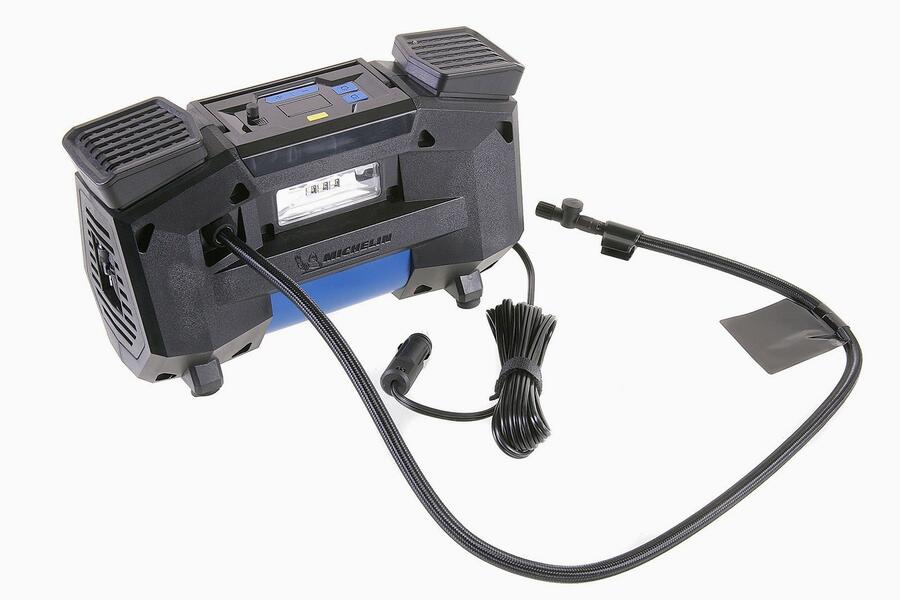 Contact: 0800 731 4973
I
nflation test time: 1min 50sec
This is the fastest inflator here, and it comes with a conveniently long, 3-metre power lead, an 85cm air hose, screw-on valve coupling and auto-stop, so it really is impressively easy to use. Sorting out over-inflated tyres accurately is easy with the deflate button, too. There's even a tiny rubber protrusion to place the removed tyre valve cap on so that you don't misplace it while you inflate the tyre.  
Autocar says 4 stars
---
6. Ring RAC830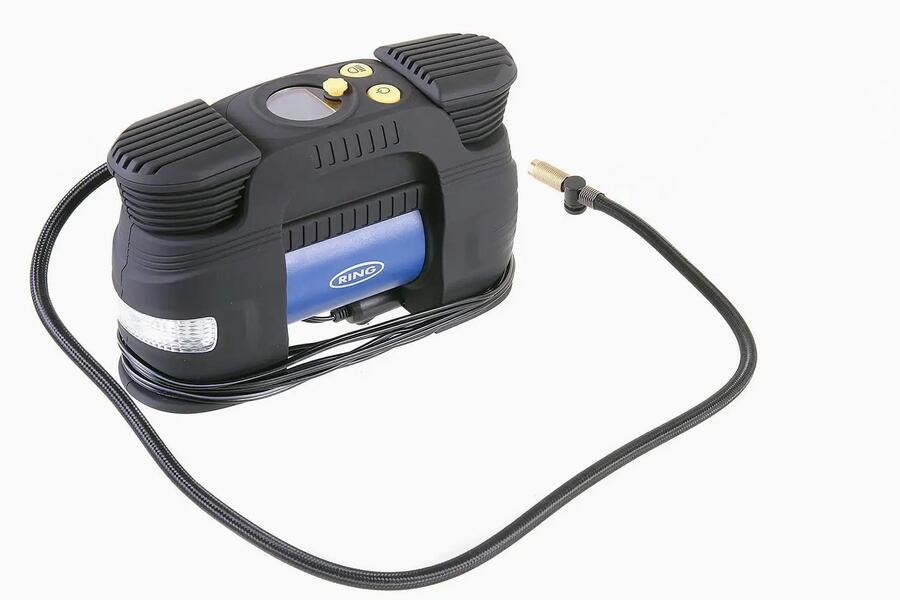 Price: £79.00
Buy from: www.amazon.co.uk
Contact: 0113 213 2000
Inflation test time: 1min 52sec
The Ring lost the inflation speed test here by only two seconds to the Michelin Superfast, but in almost every other way there's almost nothing to choose between the two models. The large display shows actual pressure as well as target pressure, and a single rotary dial is used to set the target level. It allows you to toggle through PSI, Bar and other units, or twist it to set the pressure you want. Simple, and effective. 
Autocar says 4 stars
---
7. Sealey MAC04D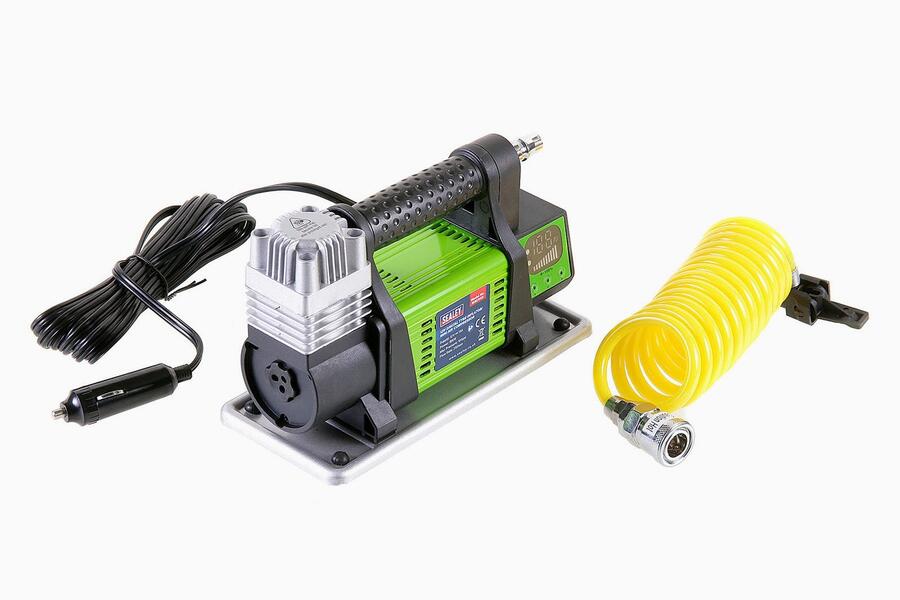 Price: £76.50
Buy from: www.amazon.co.uk
Contact: 01284 757500
Web: www.sealey.co.uk
Inflation test time: 4min
The Sealey tyre inflator gets the bulk of the basics right, but often in an unusual way. The generous 5m cable means the device can be positioned right next to the tyre, making the 2m air hose actually a little excessive. We like the digital gauge and auto-stop, but pressure is in PSI only, unlike with all the other units here that also offer BAR. The gauge also only shows target pressure rather than actual pressure, while a less precise bar display shows inflation progress. Our final complaint is the old-fashioned lever-type tyre coupling.
Autocar says 3 stars
---
8. Draper 20582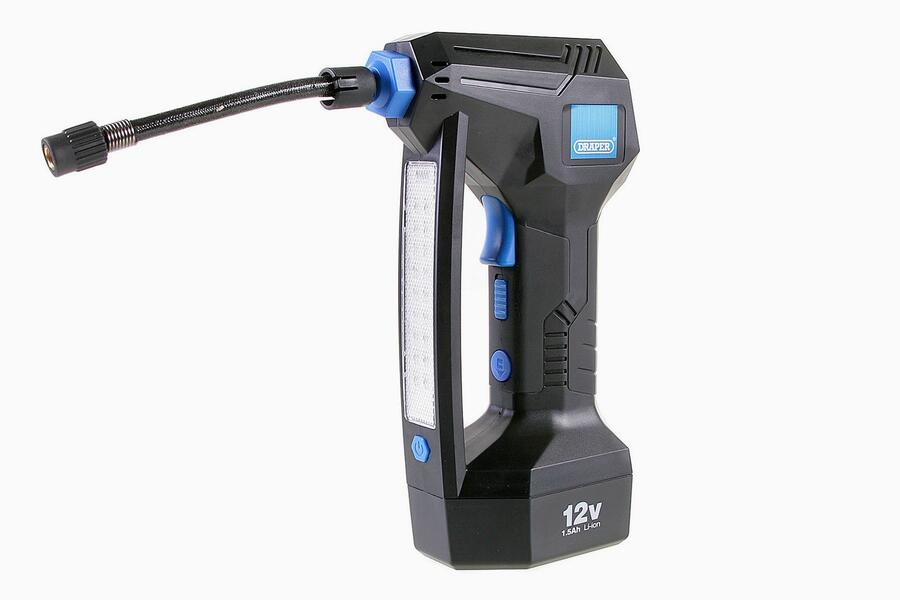 Price: £46.50
Buy from: www.amazon.co.uk
Contact: 023 8049 4333
Web: www.drapertools.com
Inflation test time: 5min 40sec
The draper inflator is cordless, which is really convenient, but there's also a 12-volt cable provided so that you can plug it in and carry on pumping if it runs out of battery before you've finished inflating the tyre. However, while the cordless use, auto-stop feature and compact size make this a very convenient unit, the slow inflation speed and short, 15cm air hose make longer pumping jobs tedious as you have to hold it for the duration of the inflation if the tyre valve is more than a few inches above the ground.
Autocar says 3 stars
---
9. Michelin Compact 'Top Up' Digital Tyre Inflator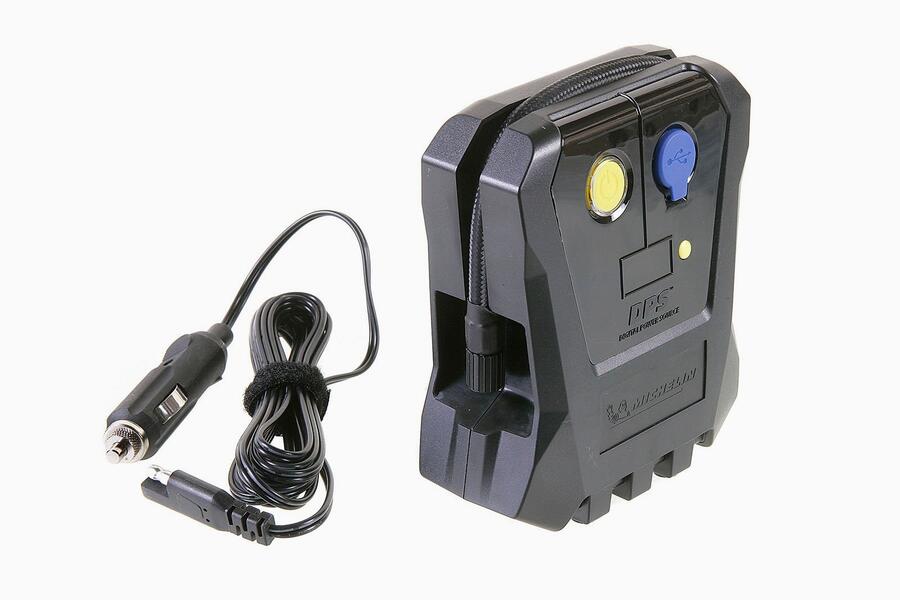 name="m101-iframe"
sandbox="allow-scripts allow-same-origin allow-popups"
scrolling="no"
width="100%"
style="border:none; height:64px;"
referrerpolicy="no-referrer-when-downgrade">

Price: £34.49
Buy from: www.amazon.co.uk
Contact: 0800 731 4973
Web: www.michelin-lifestyle.com
Inflation test time: 8min 50sec
Michelin isn't kidding when it describes this as compact – it's smaller than your average paperback book. That makes it perfect for storing in your glovebox, or even a door pocket. The dinky size does compromise the performance, though, and it's simply too slow to pump up most tyres from flat without exceeding the recommended 8-minute maximum run time. That also means that it's not recommended for tyres needing more than 40 PSI, either. If you really do just want an inflator for top-ups, this is a neat device, but others here are much more powerful and versatile.
---
Disclaimer: The products or services referenced in this story have been reviewed independently by our experts. When you buy using the links on our site, we may earn a commission, but this will never influence our opinion or ratings. 
https://www.autocar.co.uk/car-news/new-p...lator-best