12-23-2021, 06:34 PM
Autocar writers' cars of 2021: Porsche 911 GT3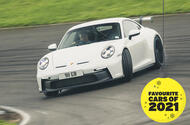 Richard Lane didn't need to think too hard about his favourite drive of the past 12 months…
Being late to the party when it came to Autocar staff each choosing our favourite cars of 2021, I was surprised to discover the latest superstar from Zuffenhausen – winner of this year's Handling Day contest, no less – remained unspoken for. I wondered how I could have been so wrong about my clearly degenerate 'petrolhead' colleagues.
So I'll go into bat for the superb Porsche 911 GT3, with the caveat that the 992 generation car does not hit quite the same sweet spot as its forebear. In terms of balancing usability and excitement, there are sweeter options even with the 911's own model range, most notably the new Carrera GTS. On the road, the new GT3 is 20% too punishing in the way it rides, 15% too challenging to exploit and 10% too wide, all of which are contributing factors to this car holding the dubious honour of being the first 911 GT3 in a very, very long time not to ring the five-star road test bell. 
The 992 GT3 is also 100% too difficult to get hold of if you don't have a track record of ordering expensive GT-division wares, but we can't really hold that against the poor car itself. 
Despite all of the above, Porsche hasn't executed badly with the GT3 – just chosen to shift the car's balance of priorities away from where they once resided to especially appealing effect. The GT3's brief has changed. It now wants to be something more hardcore and track-biased. Perhaps it's no surprise that only when you get this car on an actual track do you discover why Porsche is so excited about the latest GT3 and why it considers it to be the greatest GT3 yet. 
My chance to properly get to know the new GT3 in its preferred environment came on day three of this year's Britain's Best Drivers' Car group test (aka Handling Day). With most of the other cars in the pits, Anglesey Circuit was relatively empty. And with the GT3's fastest lap time already committed to posterity, its final set of Michelins were, in effect, expendable.
Five laps in and it had already become apparent why many people are wondering where exactly the upcoming GT3 RS is going to go. The regular GT3 simply leaves so little head room. Really get going in this car and it comes alive to almost incredible effect, with all the adjustability you struggled to unlock on the road and sublime levels of feel from the smooth track surface. It's a beautifully pure driving experience.  
The car somehow blends McLaren levels of precision with an AMG-esque ability to get sideways and entertain, handling like a mid-engined supercar when you need it to but resorting to a more traditional 911 back-to-front-hammer balance when you want to rotate it (this applies equally on the brakes and the throttle). 
Turn-in is fabulous – so sharp and dependable you consciously need to adjust to it – and quickly gets the car spring-loaded, ready to fire itself out of the corner with that rear-biased weight balance waiting to be exploited either for ultimate traction or just a little angle. Because of the responsiveness of the atmo flat six, what the chassis serves up is entirely your choice. 
The GT3's ability to take full throttle in places where you just wouldn't believe it could safely do so is also an epic thrill. In parts of quick corners where you feather the throttle in other cars, the GT3 is already flat out and accelerating hard, its back axle so planted that you'd swear even 603bhp, rather than the actual 503bhp, wouldn't upset things. So that's 'stability' you can add to 'precision' and 'adjustability'. 
Don't forget, either, the near-faultless driving position, the excellent visibility and the highly communicative EPAS rack, which Porsche seems to be perfecting.      
Clearly, I'm not the only one who thinks any of this: the GT3 won Handling Day, beating the Ariel Atom and Ferrari SF90, and the excellent new BMW M3 Competition and – that hardest of machines to slay, at least where it comes to pure driving satisfaction – a Caterham Seven 170 R. 
So, 992 GT3 owners, please – sign yourself up for the first decent track day of the spring and prepare to have your minds blown. You lucky buggers.
https://www.autocar.co.uk/opinion/featur...he-911-gt3