08-27-2021, 11:42 PM
BMW 1 Series 128ti 2021 long-term review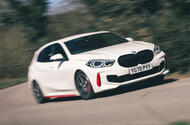 Is the first front-wheel-drive hot hatch from Munich better than the Ford Focus ST?
Why we're running it: To see if the first of a kind for BMW can tackle established rivals as a car not just to drive but also to live with
#Month 3">Month 3 - #Month 2">Month 2 - #Month 1">Month 1 - #Specs">Specs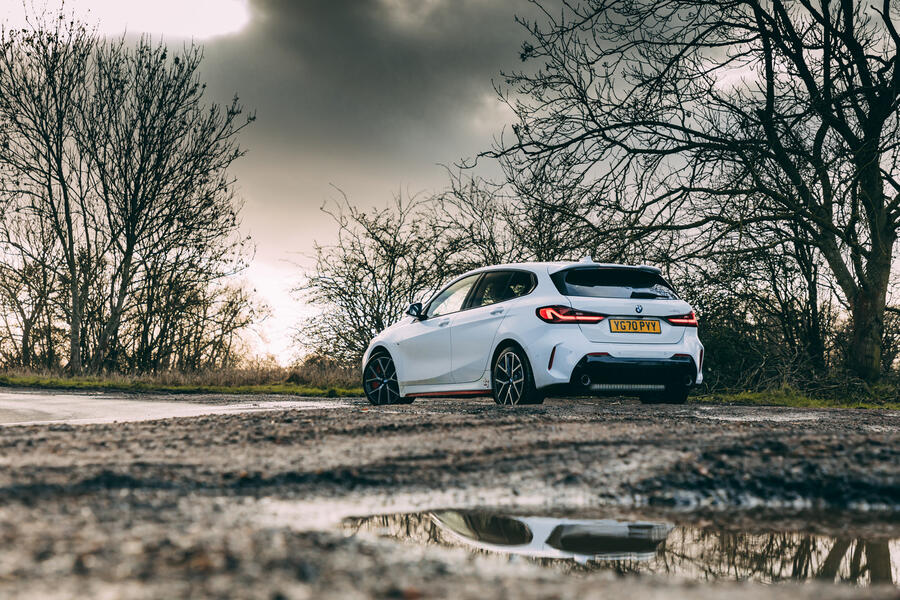 Life with a BMW 128ti: Month 3
Just a tool - 4 August 2021
To me, the heart of any hot hatch is rarely its engine. It should be an enabling device to allow the chassis to shine. But the BMW's is merely adequate in this regard, with one of the lowest power outputs of its competitor set. It also has a slight low-rev part-throttle boom that can be mildly irritating. It's better when you give it the beans, staying smooth and sharp up to the redline.
Mileage: 9433
#Back">Back to the top
Life with a BMW 128ti: Month 2
Takes some muscle - 14 July 2021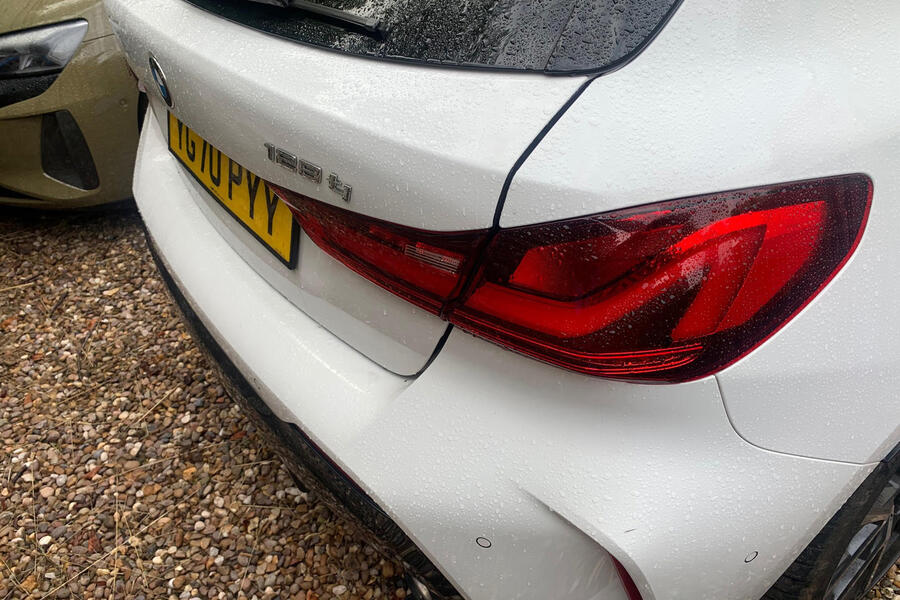 I've noticed of late the 128ti's boot doesn't shut cleanly first time. It's the sort of thing that five minutes at a dealer would fix, but my nearest one is 25 miles away with a large city between me and it, so the choice is lose a morning's work getting it fixed or learn to press a little harder. In a job where time is literally money, it's not much of a decision to make.
Mileage: 8801
#Back">Back to the top
Ti returns from uni packed with people, possessions and an honours in physics - 7 July 2021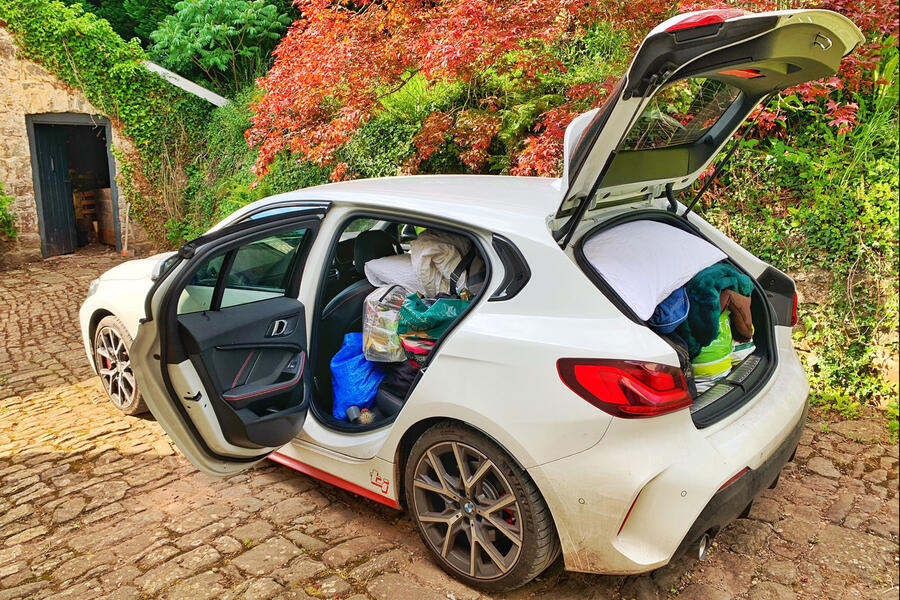 "Can you both come down? Pleeeeaaaase!?" It was a daughter, chassis number AF/002 as you're asking, suggesting that an occasion as august as her collection from university at the termination of her first year of studies required nothing less than the full complement of parents.
She had a point, of sorts. It has been a miserable year for anyone in education, but I feel particular pity for those who missed out on that peculiarly enlivening challenge of surviving the full-on freshers' experience. While her elder sister still won't discuss what happened on hers (which suits us just fine), the younger one has almost no experience to discuss. So at least we could turn up in force and sweep her away from her halls at the end of the year.
Except we couldn't. I don't know if you have daughters, nor do I know if sons are worse, because I'm singularly deficient in that area myself, but what I can tell you is that if you think having a toddler brings an unfeasible amount of clobber, it's barely a lightly packed washbag compared with what teenage uni students can generate.
And I know it's not usual to wait until the fourth paragraph of a car review in a car magazine before mentioning the car that's meant to be being reviewed, but here a certain scene-setting was required: two parents, one daughter and her mountain of rubbish into a BMW 128ti will not go. And that was that.
Actually, I doubted if we would do it with just one parent on site. A while back, I had to collect AF/001 from another uni in another BMW long-termer, but that was a 7 Series, and we only just managed it. If it was a struggle for the largest non-SUV in the range, what hope for the smallest?
Were it not for a mate of mine, the answer would be none at all. But he is a former army officer, used to packing and dispatching not just individuals but regiments of people, and he has in the past shown me that, if properly loaded, using all available space, any car will take about double what at first seems possible. Not having a choice helps, too.
And we did it: groaning under the weight of her lampshades, potted plants and almost limitless bedding, the by-now two-seat 128ti took every last bit of it and staggered home. If I had shown you the pile that was then dumped in the kitchen on her return and asked what kind of vehicle would be required to transport it, your opening bid would have been some kind of van. But it wasn't: it was a compact BMW hatch. It's amazing what you can do when you try.
Love it:
Botham Beemer It's fast turning into an impressively capable all rounder.
Loathe it:
Bit of a knees-up Rear leg room is rather limited...
Mileage: 8202
#Back">Back to the top
No circuit sessions… yet - 30 June 2021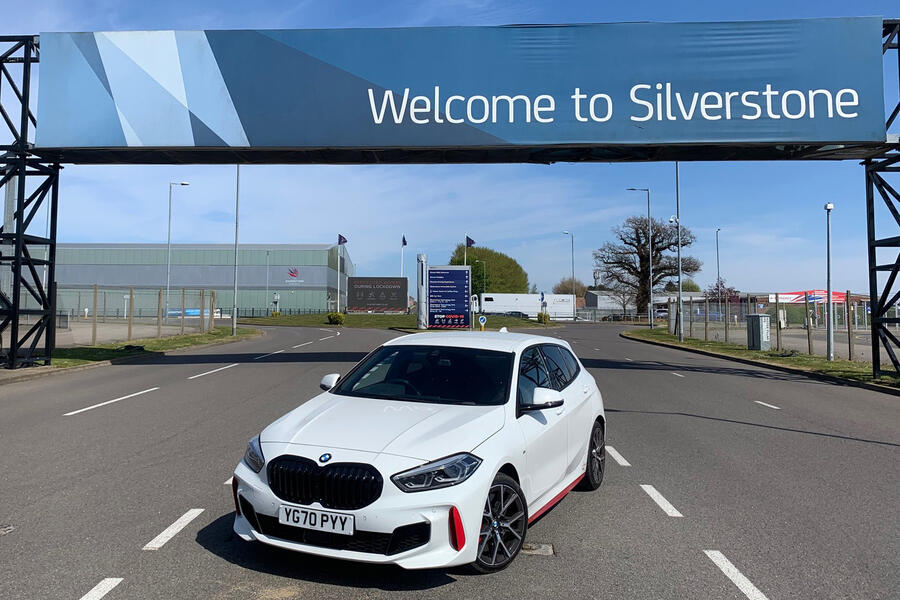 I've been trying to get some track time in the 128ti. Three times I've been to Silverstone in it in the past month, yet I've not been able to squeeze so much as a lap out of any of the occasions. I just really want to know how the car behaves on and beyond the limit. Will this front-drive ti do justice to its predecessors? I'm itching to find out and will let you know as soon as I do.
Mileage: 7887
#Back">Back to the top
Life with a BMW 128ti: Month 1
Fuel economy is all of a sudden becoming the hot hatch's strong suit - 23 June 2021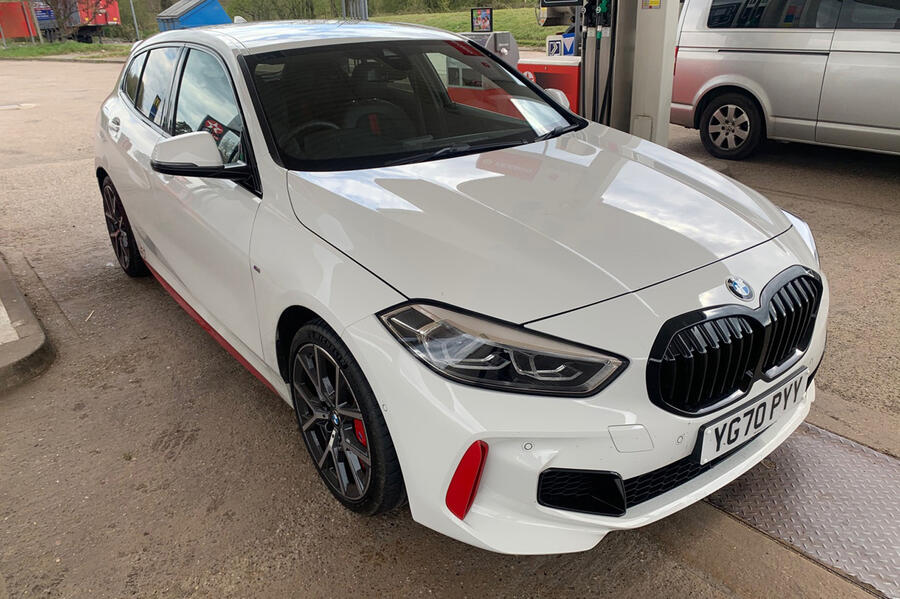 It's really strange. I knew the 128ti would use less fuel than the Ford Focus ST that it replaced; it's a little less powerful and has a smaller engine, after all, even if it is a touch heavier. And that's how it turned out: in my early miles in the car, it would do about 38mpg, which in itself was about 4-5mpg better than I had got used to expecting from the Ford.
But lately it's started using less and less of the stuff. As I write this, I'm recently returned from a trip to London from my home in the Wye Valley. On the way there, despite the country roads and city streets that bookmarked my journey, the trip computer recorded 51.1mpg. Now, I've not filled it since and I know all such devices lie, but that still means it's probably doing a true 46-47mpg, which means its real-world, like-for-like fuel consumption is probably close to 25% better than that of the Focus ST. Maybe after 6000 miles or so, the engine is bedding in properly.
All of which is good news for two reasons: first, as the bloke paying the bill and travelling a couple of thousand miles per month, it has a serious effect on the bottom line.
And while I'm here, does anyone reading this fill up on the motorway any more? If so, you're either far richer than me or someone else is paying the bill. What logic is there in paying 20% more for a product than you would if you just shopped locally or went a mile or two off the motorway? Are people really in that much of a hurry, or perhaps unaware of savings that could easily add up to many hundreds of pounds every year? Because of the rip-off prices, and because the cynicism behind them really cheeses me off, I've not filled on a motorway (apart when I've had to bung a fiver in the tank or run out entirely) in years. And I never will.
But I digress. The second reason is that obviously this buys me a stack more range, which is useful when the car has a barely adequate 50-litre fuel tank. And I was about to say that might be enough for a 116d diesel with less than half the power, until I looked up said 116d and discovered that, like all low- and medium-spec 1 Series, it has only a 42-litre tank.
BMW isn't alone in this, but if you're wondering why tank sizes are shrinking across the board, my understanding is that CO2 and emissions tests are conducted with half a tank of fuel on board, and the smaller that tank, the less that fuel weighs, the better the results… Or at least that's what I've been told.
Love it:
50mpg Improving fuel consumption, excellent interior, impressive ride and refinement.
Loathe it:
50 litres The fuel tank is too small for my taste, resulting in a relatively short range.
Mileage: 6111
#Back">Back to the top
Welcoming the 128ti to the fleet - 26 May 2021
Well, this is interesting. There I was enjoying life with the Ford Focus ST far more than I had expected when the opportunity to swap it for this BMW 128ti dropped into my lap. What to do?
On the one hand, I couldn't really see me having much more fun in the less powerful, heavier and inevitably slower BMW, but on the other, the Ford had been with me since last summer, and the opportunity to chop it in for such a close rival and interesting newcomer to the class seemed too good to miss.
Of course, the BMW would be much more expensive – except it isn't. It's about £500 cheaper than the Ford, or make that £2000 once you've optioned a two-pedal transmission, which the BMW gets as standard. Nor is the BMW poorly equipped; in fact, its standard specification is pretty close to that of the Ford.
But the real interest is that the 128ti exists at all. There has never been a sporting front-wheel-drive BMW before.
Indeed, I can recall being told at the time of the launch of the original 130i why front-wheel drive didn't work for such applications, citing the usual arguments about weight distribution and traction. But that was 16 years ago, when the world was a very different place. And here we are.
This car itself will look familiar to frequent readers, as it's precisely the same 128ti that was used for our UK first drive. It arrived in Alpine White paint, with 4000 miles on the clock and a sensibly limited option count.
More than half of that cost was accounted for by the Technology Pack, whose useful components include LED headlights with automatic dipping, a head-up display and a wireless phone charging tray. Otherwise, it has a heated steering wheel (which is great), tinted glass (which is not) and a Harman Kardon surround-sound system (which, given how lame was the sound of the last standard BMW stereo that I used, is probably very welcome).
All in and on the road, this is a £35,480 car, which doesn't sound bad value to me for a well-equipped, sporty BMW with more than 260bhp.
What do I like most about it so far? Certainly not its looks, which are absolutely not helped by the paint. Actually, when it comes to grille-based crimes against eyesight, the 128ti is nothing like as guilty an offender as certain other modern BMWs, but I would so much rather it were a grey, blue or, in fact, almost any other colour.
No, currently what I'm fondest of is the ti badging. Well, perhaps not the red side decals, but definitely the spirit behind them.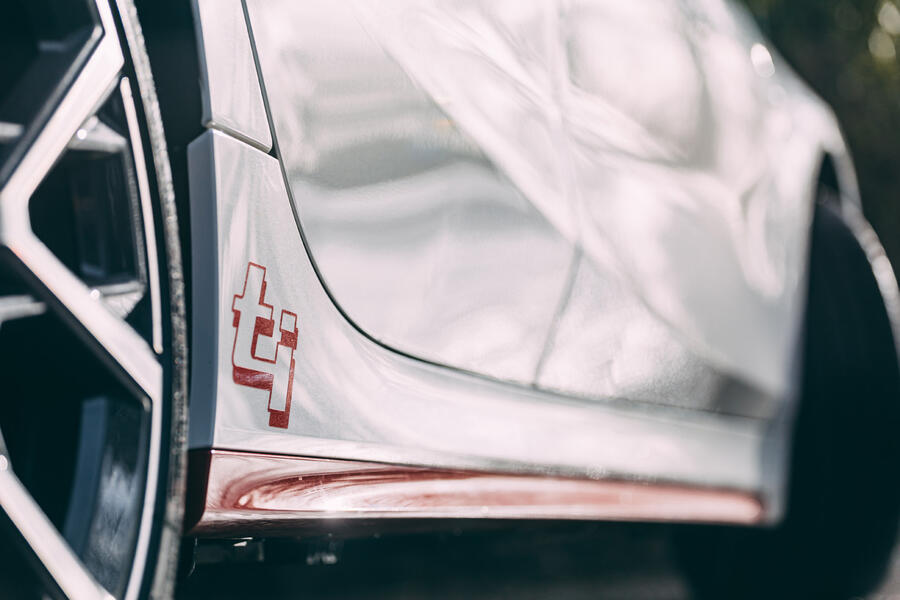 I like that it's not pretending to be any kind of M car, because it really isn't, at least not in that rather brutal way most M cars have become these days. Despite appearances, it's actually quite subtle under the skin. I prefer its specification to that of the M135i from which it's derived, the 40bhp drop in power from the same engine offset in substantial part by the 80kg reduction in weight.
These days, a 260bhp car simply doesn't need four-wheel drive. I like, too, that the Torsen differential has been reprogrammed, the suspension geometry altered, the steering slowed and structural stiffening sent rearward to help rebalance the car. Together, these thoughtful moves imply a car developed to have an identity of its own, and to be anything other than a standard 1 Series turned up to 11 or, indeed, an M135i turned down to nine.
And that's exactly the brief fulfilled by the original Turismo Internazionale BMWs. And yes, these include both the E36 and E46 3 Series-based Compact ti models, but also the first to carry the acronym: the 2002ti of 1968.
If BMW is being smart, what it should now do is a still more sporting version retaining front-wheel drive but adding M135i engine tuning, uprated suspension and tii badging. This would recall the fabulous 1971 2002tii, the first modern small and truly sporting BMW. But I digress.
The next few months will reveal exactly where this car sits in the firmament. And I think there's a real opportunity for it to fill the space vacated by the current Volkswagen Golf GTI in its (in my view) misguided attempt to become more sporting.
There is and has always been a decent space in this class for a car that doesn't do the obvious thing and go after the boy-racer market. Something more considered: good to drive, of course, but that actually works just as well when the roads aren't empty and fast – which, let's face it, is most of the time.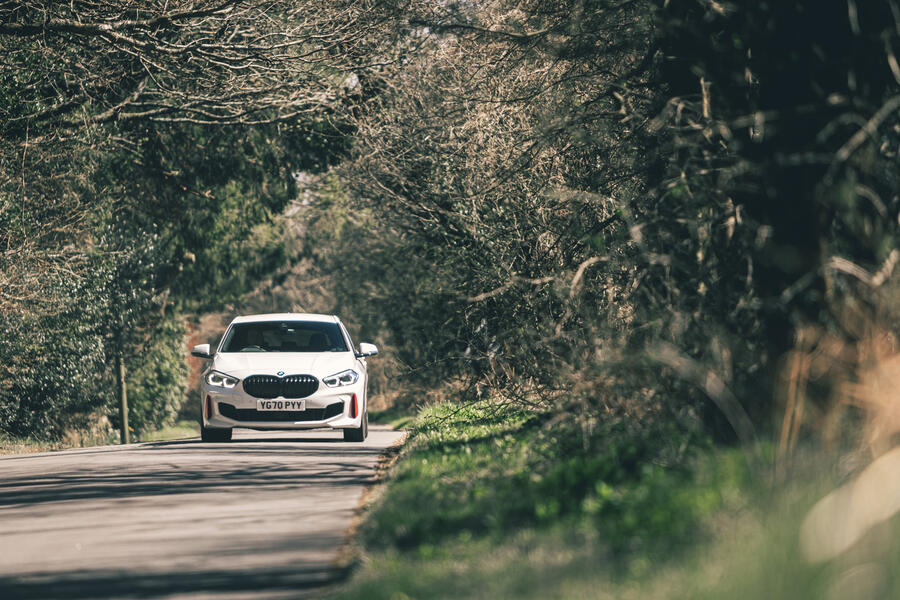 Early indications are that, despite the 128ti looking like another me-too hot hatch, its real character is far more nuanced than its appearance suggests. Priced to excite, it has been given a real opportunity to make a proper impact on its class, particularly as the Golf GTI has so considerately stepped aside for it.
Time alone will tell if BMW's many modifications have provided it with the means to make the most of that chance. But on first acquaintance, I would say it's looking that way, and I look forward to finding out for sure over the weeks and months to come.
Second Opinion
I'm intrigued to find out how Andrew feels about this car after living with one for a bit, especially since his last long-termer was a Ford Focus ST: the very car that, for me, comprehensively outpointed the 128ti in a group test exercise a few months ago. Even then, though, I could see that the BMW's premium-brand allures and automatic gearbox might make it preferable to the Ford for some, as a daily grinder. Time for some daily grinding, then.
Matt Saunders
#Back">Back to the top
BMW 128ti specification
Specs: Price New £32,780 Price as tested £35,480 Options Technology Pack £1500, heated steering wheel £150, tinted glass £300, Harman Kardon surround stereo £750
Test Data: Engine 4cyls in line, 1998cc, turbocharged, petrol Power 261bhp at 4750-6500rpm Torque 295lb ft at 1750-4500rpm Kerb weight 1445kg Top speed 155mph 0-62mph 6.1sec Fuel economy 38.2mpg CO2 157-170g/km Faults None Expenses None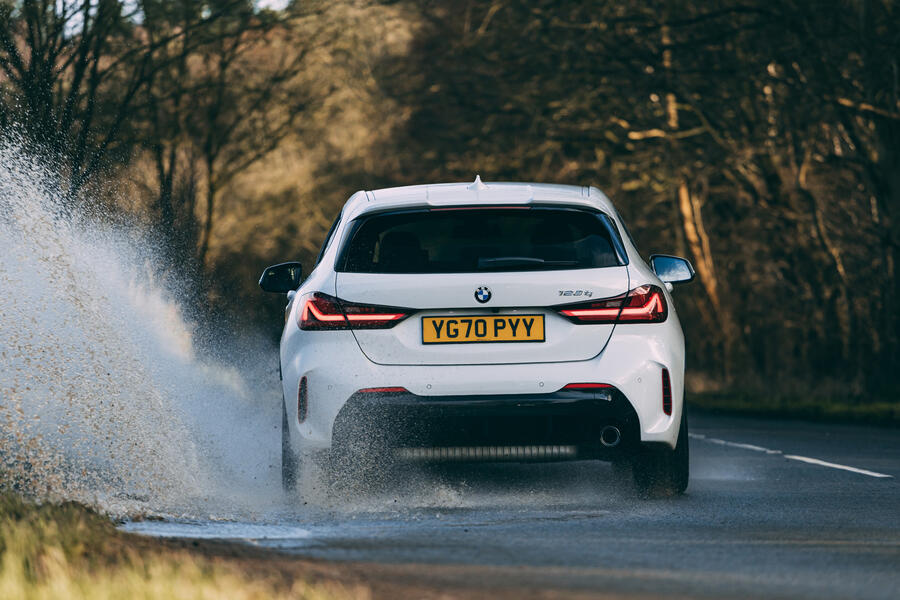 #Back">Back to the top
https://www.autocar.co.uk/car-review/bmw...erm-review