03-31-2023, 02:00 PM
BMW 8 Series Convertible M850i xDrive 2023 UK first drive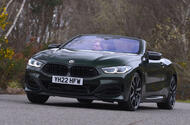 Big convertible is a BMW in the classic mould, which is mostly a good thing
When the BMW 6 Series was replaced by the BMW 8 Series in 2018, it aimed to raise the profile of its luxury coupé, convertible and four-door coupé trio. But although it proved a strong sporting coupé, the 8 Series has somehow always felt more like a 5 Series derivative than its name suggests. And now, just over four years on, the 8 Series has had a midlife facelift; though it doesn't look as if it'll markedly change the car's status quo.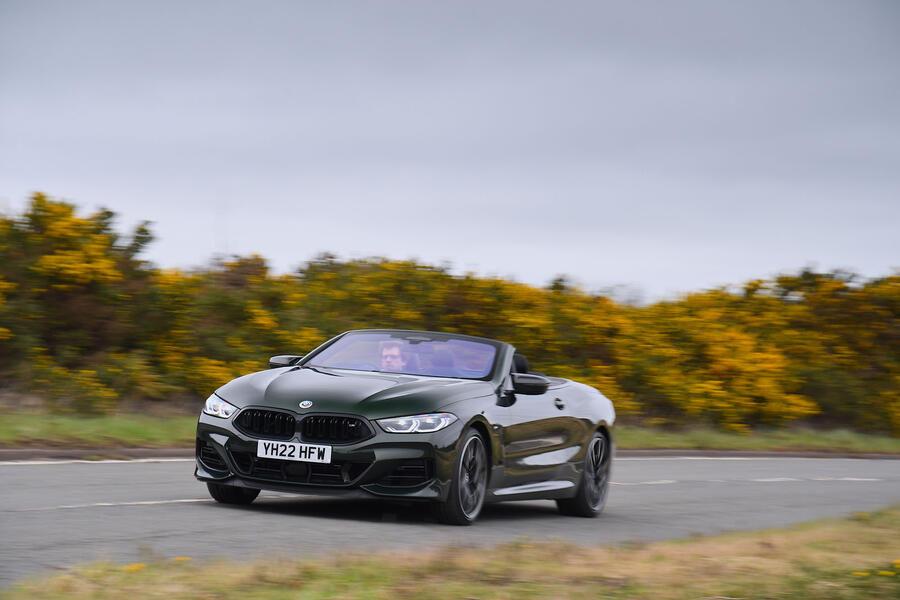 The interior was always the issue, being impeccable in terms of materials and fit and finish, but just a little too plain and business-like compared to a Lexus LC or Porsche 911, let alone a Bentley Continental GT. That's just as true today, though one might prefer it to the tech fest that is the new Mercedes SL. It's also worth keeping in mind the 8 Series is a fair bit less expensive than all its rivals bar the Lexus.
The lack of any major change inside is a blessing in some respects. The multimedia screen has been upgraded from 10.25- to 12.3in, but unlike the updated 3 Series and X5, it still runs BMW's old iDrive software, which means it's still a paragon of user-friendliness, with logical menus and plenty of physical shortcut buttons. It still looks modern, too, and the physical climate controls are present and very much correct.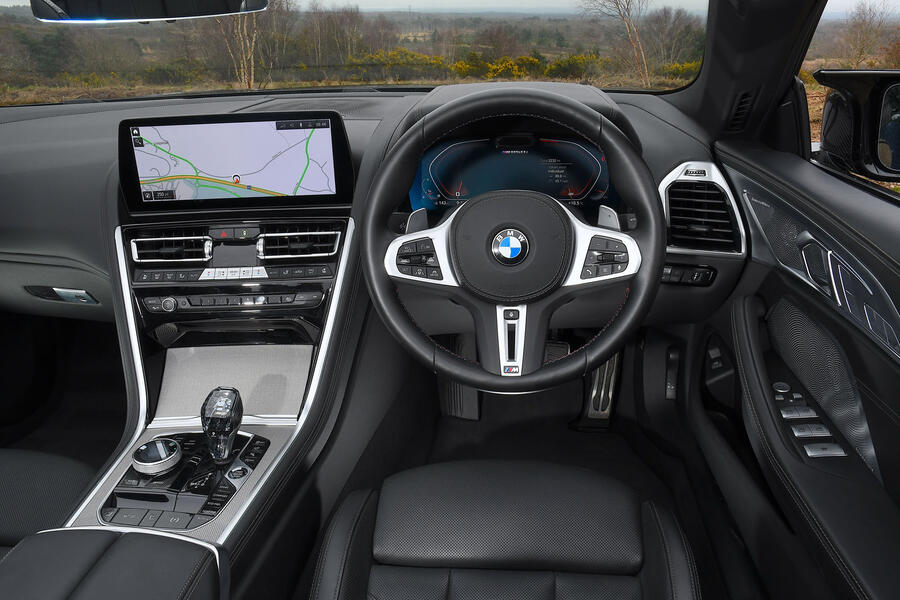 Outside, the facelifted 8 Series gains an illuminated grille (which looks nowhere near as chintzy as it sounds), a selection of new wheel options (all 20in in diameter), M-style twin-spar door mirrors for the M850i, and four new paint colours (including the classy San Remo Green you see in the pictures).
The diesel 840d has been dropped, leaving the six-cylinder rear-drive 840i, the four-wheel drive V8 M850i xDrive we've driven here, and the fire-breathing M8 Competition. As before, all come as a two-door coupe, four-door Gran Coupe or as a fabric-topped convertible.
If the interior is a slice of archetypal BMW of the past decade or so, then the same is true for much of the way the M850i drives. The 4.4-litre, twin turbo V8 is a force of nature, providing effortless thrust accompanied by a gentle woofle when you're just cruising, or lobbing you at the horizon while sounding like thunder when you set everything to Sport Plus and plant your foot. It doesn't quite have the star quality of Lexus' 'nat asp' V8 party animal, but then few things do. The trusty ZF 8-speed is its usual impeccable self.
BMW is adamant the 8 Series is a sports car. The reality is that a 2.1-tonne, 2.1-metre wide convertible is never going to be truly engrossing on a B-road. In that light, the M850i is exactly what it needs to be: satisfying but secure, and all but free from scuttle shake, even in drop-top form.
The steering lacks feedback, but the four-wheel drive system's torque distribution feels rear-biased at all times: it will always tighten its line on the power, though oversteer requires deliberate effort. The four-wheel steering conjures a sense of agility that belies the car's size and weight, while also making it a lot wieldier while parking.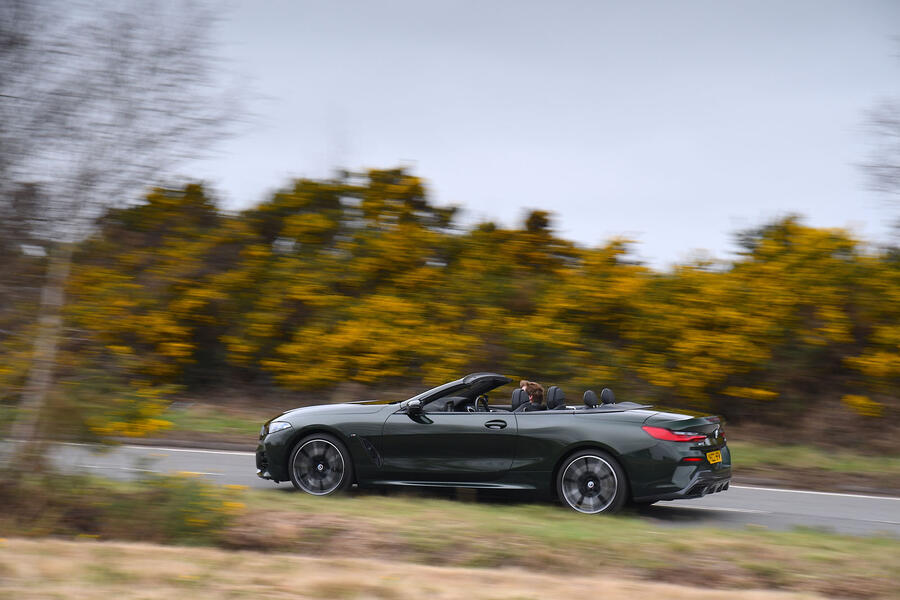 The M850i is less successful at the grand touring part of its mission, but the main culprit is likely the choice of tyres on our test car. 20in wheels leave room for just a sliver of tyre sidewall, and to make matters worse, the Pirellis on this particular car were runflats. The result is a ride that's brittle and makes you constantly scan for potholes. Road roar is pretty pervasive, too. 
The 8 Series has never provided a magic-carpet ride, and nor does it need to - but, in this spec at least, its comfort is simply not good enough. That said, the adaptive dampers provide fine vertical body control, and with the slightly awkward manual wind deflector erected, there's next to no turbulence when driving with the roof down. 
Overall, the BMW 8 Series can struggle to feel quite special enough, which is a problem for a car that's easily £100,000 once you add some options. It handles well and the V8 engine is great; but then it needs to be, since the 8 Series' biggest threat might just come from within. Because a much more affordable 4 Series is hardly any less roomy than this, and now isn't miles off for interior ambience either. It just doesn't come with a V8.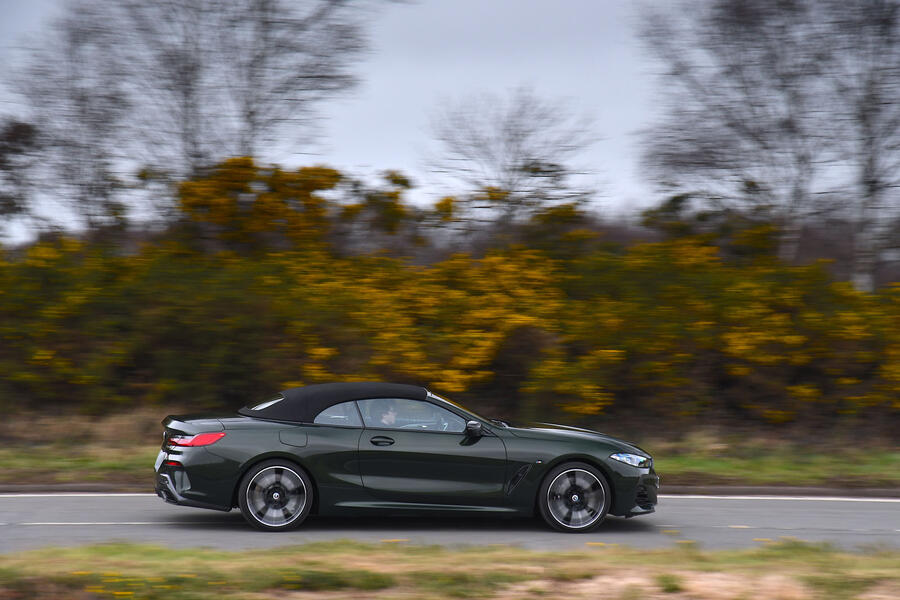 https://www.autocar.co.uk/car-review/bmw...irst-drive