06-22-2022, 01:41 PM
BMW M3 Touring is the last of the breed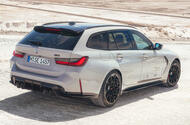 ICE-powered fast estates are on the way out, and the M3 Touring could be an excellent swansong
We live in a world increasingly well-furnished with all-electric and plug-in 'electrified' family cars that'll crack 60mph in considerably less than five seconds, don't we? Cars that you can run surprisingly cheaply as fleet options as well as private buys - and that won't win you disgusted glances in responsible company, like a noisy, old-school, petrol-burning performance option might.
Does that leave a lot of room for cars like the new BMW M3 Touring? I'd say it does, for a number of reasons; although, like so many other traditional breeds in the performance-car market, the petrol-powered fast estate car is clearly on borrowed time.
There is pent-up demand for an M3 Touring, after all. BMW is rumoured to have built a prototype for an 'E46' M3 Touring in the early 2000s, but only one; and other than that, it's been left to tuner Alpina to satisfy the demand for a load-lugging fast 3-Series, which it has always done rather well. Even so, there must be plenty of M3 owners who've always fancied a Touring but never been able to buy one; and plenty of others who've chosen equivalent Audi RS and Mercedes-AMG equivalents over the years (because they do come in 'booted' form) who're ready to convert. If you 'save up' particular performance derivatives over several model generations in this way, you pretty much guarantee a warm reception when you do launch one.
The current 'G80'-generation BMW M3 is a fabulous saloon; and so I've no doubt that the 'G81' will be brilliant, too. BMW M has already used the adaptive dampers it developed for the new Touring on next year's M2 coupe, which I drove in prototype form the other week - and it rides pliantly and has plenty of lateral support.
To this tester, a four-cylinder Volvo V60 Polestar or Peugeot 508 PSE just isn't ticking the same box or scratching the same itch as an M3 Touring would; and a Porsche Taycan Sport Turismo, great as it undoubtedly is, wouldn't either. This'll be a car whose combustion engine will be right at the centre of its dynamic appeal. It'll be all about mechanical connection and driver engagement, as well as outright performance; and, now, room for the dog as well.
https://www.autocar.co.uk/opinion/new-ca...last-breed